WestJet is encouraged by early returns from Encore while working to deepen its fleet flexibility
Analysis
Roughly three months after the highly anticipated launch of its new regional subsidiary Encore, Canada's WestJet has concluded the carrier is performing beyond initial expectations. As Encore marches toward a fleet of seven Bombardier Q400 turboprops by YE2013, future deliveries are likely to be pegged for central Canada using Toronto as a base.

During the early days WestJet has not strayed from its stated strategy with Encore – connecting small Canadian markets that are too thin for Boeing 737 narrowbodies.

WestJet is also making moves to build fleet flexibility in the coming years to support a range of annual growth from one percent to seven percent. That should allay some recent concerns that WestJet is in danger of introducing too much capacity which may not be absorbed.
Encore is largely uncontested in its debut markets
Presently, four Q400s are operating under the Encore banner from Fort St. John to Calgary and Vancouver and from Nanaimo to Calgary. New service from Calgary to Brandon, Manitoba launched on 3-Sep-2013, which is a market where WestJet's service is uncontested.

While it seemed WestJet was primed to launch a full attack on Air Canada with Encore, for the moment Encore is operating in markets with no competition. The exception is the Vancouver to Fort St John pairing, where Air Canada operates a mix of Bombardier Q400s and regional jets.

See related report: WestJet refrains from full assault on Air Canada with Encore's Q400 launch

WestJet is adding a new competitive element on new twice-daily service operated by Encore from Terrace, British Colombia to Vancouver beginning 25-Nov-2013. In addition to service offered by Air Canada, two smaller Canadian airlines – Hawkair and Central Mountain Air – operate service in the market.
Schedules in Innovata show that by mid-Jan-2014, WestJet will represent approximately 34% of the seats on offer in Encore's new Terrace market.
Vancouver International Airport to Terrace Airport (seats per week, one way): 19-Sep-2011 to 9-Mar-2014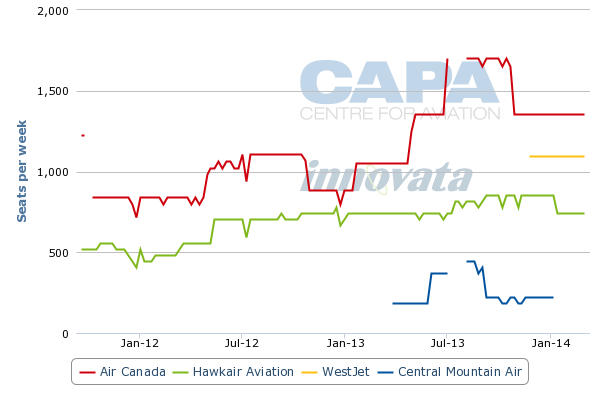 WestJet flexes new muscle with narrowbodies freed up by Q400 deployment
With the onset of its winter schedule, WestJet is beginning to connect dots in its existing network with Encore Q400s, CEO Gregg Saretsky recently explained to investors. Presently, WestJet offers flights from Regina, Saskatoon and Winnipeg, but does not operate among those points, Mr Saretsky explained. Encore plans introduce new service from Winnipeg to Regina and Saskatoon in Feb-2013, handing Air Canada new competition on those routes. Mr Saretsky remarked that WestJet operated in the Regina, Saskatoon and Winnipeg markets years ago, but the routes couldn't not sustain the 136-seat aircraft the carrier operated at the time.
The short-haul missions operated by Q400s are allowing WestJet to pull other strategic levers in its network, evidenced by its plans to introduce 737 service from Calgary to Miami beginning in Oct-2013 and continuing through Apr-2014. Mr Saretsky remarked that service allows for connections from Western Canada onto Latin America and the Caribbean through WestJet's partnership with American Airlines. Miami is a major hub for American, who forged a tie-up with WestJet in 2011.
Plans are under way for Q400 deployment from Toronto in 2014
Mr Saretsky made an effort to highlight that, with a commitment and order for 20 Q400s, WestJet was mindful of the new layer of capital Encore was adding to the company's operations. He stressed that the Encore fleet needs to be managed in a way that supports the carrier's return on invested capital targets. WestJet's ROIC for the first two quarter of 2013 was approximately 14%, which exceeded its self-declared goal of 12%.
Outlining the carrier's near-term vision in deploying Encore's Q400s, Mr Saretsky explained its makes sense to keep the first nine-to-ten aircraft based in Western Canada, and then move Encore's operations Eastward. He remarked Toronto would be the "beachhead" for Encore in Central Canada, and noted that when WestJet releases its summer schedule on 27-Jan-2013 "you'll start to see the arrival" of Q400s in Central Canada.

Toronto is a logical next stop for Encore as it is WestJet's second largest base in terms of seats deployed and as Canada's second largest carrier, WestJet is the second largest airline operating from Toronto based on seats offered.
WestJet top 10 hubs/bases/stations by seats: 16-Sep-2013 to 22-Sep-2013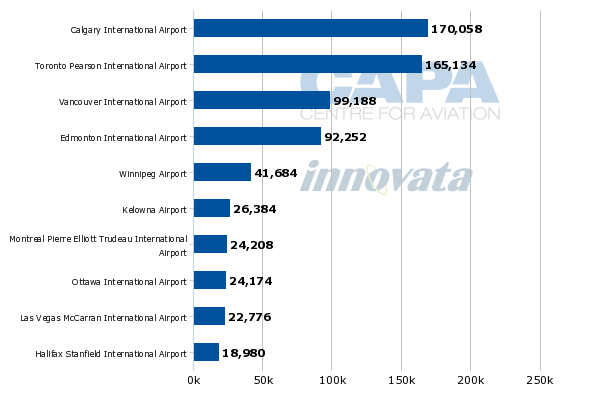 Toronto Pearson International Airport capacity by carrier (% of seats): 16-Sep-2013 to 22-Sep-2013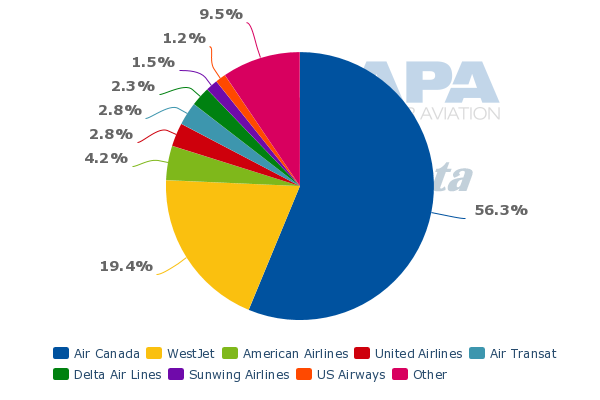 In addition to introducing new service from Toronto, Encore can also expand WestJet's scheduling flexibility in highly-contested "Eastern Triangle" comprised of Toronto, Montreal and Ottawa. Those markets are higher-yielding business markets, an area where WestJet has made a major push during the last few years.

However, WestJet may refrain from adding more capacity on those routes as Air Canada recently remarked that Q400 operator Porter Airlines has created some pricing issues in the Eastern Triangle. WestJet may opt to deploy Encore's Q400s in markets from Toronto where it has an ability to undercut current fares while still lifting its yields. Previously, WestJet executives have cited 30 markets where it offered no service, but featured flights by Air Canada's regional partners, and remarked there were significant opportunities for Encore on those routes.

See related report: Air Canada and WestJet cite steady demand as they work to launch new subsidiaries
Encore is beating expectations – for now
While Encore essentially remains in its infancy, WestJet is not surprisingly suggesting that Encore for the moment is beating expectations. Mr Saretsky explained that WestJet management anticipated Encore's load factors would be lower than WestJet mainline, "but that hasn't been the case".
Based on additional comments from Mr Saretsky it does not appear that WestJet is engaged in heavily trading yields for loads as WestJet's chief executive concluded: "We haven't had to sell everything in the bottom bucket."

With more direct competition with Air Canada in Encore's sights, it will be interesting to see if those positive load and yield trends carry over into 2014 when WestJet's three-pronged strategy for Encore – new routes, replacing some narrowbodies and connecting existing dots in the network – comes into full force.
WestJet's ability to dial capacity up or down should ease concerns over too much growth
Shortly after Encore made its debut in Jun-2013 WestJet in Aug-2013 placed an order for 65 Boeing 737 Max -7 and -8 aircraft. Delving into the order, Mr Saretsky stated that 50 of the jets are incremental and 15 are for Next Generation aircraft that were deferred. Noting that "Boeing was taking those [delivery positions] back", WestJet's CEO stated the carrier would escape risk on residual values of the Next Generation aircraft that were scheduled for delivery from 2014 to 2018 given the Max's targeted service entry date of 2017. WestJet is scheduled to accept its first Max narrowbody in Sep-2017.
The order, coupled with the timing of lease returns on WestJet's existing aircraft, gives the carrier flexibility to have a fleet of as few as 120 jets by YE2023 or up to 162 aircraft. Mr Saretsky stated that would enable WestJet to grow by one percent per year or up to seven percent.

WestJet's short-term capacity growth estimates of 4% to 6% for FY2014 have caused some concern as its yields and unit revenues remained essentially flat for 1H2013. At the end of 2Q2013 WestJet management did not predict a rebound in revenues for 3Q2013. But despite the weak revenue metrics WestJet has no plans to alter its projected 11% to 12% system capacity growth for the quarter, arguing it remained profitable during 1H2013 despite a 7.6% expansion in supply year-on-year.

See related report: WestJet tries to ease concern over falling unit revenues and rising capacity
A widebody operation could still be waiting in the wings
WestJet earlier in 2013 indicated that was breaching the surface of studies to determine the viability of a widebody operation, and Mr Saretsky recently remarked that the strength of the North Atlantic market during the last couple of summers would certainly make operators salivate.
But he cautioned the company would not expect to make a decision to order widebodies within the next three to five years. However, he did remark "if the world changes" WestJet could access widebody aircraft through the lessor pool.
Presently it does not seem plausible that WestJet is dedicating vast resources to the addition of widebodies given its full plate of launching a new regional carrier and introducing new product attributes, including fare bundling.
Stranger things have occurred in the airline business, which means nothing is likely off the table. If the timing is right now, it may not be in three years' time.
But, it seems for the time being WestJet is using a level head to ensure it can manage a small aircraft operation before declaring more lofty goals.