Air Canada and WestJet cite steady demand as they work to launch new subsidiaries
Canada's two largest carriers, Air Canada and WestJet, are voicing no concerns about declining demand even as some indicators show that high debt levels and high unemployment rates are weakening Canadian consumer confidence. If that weakness intensifies, both carriers could face significant headwinds in 2013 as they endeavour to launch new airlines to broaden their reach into new markets. If domestic conditions worsen it could affect the necessary cash flow generation required by those airlines to support the launch of their new business platforms.
But in the meantime Air Canada and WestJet are confident the demand that helped each carrier to achieve strong operational results in Aug-2012 will continue. Air Canada recorded a 88% load factor on essentially flat traffic and capacity growth while WestJet recorded 5.6ppt growth in loads to 89% on 9.2% growth in traffic and 2.3% expansion of supply year-over-year.
WestJet CFO Vito Culmone recently declared the carrier is seeing strong demand in the market place across all aspects of its business. During 1H2012 WestJet's profits jumped by 50%, and the carrier expects 3Q2012 unit revenues to be a bit stronger than the first six months of the year.
WestJet select financial statistics: YTD2012 vs YTD2011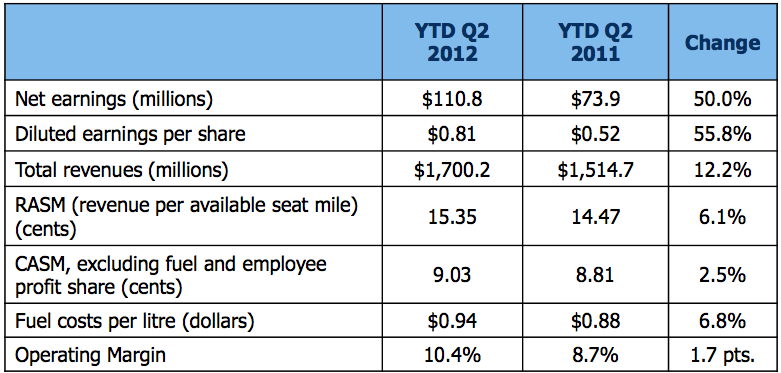 Air Canada is seeing a strong performance in its Pacific markets, and is also charting some improvement in the trans-Atlantic, although CFO Michael Rousseau recently stated the Atlantic remains weak from an economic perspective. The airline is also battling increasing competitive pressure from capacity additions ushered in the Canadian Eastern triangle by WestJet and Porter, and admits to pressure on the US eastern seaboard after WestJet launched flights from Toronto toNew York LaGuardia in Jun-2012. But aside from those pockets of increased competitive activity, Mr Rousseau stated trends in the domestic Canadian market and elsewhere in the US remain strong.
Mr Rousseau also concluded that overall pricing in Air Canada's premium travel classes remains strong, as premium unit revenues grew 4.6% year-over-year during 2Q2012. He did not express concern when queried over IATA's recent calculations that passengers purchasing premium class seating in international markets shrank 0.5% year-over-year in Jul-2012 after growing 4.3% in Jun-2012.
Air Canada quarterly unit revenue and premium unit revenue growth: 2008 to 2012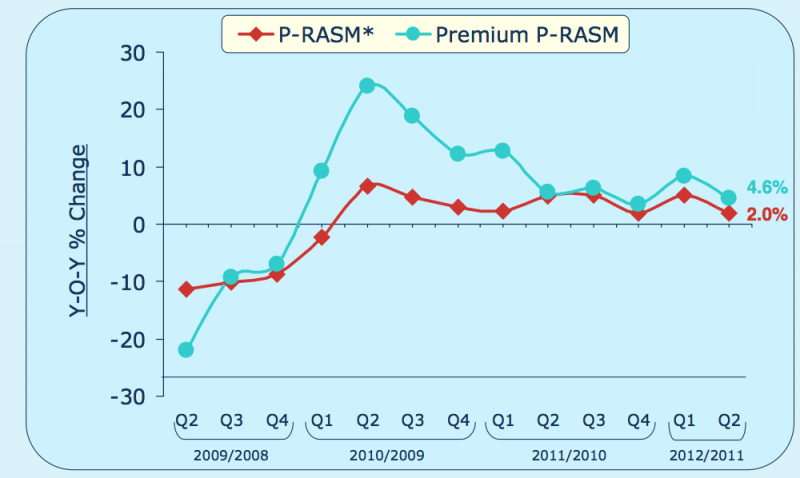 IATA is warning that weakness in premium travel during the coming months is likely to intensify as economic conditions in Europe remain weak, which could further pressure Air Canada's trans-Atlantic performance. However, Mr Rousseau pointed out that only 25% of the carrier's traffic to/from Europe originates in its European markets.
Launching new business ventures to drive revenue growth
Both Air Canada and WestJet have laid out ambitious plans to launch new subsidiary carriers in 2013 to capture additional revenue. WestJet aims to fill a hole in its network in smaller domestic and US transborder markets through the launch of a new subsidiary operating Bombardier Q400 turboprops, while Air Canada plans to introduce a new lost-cost subsidiary to improve profitability in some leisure markets and potentially serve secondary long-haul routes.
See related articles:
WestJet has a firm order for 20 70-seat Q400s and options for an additional 25 aircraft. The carrier expects to take delivery of seven aircraft in 2013 and complete deliveries from its firm order by 2016.
WestJet firm Q400s orders and options: 2013 to 2018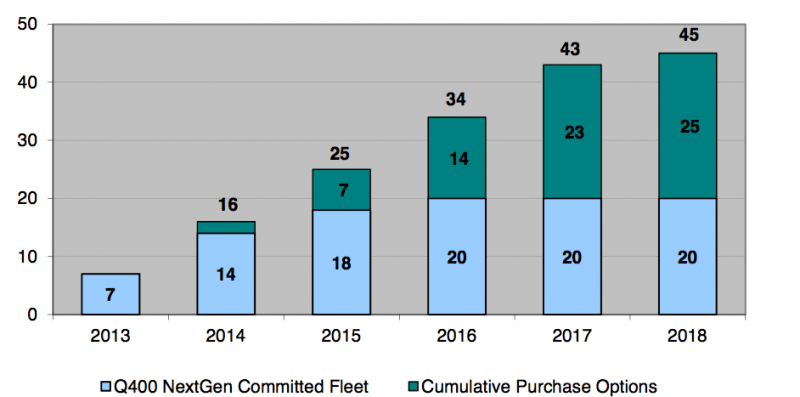 The Calgary-based carrier has been actively engaging with small communities about potentially serving those destinations. WestJet has not yet disclosed if operations of its new regional subsidiary will commence in eastern or western Canada, but has stated it would debut operations in a second region roughly nine months after start-up in the first.
Mr Culmone believes the opportunity for WestJet in the regional sector is significant based on the carrier's calculation that operations within that segment in the domestic and transborder markets for the operation of aircraft with more than 50 seats is worth about CAD2 billion (USD2.04 billion).
Estimated value (in CAD) of WestJet's regional operations in Canadian domestic and US transborder markets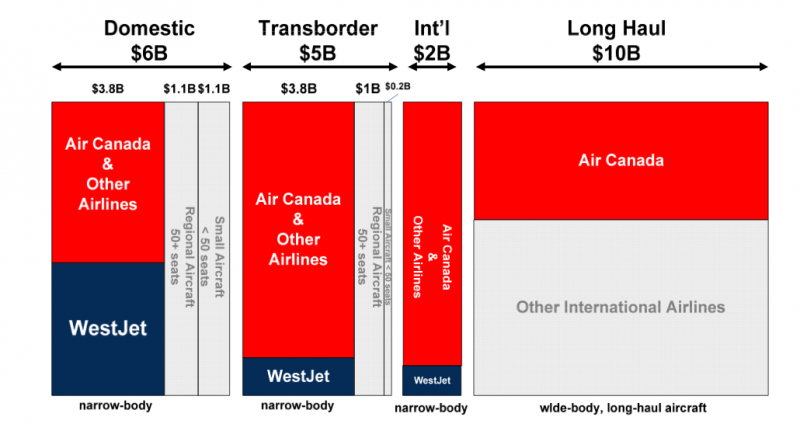 The network strategy being developed by WestJet for the new carrier has three tiers – serving new destinations, connecting dots in its existing network and supplementing existing routes with more frequencies. Air Canada, through its Air Canada Express partners, operates to about 30 destinations that WestJet is not serving, and as a result "we see significant opportunities there," said Mr Culmone.
Air Canada, Air Canada Express and WestJet markets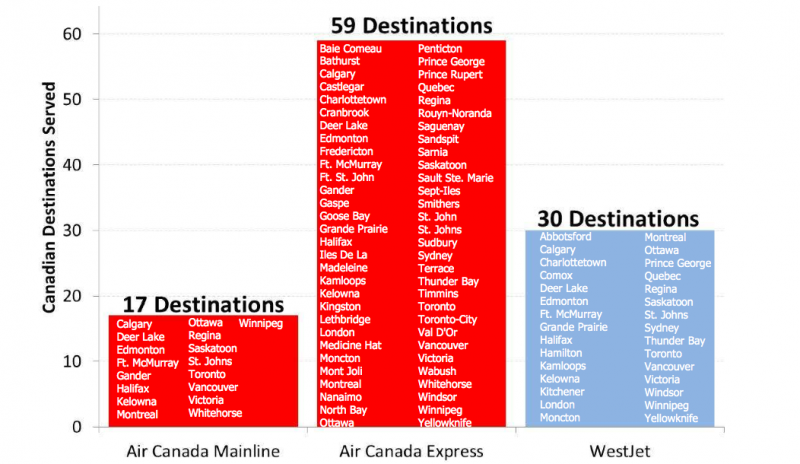 But Air Canada is vowing not to roll over as WestJet plans an assault on the legacy carrier's last line of protected business. Mr Rousseau declared the airline is working on a competitive response to WestJet's regional market entry with its main partner Jazz and other operators flying under the Air Canada Express banner.
Part of Air Canada's counter strategy rests on a provision included in a contract imposed by federal arbitrators on the carrier's pilots in Jul-2012. The contract allows Air Canada to deploy up to 60 jets or turboprops with 76 seats. At present Jazz operates 15 Q400s and 16 Bombardier CRJ705s. Air Canada's regional operator from Toronto City Centre Airport, Skyservice, also operates five Q400s.
There are, however, certain considerations that apply to Air Canada expanding the fleet of 76-seat aircraft to the 60-aircraft level. This includes maintaining a certain level of mainline flying, which has become a common stipulation in North American legacy carrier pilot agreements as restrictions on the number of aircraft with 50-plus seats flown at the regional carrier level are relaxed.
Mr Rousseau also stressed that WestJet will not grow from zero to 40 regional aircraft overnight, whereas Jazz already operates roughly 120 aircraft on behalf of Air Canada. While WestJet has not disclosed destinations featured in the network of its new subsidiary, Mr Rousseau stated Air Canada has some idea of where the carrier will operate, and pledged Air Canada would be ready with a competitive response.
As it readies to defend its small markets against WestJet, Air Canada is also preparing to debut its new low-cost carrier in 2013. The establishment of the new subsidiary was also made possible by the contract imposed on the carrier's pilots by the federal arbitrator's ruling.
Air Canada has taken a lot of time and energy to study low-cost models, said Mr Rousseau. The carrier has settled on a fleet of 50 aircraft split between 30 A319 narrowbodies and 20 Boeing 767 widebodies sourced from its existing fleet. Internal discussions are being held to determine the types of connections and affiliations the separately-managed subsidiary will maintain with Air Canada mainline, and branding for the new airline should be unveiled in the coming weeks, said Mr Rousseau.
Building balance sheets to support new business
Both WestJet and Air Canada are taking careful steps to ensure they have sufficient liquidity to support the launch of their respective new businesses. WestJet believes the combination of high liquidity and low leverage "is a wonderful thing", declared Mr Culmone, as the carrier heads into a period of "fairly intensive capital requirements" related to the start up of the regional airline and the expansion of the carrier's Boeing 737 fleet.
It appears most of the capital expenditures during the next few years will be dedicated to introducing the Q400 as its committed 737 fleet grows from 100 aircraft in 2012 to 105 in 2013 but drops from 106 in 2014 to 103 in 2015. WestJet has incorporated lease extension options into its fleet as a means to keep its narrowbody fleet flat or increase its number of single-aisle jets based on economic conditions.
WestJet 737 committed fleet and lease extension options: 2011 to 2018
737.png" alt="" width="701" height="373" />
At the same time WestJet's CAD1.3 billion (USD1.33 billion) in cash that represents roughly 39% of its trailing 12 months revenue as of 2Q2012, second to Allegiant Air among nine North American carriers tracked by WestJet. Mr Culmone remarked that WestJet's target is to keep its percent of cash to 12 months trailing revenue between 30%-35%. Conversely, its leverage ratio is 1.30 with respect to adjusted net debt to earnings before taxes and interest.
WestJet liquidity and leverage versus its North American peers: 12 months ending 2Q2012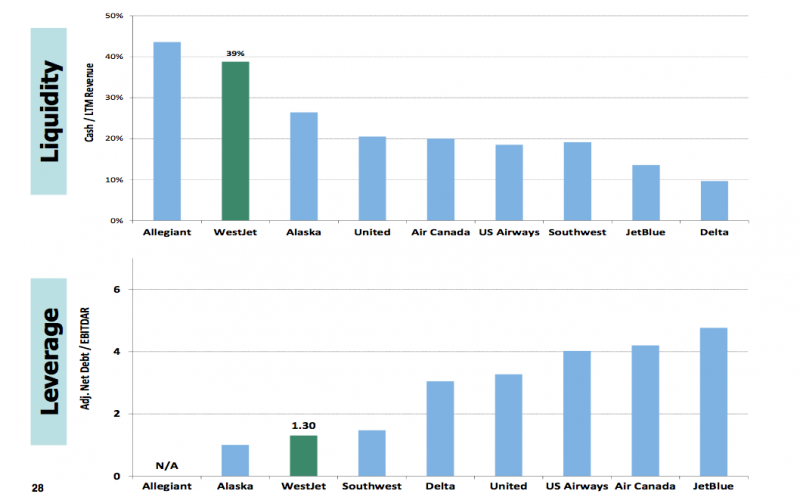 Air Canada's cash levels of CAD2.4 billion (USD2.45 billion) at the end of 2Q2012 that equalled 20% of 12 months trailing revenue were also within the company's internal 15% target. Mr Rousseau stated the carrier should cut its debt by CAD350 million (USD358 million) during 2012 after paying down roughly CAD1 billion (USD1.02 billion) during the last couple of years.
Air Canada cash (in CAD) as a percent of trailing 12 months revenue: 2007 to 2Q2012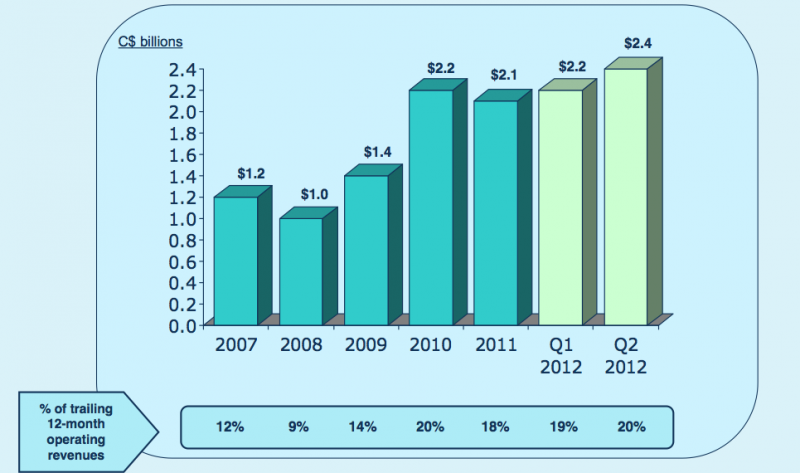 Air Canada adjusted net debt (in CAD): 31-Dec-2009 to 30-Jun-2012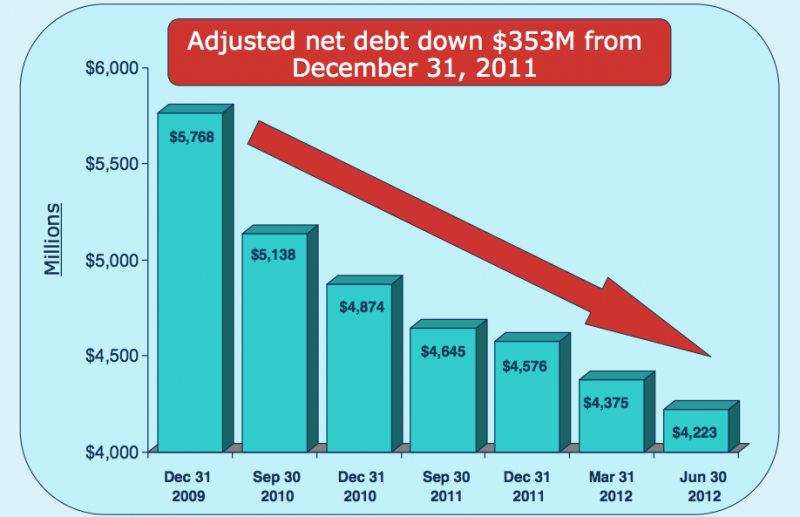 But unlike its younger rival, Air Canada faces a mounting pension solvency deficit that was CAD4.2 billion (USD4.3 billion) as of 01-Jan-2012, CAD2 billion higher than the deficit recorded at the beginning of 2011. In a effort to stave off entering into bankruptcy reorganisation during 2009 the carrier was granted a moratorium that allowed for certain fixed payments to its pension funds that ends in Jan-2014. Air Canada is seeking government and union support to extend the moratorium for 10 years, and the stakes appear high if the carrier does not receive the relief it is seeking. Reuters has reported that unless the plans are changed, Air Canada would be required to eliminate the significant deficit over a five-year period.
Canada's government seems to be in a delicate position as it weighs Air Canada's request to extend the moratorium. The Financial Post recently highlighted comments made by Canadian finance minister Jim Flaherty that it was important for Air Canada to get buy-in from current management, unions, pensioners and the country's financial regulators in order for the government to agree to the extension. The publication also highlighted that in Jun-2012 Mr Flaherty told a group of six large Canadian corporations that he was not prepared to enact special measures to give them more time to pay down their pension deficits.
Challenges loom as new subsidiaries take flight
Air Canada and WestJet are undertaking the launch of new subsidiaries as global macroeconomic trends are creating uncertainty in consumer confidence. Canada's economy is not immune from weakening economic conditions as evidenced by The Conference Board of Canada concluding in a recent report that Canada's unemployment rate has remained about 7% since Jan-2009. The analysis warns that modest job creation and weak income gains will limit growth in spending by consumers, which will leave less room in their budgets for discretionary spending on leisure and travel.
The Conference Board of Canada also believes business confidence in the country is weakening, citing four consecutive declines in the index of the Canadian Federation of Independent Businesses that drove the measurement to a three-year low in Jul-2012.
In its report, the Board concludes that traffic growth in Canada declined in May-2012 and Jun-2012 after recording strong results in the beginning of the year. The analysis shows combined traffic growth for Air Canada, WestJet and Porter of just under 8% in Feb-2012 compared with 1% growth in Jun-2012.
Air traffic growth is expected to continue to weaken until at least the end of 2012, the Board concluded. But it seems the country's largest carriers are adjusting their capacity to reflect the decreases in traffic. During 3Q2012 WestJet is projecting capacity growth of 2%-3%, with domestic ASMs decreasing 1%-2%. Air Canada for full-year 2012, estimates system-wide capacity growth of 0.5% to 1.5%, and a domestic increase in the same range.
While Air Canada and WestJet will likely keep their capacity increases modest for their existing lines of business in 2013, both carriers will feel cost pressure that accompanies the launch of new carriers. Additionally, WestJet could face challenges in launching new Canadian domestic markets if consumer confidence remains weak, and Air Canada could have a hard time attracting price-sensitive leisure passengers to its new low-cost operation. Developing a new business is tough under any market conditions, but if demand continues to weaken both Air Canada and WestJet could face a tough time in hitting internal targets set to measure the success of their respective new subsidiaries.