WestJet expands Encore's fleet and adds widebody flights as it braces for negative 2Q unit revenues
Analysis
In the midst of heightened scrutiny over its performance on long haul routes to London and its handling of economic weakness in Western Canada, WestJet has chosen to exercise options for an additional nine Bombardier Q400 turboprops – for operation by its regional subsidiary Encore. The options are the last that WestJet holds with the manufacturer, and once deliveries are complete in 2018 Encore will reach WestJet's targeted maturity of 45 aircraft.

During its three years of existence Encore has grown rapidly, and now offers 168 daily flights to 36 destinations. WestJet's execution in developing and growing Encore has largely been successful, stimulating traffic in smaller markets previously dominated by a single airline.

In addition to Encore's expansion, WestJet continues to court business travellers through its enhanced Plus product while attempting to navigate a weak unit revenue environment. The airline believes its negative performance will improve sequentially through 2016, but it is unlikely that WestJet can achieve a positive result in that metric this year.
WestJet wins healthy stimulation and connecting traffic from Encore
Although WestJet has faced some labour challenges during the last couple of years – from unionisation drives by pilots and flight attendants – it was fairly easy for management to gain buy-in for the establishment of Encore, which launched its operations in late Jun-2013.

At present Encore operates a fleet of 28 78-seat Bombardier Q400 turboprops, and in 2016 it added its first US destinations – Nashville and Boston. Combined, Encore and WestJet mainline have a fleet of 145 operating aircraft (according to CAPA's fleet database), which results in Encore representing 19% of WestJet's total operating fleet.
WestJet had stated that Encore would reach maturity at 45 aircraft, so presumably the company's decision to exercise aircraft options means that Encore will embark on its final stage of growth when deliveries start in Apr-2017, and continue through Jun-2018.
WestJet Encore fleet summary as of 8-Jun-2016
WestJet fleet summary as of 8-Jun-2016
WestJet regularly touts the stimulatory effects of Encore in markets the airline enters that were previously monopoly routes, often operated by the rival Air Canada and its regional partners.
Echoing comments previously made by WestJet management the company CFO, Harry Taylor, recently stated that the fares in such markets drop between 20% and 40%, while overall traffic grows between 40% and 55%.
Encore does not capture all of the traffic growth, but obviously enjoys the benefits of stimulation resulting from lower fares. Using the route between McCurdy Sydney airport and Halifax as an example, Mr Taylor stated that fares on the pairing had dropped from CAD800 (USD627) to CAD400 (USD313). WestJet entered the market in Jul-2015, and presently holds a 26% seat share on the route.
McCurdy Sydney to Halifax Stanfield International (seats per week, one way): 19-Sep-2011 to 31-Oct-2016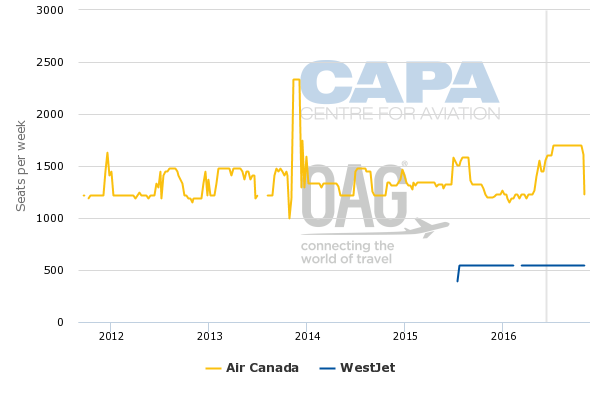 Mr Taylor remarked that approximately 50% of passengers travelling on Encore connect onto mainline flights, which is "a good place to be", he has said. He explained that WestJet did not model above those levels in the business analysis for Encore and the airline does not need to rise above those levels to deliver on Encore's business case.
WestJet's records healthy load factors in its Plus product, which is driving ancillary growth
In tandem with the creation of Encore, WestJet has been developing and refining a strategy to attract more business travellers – a tactic adopted by most North American low cost airlines to continue growing revenue. The LCC jetBlue has made the boldest move with a subfleet of aircraft on transcontinental routes from New York that feature its Mint product, with lie-flat seats. In many ways, Mint has exceeded jetBlue's expectations.

See related report: jetBlue's Mint a great example of innovation; next phase now tests its premium model more widely

WestJet has joined many other North American airlines in creating fare families, and the Plus product in its offering is targeted toward corporate travellers.
On three rows of WestJet's Boeing 737 narrowbodies the middle seat is blocked (European style), there is greater seat pitch, higher quality meals are offered, and also free checked baggage (among other attributes). On the four Boeing 767s that WestJet operates on trans-Atlantic flights to London Gatwick the Plus section is six abreast, with more legroom and the other product accoutrements mentioned.

See related report: WestJet continues to evolve its business strategy with first bag fee. Air Canada next.

Mr Taylor observed that the load factor in the Plus section of WestJet's aircraft consistently exceeds the rest of the aircraft, and offers a "screamingly good price" for business travellers. He admitted WestJet may not be at the top of minds of some business travellers, but with its product offerings and improving schedules in certain markets to appeal to corporate travellers, WestJet can easily earn its fair share of business passengers. Company executives recently stated WestJet's corporate passengers increased 10% year-on-year in 1Q2016, and Plus sales jumped 5.2%.

See related report: WestJet after 20 years. The new LCC challenges: preserving the culture but rising to the business

WestJet's ancillary revenue per passenger in 1Q2016 grew 7% year-on-year to CAD18 (USD14) – its highest ever, and more than double the CAD6 (USD4.7) per passenger that the airline posted in 2010. Mr Taylor has remarked that there is more room for ancillary revenue growth; however, he stressed that WestJet is not an ultra-low cost airline, and therefore its per passenger ancillary revenue would never reach the levels that jetBlue and similar airlines post – largely in the USD40 to USD50 range.
WestJet adds widebody flights, amid economic uncertainty and weak unit revenues
Despite the steady growth in WestJet's ancillary revenue its total unit revenues decreased sharply in 1Q2016, falling 11%. Its forecast for 2Q2016 is a decline of 7.5% to 9.5%, with sequential improvement throughout the remainder of 2016.

The steep declines in WestJet's 1Q2016 unit revenues were driven by weakness stemming from declines in the oil and gas sectors that dominate the economy of Alberta, significantly affecting Calgary – WestJet's headquarters and second largest base (for the week of 6-Jun-2016, measured by seats). The performance of routes to Alberta began to decline sharply in 4Q2015, and WestJet is moving capacity out of the province to elsewhere in its network.
WestJet global top 10 hubs/bases/stations by seats: 6-Jun-2016 to 12-Jun-2016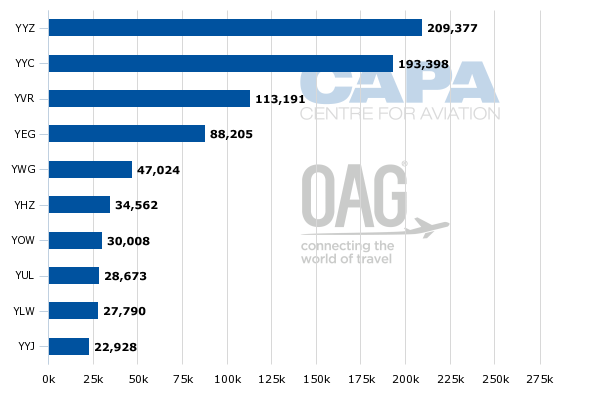 To combat the weakness in Alberta WestJet plans to cut its capacity in the region by 5% in 3Q2016. As a result of those changes WestJet's 2016 domestic capacity growth will be reduced: from 3% to 4%, to 1.5% to 2.5%.

WestJet also plans to return three Boeing aircraft with lease expirations in 2016 rather than renewing the lease agreements on the jets. The company has trimmed its 2016 system capacity forecast from 8% to 11% – to 7% to 10%, most of which (6ppt) is driven by the addition of the four 767 widebodies operated from St John's, Toronto, Winnipeg, Edmonton, Calgary and Vancouver to London Gatwick.
The flights began in May-2016, and WestJet's seat share between Canada and the UK is 15% (week of 6-Jun-2016).
Seat share between Canada and the UK: 6-Jun-2016 to 12-Jun-2016
The company estimates the Canadian long haul market's value at CAD10 billion (USD7.8 billion), and Mr Taylor has remarked that the leaders in the Canada-London market – Air Canada and British Airways – "earn tremendous profits".

The investment community is carefully watching the performance of WestJet's long haul flights, given Canada's projected GDP growth of 1.6% in 2016.
But WestJet believes it can stimulate traffic on those routes, and it cannot walk away from the long haul opportunity without trying to capture some of the value of those flights.
GDP Growth of Canada (Percent change): 2010 to 2020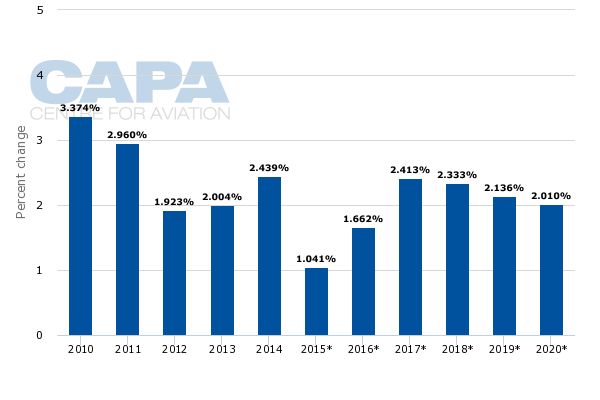 Beyond predicting sequential improvement in its unit revenue performance after 2Q2016, WestJet has not offered a definitive forecast of when it will begin a positive trajectory in that metric. Mr Taylor did note that he could see a scenario where WestJet could attain a flat to positive performance in that metric during 2017, but he did not offer any specific guidance beyond what WestJet has already issued for 2Q2016.
WestJet joins its counterparts: balancing RASM concern and long-term strategic positioning
WestJet is juggling many key facets of its business – Encore, long haul widebody flights, and capturing more corporate travellers at a time when some investors may be questioning its moves, given its unit revenue performance.

Its unit revenue weakness appears to be mostly driven by weakness in Alberta, which should resolve itself in the not-too-distant future. Similarly to many other North American airlines, WestJet finds itself practising a delicate balancing act – positioning itself for the future at the same time as investors are looking for assurance that unit revenue stability will return in the short term.