Virgin Blue looks to cash in on discounted aircraft
Narrowbody aircraft values are in retreat as orders for new aircraft dry up and financing is hard to come by. According to Ascend, the current economic downturn has "already caused damage to values in just one year (Jul-2008 to Jul-2009) which is comparable to what took five years in the last downturn."
Ascend reports a 12% drop in prices for a brand new A320 and 18% drop for a five year old aircraft. Attracted by pricing weakness, some of the world's leading LCCs are looking to cash in, entering negotiations to place orders for aircraft to replace and grow their fleets next decade.
New aircraft values (build year) for B737-800 vs A320-200 (USD, millions): 2001 to 2009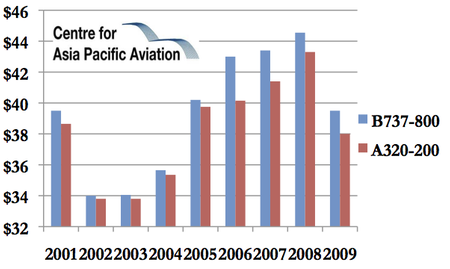 Australia's Virgin Blue is among them. Virgin Blue is currently in talks with Boeing to order 35-50 single-aisle aircraft, as leases on 25 B737s expire from 2011. The deal would cost up to USD3.5 billion.
Despite the current economic conditions, CEO, Brett Godfrey, stated the carrier would not have difficulty financing the aircraft. Mr Godfrey added "now is the best time to do a deal. We are in the market because the market is right and don't want to miss the opportunity."
The LCC currently has 29 aircraft on order and scheduled for delivery through to 2014.
Virgin Blue aircraft delivery schedule: as at 22-Sep-2009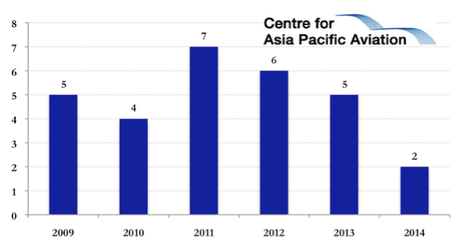 Raises AUD98 million in retail equity
Virgin Blue has recently raised AUD98.3 million in fresh capital with the completion of the retail component of the non-renounceable entitlement offer announced on 27-Jul-2009.
Also in Sep-2009, Virgin Blue issued 36.8 million ordinary shares to the Virgin Group in connection with its institutional placement of shares and 15.3 million ordinary shares in connection with its ineligible shareholder nominee process.
In total, the LCC has raised AUD231.4 million from the issue of the 1.16 billion new shares.
The funds will likely be used to help the LCC to fund its operations during the current economic downturn and to support new investment opportunities. Virgin Blue sank to a full year net loss of AUD160 million in the 12 month period to Jun-2009, attributed to falling passenger demand and losses at long-haul unit, V Australia.
International traffic continue to surge, but domestic traffic still lags
Virgin Blue reported total passenger numbers fell 2.5% year-on-year to 1.3 million in Jul-2009. Its passenger mix is changing however, with a 52.5% increase in international passenger numbers, attributable to the launch of V Australia's services to Los Angeles in Feb-2009. By contrast, Jetstar reported a 17.8% increase in passenger numbers in Jul-2009.
Virgin Blue and Jetstar passenger number growth: Aug-2008 to Jul-2009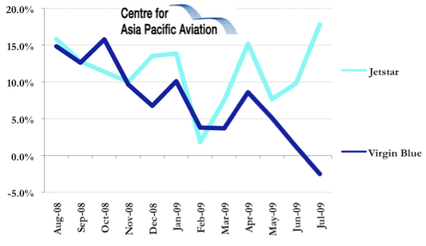 Reflecting both carriers' expanded international operations, Virgin Blue's traffic (RPKs) increased 21.7%, while Jetstar's traffic increased 8.2%, on the back of capacity increases of 27.4% and 7.6%, respectively.
Virgin Blue and Jetstar RPK growth: Aug-2008 to Jul-2009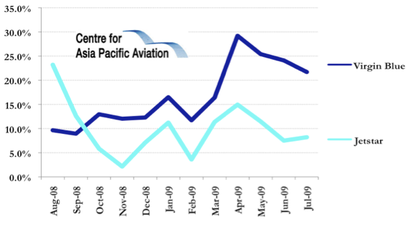 Tough times ahead
Mr Godfrey added the carrier is yet to see significant signs of a recovery in demand and one of the biggest challenges ahead for the industry would be the possibility of speculators increasing oil prices.
According to Mr Godfrey, "the last 12 months…have been the most taxing, the most complex, the most challenging, the most vexing and quite frankly the most unexpected…It has been an awful few months for it [V Australia] but commercially the worst has to be behind it. I am not sure we will see massive improvement. But we have certainly seen a levelling out".
Virgin Blue and Jetstar ASK growth: Aug-2008 to Jul-2009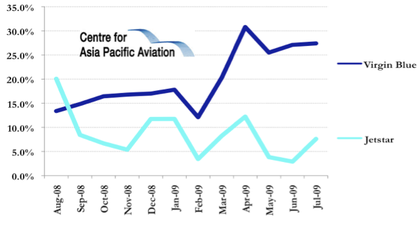 Maintains target of 50% market share, breakeven in FY2009-10
Virgin Blue still expects to break even in FY2009-10, although V Australia is expected post another annual loss. However, the Group forecasts its V Australia subsidiary will become more profitable than Virgin Blue sometime in the next five years and will break even in FY2010/11.
Mr Godfrey stated he believes the carrier is well positioned to benefit from any upturn in the Australian economy and it still aims to gain 50% of the Australian market. Alliances, growth in the corporate market and network/product development are crucial components of the airline's forward strategy.
a) Alliances. Delta and Emirates relationships progress
Virgin Blue and its proposed new partner, Delta Air Lines, received preliminary approval from the US Department of Transportation (DoT) to codeshare on trans-Pacific services.
The current approval only covers Virgin Blue, although the group plans to apply for Pacific Blue and V Australia after they have been audited by the US FAA. DoT and the Australian Competition & Consumer Commission (ACCC) are yet to approve the carriers' wider JV.
The proposed JV is however facing stiff opposition from Air New Zealand, whose proposed alliance with Air Canada was previously rejected by the ACCC. According to Virgin Blue and Delta, their combined services in the Australia-US market would represent 26% of seat capacity, while Air New Zealand and Air Canada's proposed JV would have represented 100% of capacity between New Zealand on one side and Australia and Canada on the other. Delta and Virgin Blue have stated they would have difficulty maintaining trans-Pacific services without the approval of their proposed JV.
V Australia and Emirates have meanwhile announced their first codeshare agreement on the trans-Tasman route, covering Emirates' Sydney-Auckland and Sydney-Christchurch A380 services, and V Australia's Sydney-Los Angeles B777 service, will come into effect on 25-Oct-2009.
The agreement will provide V Australia passengers with seamless transfers from the carrier's international flights arriving in Sydney to New Zealand.
Emirates and Virgin Blue currently have in place a partnership via reciprocal benefits from both carriers' frequent flyer programme and an interline agreement.
b) Business travel segment
Virgin Blue has also confirmed it is slowing gaining ground on Qantas in the lucrative corporate market. The Australian Government recently announced plans to put its USD500 million annual travel budget up for tender in three separate tenders; domestic, international and travel management services. Qantas had previously dominated that contract with an approximately 90% share.
Virgin Blue, which has been urging the government to address the perceived preference of Qantas by the public sector, welcomed the tender. Virgin Blue also welcomed the government's plans to establish a new policy in which public sector employees must select the lowest practical fare for their day of travel, claiming it could cut air travel costs by up to 25% for the government.
Competition for the higher yielding business will be competitive, particularly amid the current global recession, which has resulted in a downturn in the lucrative corporate travel market. According to Mr Godfrey, "the markets where Qantas has a huge advantage are freight, intra-WA, frequent flyer and government contract. We have been progressively picking these up."
V Australia, Emirates, Cathay Pacific and Singapore Airlines are expected to apply for the international tender.
In related news, Virgin Blue announced plans to open a new 500 sqm "The Lounge" in the Virgin Blue terminal at Perth Airport in Dec-2009, as part of plans to continue expanding in Perth. The proposed facility will have capacity to handle over 120 passengers, servicing both business and leisure travellers.
c) Product and network development
In another battle ground, Qantas Group has applied to the International Air Services Commission for 1,491 seats for services to Fiji, which will be operated by its LCC subsidiary, Jetstar, on the Sydney-Nadi sector from Apr-2010. If approved, the move would block Virgin Blue's plans to launch daily V Australia service on the route.
Virgin Blue has applied for 1,260 seats for Fiji operations, while also planning to transfer a further 1,260 seats from Pacific Blue on the route to V Australia. By doing so, the carrier will be able to maximise aircraft utilisation of its 360-seat B777-300ERs, which currently spends 12 hours on the tarmac in between services to the US.
In response to Qantas' plans to thwart its Fiji plans, Virgin Blue has upped the anti, justifying to the International Air Services Commission that it plans to create a "virtual" low cost cabin in V Australia's aircraft to increase competition on the route and lower fares. The carrier added V Australia's proposed entry on the route will also introduce Premium market competition, increase freight capacity and increase consumer choice.
Virgin Blue added "the lower unit cost of the B777-300ER will enable V Australia to operate a virtual low-cost cabin in the aircraft that will not only match fares already introduced by Pacific Blue but also provide opportunity for tariffs even lower than those currently available in the market."
Virgin Blue's "airline of the future" project is currently under way and may include splitting its narrowbody aircraft cabins into Premium, Classic Economy and low cost seating. According to Mr Godfrey, the additional seats would allow the carrier to reduce its costs by 3%, adding that earlier plans to launch a separate ultra LCC were now unlikely to happen. Premium Economy seating will be extended to all aircraft.
These product developments will be very interesting to watch in coming months, as Virgin Blue tweaks its offering in response to market challenges and opportunities.
Background Information:
Launched in Aug-02, with headquarters in Brisbane;
Operates over 2,200 weekly services to 24 Australian destinations, and currently has approximately 32% domestic market share;
Listed on the Australian Stock Exchange in Dec-03
Total annual passenger numbers exceeds 15 million travellers.
One of the few carriers in the world to be profitable since start-up;
Virgin Blue is increasingly focusing on the business market, while retaining its traditional leisure base;
Issued a profit warning for the 12 months ending 30-Jun-08, stating net profit "will not be in excess of AUD140 million", excluding AUD40 million of development costs.