Virgin Blue: Branson plays his Poker hand
Analysis
As V Australia begins B777 long haul service to the US on Friday, parent LCC, Virgin Blue, is occupying an uncomfortable place. On all fronts its market competition is intensifying - domestically in Australia, domestically in New Zealand, between the two countries across the Tasman and, from Friday, internationally on the Pacific. On each of these, it is the underdog. That might be a role it relished at one time, but today it is merely a recipe for losses.
Virgin Blue is no longer the lowest cost operator in any of those markets, yet it can't aspire to the higher yields of its stronger competitors. The introduction of Embraer jets on smaller short haul domestic routes has helped make some inroads into Qantas' stranglehold on corporate accounts, but the process is a slow one.
And, apart from a share price that is less than 30 cents this side of zero, it has boardroom problems that threaten to create even greater dead weight - just when it needs to be refocusing.
There is more to Virgin Blue than simply an airline; its financial health is crucial to maintaining a balance in Australian aviation.
A history brighter than its outlook?
Despite, in the circumstances, reporting a not bad result for 1H09 this week, the operating outlook is grim for Australia's once-luckiest little airline. CEO Brett Godfrey could justifiably be pleased with a useful "underlying" profit for the first six months of the 2009 financial year, after stripping out start up costs for the new international operation - while fuel hedging mark-to-market losses wiped out all of the profit and more.
Virgin Blue EBIT margin and Net profit margin: FY06 to 1HFY09 (financial year ended 30-Jun)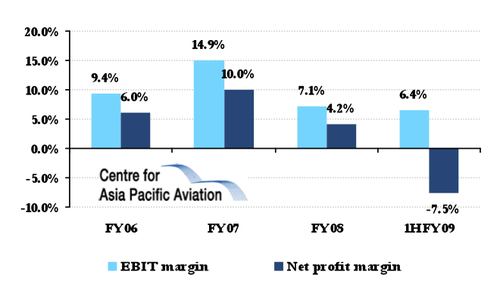 The CEO has done all the hard yards, further reducing costs during the period - although Virgin Blue is now unable to avoid redundancies, where previously these were ruled out.
Up to 400 jobs affected; executives take a pay reduction
The capacity reduction impacts up to 400 full-time equivalent positions at the carrier, with Virgin Blue currently exploring options to minimise job losses. Options include transferring staff from Virgin Blue to its new international long-haul airline, V Australia and offering part-time work, job sharing and leave without pay. According to the LCC, involuntary redundancies are still the carrier's "very last port of call". Meanwhile, as a starting point, Virgin Blue executives have accepted a 20-30% pay reduction, as part of the cost cutting measures.
The potential job reductions, however, come as no surprise. In Dec-08, Virgin Blue stated it had the capacity to reduce its workforce by at least 5% of its approximately 5,500 staff. Virgin Blue has also previously requested its pilots to take outstanding leave, as part of a plan to avoid redundancies. In a memo last year warning that the airline is still "in the eye of a storm" with the economy slowing and recession a possibility, Virgin Blue Chief Operations Officer, Andrew David, stated low pilot turnover of less than 2% means the airline has a surplus of B737 flight crew.
Virgin Blue Chairman, Neil Chatfield, also previously warned that the carrier was expecting tough times ahead, stating, "we expect the operating environment for the 2009 financial year to be the most difficult Virgin Blue has yet experienced. Despite a recent easing of global oil prices, which has brought some relief, the softening economic conditions are presenting a continuing challenge to our business.''
Meanwhile, Mr Godfrey stated discount fares could be grounded in a tough economy, adding, "at the moment we're very happy to discount, but the discounted fares out there will be difficult to sustain with the level of capacity that we have. We will be doing what we can to see if we can even it up in average fares through taking some capacity out."
Virgin Blue, however, ruled out a capital raising exercise, although it stated it was considering some cash and capital management initiatives.
Despite the headwinds, Virgin/Pacific Blue is hanging on reasonably well in the respective Australian and New Zealand domestic markets, even after being unwillingly drawn onto the increasingly viciously priced trans-Tasman routes. Its Pacific island routes are also maintaining some traction.
In response to continued and forecast deterioration in domestic demand, Mr Godfrey announced plans to reduce domestic Australian capacity by 8% in 2009/10 (commencing 01-Jul-09), the equivalent of five aircraft. The decision, labelled a "prudent interim capacity management plan", marks the end of the airline's continued growth in the domestic market. The eliminated aircraft, believed to be B737s, will be used "as operational spares" until next year.
He has previously stated the Australian domestic market in 2009 is currently looking at half the capacity growth envisaged six months ago. The airline had already planned to slow domestic capacity expansion from 20% to 8% this financial year (to 30-Jun-09) and taken the equivalent of six aircraft out of the domestic market (including the four deployed to Pacific Blue). The LCC also reduced capacity by 9% in the September quarter. This is probably in fact a smaller reduction than it would have preferred, but those aircraft orders just keep on rolling in - and in any event, reducing capacity by too much only hands Qantas/Jetstar (and potentially Tiger) a larger market share if they don't follow suit.
There is a telling forecast in the report's advice of the aircraft grounding: the equipment will not be "redeployed until the second half of 2010." That is, nothing good is projected to happen this year.
The carrier's capacity growth over the 12 months to Dec-08 has clearly led to reduced load factors and, now that there is no immediate end in sight to the downturn, it is time to pull seats. Meanwhile, some of the new seats have been redeployed to short haul international routes, increasing Pacific Blue's fleet from 6 to 10 aircraft, causing that operation to suffer a loss. But still the aircraft arrive: another 19 B737NGs are to be delivered between 2010 and 2016.
Virgin Blue/Pacific Blue passenger traffic growth and passenger capacity growth: Jan-08 to Dec-08
Summary of Virgin Blue outcomes from its ongoing review
| | Part I | Part II | Part III |
| --- | --- | --- | --- |
| Capacity reductions | A 6% reduction in planned 2008/9 capacity growth within the September quarter and a further 2% of domestic capacity to be redeployed from loss-making services into identified better performing, new or uncontested markets. | A further 3% reduction in planned capacity growth resulting from the removal of two B737 aircraft and a further planned capacity reduction of 3% in 2008/09 from the Embraer deferrals. | 8% reduction in domestic capacity in 2009/10. |
| Fleet Reductions | Removal of four aircraft from the Australian domestic market within the September quarter. | Removal of a further two aircraft from Australian domestic market by Oct-08. Virgin Blue has also agreed with Embraer to delay five committed 2009 deliveries. | Equivalent of five aircraft removed, and used as operational spares |
| Cost saving programme | AUD50 million package of cost savings and an immediate salary freeze for all management staff for the ensuing fiscal year. | | Executives have taking a 20-30% pay reduction; up to 400 full time jobs affected |
| Revenue enhancing programme | | The introduction of new baggage fees. | |
| Demand-enhancing programme | | Significant fare reductions on heavy leisure routes and an increase in the airline's Flexible Fares. | |
Going for yield
At stake is the airline's long term strategy to evolve into a "New World Carrier". It long ago forsook its low cost mantle, moving progressively up market to allow it to share the rich rewards of its main competitor in the Australian market. This has involved, as noted above, the introduction of smaller jets to allow it to provide frequency in key business markets like Canberra-Sydney and, now, the addition of B777s to address the previously gold plated US business route.
Yet the unavoidable yield trend recently, with all these seats being added, has been negative, not positive.
Virgin Blue revenue growth and passenger number growth: FY07 to 1HFY09 (financial year ended 30-Jun)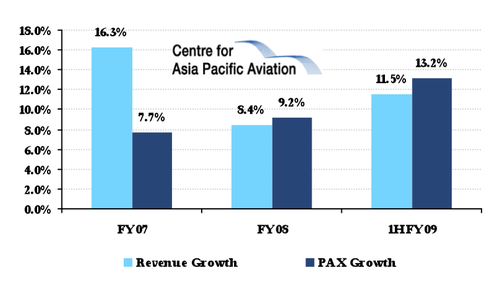 Pacific Turbulence
Right now the real threat to the carrier's survivability is the burden of this new trans-Pacific venture. With just about the most unfortunate timing imaginable, its subsidiary V Australia is about to embark on a period of predicted heavy losses on the Pacific route. The world's largest airline, Delta, is coincidentally about to begin Los Angeles- Sydney (and a host of behind-US gateway cities); the dominant incumbent, Qantas, is ramping up its competitive response and, whoops, suddenly there is no market demand.
If there were one decision that Brett Godfrey would retract right now, given the chance, it would be to make the Pacific go away. The entry has already been painful enough, having being forced to delay the start until after the Christmas peak thanks to a Boeing strike preventing the delivery of its first B777. No compensation was payable by the manufacturer, Virgin had to pay to put its already-booked passengers onto Qantas and, through no fault of its own, it lost a lot of initial goodwill by upsetting many people's Christmas holiday plans.
Until now, those start up costs could be compartmented as a capital outlay; also some positive cash flow has been generated by advance sales. But once operations start, the cash starts to flow off the bottom line. Crunch time.
Sometime during the latter half of last year, Virgin management would have known that Delta looked like entering the market, but by then it was too late to pull back. The momentum was far too great to revise plans. (And the fact that V Australia had probably shared many of its budgeting plans with its prospective US partner Northwest, shortly before that carrier merged with Delta, will only make the pill more bitter, now that it is having to hunt around for connection opportunities.)
There is some hope that either United Airlines will withdraw from the route, partially or completely, as Delta enters - or even that Delta itself will be a weak competitor (after all it did forget to tell anyone in the Australian market that it was coming). But that is hardly a strong strategic position to be coming from. And there is no sign of anyone blinking just yet.
The fact that fuel prices are now coming in well under budget offers some consolation. Costs will be contained. The real problem though is that, just as the supply of seats is about to rocket, demand is disappearing like the tide going out.
V Australia cleared for takeoff
V Australia was cleared for take off by Australia's Civil Aviation Safety Authority (CASA) on 19-Feb-09, after successfully completing all requirements and receiving its Air Operators Certificate (AOC). V Australia is the first Australian operator to receive approvals for a B737-300ER on the Australian AOC.
V Australia also announced plans to launch three times weekly Melbourne-Los Angeles service on 15-Sep-09, subject to regulatory approval, with all inclusive return Economy launch fares from AUD1,199 (USD810). It is the third route announced by V Australia after Sydney-Los Angeles (three times weekly from 27-Feb-08, to increase to daily from 21-Mar-08 when the airline's second aircraft is delivered) and Brisbane-Los Angeles (commencing 08-Apr-09, after being pushed back from an initially planned 01-Mar-08 launch). Sydney-Johannesburg service is also expected to commence within 12 months.
Meanwhile, the carrier took delivery of its first B777-300ER on 06-Feb-09, leased from ILFC. The aircraft is one of seven leased and purchased B777-300ERs V Australia will deploy on trans-Pacific and other routes. V Australia's B777-300ER is configured with 361 seats in business, premium economy and economy classes, with advanced IFE options.
V Australia is nominally expected to break even within 18 months and, based on current bookings, has a load factor of approximately 40% through to Jun-09. The delay of the carrier's launch by 76 days (thereby missing the prime Christmas/New Year holiday peak) is esimated to add USD10 million to V Australia's estimated USD70 million start-up costs.
Chairman Neil Chatfield previously stated Virgin Blue was "looking forward" to the launch of its international long haul airline, V Australia, in late Feb-09, stating that "despite launching in less than optimal circumstances, the fact remains that the Australia to US market has limited competition and we remain convinced of the potential of V Australia in the medium to long term". Just how long can long be?
Pacific premium seat numbers to double on Sydney-Los Angeles
Most pointedly, just as that happens, a mountain of new premium seats is arriving. On the Sydney-Los Angeles route today - prior to V Australia starting - there are currently about 1,483 business and first class seats available for sale each week, offered by Qantas and United.
In mid 2009, by the time Delta enters with its daily service and V Australia has increased to daily, there will be around 2,675 premium seats a week on the Sydney route alone - a near doubling of front end seats in the space of four months.
At the same time, nearly, 4,000 economy seats will be added, from 6,828 to 10,336 weekly. [Source: CAPA and OAG.]
Even in a strong market, this would greatly depress yields. This is far from a strong market.
For example, the latest IATA data suggest that premium seat demand in Australian/Southwest Pacific international markets actually decreased by a massive 25% in Dec-08. This was the steepest fall of any market in the world and probably the biggest drop ever in a single market. Premium traffic to/from the US specifically fell 22%, another astonishingly steep decline.
IATA premium traffic by region (% change year-on-year): Dec-08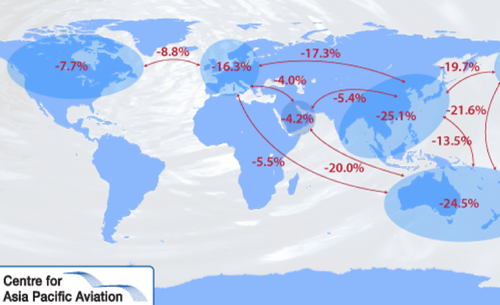 For the time being, popular focus is on the heavy discounting in the back of the bus, where the standard fare appears to have settled around AUD1,300-1,500 roundtrip ex Australia/USD800 ex US (although the disease spreads; American Airlines last week announced an AUD999 return fare between Australia and various US points, including Los Angeles, New York and Chicago, over Tokyo).
These prices, now apparently fairly freely available, are around half last year's fare levels. They are also well below the AUD1,900 standard fares initially promoted by V Australia at its launch announcement last year (and that was already about AUD600 below the then-existing level).
But because demand and supply are heading in opposite directions, the serious blood will be spilled in the premium cabin. For the time being, all carriers are bravely maintaining high differentials for business class seats, for web sales at least (Qantas and United will remain the only two to have full first class on the route).
Two tiers of business class pricing are emerging: Delta and Qantas have these currently set at a multiple of around 10x for a business class seat, compared with the cheaper economy fares - clearly a wholly unmarketable difference in a market awash with seats.
V Australia, which has little access to corporate markets yet, and United meanwhile are selling Sydney-Los Angeles discounted business class fares at around AUD7-8,000, or a little over half the Delta-Qantas price - so something will have to give, once reality sets in. Travel agents will find their airline partners much more friendly as the carriers look to mop up capacity and some leakage is already occurring.
For V Australia, operating in a seasonal market, up against large carriers with deep pockets and extensive feed behind the US gateway, the ask is a big one. Its US partner opportunities were undermined when its planned US on-carriage partner, Northwest, withdrew, leaving the Australian airline initially with only a single onward connection opportunity, to Seattle. This has been recently enhanced to include Portland and Minneapolis - still hardly a comprehensive portfolio of key US destinations.
By contrast, each of Delta, Qantas (with American) and United has extensive beyond-gateway links. Back home, Virgin Blue can feed into its long haul operation, as does Qantas, and will have the two other main east coast Australian gateways of Melbourne and Brisbane to use too, as those services are introduced (adding yet more capacity to the wobbly US market). And it will take time for V Australia to tap the extensive corporate markets of the bigger operators; that is where the decent remaining yields lie.
So, even assuming the situation does not deteriorate further in its home Australia-New Zealand markets, the mountain of new seats on the Pacific threatens to avalanche into an ugly and very costly scenario, as V Australia adds service from Melbourne and Brisbane. Expressions like bloodbath were used when this sort of competition occurred on the Pacific in the early 1990s and if anything the outlook is even uglier today.
Resolving the ownership issue
With all that fun to come, Virgin Blue's real problems are nevertheless not in the travel marketplace, but on its share register.
This and the carrier's current share price prompted Lim Kim Hai, Chairman of minority shareholder Regional Express (Rex) to suggest this week that Virgin Blue is now "extremely vulnerable" to a takeover bid, whether "hostile or friendly".
Virgin Blue has been a near-orphan ever since previous majority owner Patrick decided the airline could not offer multimodal synergies that it had hoped. Then, last year, after Toll Holdings had bought the airline as a package deal when it took over Patrick, Toll basically gave the Virgin Blue shares away, to clear the burden off its share register.
Today there is only one substantial shareholder, Virgin Group, with a strategic 25.5% equity holding - enough to make it impossible for a prospective purchaser to assume control without having to deal with Sir Richard Branson on all key decisions. Branson is still "President" of the airline.
Sir Richard was quoted this week as saying he had no intention of selling out, as he was "very proud of the company". In reality, he is unlikely to sell out at anything like the current abysmal price, even though buyers are in the air (see below).
The Virgin Group lost heavily on paper during Toll's tenure as majority shareholder, as the share price slipped from above AUD2 to around 50cents. And the AUD200 million-odd profit that was earlier made on Virgin Group's initial sell down was invested in the cash hungry Virgin America. So understandably Sir Richard is keen to leverage any position he has in order to recoup some of the recent negatives.
Virgin Blue share price: 08-Dec-03 to 24-Feb-08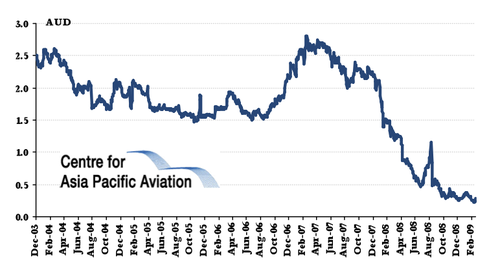 But meanwhile, the result is that Virgin Blue's fate hangs in the balance.
Simply the fact that the new Pacific operation cannot use the Virgin brand is one hint of the clinging vines around this airline. That's because Singapore Airlines remains the (reluctant) owner of 49% of Virgin Atlantic and part of the purchase deal was that the Virgin airline brand could not be used internationally without SIA's permission. SIA is not about to give it, especially where V Australia is to operate on a route which the Singapore flag carrier has been trying so desperately to enter in its own right. SIA is trying hard to sell its share in Virgin Atlantic, but, with the other 51% in Virgin Group hands, there are few buyers.
There is no prospect that SIA will buy Virgin Blue - at least, as long as Virgin Group is involved. In a purely logical world, that would be the outcome, but this is a much more complicated equation.
The end game is nigh
So now it comes down to a poker standoff. Branson is no pushover and holds at least two aces in this showdown. But the longer he holds on and the carrier's future remains uncertain, the greater the chance of polluting the brand. And, once the losses start to flow on the Pacific, Virgin Blue's capitalisation could fall even further, making buyers even more cautious.
Go on. Call me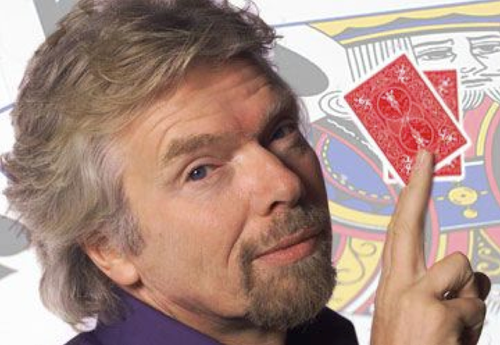 Timing will be critical and extended delay will probably only weaken Branson's hand. Even he would be uncomfortable with a tough private equity group making life difficult and no room to manoeuvre.
Rex is one entity with a stake already in the Australian market; the successful regional airline codeshares with Virgin Blue and in Oct-08 its owners also purchased shares in Virgin Blue, with the intention of "holding a strategic stake in the airline". As at 31-Dec-08, Rex held 19.1 million Virgin Blue shares, approximately 1.82% of the stock). This acquisition has been seen as a sign that the carrier could be planning to capitalise on Virgin Blue's share market weakness. It is, however, uncertain what Rex's precise intentions with Virgin Blue are in the future.
However, Virgin Blue CEO, Brett Godfrey, publicly doubts Rex would increase its stake in the carrier, stating, "we have a relationship, but that's probably as far as it will go for now, I guess. We do a lot of talking and meetings because we are complementary in a lot of things we do. We talk to them a fair bit - I am not saying for anything other than code-sharing."
Pragmatic not pessimistic...
According to Virgin Blue CEO, Brett Godfrey, "while we are not pessimistic about the future, we are pragmatic about how this outlook could impact Virgin Blue, particularly in the Australian market, if we do not stay ahead of the curve".
The V Australia venture is undoubtedly a determining moment in the Australian airline's history. It will almost certainly provoke an outcome that sees Virgin Group withdraw from its position in the airline, probably with first a surge in the lowly share price, as rumours - followed by a possibly complex transaction - surround the next move.
Meanwhile, just how much blood needs to be spilled first depends on who can stare the other down most effectively.
It does look unfortunately that a speedy resolution is not the best bet. Yet it is vital that Australia's second airline remain reasonably stable and sustainable.
Virgin Blue has some ability to sustain losses, but even an optimistic pragmatist would be looking over his shoulder at this time.
Pacific Blue background Information:
Polynesian Blue background Information:
Virgin Blue background Information:
V Australia background Information: