Virgin Blue-Air New Zealand union? Singapore Airlines, Cathay Pacific and Qantas shares rise
Virgin Zeal? Air New Virgin? Macquarie Group analysts have said Air New Zealand and Virgin Blue should consider an alliance, to reduce costs, improve profitability, increase efficiency and improve the airlines' respective competitiveness against Qantas. The logic of such a union is undeniable, but Sir Richard Branson's ego and New Zealand politics are insurmountable.
Macquarie believes that selling new shares in Air New Zealand to fund such an agreement may also dilute the New Zealand's Government's 75% stake in the carrier, making it more attractive to domestic and foreign investors.
Virgin Blue shares rose 5.0% to AUD0.315 at the close of trading yesterday, while Air New Zealand's shares remained unchanged at NZD0.91. Both carriers shares are back to where they started in Jan-2009.
Virgin Blue and Air New Zealand share price index: Jan-2009 to Jun-2009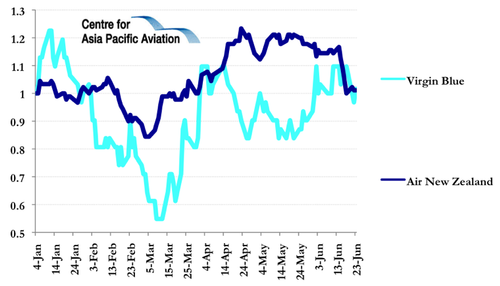 B787 delays and Asian airlines
Air New Zealand meanwhile stated it was disappointed by the prospect of a fifth delay in the production of the Boeing 787 aircraft, echoing similar comments by All Nippon Airways and Virgin Atlantic. Qantas remains confident it will be able to deploy its new B787s according to the current schedule. ANA's share price slipped 0.9% yesterday, despite an overall improvement in the Nikkei 225, while Qantas' share price was up 0.5%.
Another B787 customer, Jet Airways, saw its shares ease yesterday (-2.1%). The carrier reported an 18.9% reduction in passenger numbers in May-2009, with particular weakness in domestic markets, while cargo also suffered, falling 23.4%. In light of this current demand environment, the carrier has confirmed plans to defer the delivery of four B737 aircraft order for its LCC subisidary, JetLite, from 2010 to between 2011 and 2013.
Asian airline shares were generally up yesterday (24-Jun-09), reflecting overall improvements across Asia Pacific stock markets. Cathay Pacific and Singapore Airlines gained 1.1% and 4.1%, respectively, while Malaysia Airlines' shares slipped 2.5%, after a 3.9% gain on Tuesday.
Asia Pacific selected airlines daily share price movements (% change): 24-Jun-09