Virgin Australia in profit: loyalty programme and virtual network to drive new growth
After a turnaround that has secured profitable performance in all its flying segments, Virgin Australia will now look to capitalise on that strength by growing revenue in what are lucrative, yet still under-appreciated, segments for airlines: loyalty programmes and virtual networks. The growth platform for Virgin is its domestic business, which the carrier on 28-Aug-2012 announced as having reached its goal of doubling its share of high-yielding corporate and government traffic.
That led to a rise in FY2012 EBIT profit to AUD82.5 million (USD85.6 million), strengthening further loyalty initiatives and growth in codeshare and interline passengers, whose value Virgin wants to increase by AUD150 million per annum. New "niche" partners are also to be added to an already global line-up that has supported revenue growth. "The best part is we did this without buying one aircraft," CEO John Borghetti said, in stark comparison to competitor and former employer Qantas, struggling under the weight of an asset-intensive network.
Additional AUD150 million of interline and codeshare revenue after Sabre cutover
Maximising revenue with Virgin Australia's newly evolved model means driving the benefits of its airline partnerships. Making the leap from the more simple LCC platform to an agent- and corporate-friendly system is necessarily a major part of this.
In the current financial year Virgin will cut over to Sabre, which it expects will help drive the AUD150 million (USD155 million) of additional interline and codeshare revenue it receives per annum by the end of FY2015 (the current figure is undisclosed). In FY2012 the interline and codeshare revenue going onto its domestic and short-haul international network increased 158%. In FY2011 Virgin only said the Etihad alliance more than doubled the number of passengers going onto Virgin's network, although the base was understandably low.
The Sabre cutover, expected by Mar-2013, will allow Virgin to combine its DJ (domestic) and VA (international) IATA codes to solely VA, a singularity Mr Borghetti expects will boost Virgin's flights to the first display of results travel agents see on their screens. Previously, having two codes, one for domestic, the other for the international sector, meant that Virgin offerings were typically relegated below the other on-line options displayed. Mr Borghetti also expects Sabre will reduce booking and processing times for travel agents - notably the higher value corporate operators - making the carrier's fares more attractive to ticket.
Virgin in FY2012 switched on its selling with alliance partners Air New Zealand, Delta Air Lines and Singapore Airlines, adding to Etihad. The network is growing; Mr Borghetti said half of Virgin's Los Angeles traffic now connects beyond California on partner flights with Delta and Virgin America; the figure is comparable to Qantas' network.
Further revenue momentum gains are expected as sales spool up. Interline and codeshare revenue growth will come from adding new markets and potential new partners.
Mr Borghetti says he remains open to having "niche alliances" with "niche operators" that cover a specific and narrow market, such as 2011's partnership with Virgin Atlantic to Hong Kong or Hawaiian Airlines to the Hawaiian islands. One prospective alliance is with Aerolineas Argentinas, whose management expects a closer relationship with Virgin including a codeshare from early 2013. Virgin has not commented about the potential codeshare with Aerolineas but is understood to be favourable to the concept.
Aerolineas will add virtual access to South America, a large gap in Virgin's route map. Aerolineas is progressing to operating five weekly non-stop flights between Buenos Aires and Sydney, reducing a previous stop in Auckland. Aerolineas on 29-Aug-2012 will formally join SkyTeam as part of a large – but not necessarily complete – transformation at the carrier.
See related article: Aerolineas Argentinas continues to struggle as government protection from competition increases
Existing global partners, which Mr Borghetti terms "market-to-market alliances", can further boost interline and codeshares on Virgin's domestic network as they themselves go into new origins and tap segments whose itinerary may call for a domestic portion. "A lot of these carriers are going into new markets. As they open new markets, and assuming the bilaterals are open…we'll access codes on those as well," Mr Borghetti said.
It is a model which grows in attracativeness as the ripples expand. As partners expand their inbound feed to Australia, Virgin has the wider potential to pick up interline and codeshare passengers from those new services. Singapore Airlines plans to increase weekly passenger services to Australia from 102 flights to 112 over 2012; Etihad in Feb-2013 will bring its Abu Dhabi-Singapore-Brisbane service to a daily offerin with new cities likely to be added in the medium-term; and Delta in the medium-term will also likely increase capacity into Australia.
Virgin will need to consider new strategy and new partner for China
When Virgin Australia and Singapore Airlines announced their alliance in Jun-2011, it was seen as a strong mechanism to build on Australia-China and Australia-India traffic, markets where historically Qantas has stumbled. In China the Sydney-Beijing route was cut, not for the first time, and Melbourne-Shanghai services were suspended, leaving only Sydney-Shanghai. India has seen a series of different offerings, most recently routing a direct Mumbai flight through Singapore and, in May-2012, cancelling it.
"I'd almost lump them (China and India) together because the strategy is similar," Mr Borghetti said. Traffic to China and India is multi-destination, with passengers flying into Beijing but out of Shanghai or into Delhi but out of Mumbai. Direct services, he said, "are very different for any carrier to mount out of Australia. The volume is not there and the economics do not stack up…you need to do it through a hub. We believe Singapore is the best hub to do it through."
That may have been the case in 2011, but China and India can no longer be lumped together. Whereas Singapore is an efficient hub to pass through between Australia and India, adding a mere 30nm on paper, passing through Singapore en route to China adds 1200nm. Those calculations have not changed but the competition has: China Southern is quickly expanding across Australia, linking the continent to Guangzhou, at the foot of China and, thus, far more geographically convenient connections. There is also the prospect of Qantas working closer with China Eastern, its partner in Jetstar Hong Kong. China Eastern has a smaller footprint in Australia than China Southern but there is potential for Qantas to re-gain some edge it lost depending on what a deal, if concluded, looks like.
The SIA hub in Singapore may be disadvantaged geographically on paper, but it does offer scale. There are numerous flights a day to Singapore from every major Australian city, with efficient onward connections, whereas Qantas flies to Shanghai only out of Sydney and China Eastern only serves Melbourne and Sydney (and soon Cairns), and flights are daily at best. As the Australia-China market grows, the Singapore hub's currently powerful advantage will be narrowed.
Virgin will need a new strategy and partner, and options are open to it; but they need time to incubate. China Southern has directly stated it would like to work with Qantas or Virgin, but with Qantas talking to China Eastern, Virgin is China Southern's primary opportunity for now (China Eastern and China Southern are growing closer so Qantas working with both in the future would not necessarily be out of the question). China Southern by its own admission needs to improve its service, a factor not to be overlooked by service- and brand-conscious Mr Borghetti.
There could be scope to hub out of Hong Kong with Hong Kong Airlines, which is open to partners accessing its mainland China network. Hong Kong has effectively the same geographic advantage as China Southern does in Guangzhou but with considerably better facilities and a destination in its own right - and one Virgin Australia may serve in the medium-term when it expands into Asia. Hong Kong Airlines' service is ahead of China Southern and for the remainder of 2012 is looking to strengthen a stretched network after recent double-digit growth has left it with expected growing pains – and shining of a spotlight on those difficulties by a fearful local competitor. Routing through Hong Kong or Guangzhou reduces journey times by 800nm compared to Singapore.
Loyalty – not frequent flyer – programme to drive profits
The other big new contributor in earnings to come is to be Velocity, the carrier's loyalty arm and which Mr Borghetti stressed, "I say loyalty business and not a frequent flyer business". Indeed, of the more successful airline-created loyalty programmes, the majority of points are earned by activities other than flying. This point transfer originates with a third party purchasing points from issuers; it is effectively a licence for Virgin to print money.
And the global benchmark for airline FFPs, which also happens to be Virgin's closest competitor, Qantas, has done well. In some years Qantas' frequent flyer division has posted profits higher than the passenger flying divisions.
See related article from CAPA's journal Airline Leader: The airline frequent flyer programme: for love and money
Loyalty is the last area Virgin has yet to launch on assault on Qantas' main business units, having competed directly on profitable long-haul routes (to Los Angeles), introduced a business class offering and started a regional network to tap some of the highest-yielding domestic fares. Mr Borghetti however would not provide an outlook on what Velocity could contribute to group earnings.
New long-haul aircraft – A350s or 787s – to enter, but only in the long-term and modestly
Petrol-oriented airline watchers will be excited with Mr Borghetti disclosing that within 12 months he would like to sign for new widebody aircraft. But it will in fact be a modest affair. In his over two years at the helm Mr Borghetti has continuously reiterated he has seen airlines go out of business from flying too much; he argues no-one ever went broke by flying too little, a maxim the country still struggles to grasp even after Qantas postpones A380s and, more recently, cancels 35 Boeing 787-9s.
See related article: Qantas' annus horribis and net loss behind it, will gain from restructure but with overcapacity
The widebody order, to be placed in around 12 months and delivered after 2017 (the long lead time, Mr Borghetti says, is due to available slots drying up), will likely initially supplement Virgin's fleet before replacing types and permitting growth. Virgin has taken A330s that are both new build (2012) and old (2000). It currently operates five and expects this figure to grow to eight by 2015, although higher growth is possible.
Virgin also has a fleet of five (mostly owned) Boeing 777-300ERs unlikely to change in size in the medium-term. Both types offer some commonality with their respective next generation lines, the A350 and 787. The two are flexible, permitting sizeable capacity to be deployed into partners' hubs, but also modest capacity for when Virgin selectively adds international services, primarily around Asia.
If the second-hand 777-300ER market is favourable – Virgin's 777s have some unique configurations – the larger A350-1000 variant could be a more encompassing replacement; Boeing has yet to launch a stretched 787-10 or its successor to the 777. But if Virgin wants to keep its 777 fleet well into the next decade – the 777s routinely depart at maximum weight, which the A350-1000 cannot yet match, or with payload – it could use a 787 order to secure more favorable 777-300ER additions, although this would likely be just one or two units. Virgin in Jul-2012 used a 737 MAX order to re-negotiate 737NG orders.
CAPA expects Virgin initially to order no more than 15 new aircraft.
Virgin Australia fleet profile: Jun-2012 through Jun-2015 as of Jun-2012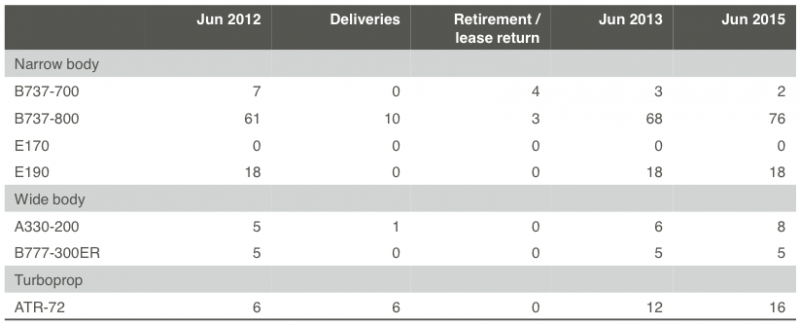 Sustained yield growth throughout FY2012 despite a 10% capacity increase
While the market had expected Virgin to post a loss in 2HFY2012 to 30-Jun-2012 and to see depressed yields in the second half as capacity increased more strongly, Virgin delivered the opposite results and Mr Borghetti stressed the carrier saw yield growth in 2HFY2012.
Domestic FY2012 yield growth was 12.2% while group FY2012 yield growth was 12.0%. Leading the push was growth from the corporate and government sector and those purchasing high-yielding fares.
Virgin Australia corporate and government and high-yield revenue growth: FY2012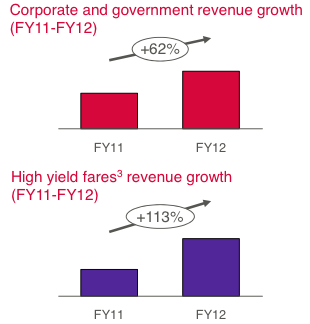 The large turnaround in Virgin's overall results was due to a more stable operating environment, FY2011 having seen multiple severe weather disruptions, and the introduction of the corporate product. As usual domestic contributed the largest share (77%) of underlying EBIT. Domestic capacity (ASKs) accounted for 61% of the total and performed with an operating margin of 3.9% while international had a 3.4% margin.
Virgin Australia domestic performance summary: FY2012 vs FY2011

Virgin Australia international performance summary: FY2012 vs FY2011

9.5% capacity growth and adamant increase is prudent
Mr Borghetti sought to downplay the 9.5% increase in capacity Virgin put into the domestic market over FY2012, which has exacerbated softening economic conditions. Capacity was concentrated on east-west routes (representing 80% of the Virgin's ASK growth, Mr Borghetti said) and regional flying, partially to support the resource industry.
Mr Borghetti noted Virgin by its calculation was responsible for 28-29% of the growth in Australia in FY2012 and outside the east-west markets contributed only a portion of flight increases. "We're prudent with capacity growth," Mr Borghetti stressed.
He also noted on a few occasions that the widebody fleet A330s Virgin has quickly been building, and which accounts for much of the capacity growth, is configured to international standards and so could be deployed internationally if and when Virgin chooses. But with its international growth prospects understood to be more medium- and long-term, Mr Borghetti's reference to the agility of the A330 fleet seems to be a measure to calm the market that if domestic becomes saturated Virgin has alternative options and will not be stuck with excess capacity.
In 1HFY2013 it projects to grow 8-9% while Qantas expects 9-11% growth. Virgin's regional network, launched in Oct-2011, will grow considerably in FY2013, with the fleet of ATR72s doubling from six to 12. Growth to 2015 will be to 16 frames, although accelerated growth is likely. While the network is a fraction of capacity it has a disproportionately large contribution to profits.
4.5% CASK creep but affirmation cost advantage remains, along with yield growth
A standout in Virgin's otherwise solid results was a 4.5% CASK increase (ex-fuel), but Mr Borghetti was eager to defend the cost creep, explaining that 2ppt was a result of catering being included in business class and some economy fare types, all of which deliver higher yields, more than making up for complexity and increase in the cost base.
Maintaining a leaner cost base than legacy Qantas has been critical to Virgin's differentiation: comparable or, Mr Borghetti hopes, better service for less cost to the market. In 1HFY2012 results Mr Borghetti pointed out how Virgin's cost base grew below inflation, despite service enhancements. While Virgin's product transformation is nearly complete, there are potential future impacts, such as catering being included for all passengers flying between the east and west coast, perhaps the first stage of a network-wide roll-out and one that will spread CASK increases over multiple reporting periods, appeasing the market and its desire for few bumps in balance sheets.
This will not be the last time attention is drawn to Virgin's CASK, and Mr Borghetti is adamant that while the carrier's CASK is no longer comparable to carriers in the lower and more volatile end of the market, from which it strategically departed, it does retain a large CASK advantage over Qantas. "We're not trying to be cute. We're talking double digits," Mr Borghetti said of the unspecified difference. (The carriers only report group-level CASK, which are distorted by the efficiency of long-haul operations.)
Virgin's fuel costs outstripped capacity growth (15% to 7.2%), which it attributes to foreign exchange. Hedging practices saw losses as a result of a dip in fuel prices in Jun-2012.
Beyond the tipping point to the "new norm" in Australia's market; "Game on"!
The achievement – a year early – of doubling its corporate and government business revenue has resulted in a cheerful Mr Borghetti creating a new management plan for Virgin. "We're over the tipping point," he said. "This is the new norm. This is the new competitive landscape in this country." With its goal behind it, Mr Borghetti said Virgin would no longer disclose the share corporate and government revenue accounts for in the total, which the carrier had been providing regular updates of as part of its "Game Change Programme".
Virgin is now adopting the management term "Game On" for the next three years. On the surface these will be far less dynamic as they are focused less on change and more on realising the benefits of the complete overhaul Mr Borghetti has orchestrated in just two years.
While still opaque, "Game On" has five pillars:
efficiency: productivity gains of AUD400 million (USD415 million) by end of FY2015
loyalty
increase codeshare and interline revenue by AUD150 million (USD155 million) by end of FY2015
continuous service and product improvement
service excellence
Besides the already discussed loyalty programme and codeshare and interline revenue growth, the most concrete – and perhaps important – element of "Game On" is the efficiency programme.
The gains of AUD400 million (USD414 million) by the end of FY2015 and a run rate of AUD200 million (USD207 million) per annum by the end of FY2015 are, Mr Borghetti stressed, about productivity. "It is not a slash and burn," he said bluntly, in comparison to Qantas' direct scaling-down. Productivity gains will include those made from staff and also, for example, higher aircraft utilisation.
"Game On" may thus be tame to watch if not observing Virgin's balance sheet. Mr Borghetti has repeatedly affirmed he has no intention of making Virgin the biggest carrier in Australia but rather to make it the best. That ideology extends to its financial performance, giving Virgin Australia the rare double achievement in the industry of operational and financial success.
That is to Mr Borghetti's credit and a thorn in Qantas' side. "I've been around a long time, probably a lot longer than some would like," Mr Borghetti quipped.
As he continues to re-write the airline rulebook – with eager and global onlookers – Mr Borghetti may well help prove that not all airlines are a bad investment. With Mr Borghetti about to begin a roadshow, Virgin Australia's shares are up nearly 30% since mid-Jul-2012.