US airlines mostly post encouraging 1Q2014 results; but it's a long and winding road to stability
Analysis
Nine US airlines turned a combined USD401 million profit in 1Q2014 despite challenging winter storms that wreaked havoc on their operations and created pressure on revenues. The results are all the more encouraging since those carriers managed to reverse a USD552 million loss in the year prior.

The commendable performance by US carriers in 1Q2014 continues positive financial trends among most of the country's airlines, which continually push a message of shareholder returns and declare aspirations to reach investment-grade status.

But the reality is US airlines still face an uphill climb in reaching a level of stability that instills long term investor confidence. Margins remain thin and high debt levels hover over the industry even as carriers work diligently to both reduce debt and obtain more favourable interest rates on their respective debt obligations.
US airlines grew revenues 4% in 1Q2014 while expenses remained almost flat
Behind the 1Q2014 profitability generated by most US carriers (Hawaiian and United recorded losses for the quarter) was nearly 4% revenue growth to roughly USD36 billion, according to data from US trade group Airlines For America (A4A). Operating expenses notched up just 0.5% to USD34 billion. The essentially flat growth was driven by a 4% decline in fuel costs year-on-year.
US airline financial results: 1Q2014 vs 1Q2013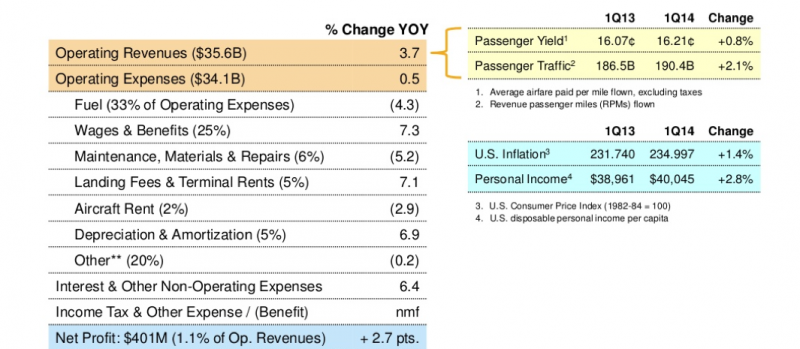 At least part of the 1Q2014 collective profit by US airlines is attributable to industry consolidation that culminated in late 2013 when American and US Airways closed on their merger. Now the US carrier landscape entails three major network carriers (American, Delta and United), one large domestic airline Southwest (although the carrier is branching out into near-international service, the bulk of its capacity remains in the domestic space), niche and hybrid carriers Alaska, Hawaiian and JetBlue and ultra low-cost carriers Allegiant and Spirit.

However, even as fewer carriers likely results in some pricing traction, nearly every US carrier increased capacity during 1Q2014 (with the exception of Southwest and United), and A4A projects a modest rise in the number of seats in the market place during 2014, although not at the same levels during the economic uptick in 2010 and 2011.
US airline capacity increase year-on-year in 1Q2014
Seat change in US airports: 1Q2008 to 4Q2014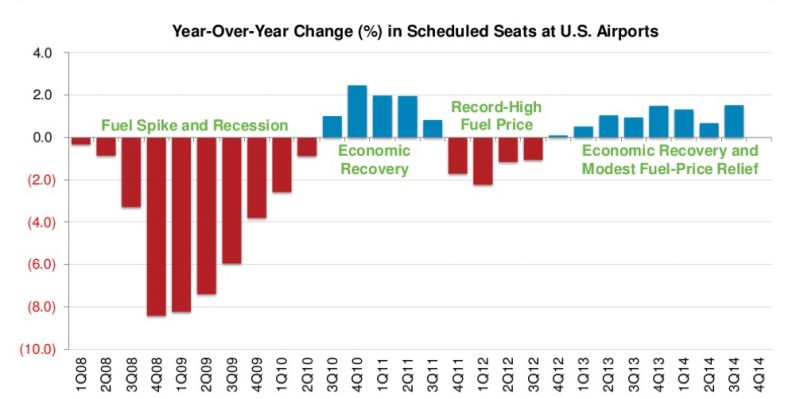 After beating the drum on capacity discipline for five-plus years, most airlines are planning slight increases in their overall ASMs in CY2014, making some investors nervous about a potential state of oversupply. But the three US majors stress that their capacity growth is largely driven by aircraft upgauge, either through the addition of seats or adding higher density shells.

Delta Air Lines, which recorded a 1.7% rise in system ASMs during 1Q2014, noted that it operated with seven fewer aircraft in its fleet year-on-year, with CEO Richard Anderson assuring that the carrier examines aircraft returns by fleet and sub-fleet.

See related report: US airline majors to add capacity despite unit cost rises. Is "capacity discipline" history already?

Using the upper end of capacity guidance supplied by the US majors, their average capacity increase for those airlines in CY2014 is about 2%, which is slightly below the projected 2.6% US GDP growth. Delta in particular has a stated goal of capacity increases below estimated GDP growth. Using that reasoning, US major capacity growth appears fairly benign, and each carrier stands ready to cut its projections if market conditions change.

Alaska is projecting 7% capacity growth for CY2014 and JetBlue estimates 5% to 7% growth for the year, but combined those carriers presently represent about 5% of the system-wide US seats, so the effects of their increases shouldn't create a dramatic supply imbalance, and could drive some price discounting on overlapping routes with major airlines.
United States capacity by carrier (% of seats):19-May-2014 to 25-May-2014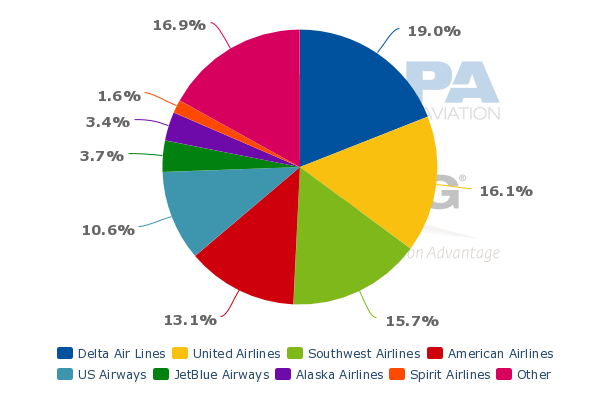 US airline margins remain thin while debt levels are hefty
Even with a reversal of fortunes in their profitability during 1Q2014, US airlines recorded a net profit margin of just 1.1%, well below the 9.4% Standard & Poor's rating agency benchmark. The margin performance shows US airlines have a long road ahead in achieving and sustaining a performance in line with other large industrial sectors.
US Airline margins compared with other major companies: 1Q2014

Added to the tepid margin performance, US carriers have nearly USD72 billion in debt. Although it fell roughly 5% year-on-year from CY2012 to CY2013, US carrier debt is roughly double CY2013 revenues.
Debt reduction is always a major topic in earnings discussions, but it will take years to eradicate the debt US carriers amassed during the first decade of the 2000s as one after another major crisis – terrorist attacks, SARS, H1N1, oil spikes and ash clouds – occurred in rapid-fire succession.
US carrier debt levels: CY2012 vs CY2013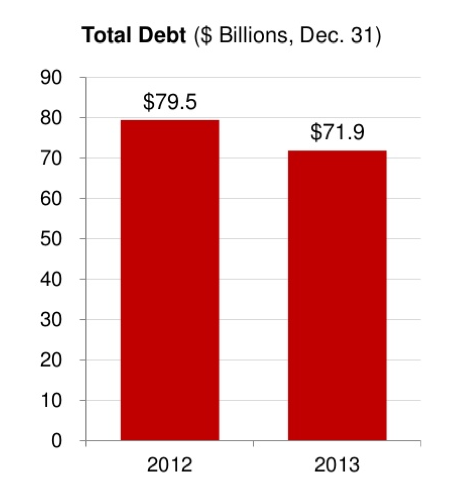 As of 31-Mar-2014 Delta Air Lines' net debt was roughly USD9 billion, and the carrier aims to reduce that level to USD7 billion. The airline believes its USD7 billion target is in line with "investment grade like" credit metrics. But it is not clear if the carrier will reach a standard held by too few airlines any time soon.
Investment grade continues to be an elusive goal for the majority of US airlines
Only three airlines globally have attained investment grade status – Lufthansa, Southwest and WestJet. It seems paradoxical that the most mature global aviation market has only a single airline that carries an investment grade rating, which speaks volumes about the hurdles other carriers need to overcome in order to reach sustainability and attract more loyal investors.
US carrier with investment and speculative grade rankings

See related report: WestJet attains investment-grade as it faces near-term cost creep

There is no doubt that consolidation has helped to accelerate the improving health of the industry, allowing carriers like American, Delta and United to build ample scale and compete on equal footing.

But consolidation is not the complete remedy for continued sustainability within the industry. Capacity and cost discipline, along with crafting a sustainable strategy of product merchandising to maximise ancillary revenues are essential for US airlines to compete in the medium and long term on a global scale. Management at those carriers understands the new world order and each airline has outlined a plan of action to keep costs and capacity in line.

Yet in the short term American and US Airways still must complete their merger integration, which will inevitably create some ripples in the company's financial performance.
United also remains on shaky ground as a weak revenue performance during the past couple of years has created lingering questions over when promised merger synergies of USD2 billion will materialise (four years after United and Continental opted to merger). United's challenges show that consolidation alone cannot carry US airlines into the investment grade realm.

See related report: United Air ramps up promises of improvement despite a glaring 1Q2014 loss; management under fire
A long road still lies ahead for US airlines to declare long term industry stability
US Airlines, including majors, ULCCs and hybrid carriers on the whole have turned solid financial performance during the past couple of years. Each airline has its own set of challenges, but even as positive indicators emerge on profitablity one common theme for 2014 for airlines across all business models is cost creep.

Airlines realise they need to get costs in check in order to create sustainability over the long haul. Their efforts to clean up balance sheets, increase focus on shareholder returns and carefully scrutinise capital outlay are commendable.
But as margins and debt levels show, the road to consistent stability is far from complete, and could prove to be circuitous.