United Air ramps up promises of improvement despite a glaring 1Q2014 loss; management under fire
Analysis
Few were surprised by United's 1Q2014 loss as the carrier recently warned that severe winter storms would take its toll on quarterly results. But its fellow legacy carrier American cancelled nearly as many flights as United, yet managed to post strong quarterly profits despite the tough operational challenges.

United has spent most of the last year on the defensive over when it will turn the corner to consistent revenue generation on par with its peers and towards sustainable profitability. The airline that has constantly touted the supremacy of its network is now fielding questions over the lack of revenue its hubs generate as investors try to grasp onto any concrete reason why the carrier continues to struggle.

The airline contends no structural issues are responsible for its dismal performance. Instead, it maintains, it is simply continuing to eliminate lingering inefficiency from the merger between United and Continental. True to form United continues to promote several initiatives to improve its fortunes, but the rhetoric is wearing thin with analysts.
Weather further dampens an already weak performance by United in 1Q2014
With about 35,000 flight cancellations during 1Q2014, United no doubt faced formidable operational challenges with a higher number of its hubs – Denver, Chicago O'Hare, Cleveland, New York Newark and Dulles – all enduring various challenges created by the severe weather. United estimates weather disruptions negatively affected its 1Q2014 loss by USD200 million.
By way of comparison, American, which cancelled 34,000 flights and recorded as USD115 million revenue hit related to weather disruptions, recorded net income of USD480 million.

See related reports:
American records favourable 1Q2014 results; but admits complex integration tasks lie ahead
United starts 2014 on a weak note–does this set the stage for more disappointing results?

Including special items United recorded a 1Q2014 loss of USD609 million, a widening of the USD417 million loss recorded the year prior. Top-line revenues were essentially flat at USD8.7 billion The carrier's overall expenses also remained flat year-on-year at roughly USD9 billion, triggering a USD349 million operating loss.
United Airlines financial results: 1Q2014 vs 1Q2013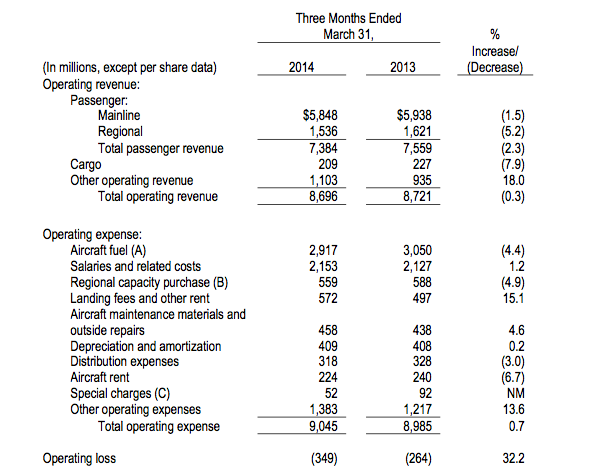 United's unit revenue performance remains weak by all measures
United's consolidated passenger unit revenues declined 2% year-on-year in 1Q2014, and the airline estimated weather-related cancellations reduced first quarter PRASM by about 1.5ppt.

As its unit revenue growth has underperformed its peers during the last year, United has often touted its overall greater recorded passenger revenue relative to other US carriers.
At the end of 3Q2013 United touted a PRASM premium of 14.9% compared with the average PRASM recorded by members of trade group Airlines For America (all the US major carriers are members of the group). However, for CY2013 United's consolidated PRASM of USD13.50 cents remained lower than American's USD13.67 cents and Delta's USD14.15 cents.

During 1Q United recorded a consolidated PRASM of USD12.91 cents compared with USD13.67 cents at American and USD14.24 cents at Delta. So not only is United's sub-par revenue growth continuing (or in the case of 1Q2014 sliding), but its overall unit revenue performance continues to lag.
United Airlines unit revenue and cost performance: 1Q2014 vs 1Q2013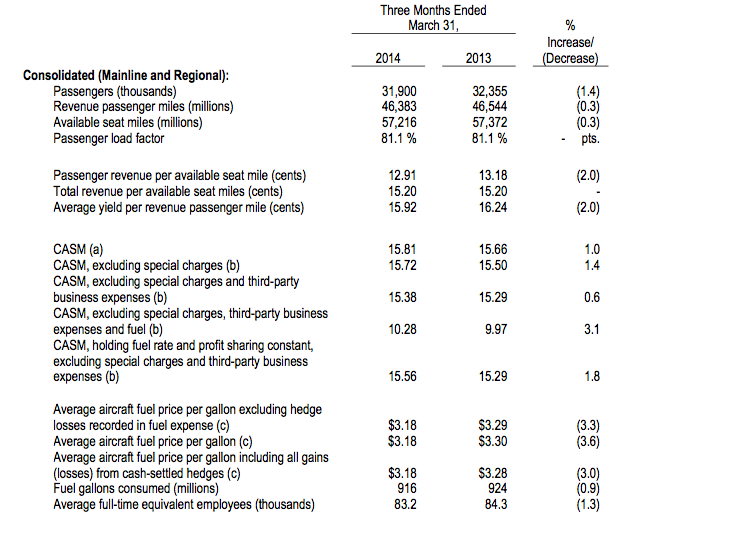 United's weak Pacific performance is expected continue into 2Q2014
On a geographical basis, United recorded decreases in yields and unit revenues in 1Q2014 in all of its international regions, with the Pacific emerging as the carrier's worst performer.
Yields in United's Pacific markets fell 6.3% year-on-year driving a decline in unit revenues of 5%.
United Airlines passenger unit revenue and yield performance by geographical entity: 1Q2014 vs 1Q2013

United highlighted the now-familiar challenges it faces in Pacific markets – the weak Yen and pressure from competitive capacity increases. No relief seems to be in sight for the near term as United expects capacity between the US and China to grow 20% during 2Q2014, and warns the capacity pressure, coupled with the still-weak Yen will drag its consolidated passenger unit revenues down by one to town percentage points in the quarter.

The airline has taken steps to shore up its Pacific performance by cutting certain connections through Tokyo. During 2014 it is eliminating flights from Tokyo to Bangkok, Taipei and Hong Kong and downgauging service from Tokyo to Seoul. It also plans to eliminate flights from Seattle to Tokyo, a market where Delta is dominant.

See related report: United reduces Tokyo connections in a Pacific network revamp that emphasises more directs

United believes it can better leverage its joint venture with fellow Star partner ANA to maximise connections through Tokyo. The airline's chief revenue officer Jim Compton explained ANA has re-timed and up-gauged its Tokyo-Bangkok fight. Overall in 2Q2014 United expects 30% more passengers to connect on ANA year-on-year.

The carrier also believes it can gain some leverage in the Pacific through new service to secondary Chinese markets operated with its Boeing 787s. It launched service from San Francisco to Taipei in Mar-2014 and is introducing new service from San Francisco to Chengdu in Jun-2014.
See related story:
China airport wrap: Beijing's growth slows while Shanghai awaits a surge; Kunming fastest-growing

But neither of those initiatives is likely to provide relief to United in the short term, which means its Pacific results will continue to be a drag on its lacklustre unit revenue performance.
United continues to tout its revenue-boosting schemes as its performance still lags
United also has a plan of action to improve its revenue performance as Mr Compton reiterated changes the carrier is making to its revenue management system to maximise close-in, high yield bookings, which he expects to drive 0.5ppt improvement in the carrier's 2Q2014 unit revenues, which United projects will rise by 1% to 3%.

Another change the carrier is undertaking is revamping flight banks at its Denver and Houston hubs to shorten connection times. Most of the changes in those hubs are expected to occur by year-end. American, which is just weeks into the American-US Airways merger, is already undertaking similar changes in its Miami, Dallas/Fort Worth, and Chicago hubs. Perhaps United is taking cues from the recently merged carrier as it has encountered countless missteps in its own integration.

See related report: American Airlines network tweaks officially begin as early revenue trends look favourable

Mr Compton also highlighted a recently-launched initiative to improve sales of premium cabin seats on some of United's domestic and short-haul international fights at the time of booking. He reasons the more dynamic pricing should further improve PRASM.

United is also up-gauging aircraft on routes where demand is higher to better match its supply-demand balance, which it argues should help drive an increase in US domestic passenger revenues by 4% to 6% in 2Q2014. The carrier's unit revenues in its domestic markets grew 0.2% year-on-year as yields increased 1.4%. That compared with domestic unit revenue and yield growth of 7.4% and 5.3%, respectively, at Delta. American's domestic yields in 1Q2014 increased 5.6% and passenger unit revenues grew 6.3%.
Addressing the corporate sector has become a vital part of the majors' yield strategies. For example, as noted in CAPA's reports on American and Delta's results, "American's corporate revenues increased in the mid-single digits year-on-year during 1Q2014"; and "Delta's strong performance in US domestic markets was attributed to a 6% rise in corporate demand".
See related report: Delta Air Lines continues to work towards achieving investment-grade with strong 1Q2014 results
United's executives remain in the hot seat as investor patiences wanes
All of those initiatives are seemingly logical, and beg the pertinent question of when United will ultimately improve its revenue performance relative to its peers.
Without giving a definitive timeframe Mr Compton pledged that United would close the gap, while carrier CFO John Rainey stressed that the carrier was "more more focussed on closing the margin gap. And some of the decisions we make are may be RASM dilutive, but profit maximizing".

Challenged even further if United's problems were structural – particularly if the carrier faced a higher level of competition at its hubs compared with American and Delta – United CEO Jeff Smisek argued that the issues stem from maximising operational integrity, tuning revenue initiatives and eliminating leftover inefficiencies from the merger.
Analysts are raising questions about leadership at United
Questions are now being raised over whether a leadership change at United is necessary. Few of the initiatives executives are touting are new; for nearly a year the carrier has been highlighting all the levers it is pulling to improve revenue, with arguably no visible results.
In fairness it does take some time for some of the benefits from United's efforts to improve performance to flow through the company.
But investors are running short on patience as United's peers seem to be on a reasonable path to sustainable profitability, pointing to the very different place that Delta is managing to arrive at.
There is not yet a crisis, but pressure is mounting for a change in mindset among the airline's executive ranks, particularly if United fails to deliver improved results in 2H2014.