Mobile airports may be the answer for seasonal LCC routes
An Austrian company has installed a mobile passenger terminal at Switzerland's Geneva Airport. It is designed as a flexible structure, to expand and contract airport capacity, depending on demand. With a growing number of companies providing such facilities – driven by the increasing seasonality of flight operations and the continuing lack of available finance – is the future going to be "temporary and mobile"? Could this be the ultimate low-cost terminal?
Hot on the heels of the first "holographic security staff" at two British airports, Geneva International Airport announced the opening of a mobile passenger terminal, which it also claims as a world first. The terminal was built by Villach (Austria's) TMT Management GmbH and features check-in desks and computers for self-registration. Looking for all the world like a large circus marquee, festival beer tent or field first aid facility, it is designed as a flexible structure for large and small airports, to expand and contract airport capacity according to demand. TMT's management stated the terminal can be installed and dismantled within a week.
In Geneva's case it satisfies the airport's need for extra capacity to handle Alpine skiers, for whom the airport is one of the principal gateways, and especially in the Jan-Mar quarter each year. It has other applications apart from handling such predictable passenger surges, such as back up in airports hit by natural disasters (it would have been ideal in Haiti, also in Christchurch had the airport infrastructure there not been so solidly constructed in both earthquakes), or for handling flights that have been affected by a medical issue (e.g. onset of communicable disease) or even post-hijack. Less dramatically, it might be used when one-off major sports events are held in a catchment area. No-one has yet suggested it might be specifically employed, like a giant playpen, to handle the movement of drunken and rowdy sports fans on charter flights, or politically sensitive and 'at risk' flights, but those, and other, options remain a possibility and such terminals have indeed been deployed to major sports events recently (see below).
'We have been looking for something like this for years'

In Geneva's case the mobile terminal will be used through the winter, and later during expansion work. Airport Director Robert Deillon stated: "We have been looking for something like this for years."
The terminal was conceived as a flexible structure with arrival and departure modules that could be adapted and expanded to function as satellites. It comes in three product ranges – Basic (to handle a single turnaround of one aircraft such as a B737 or A320; Basic+ (two departure gates) and Village (inclusive of handling process plus customised units such as F&B, information desk, car rental, VIP lounge etc).
Departure units comprise of check-in, security and a service module, and arrival units of a service module and a baggage handling module.
The terminal is designed to be shipped in seven transport units the size of a 40ft standard container and the installation time on site is one week while disassembly takes somewhat less. In addition, there are various possibilities to extend the passenger handling capacity and to integrate non-aviation services.
Terminal sharing on agenda
A concept TMT wants to build on is that an airport that serves a winter tourism region could share part of its terminal facilities and other equipment with an airport that mainly serves summer tourism, balancing the supply/demand equation. Taking it a step further, airports could share their terminal facilities with the city administration so that they are used as passenger terminals during the peak traffic months and fulfill public functions at other locations at other times; for example as event locations, exhibition spaces and so on. One practical application would probably be at the site of major rock festivals that are served by small airports not used to handling several thousand passengers at once.
Moreover, their modularity permits the early onset of revenue generation.
The list price of the products varies from EUR1.7 million (Basic) to EUR2 million (Basic +). The price of the Village product is dependent on the type and equipment. A building without equipment but including air conditioning, flooring etc, costs approximately EUR2500 per square metre and, as with other suppliers, clients can receive discounts for acting as a reference and development partner.
Apart from Geneva, there are currently no firm orders but TMT claims to be negotiating with three European airports.
Not quite a world first
Actually, Geneva Airport's claim to a world first may not be entirely accurate. There are several examples in Europe alone of non-permanent terminal structures. One can be found at the Magdeburg Cochstedt airport in Germany, provided by a Dutch/British company, Neptunus Structures. The terminal has the same facilities as a fixed one – check-in, customs/immigration, food and beverage, toilets – but it is movable although not with the same efficacy as the TMT "tent". Magdeburg Cochstedt is a new commercial airport, converted from a redundant military airfield in 2010. As Ryanair is its principle customer the terminal is ideal.
Neptunus, which describes itself as a specialist in the design and installation of temporary structures and semi-permanent buildings "with the look and properties of permanent ones", is not a specialist in airport buildings per se, and offers a wide range of products for events, exhibition, conferences, theatre, supermarket and retail, ice rinks and warehousing business segments, each with a span of up to 60m. They can be hired or leased for weeks, months or years or bought outright. It began as a company that rented out tents after the owner found one on a beach.
Another company providing temporary solutions is the Belgian firm Veldeman, which provided hangars and cargo facilities as well as terminals. At the UK's Leeds Bradford airport the terminal was expanded with extra capacity to fulfill a need for five to 10 years. East Midlands Airport installed a semi-permanent five-year solution until the completion of a new traditional building.
Siemens corners the soccer championships market
In 2007 Siemens Industrial Services and Solutions Group collaborated with Kleusberg, Lindner, Ansorg, Vitra and Flyport Development to offer "Flyport – the modular passenger terminal from Siemens", of which the USP was, again its potential for erection in the shortest possible time. The concept was created as the economic boom reached its peak, and was based on many airports having already reached the limits of their capacity. As building or expanding an airport is normally a long and complex process, the future-oriented Flyport would enable airport operators to expand existing airport terminals or even erect new terminals quickly and in full compliance with international regulations and standards. The prefabricated units containing all the equipment usually required in a terminal could be put together to form a complete system without long-term construction work. The basic two-floor Flyport was designed to handle up to 1.5 million passengers per year in a 5000sqm area. The units were manufactured in Germany, and could be transported to any location in the world; the individual units being ISO standard steel containers, which makes them easy to transport by road, rail, sea or air. Local firms could make the final installation. As with the TMT and other products, individual corporate branding could be provided. Flyport could be integrated into existing systems or operated as a completely self-contained terminal.
But it appears Flyport entered into financial difficulties and, presently, attempts are being made to restructure it.
Nevertheless, Siemens has persevered with the concept separately under the division Siemens Mobility and appears to have cornered the market where additional capacity is needed for major soccer events. For example Airports Company South Africa (ACSA) ordered two temporary CapacityPlus terminals from Siemens Mobility for the airports in Port Elizabeth and Bloemfontein for the duration of the 2010 World Cup. The rationale was that it makes no sense to increase capacity on a permanent basis when passenger numbers will drop back to normal following a big event. Each terminal covered an area of 1800sqm and could handle up to 4000 passengers a day.
CapacityPlus terminal
Siemens also installed a CapacityPlus terminal at Lisbon Airport in Portugal during the Euro 2004 football championship. Such a temporary terminal solution was also used for the Asian Games in Qatar on the Persian Gulf in Dec-2006. Lisbon Airport then extended its passenger capacity with CapacityPlus in Oct-2007.
Brazilian and Qatari goals
The potential lack of capacity at the FIFA World Cup in Brazil in 2014 and the Rio de Janeiro Olympic Games in 2016 suggests a new market might open up there and with much debate about the high temperatures likely to be experienced at the FIFA World Cup in Qatar in 2022 perhaps an opportunity appears to exist for the development of highly air conditioned temporary terminals?
Siemens Mobility is probably the largest player in this business segment, posting sales of EUR6.4 billion in fiscal year 2009.
Now the portable car park
The concept is not limited solely to terminals. Some of the companies mentioned specialise in temporary hangars and freight facilities and a Manchester-UK based company has pioneered and patented the construction and sale/lease of temporary and portable multi-storey car parks under the trade name Another Level. Manchester Cabins, which began life as a manufacturer and hirer out of portable site offices, canteens, toilets and storage containers, began the venture after a report of how a doctor had been unable to start a heart operation because he was too stressed after being unable to find a parking space. Since then it has installed one at Gatwick Airport and has enquiries from BAA and Manchester Airports Group. Again there are other manufacturers with similar, patented products.
The portable terminal concept is not limited to Europe of course and other examples can be found, for example, in the US where the Lynxs Group offers a turnkey product "Flex Port". Lynxs markets the entire concept, rather than just the buildings and financially structures deals as relatively short-term leases, with the idea that most of these terminals are used as temporary facilities while more permanent facilities are being designed and built. So they can be brought in, set up, and put into operation in a very short period of time, for example 5-10 months, operate for two to three years and then taken down and moved away after they are no longer needed. The financial consideration – cost to the airport or the airline if it is the terminal operator as is often the case in the US – reflects this shorter commitment.
Lynxs claims such a collaboration offers the opportunity for "joined up" LCC airport and airline development especially in the provision of commercial revenue generation potential. Revenue from retail, tax and duty free, advertising, car parking and other commercial activities can be maximised through partnerships with some of the world's leading airport retailers. The company is also strong on waste, water ecology and biodiversity and incorporates retention ponds, rainwater harvesting and recycling facilities into individual designs, as well as building energy efficiency.
Lynxs modular terminal concept example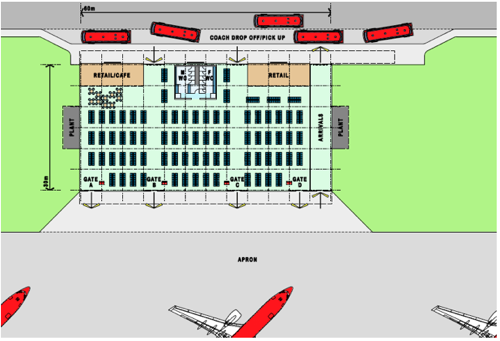 One recent example of a Lynxs low cost terminal was at its home city of Austin in Texas (Austin Bergstrom airport), where a Mexican LCC offered to commence services subject to appropriate facilities being available. A privately-financed interim facility, the South Terminal, capable of handling 1.2 million ppa, was completed in Mar-2008, one year after initial discussions began, to be followed by a permanent facility for four million ppa and scheduled for completion in Sep-2010. Unfortunately, the airline's and airport's plans were negatively affected by the H1N1 swine flu outbreak, which seriously curtailed Mexican traffic but this example demonstrates the value of the controlled modular approach – the ability to upsize quickly, and also to downsize if and when appropriate.
Austin Bergstrom terminal
The era of the temporary facility is upon us
As airline routes increasingly become seasonal, particularly LCC routes in Europe operated to and from airports that do not have a need for expensive permanent structures by airlines that demand airports keep their costs at an absolute minimum, it seems the era of the temporary terminal, hangar and car park may be upon us. As a comparative price guide, TMT's Basic+ structure costs EUR2 million while a permanent low-cost terminal would cost upwards of 10 times as much.