United Airlines joins Qantas and Air New Zealand on Texas route. Complicates Air NZ-United JV
Analysis
United Airlines has announced a new service from Houston to Sydney daily on the 787-9 from 18-Jan-2018. This will be United's fourth service from the continental US to Australia after Sydney-Los Angeles/San Francisco and Melbourne-Los Angeles, all served daily. This is United's first Australia service from the mainland US outside California.
American Airlines, Delta and Virgin Australia only fly between Australia and Los Angeles. Qantas has a service to San Francisco and one to Dallas (and a Los Angeles flight continues to New York JFK).
The new Houston-Sydney flight will be United's second longest flight, supplanting San Francisco-Singapore. Los Angeles-Singapore remains United's longest flight. All are flown by the 787-9 and were opened only in recent years, driven by a combination of new aircraft and United's post-merger improvements.
Map of United's three longest routes: Jan-2018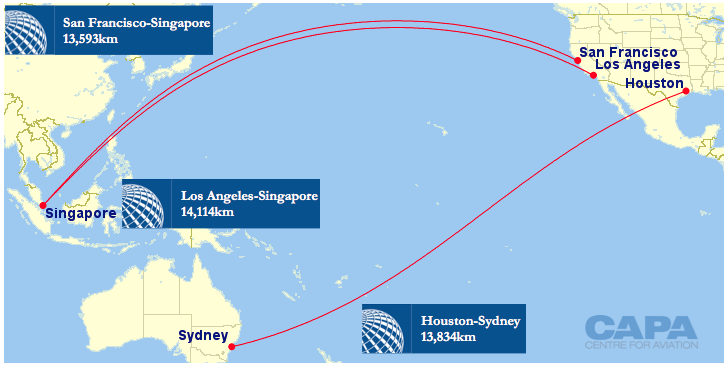 In 2010, before the United-Continental merger, Continental Airlines announced a Houston-Auckland 787 flight but never flew the route. The merged Continental-United later selected its headquarter base in United's Chicago, instead of Continental's Houston, removing some of the impetus - for what may have been a partly politically motivated move in the first place.
The Houston-Sydney route finally gives United a link to Australia/NZ. In 2010 the prospect of a Houston-Auckland flight seemed unfathomably long, and ambitious, since Australia's and NZ's links were only to California. Houston-Sydney is even longer, and now there are ultra-long haul flights in many regions, as well as more thin routes.
CAPA's New Zealand Aviation and Corporate Travel Summit will be held in Auckland on 17/18-Oct-2017. For more details please see CAPA New Zealand

United's 26% growth drives Australia-US 8% growth in 1Q2018
United's fourth route in the market will result in it nudging ahead of Virgin Australia and firmly remaining the largest mainland US-Australia nonstop operator; Virgin Australia's redeployment of Abu Dhabi capacity to Los Angeles would have meant that it had nudged ahead. (Virgin, combined with JV partner Delta, is larger than United.)
1Q2018 nonstop Australia-US seat capacity will be up approximately 8%, driven by United's 26% expansion (this is mostly a full realisation of United's new Houston service, which starts two weeks into 1Q2018).
Australia-mainland US nonstop seat capacity: 1Q2018 v 1Q2017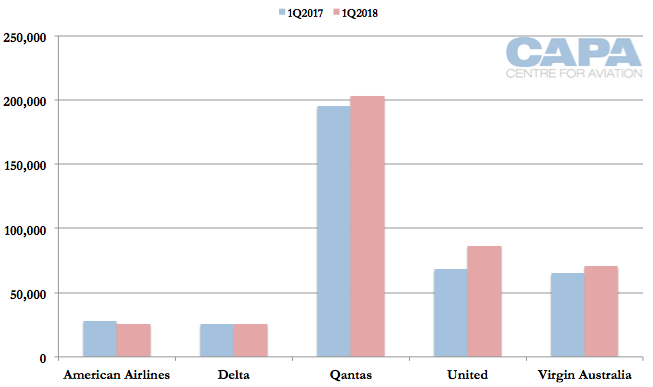 United's expansion and full-year realisation of Virgin Australia's growth potentially set the mainland US-Australia market up to a record level of capacity in 2018 (in 2017 there was a slight contraction). US DOT approval of a resubmitted American-Qantas JV would result in further growth.
Australia-mainland US annual nonstop seat capacity: 2007-2017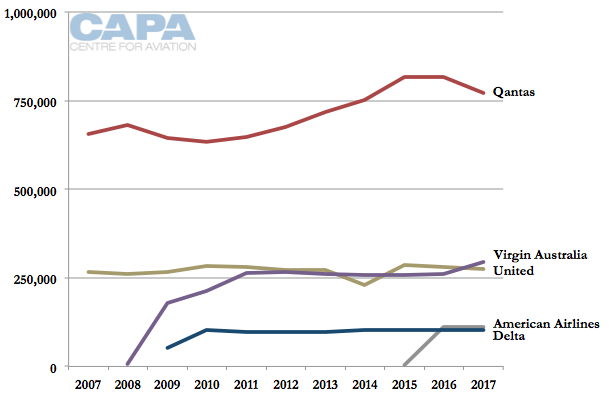 United's Houston-Sydney is the third Texas-Australia/NZ service, but first with strong US point of sale
California – and often Los Angeles – was the historical gateway from Australia and New Zealand to North America. The region was a strong destination in its own right, as well as offering hub opportunities, and flying any further into North America placed constraints on aircraft economics. That changed with Qantas' Sydney-Dallas launch in 2011, and then Air New Zealand's Auckland-Houston opening in 2015.
Both flights allowed Qantas and Air New Zealand to reach a new local market, along with its greater catchment area. Partner hubs were critical: in Dallas Qantas has American Airlines, while in Houston Air New Zealand has United.
For those reasons, Air New Zealand could not sustain a Dallas service, and Qantas could not sustain a Houston flight. The hubs allow better connections to the central and eastern parts of North America, as well as to Mexico and South America. For passengers connecting onwards, they stay longer on an international flight – with all its amenities – and then have a shorter connecting flight.
United's new Houston-Auckland flight broadly follows the same recipe. The critical difference, however, is that United will be very strong in US point of sale.
Although Qantas and Air New Zealand succeed in the outbound US market, United has a natural advantage. United will also give direct competition to Qantas to Australia, whereas Air New Zealand's Australia proposition was one stop through Auckland, or two stops if connecting to Australia from beyond Houston.
Map of Texas-Australia/NZ flights: week commencing 18-Jan-2018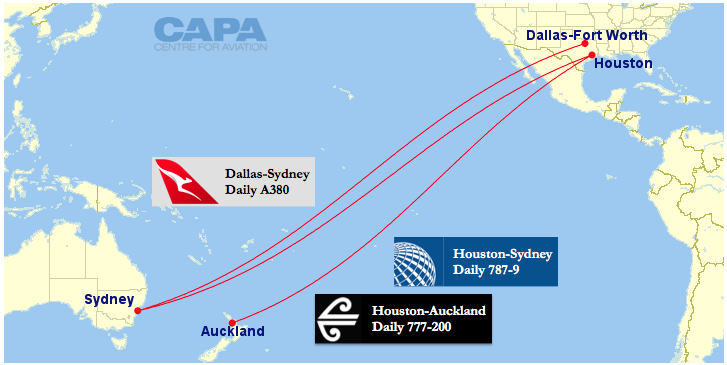 727" height="365" />
Houston opens up 53 US airports with one-stop service to Sydney for United
United serves 53 US airports from Houston that it does not serve from Los Angeles or San Francisco. (One of these, LaGuardia, is co-terminal with Newark, which United does serve from Los Angeles and San Francisco.)
These airports are primarily in the south and eastern part of the US and now have one-stop access to Sydney, at least theoretically (connection times are not considered).
Map of United airports served from Houston that are not served from Los Angeles or San Francisco: 2018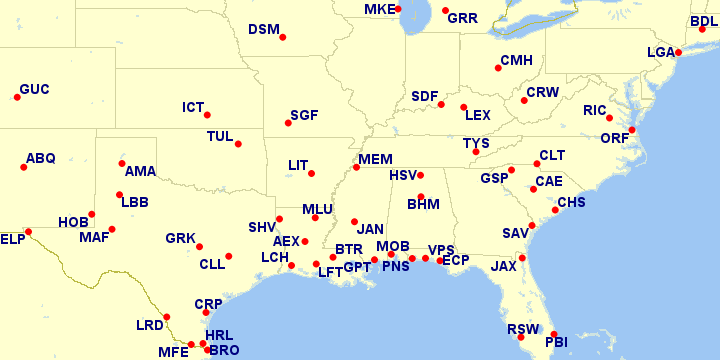 Further, Houston is United's largest gateway to Latin America and the Caribbean. Although there are growing direct links between Australia/New Zealand and Latin America, the flights are still relatively few, and to lower South America. Despite the complexity of US immigration rules requiring visas even for international transfer passengers, this gives North America a transit opportunity for Mexico, the Caribbean and Upper South America.
Air New Zealand long had a tidy business in the Australia-North America transfer market. This was pressured by capacity growth (and new entrants) resulting from Australia-US open skies, and then by improvements at Air NZ's partner United Airlines. United's overall size has created an impact, but there are also changes from United's footprint and - more difficult to measure, but critical - service and quality improvements.
United's launch of nonstop Melbourne-Los Angeles service gave the Melbourne market a second nonstop option to the US (Virgin Australia has since added a third option). United previously served Melbourne via Sydney. Air New Zealand's one-stop proposition through Auckland was comparable when network and travel time were considered (and for service and brand familiarity, Air NZ was stronger at the time - Air NZ has the strongest commercial brand of any company in Australia and New Zealand).
United's upgrades from 747-400s with old products (including no IFE or powerports in economy) to newer widebodies, combined with United's overall product and service improvements, have made United a more viable and premium option.Previously, United was often known as the inferior, but inexpensive, option.
Now, with United's Houston-Sydney service, United is again partially eating into Air New Zealand's North America-Australia transfer business. This is complicated, since Air New Zealand and United have a joint venture for the US-New Zealand market. The JV excludes Australia, and the two airlines are not allowed to discuss, let alone coordinate, matters relating to Australia.
The JV is impacted since Air New Zealand's US-New Zealand flights, which are covered in the JV, have passengers connecting to Australia on tickets sold in competition with United.
The Air New Zealand-United JV covering only two of their combined online markets (US and New Zealand) differs from the as yet unapproved American Airlines-Qantas JV.
American and Qantas would include all three of their online markets (US, Australia and New Zealand). American and Qantas' JV application was rejected by US authorities in 2016 - arguably on very questionable grounds, but the two plan to resubmit their JV under the new Trump administration, which is seen as more pro-business. But there is a growing wariness about expansive JVs among US regulators, given the market power delivered to the big three groups in the North Atlantic market.
See related reports:
Outlook: United and Air New Zealand have more cooperation opportunity
United's growth in Australia will slightly dilute American and Qantas' market share, which was a sticking point cited in the reason US DOT rejected their JV application. American and Qantas were inevitably going to have a majority position, since Qantas accounts for approximately half of the nonstop market. American's incremental presence brings more capacity and gives Qantas more strength in US point of sale.
A combined Qantas and American gives further reason for United and Air New Zealand to extend their JV to include Australia. Without a larger footprint, the US-New Zealand JV is undermined by United and Air New Zealand competing in the US-Australia market, which is far larger than US-New Zealand.
Between 2011 and 2014 (latest figures disclosed from private data) Air NZ expanded its share of the Australia-US market from 5.2% to 5.7%, but this was while some capacity was being injected into the market, so the percentage does not fully show the volume increase.
Although 5.7% may seem a small market share, this is higher than Delta's 5.0%. Delta serves Australia with a daily Los Angeles-Sydney 777-200, so Air NZ effectively carries a widebody aircraft's worth of passengers between Australia and the US. Air NZ's 5.7% share was slightly more than half United's 10.1% share.
Australia-US market share among major operators (over 5%): 2011-2014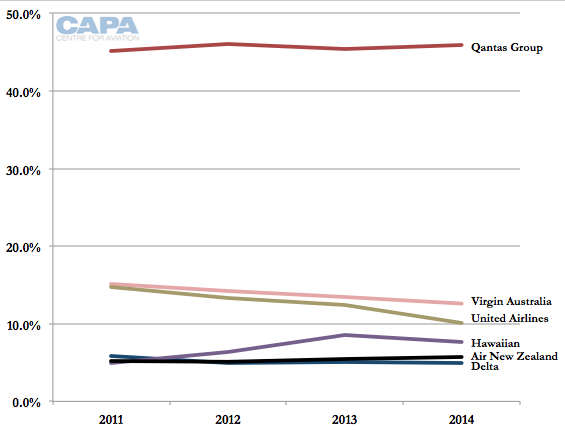 Air NZ's share of the Australia-USA market is tilted towards the leisure segment – to be expected, given that it is an intermediate operator and does not have a local presence in either the US or Australia.
From 2011 to 2014 Air NZ's share of the Australia-US market grew from 5.2% to 5.7%, but its business share grew slightly faster, from 3.7% to 4.8%. It is there that Air NZ is focussing its attention now, with Air NZ CEO Christopher Luxon announcing recently that the airline would be "launching B787-9 Code 2 with increased premium configuration to Houston".
Air New Zealand share of Australia-US total market, leisure market and business market: 2011-2014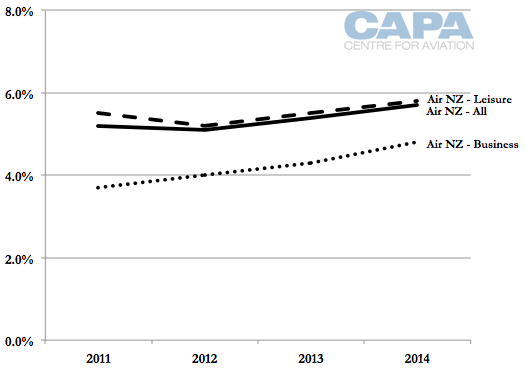 With greater US-Australia nonstop competition, Air New Zealand is actively aiming to increase its visibility as a transfer hub for Australia, mostly to North America but also South America. Auckland Airport is an easier transfer point Australia's non-capital city travellers than for example Sydney with separate domestic and international terminals on opposite sides of the airport.
See related report: Air New Zealand defends Australia-USA transit market as Qantas plans further USA growth with 787-9s
In recent years Air New Zealand has pursued a strategy of successfully turning competitors into JV partners. This is a hard tightrope to walk, as its - usually larger - partners have other competition to respond to. In this case, in a growing trans-Pacific market, United is responding to the need to increase its competitive position against its powerful US majors. If Air NZ becomes collateral damage, that is a subsidiary matter.
But for Air NZ and others there is a silver lining in United's new move. The added competition does add weight to the argument in favour of approval of the Qantas-American JV application; and in turn there would be a symmetry in approving an expansion of the United-Air NZ JV to embrace Australia too, if that is what they seek. The politically powerful Delta is a likely opponent, as it is appears not to be greatly focussed on expanding in the market; smaller airlines like Hawaiian would also again rise to oppose either or both.
Despite the past 12 months being characterised by its CEO as having " faced an unprecedented increase in the level of competition from some of the world's largest airlines", Air New Zealand "effectively rose to the challenge".
There is little reason to expect the plucky little flag carrier not to continue in that vein.