TransAsia expanding reach with listing on main board of Taiwan Stock Exchange
Analysis
TransAsia Airways, Taiwan's first private-owned airline company, officially listed on the main board of the Taiwan Stock Exchange on 01-Nov-2011, gaining strong interest from investors and becoming the third carrier to be listed in Taiwan after China Airlines and EVA Air.
The IPO followed quickly after the carrier announced it had attracted two strategic investors by selling 50 million shares to Paradigm Transportation Holdings BV and 1.3 million shares to Maurice Savart. Chairman Vincent Lin in an interview with Taipei Times at the end of Oct-2011 commented that TransAsia has "proven itself to be a company that deserves the attention of investors, based on the company's performance over the first half of this year". He added that there is a large growth room for TransAsia in the coming years as it aggressively expands its international network and benefits from strong cross-Strait demand.
TransAsia President Andy Chen added that the carrier has benefited from its regional air carrier position and branding, which has "helped us establish a clearer picture when managing the company". However, the profitable carrier is expecting a lower profit this year compared to its TWD918 million (USD31 million) profit in 2010 due to rising price of fuel, which has so far increased 28.2% compared to last year.
Capital increased to USD185 mill following the successful completion of private equity and cash capital injection
TransAsia, a mid-sized Taiwanese carrier and the nation's fourth largest carrier by seats, had a pre-market capital of TWD4807 million (USD160 million), which increased to TWD5542 million (USD185 million) following the successful completion of private equity and cash capital injections.
The carrier's shares had a listing price of TWD18 (USD 6.0 cents) with its shares closing up 27.8% at TWD23, with 13.01 million shares changing hands on the first trading day (there is no price limit for the ups and downs of the IPOs for the first five days of trading). Comparatively, China Airlines' shares closed at TWD15.45 and EVA Airways at TWD22.05 on 01-Nov-2011 .
Largest 10 airlines serving Taiwan (system traffic, seats): 31-Oct-2011 to 06-Nov-2011
| Rank | Airline | Total Seats |
| --- | --- | --- |
| 1 | | 243,086 |
| 2 | | 138,299 |
| 3 | | 90,479 |
| 4 | | 83,880 |
| 5 | | 66,696 |
| 6 | | 59,702 |
| 7 | | 31,272 |
| 8 | | 23,784 |
| 9 | | 21,658 |
| 10 | | 17,834 |
TransAsia, which was established in 1951, has been listed as an emerging stock on the GreTai Securities Market's emerging stock bourse since Nov-2010. The airline is now able to list on the main bourse as it has met the requirement of being on the emerging market for at least six months and has reported two years of consecutive profits. The carrier reported a net profit of TWD13 million (USD440,000) in 2009 and TWD918 million (USD31 million) in 2010.
TransAsia Airways raises USD29.8 million through share sale and introduces two strategic investors
Prior to the listing, TransAsia Airways on 26-Oct-2011 raised TWD897.8 million (USD29.8 million) by selling new shares to two strategic investors with experience in the aviation business. The carrier said the acquisition reflected TransAsia's stable profit growth in recent years.
TransAsia sold 1.3 million shares, or 0.2% of the carrier's outstanding shares and 2.5% of the private equity holding, at TWD17.5/share to Maurice Savart, senior vice president of EADS' North Asia operations. He is also Executive Director of Avichina Industry & Technology Co Ltd. China Times has also named Mr Savart as president of MS Consult International. TransAsia also agreed to sell 50 million shares, or 10.4% of the carrier and 97.5% of the private equity holding, to Holland-based Paradigm Transportation Holdings BV, also at TWD17.5/share. Paradigm Transportation is a subsidiary of Paradigm Venture Partners LLC.
The two investors, which hold a 10.67% stake in TransAsia after the private placement, are expected to provide assistance in a wide range of areas, including management, aircraft purchasing plans, fleet maintenance and pilot training, to improve the quality of the carrier's operations. "Paradigm Transportation's consulting team and Director Savart are both with business experience of international airlines, which would help boost TransAsia's operations and expansion on international routes," the company said. This is the first time for a Taiwanese airline to partner with a major international aviation firm. This is the first investment of Paradigm Transportation Fund, which was established by Paradigm Transportation Holdings for investment in the Asian aviation industry.
Mr Lin has subsequently stated the carrier plans to launch its second private placement before the Lunar New Year, which falls in late Jan-2012, as part of its initial plans to increase its capital to TWD10,000 million (USD333 million) to support the carrier's expansion plans.
Operating margin of 9.8% in nine months to Sep-2011

TransAsia, meanwhile, is on track to report another year of profitability in 2011. TransAsia's accumulative sales revenue for the first three quarters of 2011 reached TWD6.53 billion (USD218.8 million), a 4.5% year-on-year increase. Operating profit weakened 16.1% to USD21.5 million in the nine-month period, for an operating margin of 9.8%, and net profit weakened 13.0% to USD21.1 million for a net profit margin of 9.6%. This is a stronger operating and net profit result that at its peers, China Airways and EVA Airways. Improved earnings are expected in 2012, according to Mr Lin.

TransAsia Airways financial highlights for nine months ended 30-Sep-2011:
Operating revenue: USD218.8 million, +4.5% year-on-year;
Operating costs: USD177.3 million, +6.2%;
Operating expense: USD20.0 million, +19.4%;
Operating profit: USD21.5 million, -16.1%;
Net profit: USD21.1 million, -13.0%;
Total assets: USD377.8 million, +5.9%;
Cash and cash equivalents: USD36.1 million, +19.2%;
Total liabilities: USD176.4 million, +3.0%.
7% increase in operating revenue with 6% increase in passenger levels
In Sep-2011, the carrier reported a 6.9% year-on-year increase operating revenue of TWD746.1 million (USD24.6 million). Passenger revenues contributed 92% of the total revenue in the month, with revenues of TWD685.9 million (USD22.6 million). Cargo revenues stood at TWD17.9 million (USD590,556) with other revenues contributing TWD42.3 million (USD1.4 million) to the total.
The carrier handed 224,656 passengers in Sep-2011, a 5.9% year-on-year increase. Domestic demand increased strongly, by 17.8% to 127,101, while international passenger numbers weakened by 6.4% to 97,555. Load factors also weakened notably, by 8.2 ppts to 66.3% driven by a 10.8 ppt reduction in international demand by 64.3%.
TransAsia Airways Passenger Numbers (2009 to 2011)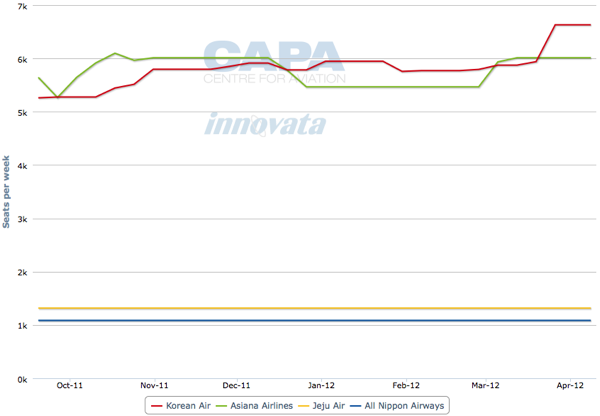 TransAsia Airways Passenger Load Factor (2009 to 2011)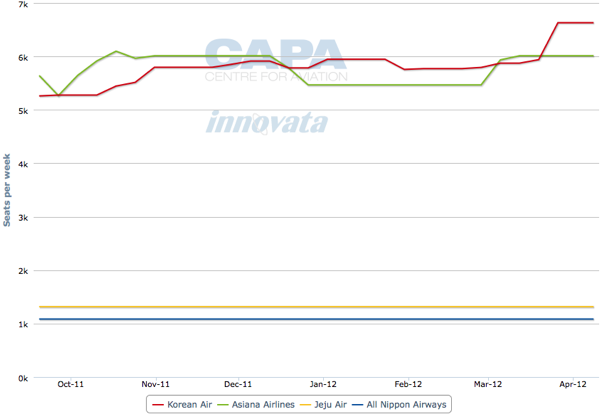 Cargo volumes weakened 8.7% to 2,840 tons, with a 10% increase in domestic cargo volumes to 1152 tonnes, while international volumes weakened 18.2% to 1688 tonnes.
TransAsia Airways traffic highlights in Sep-2011:
Passenger numbers: 224,656, +5.9% year-on-year;

Domestic: 127,101, +17.8%;
International: 97,555, -6.4%;

Passenger load factor: 66.3%, -8.2ppts;

Domestic: 74.8%, +2.6ppts;
International: 64.3%, -10.8ppts;

Cargo volume: 2,840 tons, -8.7%;

Domestic: 1,152, +10%;
International: 1,688, -18.2%;

Cargo load factor: 30.1%, -14.3ppts;

Domestic: 45.3%, -20ppts;
International: 29.0%, -12.4ppts;

Number of flights: 3,139, +10.7%;

Domestic: 2,324, +14.2%;
International: 815, +1.9%.
Aggressive international expansion planned
TransAsia Airways stated its future plans would focus on the development of its international route network and the acquisition of aircraft to support this. Mr Lin stated the company would aggressively add services connecting Japan, China and Southeast Asian nations. The carrier stated it expects the passenger market to be very promising in the next five years in the region.
Mr Lin, speaking to Taipei Times in Oct-2011, stated the carrier "expects to offer a complete service all over Asia in five years by focusing on increasing mid-haul routes to cities in China, Northeast and Southeast Asia. Australia is also a possible destination for us." Mr Lin, as quoted by the China Times in 01-Jul-2011, stated the carrier hopes to operate to all major cities in the Asia Pacific region including Seoul, Bangkok, Jakarta and Tokyo within the next five years, in addition to cities within nine hours reach including those in Australia, New Zealand and the Middle East.
Mr Chen last month conceded that "it is not easy for a small airline like TransAsia to gain aviation rights, which is why we only operate eight regular international routes and 22 regular cross-strait routes". However, he added that the carrier makes flexible use of chartered services to expand the services to cities where it does not have aviation rights. "This allows us to prove that we have the ability to run these routes, which will hopefully help us secure more aviation rights in the future," he said.
Network of seven domestic and 16 international destinations
Currently, TransAsia Airways operates a network of seven domestic and 16 international destinations, including 12 destinations in China with 223 weekly services. This includes services from Kaohsiung to five Chinese cross-Taiwan Strait routes, two international routes and three domestic routes. Mr Chen stated the demand-supply balance across its network is positive and "demand continues to outstrip supply on our current routes, which are mainly to higher-tier cities and are certain to remain profitable".
TransAsia network map: Nov-2011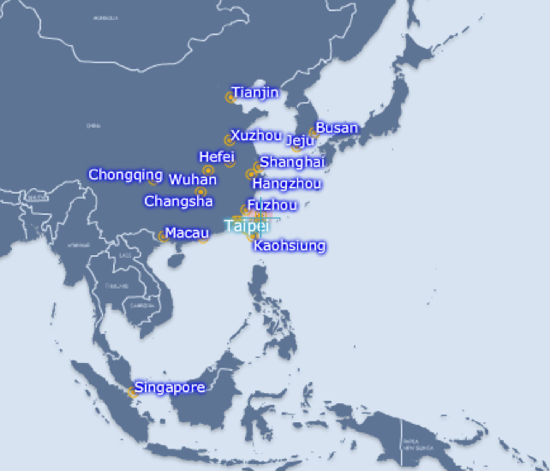 TransAsia, in late Oct-2011, also confirmed it would launch four new international routes to China in Vietnam this month, ahead of the peak Christmas and New Year period. The carrier's board, in Oct-2011, approved plans to establish a branch company in Hanoi.
The carrier launched three times weekly Taipei Taoyuan-Xuzhou service from 01-Nov-2011 becoming the first Taiwan carrier to operate the route. It also launched weekly Kaohsiung-Hefei service on 02-Nov-2011, with weekly Kaohsiun-Naning service planned for 05-Nov-2011 and twice weekly Kaohsiung-Hanoi service to follow from 10-Nov-2011. The carrier said three of four new routes would be operated out of Kaohsiung, since the airline is optimistic about the growing demand in the air travel market in southern Taiwan. According to TransAsia, the number of services at Kaohsiung Airport in the nine months to 30-Sep-2011 rose 3.5% year-on-year to 32,012.
In other network news, Mr Lin stated its daily Taipei-Singapore service, which was launched on 30-Jun-2011, has reached breakeven. The carrier plans to increase frequency on the sector to twice daily during the northern winter schedule. Taiwan Tourism Bureau reported visitor arrivals from Singapore to Taiwan increased 31.1% year-on-year in Sep-2011 due primarily to the opening of TransAsia Airways daily service on the sector.
The carrier's ability to grow has been enabled by government permission to serve international destinations including Bangkok, Colombo and Singapore. In the past, only China Airlines and EVA Air were permitted to serve international capital cities. Of Taiwan's smaller airlines, TransAsia now has the largest international presence.
TransAsia notes optimism on the back of continued strong cross-Strait demand
TransAsia is also busy expanding its services to mainland China. The carrier, in Jun-2011, was allocated 10 of the additional 94 cross-Strait services, including one additional Shanghai service. With the increase, TranAsia's allocation of cross-Strait rights increased from 34 to 45 times weekly, covering 13 destinations in China. After progressively adding cross-Strait services to its network, TransAsia is the seventh largest operator on services between Taiwan and China behind China Airlines, EVA Air, China Eastern Airlines, Mandarin Airlines, China Southern and Air China.
The company currently operates 45 weekly cross-Strait services from Taiwan to 13 destinations in China.
China to Taiwan (seats per week, one way): 19-Sep-11 to 21-Apr-12
The carrier has noted optimism on the back of continued strong cross-Strait demand and growth opportunities. According to the carrier, cross-strait services accounted for 30% of TransAsia's total revenue over the first six months of this year. Mr Chen stated international routes and domestic routes account for 25% each of total revenues and chartered services and other businesses for 10% each.
On the prospect of further increasing the percentage of cross-Strait revenue contribution, Mr Chen said: "I think that the 30% of revenue accounted for by cross-strait routes is the highest it will go. Our upcoming new routes and destinations will ensure that this revenue structure gradually balances out, but cross-strait routes are still likely to remain an important driver for company revenue."
Fleet expansion from 16 to 35 aircraft within five years
In line with the increase of the regional routes, TransAsia will expand the number of aircraft from 16 at present to 35 within five years.
In terms of the carrier's fleet expansion, has placed an order with Airbus for two A330-300s and six A321s, scheduled for delivery in 4Q2012. In Jun-2011, TransAsia ordered six A321neo aircraft, for delivery up to 2020. Prior to this, TransAsia will lease two A321 aircraft. As part of this, the carrier on 31-Oct-2011 signed an agreement with BOC Aviation for the lease of a new A320 aircraft. The aircraft, powered by IAE2527-A5 engines, is scheduled for delivery in Mar-2012. This deal marks the first time BOC Aviation has leased its own aircraft to a Taiwanese carrier. Mr Lin says the new aircraft is required to meet strong growth in regional services, especially on direct routes between Taiwan and mainland China. Another A321 will be leased from Mar-2012. The carrier has also stated it has seven older aircraft to phase out upon the receipt of new aircraft.
TransAsia operates a fleet of 16 aircraft at present, including nine ATR72 aircraft, which the carrier has stated saves 75% on fuel costs on short-haul routes compared with larger aircraft. It also operates two A320 and five A321 aircraft, for routes with higher passenger demand. The carrier stated this fleet combination reflects not only its network profile but matches the company's strategy of high utilisation operations. The carrier has an average daily utilisation rate of around nine hours per day, with this increasing to more than 10 hour on cross-Strait services.
TransAsia has stated it has no plans to increase the size of its turboprop fleet, but it wants to replace the current fleet with new models. The carrier will likely start replacing its turboprop fleet, which currently has an average age of 11 years, in 2013. The carrier operates ATR 72-500s at present and is considering the ATR72-600, a similar aircraft, as well as its competitor, the Q400, which has a higher operating cost but flies faster.
In terms of financing, TransAsia Airways announced its 12-year TWD5500 million (USD183 million) financing for its aircraft purchase has been allocated, according to Reuters report at the end of Oct-2011. Details of the loan allocations are as follows:
Taiwan Cooperative Bank: TWD1500 million (USD50 million);
Industrial Bank of Taiwan: TWD750 million (USD25 million);
Huanan Commercial Bank: TWD750 million (USD25 million);
Yuanda Commercial Bank: TWD750 million (USD25 million);
Agricultural Bank of Taiwan: TWD700 million (USD23 million);
Cathay United Bank: TWD350 million (USD11.7 million);
Changhaw Bank: TWD350 million (USD11.6 million);
Jih Sun Bank: TWD350 million (USD11.6 million).
Official signing of contracts will be carried out in Nov-2011. The loan will be divided into two parts of which TWD2750 million (USD92 million) will be used to purchase one A330-300 aircraft. Two aircraft scheduled for delivery in Dec-2012 and Jan-2013, respectively, will be used as loan guarantees.
In addition, TransAsia will evaluate the feasibility of investing in MRO operations. This would likely occur with Airbus and cover MRO of A320 and A321 equipment in the initial stage. Airbus has reportedly planned to invest in the hangar, mainly due to the high quality of Taiwanese technicians, the rapid development of cross-Strait services, Taiwan's geographic location and the large potential of the Asian market.

No plan to expand into dedicated freight market
For the moment, at least, TransAsia has no plans to operate dedicated freight operations, with the carrier expecting cargo sector demand to remain "weak" in the near future. Mr Chen added that cargo business accounts for just 2-3% of TransAsia revenues as the carrier does not operate a fleet of dedicated freighters. Over the long term, the company might focus more on the cargo sector, but the short term "we will stick with our current operational model of carrying goods on passenger aircraft, because that incurs only a small increase in fueling costs".
TransAsia expanding to be a truly trans-Asian airline
On the outlook, Mr Lin noted that "it is hard to forecast the future of the industry, so we will carefully evaluate every expansion plan so as to minimize the risks involved". As for the price of crude oil, Mr Lin stated "that is not a major problem for TransAsia, as fuel costs do not account for too much of the company's overall costs". In the first half of the year, fuel costs accounted for 28% of total operating costs.
TransAsia, and Taiwan's aviation industry as a whole, hopes to capitalise on the massive opportunity with cross-Strait liberalisation, which has been progressively opening up the skies between Taiwan and mainland China. While expanding its fleet and network in the mainland, TransAsia is not putting all its eggs in the one basket. TransAsia for one, as its name suggests, is looking further afield.