Traffic rights limitation forces Hong Kong Airlines to delay Sydney and Melbourne services
Analysis
Hong Kong Airlines is on a growth spurt, having taken delivery of eight A330s since mid-2010 with another six due next year.
See related article: Hong Kong Airlines plans growth, including all-premium product between Hong Kong and London
Airlines from Hong Kong can fly up to 70 weekly frequencies to Australia's major cities. The frequencies are typically all in use by Hong Kong Airlines' larger competitor, Cathay Pacific. Schedule fluctuations sometimes see Cathay use just under the allotment, but not on a continuing basis that would permit Hong Kong Airlines to offer regular services.
In exchange for granting more capacity to Hong Kong carriers, the Australian Government, at the request of Qantas, asked for greater fifth-freedom access to onward points, predominantly in North Asia, according to sources familiar with the matter. Qantas was primarily interested in codesharing to the points and not operating its own aircraft. Hong Kong balked at the request and the talks ended without a change in the air services agreement between the two countries.
The breakdown could hint at continuing strains between Qantas and Cathay. Although the two are members of the oneworld alliance, they are effectively competitors and cooperate minimally. Qantas has a limited codeshare with Cathay and its Dragonair subsidiary, predominately on services from Hong Kong to mainland China. Any traffic Qantas brings to Hong Kong for an onward Cathay or Dragonair flight is traffic Cathay could potentially bring from Australia on its own services. Cathay offers approximately 22,000 seats per week between Australia and Hong Kong while Qantas offers 8000. Cathay and Qantas are seen as having the same objective in linking Asia, and China in particular, but with Cathay out-performing Qantas.
If Cathay, which is close to the Hong Kong Government, thought it would benefit from Australia's request on behalf of Qantas, Cathay could have successfully lobbied the Hong Kong Government for approval.
A spokesman for Australia's Department of Infrastructure and Transport said the parties would resume talks next year.
Another round of talks would ordinarily not be expected to commence until the same time the following year, making 2012 unlikely to see service from Hong Kong Airlines. But sources expect Australia and Hong Kong to have talks sooner, possibly in a few months, enabling Hong Kong Airlines to serve Australia in 2012, provided the talks are successful.
Australian carriers are offered 45 weekly frequencies to Hong Kong from Sydney, Melbourne, Brisbane and Perth, a capacity far under-utilised by Qantas, the sole Australian carrier on the route.
Australia to Hong Kong (seats per week, one way): 19-Sep-2011 to 28-Apr-2012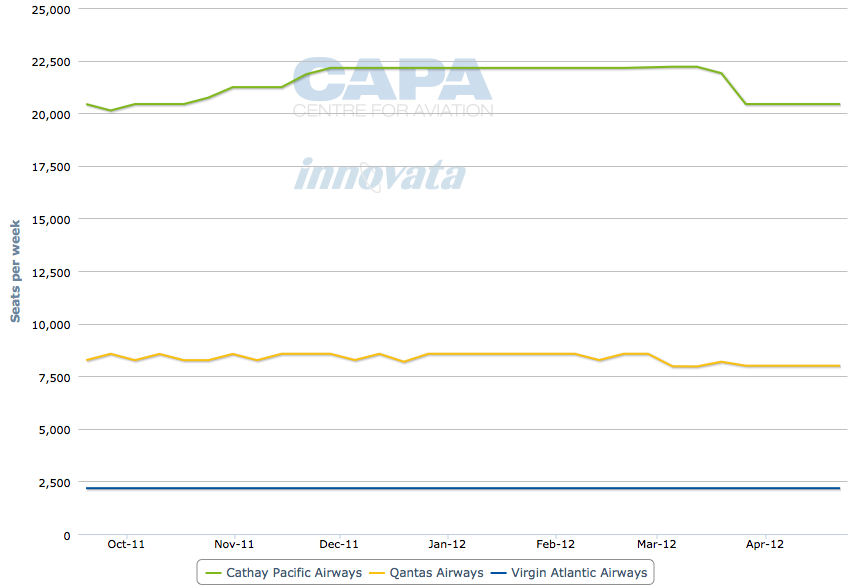 Virgin Atlantic is the third and only other carrier on the route, with a daily service between Sydney and Hong Kong as part of onward services to London. Virgin Atlantic has seen stronger demand on its London-Hong Kong sector than Hong Kong-Sydney and is expected to add another London-Hong Kong flight, Heathrow slots permitting, before a second Hong Kong-Sydney service.
The large capacity into Sydney from Hong Kong – as well as Guangzhou, also in the Pearl River Delta region – has caused Hong Kong Airlines in recent months to have second thoughts about making Sydney its first Australian port, but its plans have not officially changed.