Hong Kong Airlines plans A330 all-premium product for Hong Kong-London route
Analysis
Hong Kong Airlines is preparing to enter the highly competitive but typically lucrative Hong Kong-London market next year with a unique all-premium service. London will be one of at least three new long-haul destinations for Hong Kong Airlines in 2012, along with Paris and Sydney, as the fast-growing carrier continues to rapidly expand its A330 fleet.
Hong Kong Airlines only added its first widebody aircraft, an A330-200, in Jun-2010. Over the past 13 months the carrier has rapidly taken delivery of eight additional A330s, giving it a fleet of seven A330-200 passenger aircraft and two A330Fs. Hong Kong Airlines commercial director Wayne Wang told CAPA the delivery of the ninth A330, which took place earlier this week, will be the carrier's last delivery for 2011. But he said Hong Kong Airlines is slated to receive six more A330s in 2012 – three more A330-200s and three A330-300s.
Mr Wang revealed that Hong Kong Airlines has selected an all-business-class configuration for the three A330-200s to be delivered next year. These aircraft will feature 116 lie-flat business-class seats and be used to operate a daily service to London. Hong Kong Airlines' existing A330-200s are in two-class configuration with 259 economy and 24 angled business-class seats.
Poised to become first carrier to operate all-premium service between Asia and Europe
Hong Kong Airlines will become only the third Asian carrier to operate all-premium services and the first carrier to offer an all-premium product between Asia and Europe. Singapore Airlines operates a fleet of five all-premium A340-500s, which are configured with 100 business-class seats and used to operate non-stop flights from Singapore to Newark and Los Angeles. All Nippon Airways also operates an all-business class B737-700 between Tokyo and Mumbai configured with 38 seats. Some European flag carriers offer all-premium services but only narrowbodies to North America, the Middle East and Africa.
Mr Wang says Hong Kong Airlines decided to enter the Hong Kong-London route with an all-premium product after closely analysing the market, which has an unusual high concentration of business-class passengers. Hong Kong-London is the largest route between Asia and Europe with 20,000 seats per week in each direction. Cathay Pacific Airways, which operates four daily flights to London, accounts for nearly 50% of the capacity in the market while its oneworld partner British Airways, which operates two daily flights to Hong Kong, accounts for another 21%. Three other carriers – Qantas, Air New Zealand and Virgin Atlantic Airways – also operate one daily flight between Hong Kong and London.
Hong Kong to London seats per week (one-way), 4-Jul-2011 to 1-Jan-2012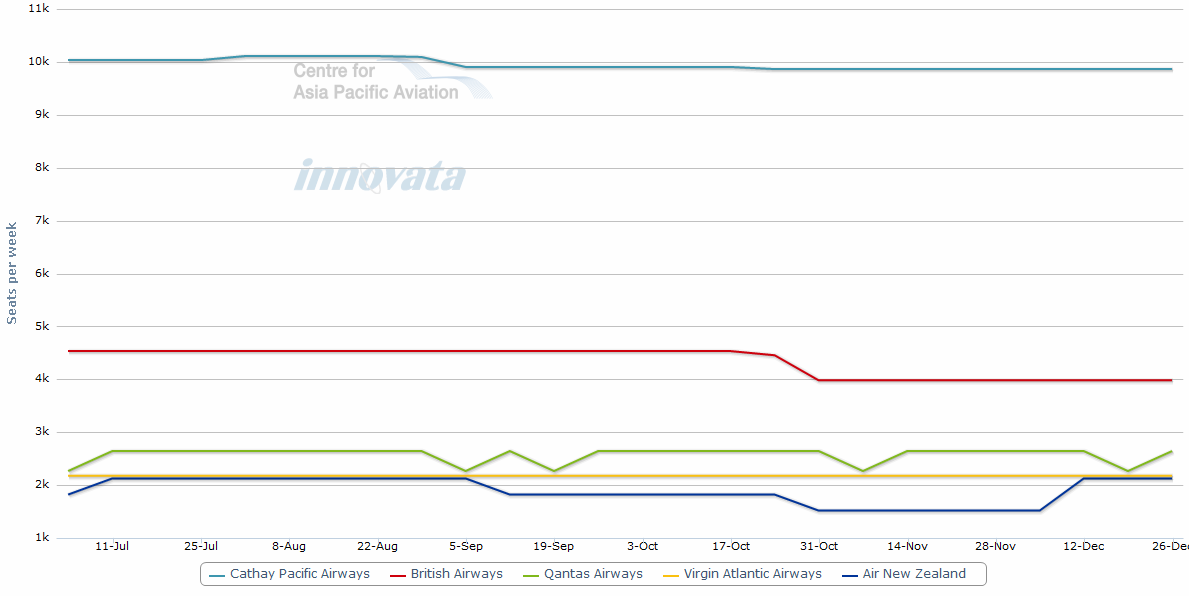 A large portion of the business-class passengers on the route are booked under corporate accounts, in particular with major financial institutions that have large offices in London and Hong Kong. Mr Wang said Hong Kong Airlines aims to capture a share of this traffic but acknowledges it will be challenging to break the stronghold now enjoyed by the existing carriers. Cathay and BA in particular have big corporate accounts covering the Hong Kong-London market that would be extremely difficult for a smaller carrier or new entrant to penetrate.
Hong Kong generally has a large portion of corporate and business traffic. Currently 11.1% of all seats out of Hong Kong are business-class seats, compared with a global average of just 4.6%.
Hong Kong International Airport capacity breakdown by class of seats (based on departing seats for 11-Jul-2011 to 17-Jul-2011)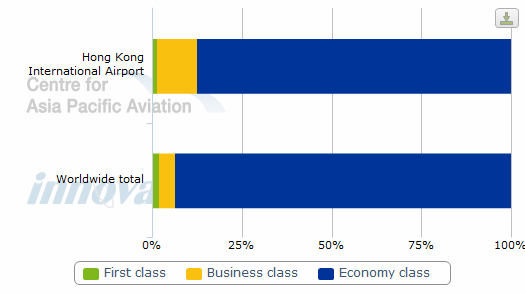 Hong Kong Airlines doesn't have a corporate account programme but is now working on expanding into the corporate sector in Hong Kong ahead of the London launch. Mr Wang said until now Hong Kong Airlines had not tried to break into the corporate account market because the carrier's network and schedule was rather limited.
While Hong Kong Airlines and sister carrier Hong Kong Express operate scheduled flights to 22 destinations, Mr Wang said on most routes the frequencies are too limited to meet the needs of the corporate sector. Of the 22 routes, only one route (Beijing) is served with three daily flights. Four routes are served with two daily flights and 17 routes are served with less than 14 weekly frequencies. Hong Kong Airlines' passenger fleet consists of just 14 aircraft – eight B737-800s along with the six A330s.
Hong Kong Airlines will face huge challenges trying to win corporate accounts in the Hong Kong-London market as it cannot come close to matching the schedule offered by Cathay and BA. Hong Kong Airlines is also not part of a global alliance. Even more crucially, it does not expect it will be able to secure slots at Heathrow, which is by far the most preferred London airport for business travellers.
Hong Kong Airlines is now analysing London's three other airports - Gatwick, Luton and Stansted. Gatwick is typically the airport of choice for full-service carriers unable to access Heathrow. Gatwick was also used by Oasis Hong Kong Airlines, which operated the Hong Kong-London route with B747-400s in two-class configuration until it ceased operation in 2008. AirAsia X also announced earlier this week it is moving in Oct-2011 its Kuala Lumpur-London service from Stansted to Gatwick, leaving Stansted without any long-haul scheduled routes.
Stansted, however, was used by two all-premium US-based trans-Atlantic carriers – MAXjet and Eos – until they suspended operations in Dec-2007 and Apr-2008, respectively. UK-based all-premium carrier, Silverjet, had its base at Luton until it went out of business in 2008.
Hong Kong Airlines is confident its all-premium operation will succeed as it is not a start-up (as was the case with Eos, Maxjet and Silverjet) and already has a presence in the Hong Kong and China markets. As a subsidiary of the Hainan Airlines (HNA) Group, Hong Kong Airlines is particularly strong in southern China. Mr Wang pointed out there is no non-stop service to London from any airport in southern mainland China such as Shenzhen or Guangzhou.
Hong Kong Airlines believes there is high demand for services to London from mainland Chinese businessmen based in Guangdong, a fast growing Chinese province of more than 100 million people. The part of Guangdong adjacent to Hong Kong is China's wealthiest region and has a population of more than 20 million people including the booming metros of Guangzhou and Shenzhen.
Mainland Chinese passengers targeted
Mr Wang said 30% to 40% of Hong Kong Airlines' traffic now consists of passengers from mainland China. Some of these passengers fly in from the nine destinations Hong Kong Airlines now serves in mainland China (a 10th and 11th destination in mainland China will be added to its scheduled network later this quarter). But a large proportion drives from Guangdong to Hong Kong, where they board international flights.
While the Hong Kong Airlines and Hong Kong Express brand have been slow to gain traction in Cathay-dominated Hong Kong, the airline has been able to quickly develop a marketing presence in mainland China including the premium end of the market. Hong Kong Airlines particularly has had some success winning premium passengers in the Hong Kong-Beijing and Hong Kong-Shanghai markets. All three of the carrier's Shanghai flights (two to Shanghai Pudong and one two Shanghai Hongqiao) and two of its three Beijing flights are now operated with A330s.
Some of the carrier's other A330 markets are more challenging from a business-class perspective because the services are less than daily or the routes are predominately leisure. For example Moscow, which was launched in Jun-2010 using the carrier's first A330, is now only served three times per week. The A330s are also used on medium-haul routes to Bali, Bangkok, Okinawa and Singapore. Hong Kong Airlines also has a business-class product on its B737-800s but there are only eight seats in the front cabin, making it easier to fill on leisure routes compared with the 24 business-class seats in the A330.
Mr Wang acknowledged the carrier's A330 operation initially struggled with load factors between 50% and 60%. But he said load factors on A330 flights have improved and are now stable at about 80%. He saud in the long-haul network, which for now consists only of Moscow, the load factor is averaging about 70%.
In addition to London, Hong Kong Airlines plans to add in 2012 long-haul services to Sydney, most likely using some of the three A330-300s in two-class configuration it will be receiving next year. Hong Kong-Sydney is another large highly competitive market dominated by oneworld carriers. Cathay operates four daily flights to Sydney, giving it more than 50% of the market. Qantas has 11 weekly frequencies on the route while Virgin Atlantic has a single daily flight.
Hong Kong to Sydney seats per week (one-way), 4-Jul-2011 to 1-Jan-2012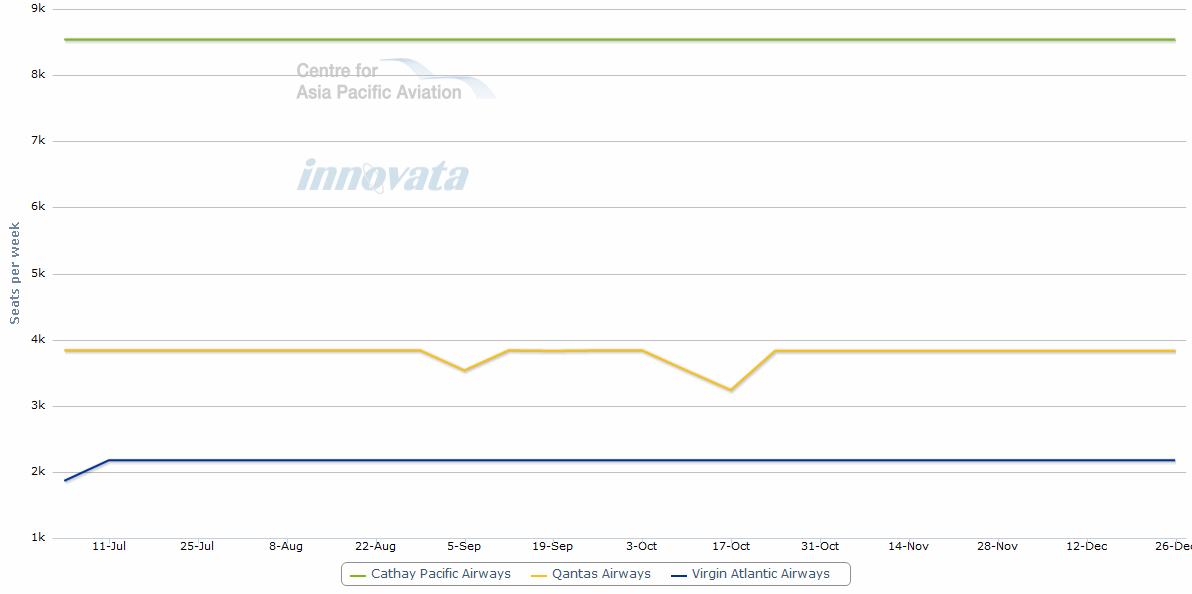 Sydney is Cathay's seventh largest route by capacity (seats) while London is Cathay's fifth largest route. New York is the only other long-haul market among Cathay's 10 largest routes. Of Cathay's 10 top routes, only four are now also served by Hong Kong Airlines – Singapore, Manila, Bangkok and Shanghai.
Cathay Pacific Airways' top 10 routes, based on seats for 11-Jul-2011 to 17-Jul-2011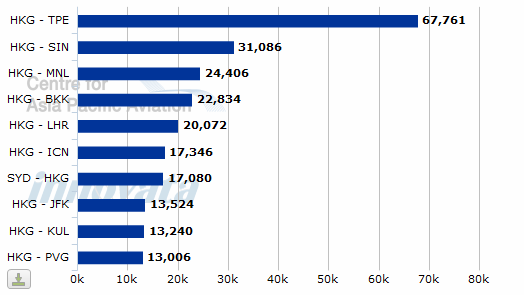 Hong Kong Airlines' top 10 routes, based on seats for 11-Jul-2011 to 17-Jul-2011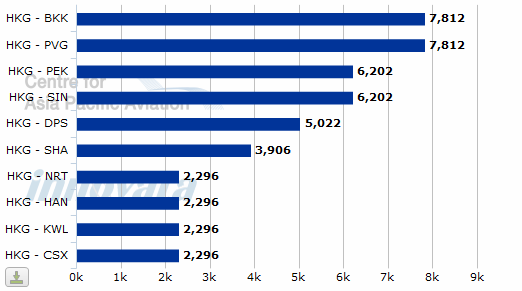 Mr Wang said Hong Kong Airlines received authority at the end of June from Hong Kong's Civil Aviation Department for passenger flights to Sydney and London as well as freighter flights to Delhi. Mr Wang said Sydney Airport has been actively courting Hong Kong Airlines as the airport aims to expand the number of flights to China, which has become one of its largest inbound markets. Four Chinese carriers already serve Sydney - including Hong Kong Airlines sister carrier Hainan Airlines, which operates two weekly A330 flights on the Shenzhen-Sydney route.
Mr Wang said Hong Kong Airlines is also considering Melbourne as a potential destination but will focus initially on adding Sydney, London and Paris. Cathay and Air France operate two daily flights on the Hong Kong-Paris route.
Several more long-haul routes are expected for 2013 and 2014 as Hong Kong Airlines continues to rapidly expand its widebody fleet. Mr Wang said Hong Kong Airlines/Hong Kong Express, which is expected to formally become one passenger carrier, aims to capture 15% of the market at Hong Kong International Airport within three years.
Based on Innovata data, Hong Kong Airlines and Hong Kong Express only account for about 6% of capacity at Hong Kong. Hong Kong Airlines is now the fourth largest carrier at HKIA based on capacity while sister carrier Hong Kong Express is the seventh largest. From a group standpoint, Hong Kong Airlines/Hong Kong Express are second largest after Cathay/Dragonair, with the Cathay group offering nearly eight times as many seats per week as the Hong Kong Airlines group.
Hong Kong International Airport capacity by carrier (seats per week), 11-Jul-2011 to 17-Jul-2011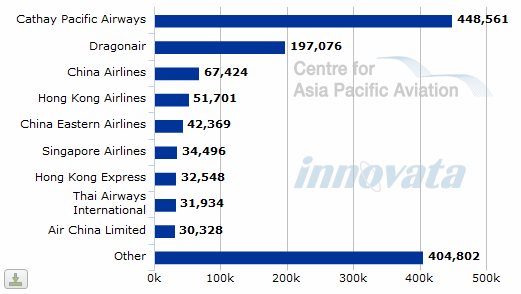 Hong Kong Airlines has firm orders for 11 additional A330s as well as 15 A350s, according to data from Ascend. Hong Kong Airlines also signed an MOU with Boeing in Mar-2011 covering 32 B787s and has been negotiating orders for A380s and B747-8s. Some of the B787s, B747-8s and A380s could potentially be delivered in all-premium configuration and used to replace the all-premium A330-200s now slated to launch the London service as well as open new all-premium routes.
Mr Wang declined to elaborate on the B787, B747-8 and A380 orders as they are not yet firm orders and commercial negotiations continue. He said the carrier's current five-year fleet plan envisions 60 aircraft by 2016, nearly all of which will consist of widebody aircraft. Widebodies are required as Hong Kong International Airport is slot constrained and larger aircraft are needed to pursue capacity growth until a third runway opens.
Smaller-than-expected A320 fleet planned
Hong Kong Airlines also has 30 A320s on order with deliveries scheduled to begin next year. But Mr Wang expects only 10 to 15 A320s will be needed and said the initial batch of A320s will be used to replace the carrier's B737-800s, which are coming off lease. He wouldn't say where the other 15 to 20 A320s Hong Kong Airlines has ordered will end up but potentially they could be moved to another airline within the HNA Group.
HNA Group owns 46% of Hong Kong Airlines. HNA is already publicly traded in mainland China while an IPO at Hong Kong Airlines is being prepared by two investment banks. Mr Wang said the IPO, which will result in a listing on the Hong Kong Stock Exchange, could occur in 2H2012.
Hong Kong Airlines begins to ponder global alliance options
Hainan and Hong Kong Airlines are independent but could be persuaded over the next year or two to join a global alliance. Hong Kong Airlines expects to soon start looking at global alliances as it believes being an alliance member would help it compete in the long-haul business-class market.
It remains to be seen if Hainan Airlines and Hong Kong Airlines will join global alliance(s) separately or jointly. Hainan Airlines is seen as an ideal candidate for oneworld, which lacks a member in mainland China. However, it is difficult to conceive Cathay and Hong Kong Airlines being in the same alliance. oneworld already controls 52% of the Hong Kong market when including Dragonair, which is an affiliate member of oneworld and a Cathay subsidiary.
Hong Kong International Airport capacity sharte (seats) by alliance, 11-Jul-2011 to 17-Jul-2011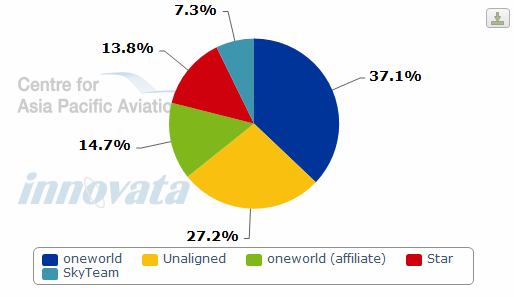 Star or SkyTeam would be a better fit for Hong Kong Airlines as they have a limited presence in Hong Kong. Both alliances, however, are strong in southern China with Guangzhou-based China Southern already in SkyTeam and Shenzhen Airlines having been accepted earlier this month as a new member of Star.