Slots continue to make news in the US, first at New York and change comes to SFO
Analysis
The US aviation landscape is again being affected by the scarcity of capacity in two of the nation's important metro areas. Last week the FAA gave its blessing to the slot swap between Delta and US Airways at New York's LaGuardia and Washington's Reagan.
The final agreement has a bit of everything in it. US Airways will cede 132 slots to Delta at LaGuardia and US Airways will receive 42 DCA slots, traffic rights to Sao Paulo as of 2015 and $66.5 million.
The agreement also stipulates that 16 of the LaGuardia slots and 8 of the Reagan slots must be relinquished to carriers that are currently underserved at the airports. It also sets the framework by which the sale will take place. The slots will be offered for bid in blocks of 8 to a single carrier. The final result will be that only one carrier benefits at Reagan and two will gain a packet of slots at LaGuardia. The LaGuardia slots are already defined by arrival and departure times and must be accepted as packaged.
LGA slot tranches
LGA slot tranches

Arr

Dep

Arr

Dep

Bundle A

Bundle B

0730

0600

0800

0630

0830

0630

1000

0700

1100

0830

1230

0930

1300

0930

1430

1030

1500

1230

1630

1330

1700

1400

1830

1600

2000

1600

2030

1730

2100

1830

2130

1930
See related article: Delta and US Airways welcome DoT approval of slot transaction
Slot sale conditions may make the bidding pool smaller
The nature of the offer may limit the number of carriers willing to bid on the bundles. An airline like Frontier or Sun Country, with defined hubs elsewhere, might be unable to effectively use such a large number of slots. Those benefitting most from this type of offer would be jetBlue, Southwest and Spirit. While Virgin America might have an interest, it would require an amendment to their current business plan.
LaGuardia's operations are currently capped by the FAA at 71 slots per hour between the hours of 0700 and 2200. That yields 1065 daily slots with a net gain by Delta of 116 per day after divesting the required 16, upping the airline's share at LGA by 10.8%.
Building a scenario
The number of seats on a weekly basis is impressive, and the actual effect on operations and dominance is substantial. While there has been no schedule released as yet, Delta has pledged to maintain service to many of the smaller communities, likely using 50-seat commuter aircraft. If that is the scenario that develops, Delta may add minimally 12,000 seats per day at LaGuardia, or 84,000 per week. Currently, on many of those routes US Airways operates turboprops so their seat decline will be less due to smaller capacity aircraft. However, in order to build a scenario, we will assume that each carrier has a 12,000 seat per day shift.
In order to see a possible impact on the current operations at LaGuardia, assuming Spirit and jetBlue each receive one of the slot bundles, we have added 32 daily frequencies for each, jetBlue with an average of 125 seats per operation and for Spirit, 150 seats.
LaGuardia Seats per week by carrier (10-16 Oct, 2011)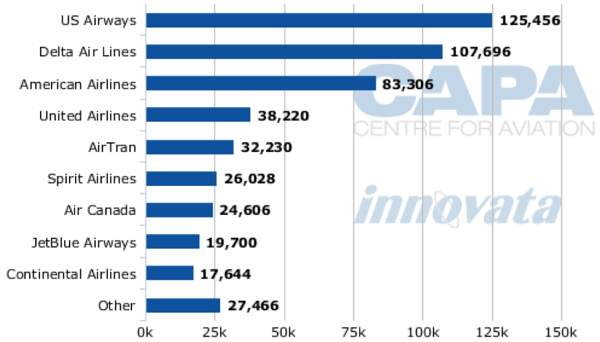 If the scenario were to develop according to these conditions, a future capacity chart might resemble the following.
Possible reordering of seat capacity at LaGuardia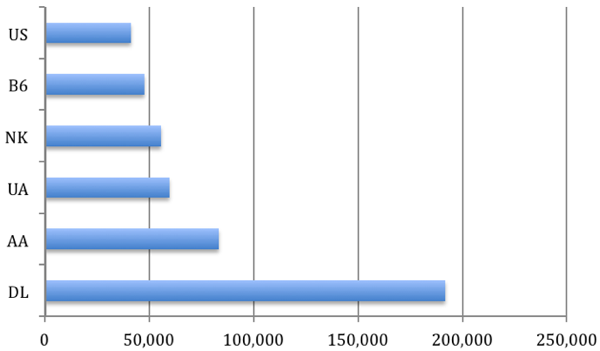 In the scenario, Delta indeed becomes the dominant player at LGA and both Spirit and jetBlue show improved rankings. Until current merger negotiations are completed, Southwest is a bit more difficult to predict. But with a weekly seat total currently greater than either Spirit or jetBlue, it is possible that they might rival United for third place if 32 more frequencies were to be added to the current AirTran/Southwest totals. JetBlue might also improve its relative offer by operating all A320s from LGA, adding 25 seats per operation.
Does it make Delta "New York's airline"?
But Delta's motives in a LaGuardia expansion are linked to the broader goal of becoming "New York's airline". Helane Becker, an analyst at Dahlman Rose & Co. in New York noted in her comments on the swap that "Delta clearly wants to own the New York market, and they're doing what they have to do to get there."
New York is America's largest aviation market and its 3 airports operate as a system for the community. A banker living in New Jersey might choose Newark for proximity, by if he/she works in Manhattan, LaGuardia is equally an option. While most metro residents likely gravitate to one airport, many might pick and choose according to the destination chosen and service differences.
For that reason, being New York's airline is a tall order and perhaps we should look at the effect of the swap on the regional balance. Applying the increases and decreases calculated for the LaGuardia charts, we now look at the seat totals for the combined New York airports.
Delta is bigger but still number 2
Delta increases its numbers but remains in second place behind the newly created United — primarily because of the incredible dominance of United at Newark. American remains in fourth place but faces a larger combined offer from United, Delta and jetBlue.
JetBlue continues to be number one at JFK, and has a presence at all three airports, but Delta's overall global coverage from the airport makes it a different challenger at Kennedy but it now holds the top position at LaGuardia for domestic service.
Possible reshuffling of metro New York positions—current top providers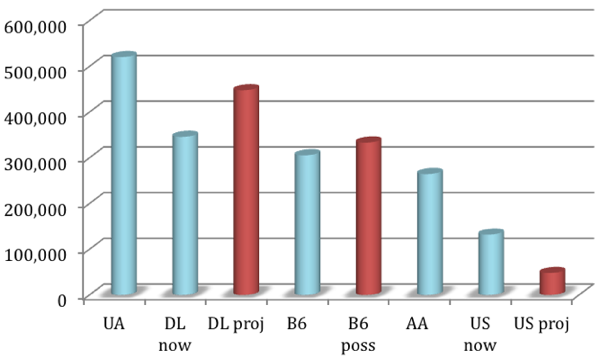 The biggest loser, by design, is US Airways whose presence in the region becomes negligible across the market.
Across the nation at SFO…
San Francisco suffered mightily in the aftermath of 9/11 and that traffic decline virtually eliminated the airport's chronic delay problems. However, in the past 5 years, the airport has seen a resurgence, as legacy carriers abandoned Oakland and San Jose for a unified service pattern at SFO.
This is proving an embarrassment of riches for the airport, which once again is feeling the constraints imposed by its too-close runways. This has led to the FAA suggesting that SFO, as from IATA summer schedule 2012, be designated as a level-two airport, defined by IATA as an airport "where there is potential for congestion during some periods of the day, week or season, which can be resolved by voluntary cooperation between airlines."
Under the designation, there is no slot allocation but rather the airlines work with an appointed facilitator to establish a scheduling program that alleviates congestion at peak times and redistributes traffic in a manner consistent with the airport's capacity. Given the runway limitations at SFO during IFR conditions, some have suggested that the airport be scheduled as having only three runways as opposed to the actual four.
See related article: San Francisco airport plays key role in one of world's busiest air corridors
Upcoming schedule deadline
The FAA has set 20-Oct-2011 as the date by which all summer 2012 schedules should be submitted for review, allowing the facilitator ample time for review and negotiation as necessary.
In its statement, recorded in the Federal Register, "The FAA believes a Level 2 designation would provide the necessary information to assist carriers with these voluntary scheduling decisions. Finally, the FAA expects the Level 2 designation will allow interested parties to address any imbalance between demand and capacity and work cooperatively to reduce delays. The FAA supports the Level 2 process as a preferred and viable alternative to full slot coordination under Level 3 or other administrative actions to address congestion during the RSA construction."
A more radical solution if that fails
If this approach is unsuccessful, the airport could be then classified as a level-3 facility as mentioned in the statement of record. In that case, a coordinator is appointed to assign slots to airlines seeking to operate. IATA has a clear definition for this category.
A Level 3 airport is one where:

a) Demand for airport infrastructure significantly exceeds the airport's capacity during the relevant period;

b) Expansion of airport infrastructure to meet demand is not possible in the short term;

c) Attempts to resolve the problem through voluntary schedule adjustment have failed or are ineffective; and

d) As a result, a process of slot allocation is required whereby it is necessary for all airlines and other aircraft operators to have a slot allocated by a coordinator in order to arrive or depart at the airport during the periods when slot allocation occurs.
Virgin America perhaps at risk but optimistic
Should the FAA have been overly optimistic and the situation deteriorate to a level-3 condition, the carrier most at risk would likely be Virgin America, based at SFO and planning an ongoing expansion of its frequencies and routes.
However, when contacted, the carrier responded with the following statement: "This will not impact our broader growth plans at SFO, and we believe the FAA action is a proactive step that will help to address any potential future capacity or congestion issues, as a result of the planned airfield construction starting next year." The construction referenced is some runway safety area (RSA) work to be done at night, unlikely to have any pronounced effect on operations.
Virgin America CEO David Cush previously said the airline already has some periods during the day in which gate space is constrained so Virgin's expansion may already be planned for off-peak times.
See related article: Virgin America's David Cush says the airline's unique formula will drive success
NextGen as a better solution
Capacity and slots continue to be important constraints on expansion at many US airports where physical expansion is no longer possible. If major airports like SFO, LAX and JFK are to continue to grow with demand, the new capacity will necessarily come from ATC and NextGen technology that will allow additional capacity within current infrastructure limits.
See related article: New York airports fast approaching capacity limits, regional plan assesses fixes