Virgin America's David Cush says the airline's unique formula will drive success
Analysis
There is an assumption that all new airline startups are built on the model pioneered by Southwest: low costs, low fares and simple operational models. While true much of the time, there are instances when a low cost platform has been the basis for an upgraded product. Such is the case at Virgin America, the US bearer of the Virgin brand and designed to provide a distinct type of service to the market.
In an extended interview with Virgin America's President and CEO, David Cush, he summarised the airline's appeal by stating that, "With us, you always get a good ride".
That is a claim generally substantiated by overwhelmingly positive customer responses as well as a lengthy list of awards already collected by the 4-year-old carrier.
Ongoing consequences of the startup delay

But getting off the ground was far from easy. The association with, and alleged foreign control by Britain's Virgin Group, allowed other US carriers to delay the actual start up of the new carrier by two years; challenging its compliance with US carrier ownership rules. When asked if that delay has had ongoing consequences, Cush immediately answered yes.
He said that in that limbo period the price of oil went from USD20 to USD80 and robbed the carrier of two years of operation in a much lower cost environment—a brief window that might have even been profitable and "allowed the airline to build a bit of a cash cushion." In the period after operations began, fuel prices continued to rise and the airline took an ongoing hit in terms of optimal financial performance because of the delay.
And adding to the financial drain, the airline had unused capital and human resources that had been acquired but sat idle during the drawn out delay. He commented that at the time he was with American Airlines, watching the drama unfold form the legacy side of the fence. He now has a "different perspective."
A continued uphill battle
And the legacy group has not relented since operations were begun, citing "disproportionate responses" from both American and United as they have sought to deny Virgin America a foothold in their key markets; especially Chicago and Dallas.
When asked why VX continues to poke the beasts in their lairs, he countered that Virgin was designed to be an airline for business travelers and, as such, must be present in the primary and dominant US business markets. Despite the almost constant uphill battle that the airline has fought to gain market traction, he remains confident in Virgin's product, people and business plan.
A battle for hearts and miles
But that approach does have its drawbacks. Cush cited the influence of frequent flyer programmes and corporate sales programs as being the two greatest hurdles for a growing company like Virgin. He acknowledged that prying premier flyers, "the 1Ks and Platinums", off their preferred carriers is a complex and frequently impossible task. The "lure of that upgrade, regardless of how statistically small it may be, is difficult to counter."
In contrast, Virgin America does not provide complimentary upgrades to frequent travelers nor is it possible to upgrade with points. A passenger may either use points to initially secure the ticket in the desired cabin or may use cash or credit cards to upgrade a purchased ticket at the time of travel. However, Cush restated his assertion that in any cabin, VX provides a "good ride."
The airline is also countering that argument by building a more robust FFP at Virgin, continually expanding awards and linkages that enhance the benefits of a VX booking. And, in pursuit of that goal, the carrier is migrating to Sabre this fall, creating many more opportunities for interlinkage with other partners, especially other members of the Virgin group.
Closer integration with the Virgin Group
He said that up until now, the greatest benefit of being a Virgin carrier has come through name recognition. Consumers know the Virgin brand by other associations and VX shares in the ready-made brand reputation for quality, value and fun.
Once the automation migration is fully implemented, he sees that Virgin America will be far better positioned to create joint fare and service offerings that extend across all Virgin members. It will allow the airline and its partners to replicate programs seen in other alliances.
Profits and an IPO
In terms of numbers, he believes that the carrier should, with a little help from stable fuel prices, be able to break even soon, possibly even this year. He predicts a solid profit in 2012—perhaps a 4-7% margin—but, of course all of that is dependent on costs and market stability. And on that front, he is as unsure of the future as his competitors.
Virgin America has been at the lower end of operating profitability of the smaller US carriers over the past years, but it is narrowing the gap, according to CAPA's Form 41 Analyser Tool.
Domestic operating profits (USD, mill): Virgin America vs Alaska, JetBlue, AirTran and Spirit: 1Q2007 to 4Q2011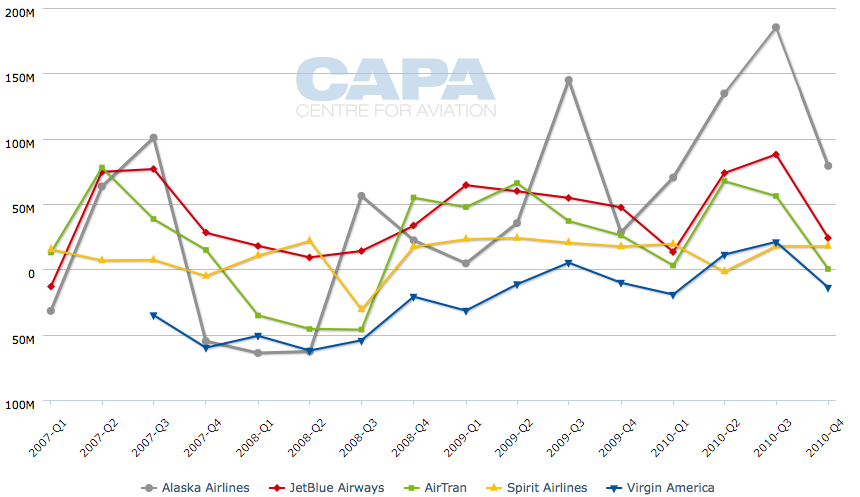 He also believes that as a company, Virgin America will be ready for an IPO as predicted by 2013. However, he noted that the success of that effort will also depend on the readiness and stability of the market—something far more difficult to ensure.
The role of biofuels
Given that the price of fuel is one of the great destabilising factors in the current environment, the question of biofuels and their impact arose. Cush told CAPA he believes that in order for alternative fuels to flourish, there are two necessary preconditions, and without those being met, he is skeptical of the concept.
First, there must be continued investment and dedication to the process by the world's largest consumer of fuels, the US military. A sustained interest by that group will spur additional research, manufacturing and competition. No other entity has the critical mass to drive continued development.
Second, and back to a familiar and problematic refrain, there must be a stable investment environment for those building a biofuel infrastructure. Huge fluctuations in the price of oil simply make the investment process a constant roller coaster for those developing alternatives. He believes that a floor price on fuel, a "regressive tax" to create stability, would be an important incentive for the fledgling biofuels industry.
As has been the case in all manifestations of alternative energy sources, price volatility for fossil fuels has stymied many projects—making them only viable competitors in times of crisis.
A growing, domestic, fleet
The airline intends to grow, with 13 new aircraft to arrive in roughly the next year. While VX has some tentative presence in near-international markets, Cush believes that VX is, and will remain, primarily a domestic airline, with 90% of its growth focused in the US.
Given the unique and popular product that VX supplies, he sees the US domestic market as a place for "rich growth", not soon to be depleted of opportunity. While additional destinations in Mexico, the Caribbean and Central America hold promise, the airline classes itself as domestic carrier.
Growth, but with an eye to stability
And he stated that he is not interested in growth just for growth's sake. He has no problem reaching a point of no growth--just sitting back to make money. But there is an order book in the airline's future, so that for the near term, the airline will continue to expand.
When asked about a report that VX would someday have 8% of the US market, he demurred and attributed that statement to Richard Branson, saying it had been misconstrued. Cush believes that VX can and will have an 8-12% share in those markets where it competes. His goal is to be the most important—not the biggest, but most important domestic business airline at both San Francisco and Los Angeles, with the most useful network for travelers between the largest US business centres.
In its prime San Francisco/New York market, Virgin America currently has a share in the high teens.
San Francisco International Airport to New York John F Kennedy International Airport
(seats per week, one way, 4-Jul-11 to 4-Mar-12), capacity share (%)
New base, too small
The airline recently moved from the International Terminal at SFO to the newly refurbished T2, which it shares with American Airlines. Though they have 7 contiguous gates in the facility, the airline is already out of gate space during peak times. When asked why VX moved to an already-too-small location, he noted that it was the best to be achieved at the airport and that they will have to work with the facilities that they have.
This might involve some less-than-optimal scheduling in the near term and, observing that AA continues to shrink its footprint at SFO, suggested that VX would be interested in any additional T2 gate space that may become available should American further reduce its presence. Overall, however, the airline is delighted with the new terminal and its positive contribution to the travel experience at the airline's home airport.
Outlook: Unique formula to drive success
Despite a tight economy and stiff competition, Cush believes that Virgin will prosper because of its service and amenities. He said that part of the pleasure of flying VX is that you as a passenger are engaged and have something to do during the journey. The alternate benefit comes in that everyone else also is engaged as well, creating a unique and award-winning product.
Though hobbled during its attempts to become established and granted "US carrier" status, Cush sees that as a past problem that has been overcome, and he and his organisation look to a future of continued growth and profitability. The dark clouds of economic instability and fuel price fluctuations are threats, but neither Virgin America nor its peers can fix that broader problem and simply must adapt to the consequences; a job he believes they can do well.