SkyEurope's problems continue, Southwest down on lost-Frontier opportunity
SkyEurope's shares slumped 22.2% on expectations, which later materialised, that Flughafen Wien would stop servicing all SkyEurope's services as of 15-Aug-09, due to non-payment of invoices. The suspension of services will, according to Flughafen Wien AG, affect departures from Vienna.
Also in Europe, easyJet and Air Berlin shares were down 0.6% and 0.5%, respectively, while Ryanair shares remained unchanged.
Selected LCCs daily share price movements (% change): 14-Aug-09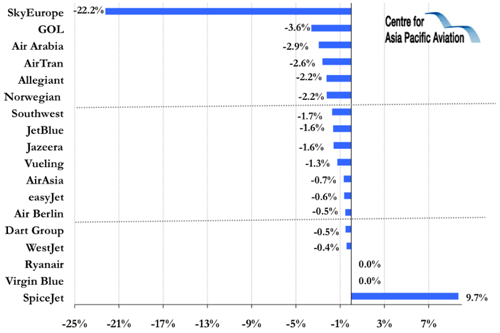 In the US, Southwest Airlines' shares lost as much as 4.5% on Friday, to be down by 1.7% at the end of trading, after the LCC lost its bid to acquire Frontier Holdings. The market had generally expected Southwest to beat smaller rival, Republic Airways, in the auction for the Denver-based LCC. Since Southwest announced its intention to acquire Frontier, its stock had gained approximately 15%.
Meanwhile, GOL's shares fell 3.6% on Friday, reflecting a reduction in the benchmark Bovespa index, as US Aug-2009 data showed weakening US consumer sentiment.
In the Asia Pacific, SpiceJet's shares soared 9.7%, while AirAsia slipped 0.7%.