Singapore Changi Airport traffic rises strongly in February, outlook positive
Analysis
Singapore Changi Airport reported a solid increase in passenger traffic in Feb-2011 thanks to strong travel demand over the Lunar New Year holiday which this year was spread over a long weekend. Southeast and Northeast Asia continued to be the growth drivers (and Changi's largest markets). Traffic to these regions increased by double digits, according to Changi Airport Group.
Total passenger numbers rose 9.1% year-on-year to 3.39 million.
Singapore Changi Airport international capacity by region (21-Mar-2011 to 27-Mar-2011)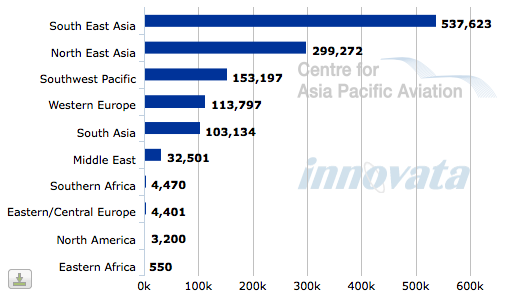 LCCs account for almost 30% of capacity
Changi Airport handled 22,000 flights in Feb-2011, an increase of 12.2% year-on-year. Of these, some 6,200 flights, or 28%, were flown by low cost carriers (LCCs). Tiger Airways increased flights to Bangkok, Jakarta, Kuala Lumpur, Ho Chi Minh City, Macau, and Manila. AirAsia increased frequencies to Penang and Miri while Thai AirAsia started a new daily service to Chiang Mai. In addition, Firefly also introduced 10 additional weekly services to Kuala Lumpur.
According to Innovata, LCCs account for 27% of Changi's seating capacity this week.
Singapore Changi Airport capacity share by carrier type (21-Mar-2011 to 27-Mar-2011)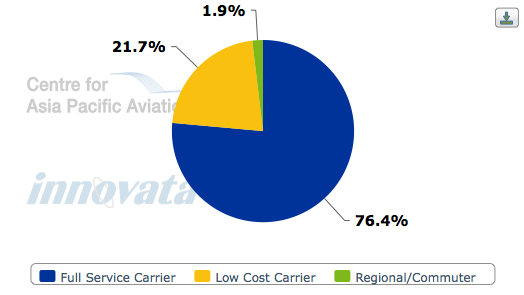 One of the key LCC routes, to Kuala Lumpur, saw a peak in fares around the start of the year, and another peak at the end of this month.
Click here for more fares data to/from Singapore. (NB: CAPA has fares data for 1,500 city pairs worldwide on its various airport profile pages).
Return economy fares travelling from Singapore to Kuala Lumpur: Oct-2010 to Apr-2011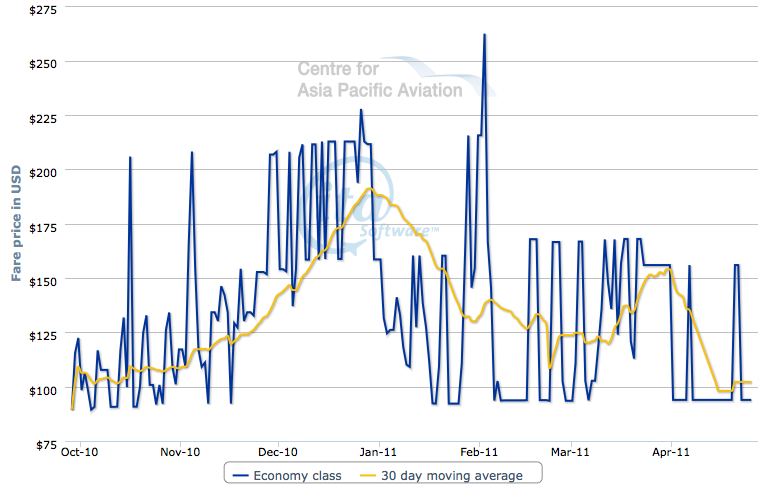 The key corporate travel market to Hong Kong has also seen a marked rise in fares in recent weeks.
Return business fares travelling from Singapore to Hong Kong: Oct-2010 to Apr-2011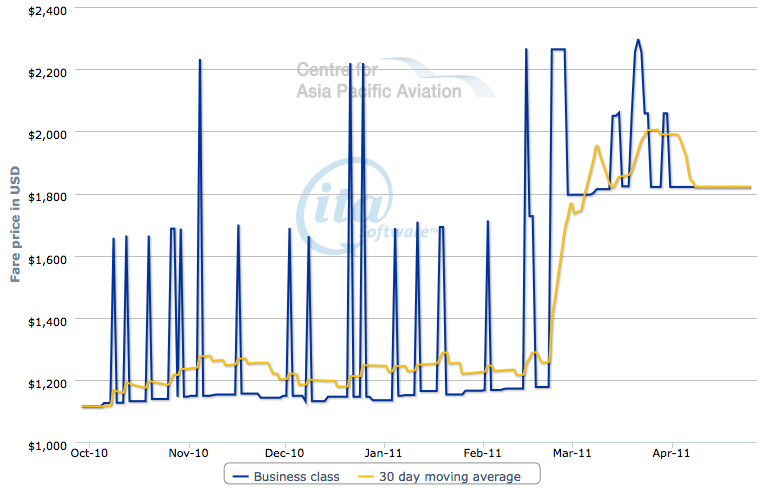 New routes for Changi
Pekanbaru, the capital of Indonesia's Riau province, and the Malaysian resort island of Redang became new city links for Changi as SilkAir and Berjaya Air started services to the two destinations, respectively. Changi will be connected to the South American continent for the first time when Singapore Airlines begins three times weekly service to Sao Paulo via Barcelona on 28-Mar-2011.
The Star Alliance is Changi's major alliance, though some 45% of the airport's weekly seat capacity is controlled by unaligned airlines.
Click on the Schedules Analysis tab on the Changi Airport profile for more graphical data.
Singapore Changi Airport capacity share by alliance (21-Mar-2011 to 27-Mar-2011)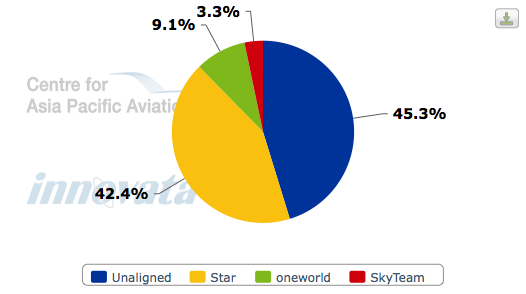 Freight traffic up
Changi Airport handled 128,048 tonnes of cargo in February, a decline of 1.9% year-on-year, due to the Lunar New Year holidays. Changi handled 275,272 tonnes of cargo in the first two months of the year, an increase of 1.3% compared to 2010. Shipments to/from Europe and Americas contributed to the growth in airfreight movement.
Outlook positive
The outlook for Changi's passenger growth in 2011 is quite positive, as competition intensifies between major carriers including Singapore Airlines, Qantas/Jetstar and Tiger Airways. The Japan market is of obvious concern over the near team. See related reports: