Seattle-Tacoma Airport's stature grows - and needs facility expansion to support hub airlines
Analysis
Seattle Tacoma International Airport stands in an enviable position of achieving solid passenger growth in the consolidated US market place that has transformed the airport into an international gateway for Delta and a strong growth vehicle for Alaska Airlines, which remains Seattle's largest airline.

Both airlines are pressing forward with their growth in Seattle as Delta just outlined plans to add more several new services in late 2015 and 2016. Alaska is also making a push in late 2015 with three new markets. Those new flights are just a fraction of the growth achieved by each airline from Seattle during the last couple of years.

Seattle now has to navigate managing the expansion by Alaska and Delta as the facility's capacity is starting to reach maximum levels while it undertakes projects to expand it current infrastructure. As it becomes entrenched in those projects, Seattle needs to ensure its operating costs remain competitive for all airlines serving the airport.
2015 is shaping up to be a banner growth year for Seattle
Delta's build up of domestic routes in Seattle to feed its long-haul flights to Asia and Europe and Alaska's growth in response to the encroachment has resulted in steady passenger growth at the airport during the last couple of years.
In 2013 the airport recorded passenger growth of nearly 5% and in 2014 it posted a 7.7% jump to 37.5 million passengers.
Seattle/Tacoma International Airport annual passenger numbers: 2009 to 2014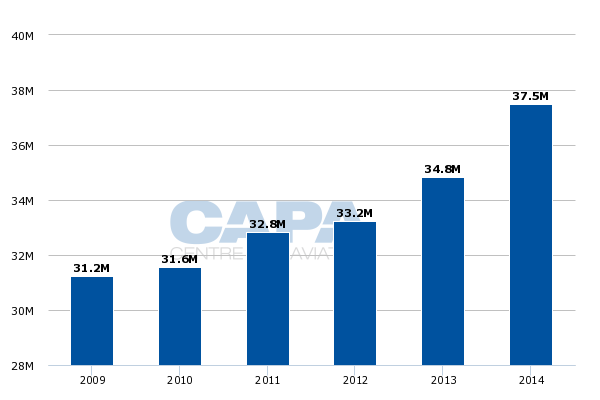 Seattle/Tacoma International Airport annual passenger numbers (% increase/decrease): 2009 to 2014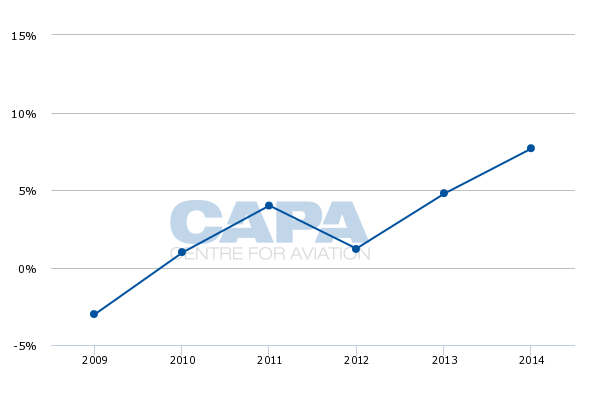 For the first four months of 2015, Seattle recorded double digit passenger growth. On a cumulative basis passengers increased 13% to 12 million.
Seattle/Tacoma International Airport monthly passenger numbers: 2008 through Apr-2015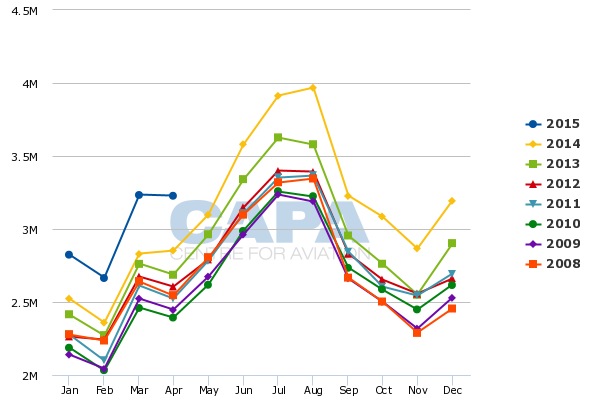 The growth is fuelled largely by Alaskan and Delta, Seattle's two largest airlines. Data from CAPA and OAG for the week of 25-May-2015 to 31-May-2015 show that Alaska represents nearly 50% of Seattle's seats deployed and roughly 34% of its ASMs. Delta accounts for 20% of Seattle's seats and 27% of its ASMs.
Seattle/Tacoma International Airport capacity by airline (% of seats): 25-May-2015 to 31-May-2015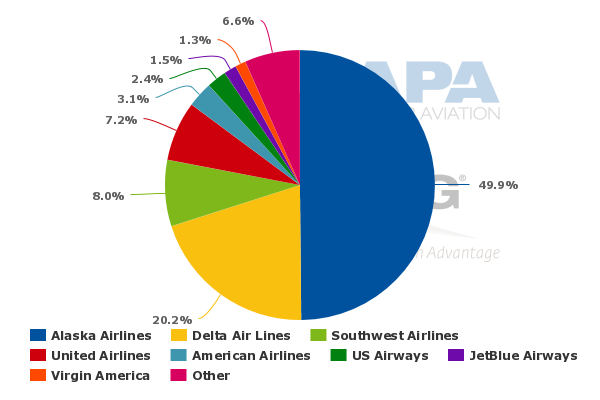 Seattle/Tacoma International Airport capacity by airline (% of ASMs): 25-May-2015 to 31-May-2015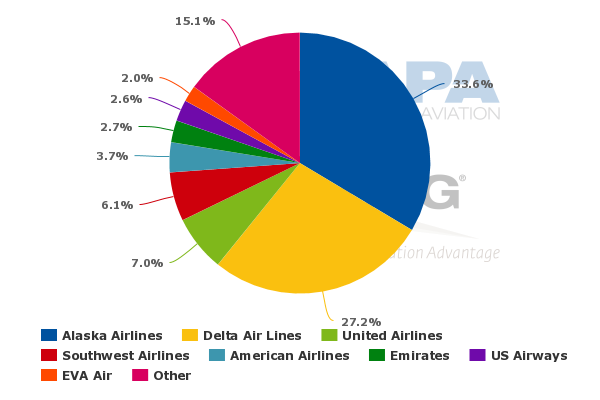 Delta is Seattle's largest airline measured by international seat and ASM deployment, holding shares of 39% and 45%, respectively. Its long-haul service from Seattle includes Amsterdam, Paris, London, Beijing, Seoul, Shanghai and Tokyo Haneda and Narita. Most of those flights have been added within the last two to three years.
Seattle/Tacoma International Airport international capacity by airline (% of seats): 25-May-2015 to 31-May-2015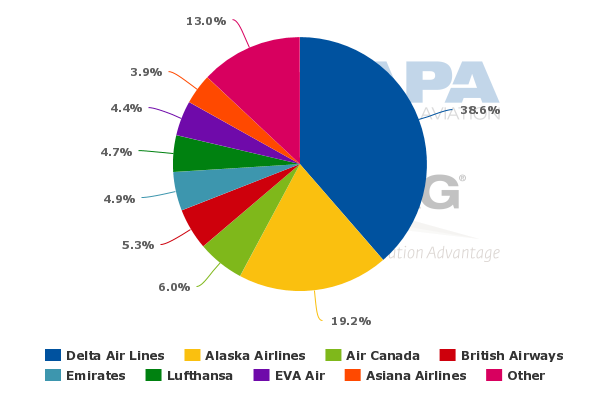 Seattle/Tacoma International Airport international capacity by airline (% of seats): 25-May-2015 to 31-May-2015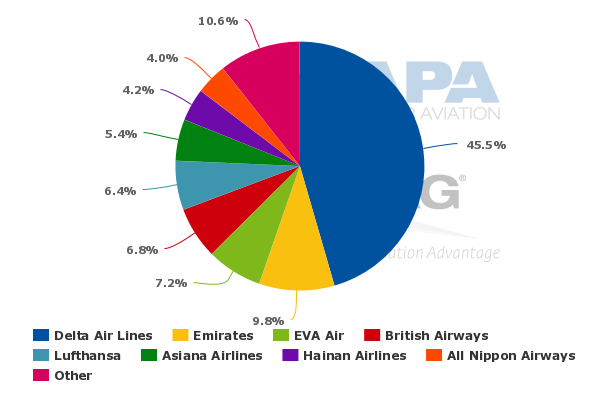 Delta estimated that during 1Q2015 its capacity in Seattle had jumped 55% year-on-year. Most of that growth is through the addition of domestic routes to feed the long-haul flights. Delta opted to operate the domestic services itself rather than rely on a long-standing codeshare with Alaska, and the codesharing agreement between the two airlines has been diminishing during the last couple of years.
See related report: Alaska and Delta's relationship unravels. Deciding when a partnership is over is a big call
Delta continues to up the ante on Alaska as both airlines continue their push from Seattle
In order to preserve its leading position in Seattle, Alaska has also undertaken expansion in Seattle, which is its largest hub and headquarters. It has projected an 11% increase in capacity from the airport in the Spring of 2015.

Delta is upping competition again with Alaska in late 2015 when it launches flights from Seattle to Orlando and Pasco. During 2016 it is initiating competition with Alaska and JetBlue on new Seattle-Boston flights and adding more competition for Alaska on flights to Victoria. Alaska in late 2015 is adding flights from Seattle to Charleston, SC, Raleigh-Durham and Nashville.

See related report: Alaska Air Group continues to face investor trepidation as Delta's growth in Seattle continues
The rapid growth in Seattle could pose scheduling challenges for airlines
Delta clearly has no plans to slow its growth in Seattle. During late 2014 news outlet Bloomberg cited a recorded message from company CEO Richard Anderson to employees indicating that the airline would prefer to use 30 gates at Seattle. It presently operates from roughly 11 gates at the airport.

As the competition heats up between Alaska and Delta on domestic routes, scheduling in Seattle for optimal arrival and departure times for customers becomes a challenge. Recently Alaska EVP of operations and chief operating officer Ben Minicucci remarked that the airline is working with the Port of Seattle (the operator of Seattle-Tacoma) to share its analysis on gate and runway use, and where spikes and slowdowns occur.

Mr Minicucci stated that Alaska is using more common use gates in Seattle than in the past. "So it is putting a little more strain on us. But the airport is going to be constrained." He stated the airport has a strict formula for gate allocation based on seat departures, "so we get over half the gates", Mr Minicucci stated.

Capital projects underway to add new gates will reach completion for a few years, said Mr Minicucci, but in the mean time, Seattle may reach a place "where there cannot be the same level of growth there has been in the last few years, unless you want to operate in non-optimal times of the day".
Seattle's challenges in facility improvements show the delicate path many airports walk
Seattle-Tacoma is in the midst of a five-year capital improvement programme, airport director Mark Reis recently told the US Congress. Elements of the programme include USD512 million to modernise and add eight gates to the airport's North Satellite concourse, a USD100 million runway reconstruction, a USD600 million investment in a new international arrivals facility and spend of USD317 million to update the airport's baggage handling system.

Mr Reis stated that the financing for the USD1.7 billion capital improvement programme includes USD1.2 billion in new debt, "most of which will result in higher airline rates and charges and a commitment of essentially all of our PFC [passenger facility charge] capacity through 2035".

Even with the current investment under way, the airport will face challenges in keeping pace with airline and passenger demands, Mr Reis said. "Even after adding the eight new gates, we anticipate that the airlines will need to load and unload some flights by transporting passengers by bus to and from as many 12 remote hardstand locations because we will not have sufficient gate capacity."

The airport's preliminary master planning shows that to serve 66 million passengers, Seattle would need to add 35 more gates, expand ticketing and check-in facilities and undertake other improvements. To accommodate that growth, several structures on the airport grounds would need to be moved. Seattle estimates that the infrastructure changes necessary to support the projected growth would cost roughly USD10 billion.

Mr Reis estimated that putting debt service costs of USD8.5 billion of aeronautical cots in airline rates and charges could drive the projected cost per enplanement from USD14.00 in 2019 to USD35 in 2030 (a figure Mr Reis described as "an informed but very preliminary projection").

Obviously raising airline charges is not a viable option for many airports working to strike a balance between meeting airline needs and examining avenues to finance expansion. Mr Reis urged Congress to consider raising the PFC cap to USD8.50. He also cited some airlines serving Seattle that have communicated to the Port of Seattle to allocate "our limited PFCs to the project that would reduce rates and charges of the individual airline". He stated that none of the airlines that have approached the Port of Seattle, "disputes the importance of any of the projects, but they are all quite clear that they would prefer that PFCs be used for their preferred project in order to decrease their rates and charges".

Mr Reis' remarks show the challenges many airport face in finding ways to cater to airline needs without risking losing service due to higher airport cost stemming from facility improvements. Seattle may be one of the more pronounced examples of the tightrope airports walk in working to satisfy the needs of growing airlines and finding the financial means to support facility expansion.
Despite its challenges, Seattle's stature continues to grow in the US market
As Seattle works to find the right path to support its projected capacity needs during the next decades, other airports – Cleveland, Cincinnati, Pittsburgh, Memphis – are attempting to find their place in the post consolidated US market place now that their hub status has been stripped away or significantly diminished.

Seattle stands in the unique position of achieving hub status for two airlines that show no signs of pausing their growth from the airport. Whatever means Seattle finds to support the projected passenger growth, its growing importance in the US market place is one of the success stories in the consolidated US market.