Ryanair's presence makes Barcelona Europe's fastest growing major airport
Analysis
Ryanair's opening of a base at Barcelona El Prat catapulted the airport to the top of a sample of Europe's major growing airports. According to ACI EUROPE data, Barcelona El Prat has been Europe's fastest growing "group 1" airport (European airports that handle over 25 million passengers per annum), in every month since Ryanair launched its base at the facility in Sep-2011, with the exception of Feb-2010 and the ash-cloud affected Apr-2011.
Select European airports, year-on-year growth (%), Jan-2010 to Jul-2011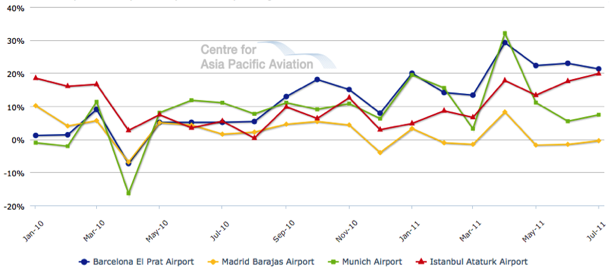 Barcelona is growing at a much faster pace than its larger rival Madrid Barajas, and is also trending ahead of Munich Airport, another strongly growing facility, as well as Istanbul Ataturk, Europe's largest major airport from an emerging country.
Barcelona's strong growth has been achieved despite the difficult macroeconomic environment in Spain, where unemployment remains stubbornly high, job creation low and economic growth muted.
Madrid's footprint is wider, but Barcelona growing faster

Barcelona achieved its high growth rate despite Madrid Barajas, the main hub of Iberia, being Spain's major intercontinental hub. Madrid has significantly more seats to key destinations in the Americas, particularly Latin America. Madrid is served by the six major North American carriers – Air Canada, American Airlines, Continental Airlines, Delta, United and US Airways – as in Barcelona, except by United, but have larger capacity into Madrid than Barcelona.
It is in Latin America, however, where the distinction between the two is most evident. From the Latin American and Caribbean region, Aerolineas Argentinas, Aeromexico, Avianca, Conviasa, Cubana, LAN and TAM serve Madrid, giving the airport 149,000 seats per week to the wider Latin America region, according to Innovata data. Barcelona, on the other hand, is served only by Aerolineas and Aeromexico. It has just over 7,000 weekly seats to the wider region.
Barcelona international capacity (seats) by region: 22-Aug to 29-Aug-2011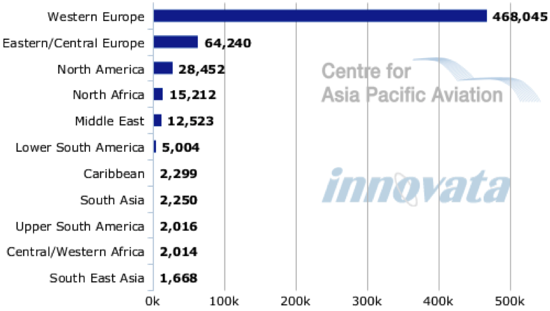 Madrid Barajas international capacity (seats) by region: 22-Aug-2011 to 29-Aug-2011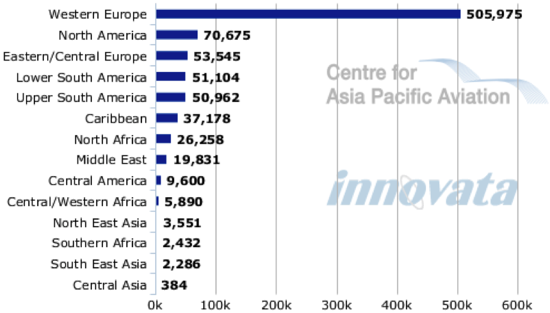 In other regions there is not as strong a distinction between Barcelona and Madrid, as is the case in key short-haul Western European and domestic markets, the region to which Barcelona has greater relative exposure to than Madrid. Long-haul travel to and from Madrid has lagged growth across the AENA group, which operates the majority of Spain's airports. This can partly be attributed to hub carrier Iberia decreasing flights in recent months. The short-haul market is where the strongest growth has been, and unsurprisingly, Barcelona has been a larger beneficiary of this trend.
Barcelona capacity (seats) by region (%): 22-Aug to 29-Aug-2011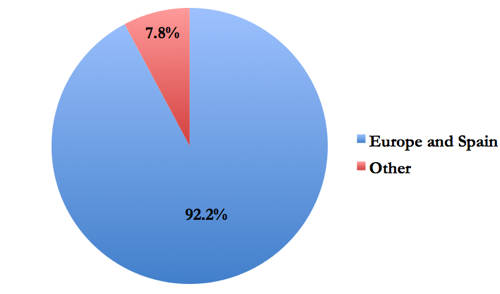 Madrid capacity (seats) by region (%): 22-Aug to 29-Aug-2011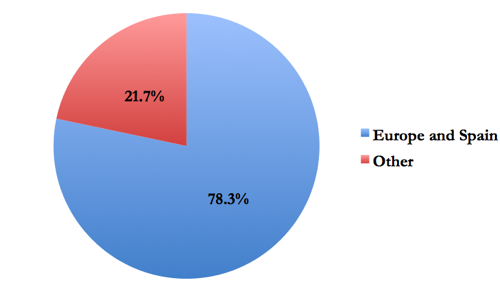 Of greater importance, particularly for growth in short-haul markets, Barcelona's clientele differs markedly from Madrid's. Barcelona has a far higher proportion of LCC capacity than Madrid. More than one in every two seats at Barcelona is offered by an LCC. At Madrid, that same figure is just one in four. Barcelona is therefore better able to participate in the structural change of intra-European air transport market where air transport has, for the greater part, been commoditised. This trend plays into the region's growth-hungry LCCs.
Barcelona capacity (seats) by carrier type: 22-Aug to 29-Aug-2011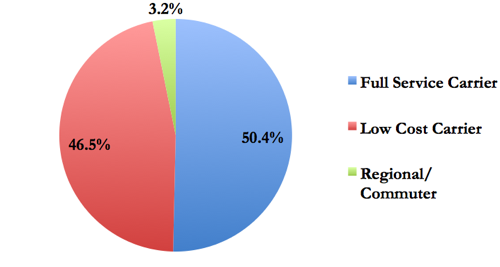 Madrid Barajas capacity (seats) by carrier type: 22-Aug to 29-Aug-2011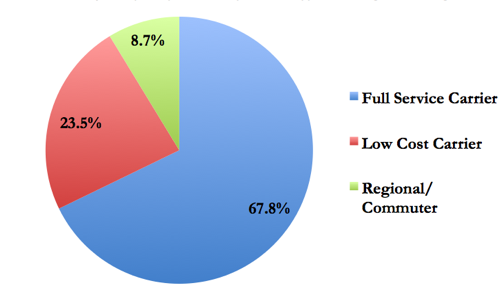 As Ryanair CEO Michael O'Leary has repeatedly stated, his airline has the potential to greatly influence airport passenger throughput, most notably at smaller airports, which often places him in a strong bargaining position. More often than not, this claim is most evident at small airports that would otherwise go almost unused. Kaunas, Brussels South Charleroi, and Rome Ciampino are several airports whose throughput would plummet without Ryanair's presence. In the case of Kaunas, passenger throughput would hardly exist.
At major airports with a diverse clientele, such as Barcelona, Ryanair's ability to influence passenger traffic is often difficult to replicate. Incremental traffic growth is inevitably less significant due to the airport's prevailing size. At the other end, incumbent carriers would likely quickly absorb, and certainly welcome, a Ryanair withdrawal from a major European airport. These two factors would usually keep a lid on year-on-year traffic comparison. But Barcelona has been putting up very strong numbers.
Since Ryanair launched a base at Barcelona in Sep-2010, 11 months ago, the airport has been Europe's fastest growing major airport (25 million passengers and above p/a) in nine of those months. In the Spanish market, Barcelona has exceeded the system growth rate on average by at least two times since Sep-2011, according to CAPA's online Airport Traffic Benchmark tool.
Barcelona year-on-year growth rate and Spain system growth rate: Jan-2010 to Jul-2011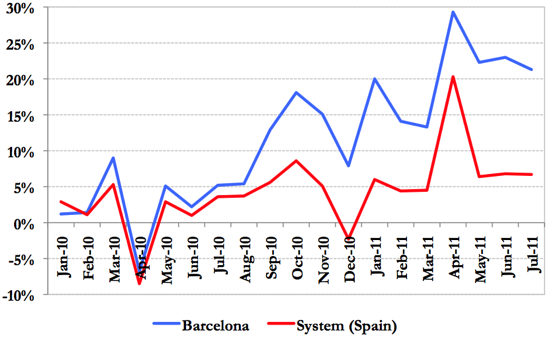 While there are a range of factors at play at Barcelona, most significantly other carriers' competitive responses to the LCC, Ryanair has undoubtedly been the major catalyst for Barcelona's strong growth. The LCC's average share of absolute growth in passenger numbers at Barcelona since Sep-2010 is 72%. Without Ryanair traffic growth would be significantly more muted, possibly even in negative territory, similar to the performance of Madrid.
Barcelona and Ryanair absolute year-on-year growth in passenger numbers (000), Sep-2010 to Jul-2011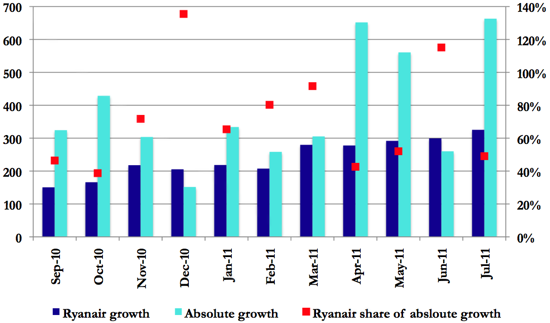 Ryanair operates to 25 destinations from Barcelona El Prat (summer schedule), according to Innovata, and offers 87,318 weekly seats, making El Prat its largest hub in the Barcelona region. At the Sep-2010 launch of its new base at El Prat, Ryanair operated to 20 destinations. The LCC operates to more destinations from Barcelona northeast alternative Girona airport, 48, but offers fewer weekly seats, 75,978. From Barcelona southwest alternative Reus airport, Ryanair operates to 29 destinations and offers 39,312 weekly seats. Since launching the El Prat base, the airline has only expanded its route map by five destinations, but has added frequencies across that network, increasing its share of the Barcelona market from 5% in Nov-2010 to a peak of 11% in Mar-2011. Ryanair's share fell to 9.8% in Jul-2011, reflecting the summer influx of charter and seasonal services.
Barcelona El Prat market share, Aug-2010 (no Ryanair)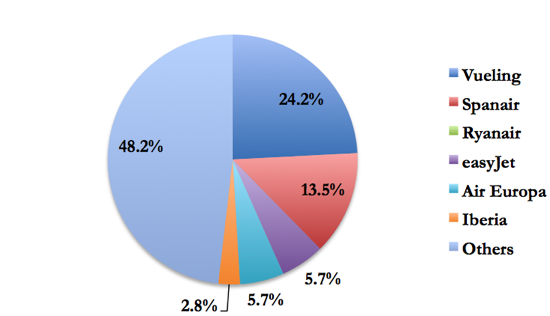 Barcelona El Prat market share, Sep-2010 (Ryanair base launch)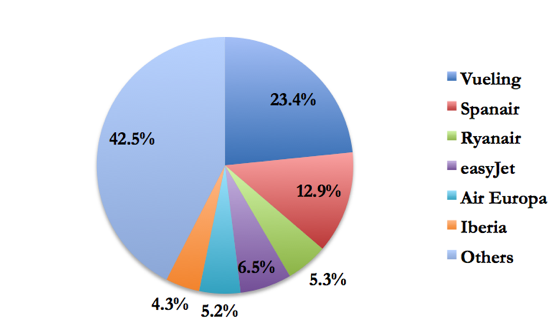 Barcelona El Prat market share, Mar-2011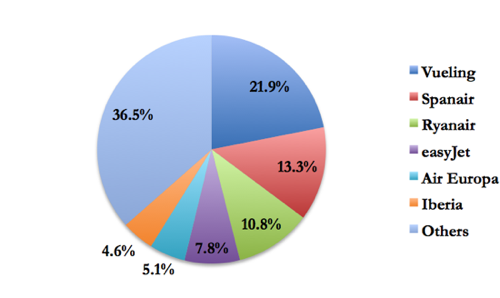 Barcelona El Prat market share, Jul-2011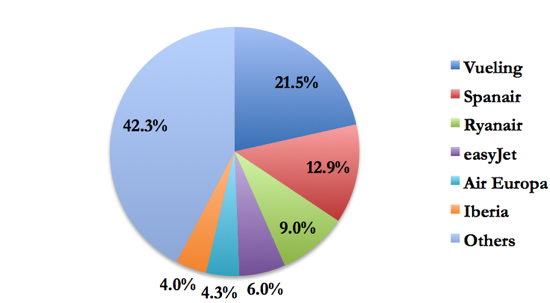 Vueling's share of the Barcelona market has marginally decreased following Ryanair's entry, falling from 24.5% prior to the base launch in Aug-2010 to 21.5% in Jul-2011. Spanair and Air Europa's market share has been maintained while easyJet and Iberia's has risen slightly. Ryanair's market share growth, however, has been the most significant in the period since its launch.
The regional impact of the El Prat base

As a result of its move into El Prat, Ryanair has, as is typical for the carrier, increased passenger traffic to and from the wider Barcelona region. In Catalonia, the LCC also operates to Girona and Reus, often ascribing the "Barcelona" prefix to both despite them being approximately 100km away from Barcelona.
Ryanair passenger traffic to/from Barcelona region (thousands) (Girona, Reus and Barcelona El Prat), Jan-2010 to Jul-2011, and region-wide year-on-year growth (%)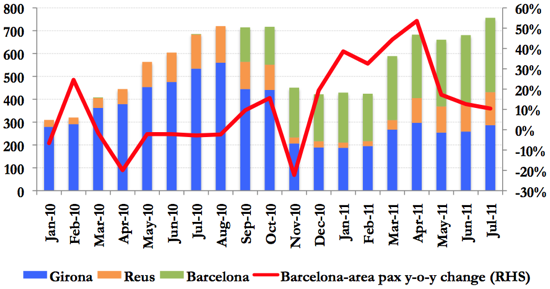 In the eight months prior to the Barcelona El Prat base launch (Jan-2010 to Aug-2010), Ryanair's passenger traffic to the region fell in seven of those months (or six out of the seven months, excluding the Apr-2010-affected result). In the 11 months since Sep-2010, Ryanair's traffic in the region has fallen only once.
The launch of the Barcelona base has come partly at the expense of the airline's base at Girona. Reus, which is located on the Costa Daurada, a popular tourist destination, caters to a different, and more resilient market. Ryanair's numbers at Girona have also suffered as the airline has quarrelled with the local government about commercial agreements still in place from the previous government.
Ryanair traffic at Girona and Reus, percentage change year-on-year, Jan-2010 to Jul-2011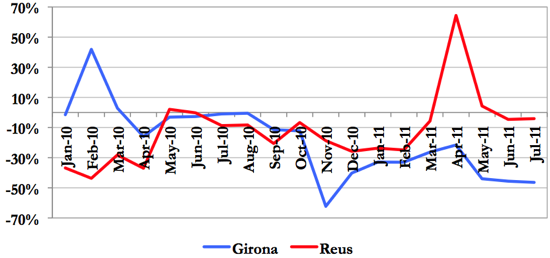 The dwindling numbers at Girona are set to continue, with Ryanair announcing in Jul-2011 plans to cut another 21 routes from its Girona base due to disagreements over subsidies from the local government. The LCC estimates its passenger throughput at the airport would fall from 2.6 million per annum to 1.3 million. The 21 dropped routes will be additions to 18 route cancellations in Feb-2011. The ongoing downsizing of Ryanair's Girona presence could result in services being transferred to El Prat, further boosting its numbers at the larger Barcelona facility.
Ryanair is far and away the largest carrier in the Spanish market. According to AENA, it carried 19.7 million passengers in the first seven months of 2011. Iberia, the next largest, carried 14.6 million, while its subsidiary Vueling carried 9.8 million. Critically, Ryanair is growing at a blistering pace in Spain, with its passenger numbers up 38.7% in the period. Iberia's passenger numbers are down 14%. Vueling, which has been absorbing some of Iberia's short-haul capacity, is up 8.3%. Spanish system growth in the seven months to 31-Jul-2011 is 7.8%. In 2008 and 2009, Barcelona El Prat recorded heavier falls in passenger traffic than Spain's other major airports.
Barcelona has been the centre of Ryanair's Spanish drive this year. Announcing plans to launch the base in early 2010, Ryanair stated it believed it could "help reverse declining traffic numbers" at the facility. Barcelona recorded heavier falls in passenger numbers in 2008 and 2009 than other major Spanish ports, with traffic down 8.2% and 9.0% respectively. Passenger traffic increased 6.5% in 2010, although in the eight months to 30-Aug-2010, when Ryanair did not operate a base at Barcelona El Prat, passenger traffic increased only 3%. In 2011, passenger traffic is up 21% and Barcelona El Prat has become Europe's fastest growing major airport. While there may be other factors at play, Ryanair has certainly delivered on its plans to "reverse declining passenger numbers" at Barcelona El Prat.
Ryanair director of new route development Ken O'Toole stated in 2010 the LCC planned to carry three million passengers per annum from Barcelona. In the seven months to 30-Jul-2011, it had carried 1.9 million and looks set to pass three million by year's end. Ryanair went from having zero presence to become Barcelona's third-largest carrier almost overnight. But such is the size and the speed of the famous Ryanair operation. The carrier can often make or break an airport, which places it in a hugely advantageous bargaining position, particularly in negotiations with smaller facilities that have fewer airline customers. If Ryanair dislikes a deal, it will leave, as is the situation at Girona, and formerly at Marseille in 2010 (labour contract dispute) and as it may be in Alicante in 2011 (aerobridges dispute).
One often hears of the "tremendous growth" enjoyed by airports, usually smaller airports, which is achieved principally as a result of Ryanair's selection of it as a new base. Airports such as Kaunas, Girona and Brussels South Charleroi come to mind. But much less often is the scale of growth mirrored by larger airports, such as Barcelona, where Ryanair has established a significant presence.
Barcelona's pace of year-on-year growth will inevitably subside from Sep-2011, when the growth figures start to net out with the typical end-of-summer season decline. But Ryanair is likely to continue to allocate a larger proportion of its capacity to Barcelona and Spain, as the LCC is driven out of Northern and Western Europe by spiralling costs and lured by Spain's relatively low airport charges and input costs.
Sovereign debt concerns in peripheral Europe, including Spain, is unlikely to affect Ryanair's growth plans. It claims its business thrives in slow-growth economic environments, as people "trade down" to LCCs rather than halt travel altogether, and in any case, its offer of low fares are likely to stimulate traffic flows. Owing largely to Ryanair's presence at the airport, Barcelona has had a remarkable year so far. Its newfound success paints a picture of the Ryanair affect and the LCC's ability to stimulate traffic over and above the system growth rate.