Ryanair's new customer-friendly approach. Really?
Analysis
This week Ryanair celebrated 16 years of being listed on the Irish Stock Exchange. Its market capitalisation of around EUR9 billion makes it Ireland's second largest public company and it has been Europe's most profitable airline for many years. It is also the largest airline in Europe, ranked by seats, and recently signed a new 10 year growth deal with its largest airport, London Stansted (analysed by CAPA on 27-Sep-2013). But it does not seem content to sit back and congratulate itself.
Following a profit warning in early Sep-2013, CEO Michael O'Leary admitted that the airline recently dubbed as "the international code word for consumer trauma" (David McWilliams, Financial Times, 28-Sep-2013) needs to soften its image. It has announced plans to develop its distribution policy and to position itself as more customer friendly.
Is this a sudden and significant change in Ryanair's approach, prompted by fears over falling profits as suggested by much of the recent media coverage? Or is it a further evolution of a business that has always adapted?
See related report: Ryanair's new growth deal with London Stansted Airport: mutual love-in?
Growth targets have been questioned by some
Ryanair has ambitions to reach a total of 110 million passengers across its network in FY2019, from 81 million in FY2014, and recently agreed a 10 year growth deal with Stansted, its largest airport. Earlier this year, it agreed to buy 175 more Boeing 737-800s for delivery from 2015 to 2019. In a profit warning on 4-Sep-2013, it said that its net profit for the year to 31-Mar-2014 would be at the lower end of its guidance range of EUR570 million to EUR600 million because of a weaker yield outlook.
This would still leave Ryanair with the highest profit margins among European airlines, but the announcement led some commentators to question its longer term passenger growth targets.
See related report: Ryanair's 1QFY2014 net profit falls, but 2Q will be key to the full year
Ryanair passenger number targets (millions): to FY2019*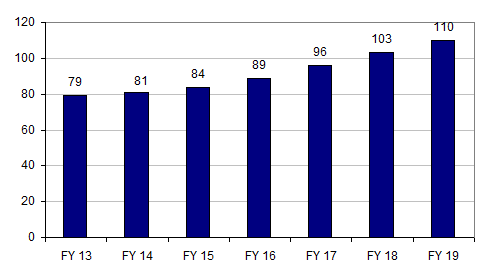 Towards more customer-friendly adjectives
A good deal of media attention has also focused on Ryanair's recent signalling that it wants to be more customer friendly, to improve its customer interfaces and to catch up with easyJet in appealing to business passengers.
Initiatives announced by Ryanair and comments made by Mr O'Leary at the company's AGM on 20-Sep-2013 indicate that it is considering changes to its distribution policy, improving its website, developing its digital marketing strategy, enhancing its image with respect to customer complaints and broadening its appeal to business travellers.
In a number of these areas, Ryanair is playing catch-up with easyJet, which has articulated a more developed approach for some time. Much of the media commentary suggested that Ryanair's weaker profit outlook for this year had forced it to change its approach to its customers so that it could meet its growth targets.
See related report: How easyJet is driving demand
Even travel agents may also feel the new warmth
A number of media articles have reported that Ryanair would be prepared to work with on-line travel agents in a shift in its distribution policy. This would allow it to target corporate travellers. According to the reports, CEO Michael O'Leary said that 12% to 15% of its business currently comes from travel agents. If Ryanair is planning to develop its agency business, it is not yet clear what form(s) this might take.
Currently, Ryanair inventory is not available through the GDS (unlike easyJet) and travel agents have to book through Ryanair's website, just like individual travellers.
In Jul-2013, Mr O'Leary said that he would not work with travel agents if it meant operating on GDS. He told TTGDigital on 31-Jul-2013: "In the old days a travel agent used to charge us about 10% commission, the GDS would take another 10%. 20% of our revenue was gone for some notion of distribution service. The internet now provides that for nothing."
Top 20 airlines within Europe ranked by seats: 30-Sep-2013 to 6-Oct-2013
Rank

Airline

Total Seats

1

2,140,236

2

1,486,940

3

1,403,568

4

929,753

5

868,595

6

816,235

7

699,022

8

689,690

9

604,726

10

502,957

11

441,894

12

429,624

13

410,508

14

402,634

15

375,069

16

307,534

17

299,520

18

269,695

19

267,458

20

261,570
Moreover, the terms of use of the Ryanair website state: "This website and the Ryanair call centre are the exclusive distribution channels of Ryanair's services. … Ryanair therefore reserves the right to cancel any bookings made other than directly through Ryanair.com, including any bookings made through third party websites, including online travel agents …".
Its terms of use do allow for the use of software to extract data from its website for commercial purposes if a third party has a licence agreement with Ryanair allowing access solely for price comparison. Ryanair has vigorously defended this stance, including taking court action, as a means of ensuring that it retains absolute control over its fares and prevents third parties from adding commission.
Ryanair has a history of changing its distribution policy, having moved away from travel agents to embrace on-line distribution in the early 2000s. While it may be open to further evolution, it seems highly unlikely that Ryanair would now embrace any third party channel that led to additional cost either to Ryanair or to its passengers.
Ryanair and easyJet: percentage of tickets sold via internet: Mar-1998 to Mar-2002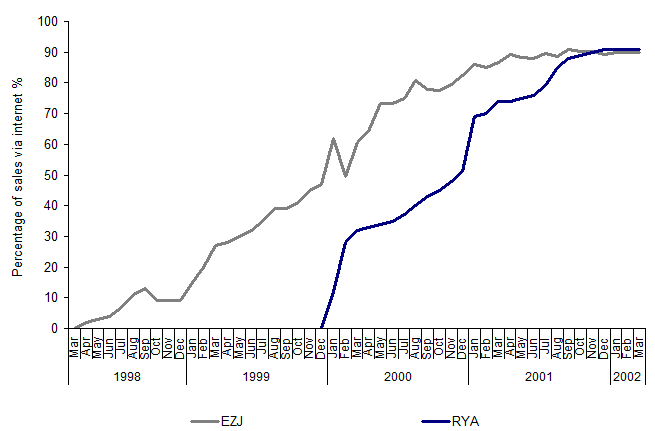 And the website, Ryanair's public face, may smile more
The carrier is planning changes to the layout of its website, which Mr O'Leary admits is "clunky" and can be "very frustrating" to navigate: "It's the source of most complaints I get from customers. They like our fares, they love our punctuality, they like the service we deliver, but they think the website is awful and I agree with them".
He told the World Low Cost Airlines Congress on 17-Sep-2013 that easyJet's website was better and that Ryanair needed to make it easier to make a booking. A key change will be to redesign the booking flow, making it simpler for passengers to buy a seat on the website. Ryanair aims for this to be live in Dec-2013 and to introduce a passenger registration and retention service for summer 2014.
A particular source of irritation for passengers using the website has been the 'Recaptcha' security feature. This is aimed at preventing so-called 'screen-scrapers' from accessing Ryanair's fares and requires customers to enter a security code displayed to them on the screen in a form not readable by machines.
Ryanair will remove the Recaptcha system for individual passengers from 30-Oct-2013, while retaining it for high volume bookers. The airline wants to continue to deter larger travel agents and screen-scrapers, who Mr O'Leary says "flood our website seeking fare quotes and diminish our website's accessibility for individual passengers".
Example of 'Recaptcha' security code requirement on Ryanair website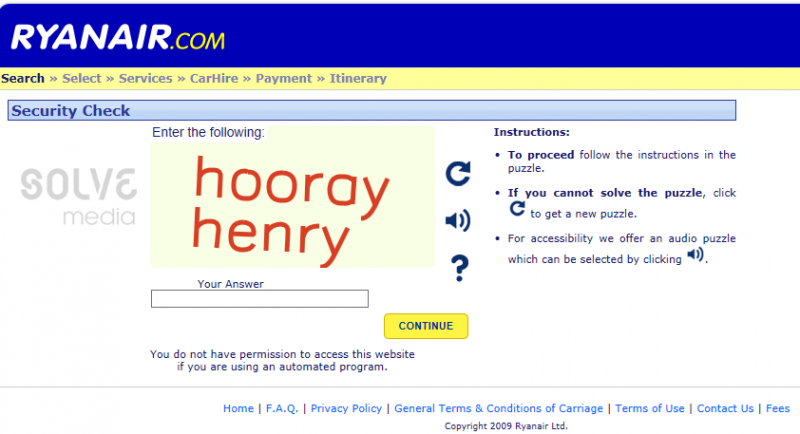 A free Ryanair mobile app and Twitter launch
At its AGM on 20-Sep-2013, Ryanair announced a new digital marketing strategy, which will see it switch much of its marketing budget from old to new media, in particular mobile and social media. As part of this initiative, Ryanair's mobile app is now free to download from iTunes and Google Play Store. The app enables passengers to access fares, check timetables, make and review bookings and add optional services such as priority boarding and check-in bags. Previously, Ryanair charged EUR3 to download the app.
Ryanair launched its official Twitter account on 23-Sep-2013. This will carry content including Ryanair news, route developments and special offers. Mr O'Leary recently said that Ryanair would make significant progress related to the interactivity of its Twitter account.
Customer services/complaints: will be handled with care
Ryanair has, in the past, been very rigid in enforcing its rules, for example on the size of cabin bags and the re-booking of seats. Mr O'Leary told shareholders at the company's AGM: "We should try and eliminate things that unnecessarily piss people off". He conceded that customer services elements do not cost very much and pledged to address this area in the coming year. He said that Ryanair needs to "soften some of the harder edges in our service and in our image" and admitted to a "degree of robustness that isn't warranted" in the implementation of some of its policies.
Mr O'Leary also admitted the airline needs to be more "sensitive and responsive" to complaints from customers, stating: "There is no doubt I've made mistakes...There's no doubt I need to learn from those mistakes". He added: "We employ 9000 aviation professionals. On a daily basis, they do a fantastic job. They deliver the best airline service of any airline service in Europe. But where there are rough edges, yes, I take responsibility for those and I have to change those rough edges."
Ryanair has agreed to put contact details for customers on its website, according to the Irish Independent (1-Oct-2013). This follows legal action by the National Consumer Agency against the airline for breach of legislation for not providing an email address for inquires. Until now, customers wishing to make general complaints have been invited only to use a postal address given on the website.
Attracting business travellers is a most attractive target, helped by boarding priority
Ryanair estimates that 20% to 25% of its passengers travel on business, slightly higher than the proportion claimed by easyJet (which says that 10 million out of 58 million passengers, or 17%, were travelling on business last year). As there is no separate business class and no way of systematically capturing passengers' reasons for travelling, this proportion can only be estimated through surveys and judging booking and travelling patterns. A recent Ryanair passenger survey in Spain revealed that 22% were travelling on business. The airline says that 20% of its Dublin-London passengers are business travellers.
Ryanair argues that a number of the core elements of its business model already appeal to business travellers. These include low fares, on-line check-in (saving time at the airport), the avoidance of congested airports and good punctuality (Ryanair claims to be the best in Europe).
In addition, Ryanair points to relatively recent evolutions of its business model that have enhanced its appeal to business passengers, including priority boarding and reserved seating. It also believes that the decision to make its app free to download will improve its accessibility to business travellers.
Ryanair deputy CEO and CFO Howard Millar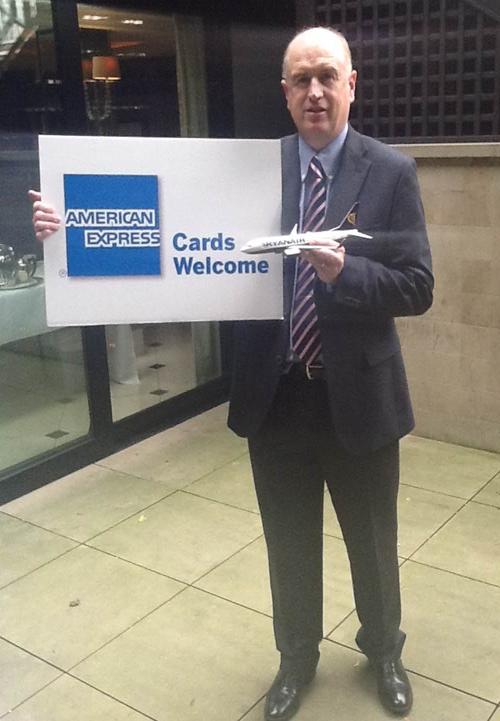 Ryanair is now looking at further ways to make its product more suitable to business travellers. A first step was the decision in Sep-2013 to allow passengers to pay for flights with an American Express card. Additional measures under consideration include mobile boarding passes and fast-track security (for an additional fee).
As CFO and deputy CEO Howard Millar admitted at a press conference following the Amex deal, this is an area in which Ryanair has fallen behind its biggest LCC rival: "easyJet has stolen a significant march on us. They are probably two years ahead of where we are in terms of their product development".
He believes that Ryanair's lower fares give it an advantage, arguing that "we've won the fares war", but he concedes that "we haven't invested enough in terms of our website technology or digital marking or facilitating business passengers". Nevertheless, he expects Ryanair to catch up quickly and that the planned overhaul of its website and improved mobile phone interactivity will appeal to business travellers.
Michael O'Leary's profile is closely associated with Ryanair; one can't be sensitive without the other
More than for most airlines, Ryanair is closely associated with its CEO Michael O'Leary, who has a high media profile. This has both advantages and disadvantages. One shareholder at the AGM paid tribute to Mr O'Leary, saying his image had been responsible for much of the success of the company, but the shareholder also asked "has it not gone too far in apparently trying to bully?"
The Ryanair CEO, who has held his position since 1994, said: "I'm very happy to take the responsibility if we have a macho or overly abrupt culture. Some of that may well be my own personality deformities".
However, Mr O'Leary's abrupt exterior and hard-nosed focus on low costs does not mean that he cannot also be more thoughtful about the softer aspects of what might be good for Ryanair. For a number of years, he suggested that his style may not be so well suited to a larger, mature business as it was to the fast-growing company of the 1990s and 2000s.
He frequently used to suggest that he would step down in the next three to five years, although this always appeared to be a rolling time horizon that was never reached. In May-2013, Mr O'Leary said he would stay another five years. Perhaps he now feels that he can adapt his style. What is clear is that the need for Ryanair's public image to evolve as it grew is not a new idea to him.
Ryanair's competitive advantage is still its low cost base
There is one thing about Ryanair that is most unlikely to change however: low costs.
The changes to Ryanair's approach to customers have generated a lot of headlines, but they are not just a knee-jerk reaction to a weaker profit outlook. Nor do they signal a fundamental change in strategic direction. While profit warnings are rare for Ryanair, they are not unprecedented and it has not always seen uninterrupted growth in its earnings.
This has often prompted the airline to innovation and adaptation and it has a long track record of being Europe's most profitable airline company.
European low-cost carriers cost per available seat kilometre and average sector length: 2012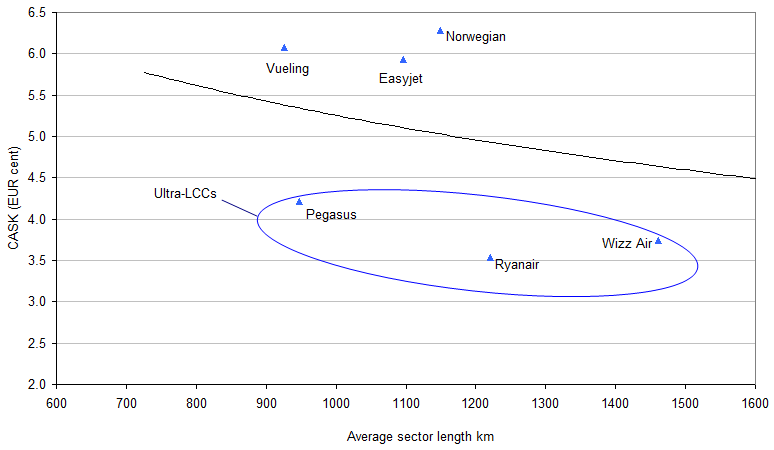 Ryanair's competitive advantage will continue to lie in its low cost base – it has the lowest unit costs in Europe – giving it the ability to offer the lowest average fares in Europe. For 81 million passengers this year, that is enough to attract their custom. Nevertheless, there are those that do not come back to Ryanair, or who refuse to try it.
It makes sense for Ryanair to find ways to reduce the number of people in these categories without compromising its low cost base.