How easyJet is driving demand
Analysis
easyJet's May-2013 traffic statistics show that it has carried more than 60 million passengers in a 12 month period for the first time. In her 1H2013 results presentation, CEO Carolyn McCall identified the significant further growth opportunity she sees to take market share from traditional carriers on point-to-point routes at easyJet's existing airports.
The LCC's principal attraction versus these competitors is its low fares and this has been the main driver of demand. However, easyJet is evolving its product in order to broaden the basis of competition.
easyJet has initiated a number of digital developments, improved its CRM capabilities, built its brand strength, introduced allocated seating and is making its proposition more attractive to business travellers. CAPA spoke to group commercial director Catherine Lynn about these initiatives.
Digital developments: easyJet App, flight tracker, Inspire me and mobile boarding cards
easyJet was a pioneer in the use of the internet as a direct sales channel. It achieved 90% web sales as long ago as Jan-2002, from zero in Mar-1998 (the remaining 10% then were telephone sales) and today claims to be the third most searched for airline globally. It is now adding new channels, both for sales and for customer communications. The easyJet app, which targets people making bookings on the move, has reached 4.5 million downloads. Aimed at the Android and iPhone platforms, it offers all the booking functionality of easyJet.com.
Flight tracker, which keeps passengers up to dates with changes to flight schedules via mobile phones, the airline's website and the app, has been used more than four million times since its launch, with more than 4,000 updates posted. "The biggest source of frustration for passengers is the lack of information when things don't go to plan", says Ms Lynn. "Flight tracker is not to replace interaction at the airport, but to support that".
While many carriers have a dedicated mobile app and some form of updating passengers on schedule changes, easyJet's third digital development is more novel. 'Inspire me' is a feature on the home page of the airline's website designed to help passengers looking for a discretionary leisure trip to choose a suitable destination. It allows travellers to set a budget for the fare and to choose a departing airport, departure date and type of destination (for example, family holiday, winter sports, beach, romance). It then instantly displays destinations meeting the budget and other criteria on a route map. Clicking on one of the destinations provides links to a travel guide to the destination and to the booking engine.
Inspire me is a browsing tool that "reinforces lots of great value fares" and, while Ms Lynn describes its use as "pleasing", the conversion rate is less than for easyJet.com as a whole. She sees further opportunities to develop its use, for example by linking with easyJet holidays.
Example of easyJet's "Inspire me" page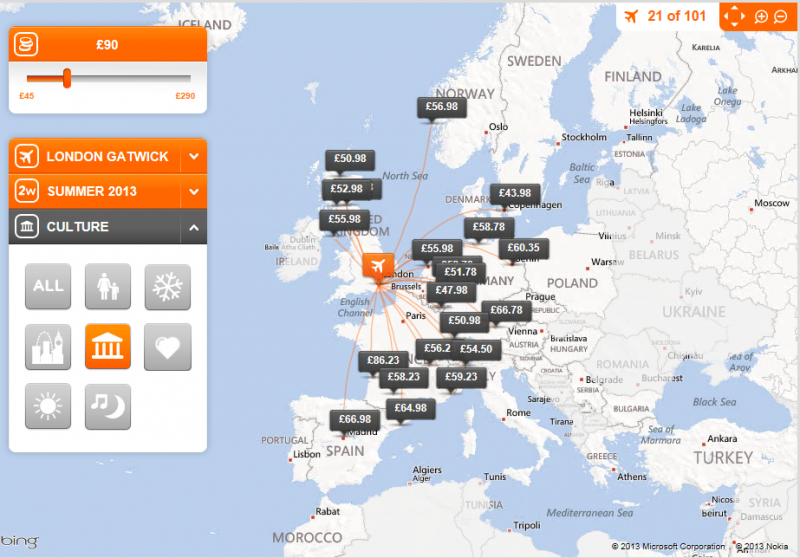 The fourth digital development is the trial of mobile boarding cards for flights from 18 airports (Amsterdam, Basel, Berlin Schoenefeld, Budapest, Nice, Edinburgh, Glasgow, London Luton, London Southend, London Stansted, Lyon, Manchester, Newcastle, Paris Charles de Gaulle, Paris Orly and Toulouse) for those with Android or iPhone smart phones. Multiple mobile boarding cards (up to five passengers travelling together on one device) are available for flights from Manchester, Paris CDG and London Southend. The airline plans to roll out mobile boarding cards across all its destinations, and to extend it to other mobile platforms such as Windows and Blackberry, although it has not yet indicated a timetable for this.
CRM improvements
Improvements to easyJet's customer relations management (CRM) systems have been introduced in order to encourage passengers to upgrade their purchase by buying additional products (e.g. hotels or car hire) or adding features (e.g. allocated seating) to the air fare already chosen. This has involved consolidating its data sources to create a single customer view so that the airline can better target its marketing spend. "We are getting a better understanding of our customers," says Ms Lynn. "We have the ability to email them and to know their booking behaviours and patterns".
Improved brand awareness and brand choice scores
easyJet has seen its brand awareness (essentially the proportion of people surveyed that have heard of the brand) increase to very high levels, according to research commissioned by the carrier. In its 'home' market, the UK, this rose to 100% in 1H2013 from 98% a year earlier. Even in 'new' easyJet markets, where its overall market share is lower than in the UK, it is also achieving strong brand awareness: 98% in France and 92% in Italy.
Brand awareness is not the same as choosing the airline, of course, but easyJet has also seen its brand choice scores improve. In the UK, 13% of respondents consider easyJet to be their first choice airline, up from 12% a year ago, and this score in France and Italy has now overtaken its UK score. It is the first choice airline in France for 19% of consumers and in Italy for 21%. In both countries, easyJet's score has tripled over the past year. Its weaker UK score reflects a higher choice of airlines and the importance of the London market, where British Airways still features strongly.
easyJet brand awareness and brand preference scores in UK, France and Italy: 1H2012 and 1H2013*

Allocated seating is on track
According to Ms McCall, easyJet's allocated seating initiative, which started in Dec-2012 and became fully available on line in Apr-2013, is progressing well and is slightly ahead of management's plans. It has not harmed asset utilisation or cost per seat and easyJet is convinced that its 2.6 ppt improvement in customer satisfaction with the boarding experience, to 70.5%, for the six months to Mar-2013 is due to allocated seating.
Moreover, allocated seating drove an incremental GBP8 million in sales over Speedy Boarding (which no longer exists) in 1H2013. Ms Lynn told CAPA that less than "a handful" of routes were generating lower income from allocated seating than they had previously earned from Speedy Boarding. Prices are GBP12 to choose a seat in the front row, GBP8 for rows two to five and over-wing rows with additional legroom and GBP3 for all other rows. If a passenger chooses not to buy allocated seating, a seat is automatically allocated for no extra charge.
The focus for the airline this summer is to minimise the operational impact of the initiative, while it gathers more data on the scheme. At the end of the summer, easyJet will review allocated seating and look for opportunities to enhance yield management by modifying the approach where necessary.
easyJet allocated seating categories and prices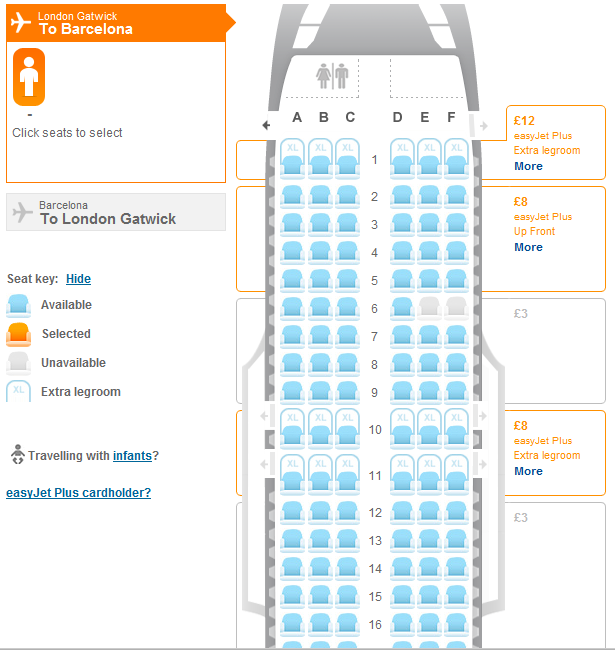 easyJet's business travel initiative is progressing
Business travellers provide easyJet with higher yields and reduced seasonality. The airline has around 10 million of them on a rolling 12 month basis and their number grew by 4.1% year-on-year in 1H2013. easyJet continues to focus on attracting business travellers using building blocks that include existing easyJet features such as low fares, a wide network of primary airports and relatively high frequencies, together with newer features such as flexi fares and allocated seating.
The flexi fare allows passengers to change their booking at no extra charge, while the standard fare also allows free transfer to an earlier flight on the same day as the original booking (subject to availability). easyJet's network has seen the recent opening of additional business friendly routes, such as Milan Linate to Rome Fiumicino; London Gatwick to Luxembourg; London Gatwick to Moscow and Manchester to Moscow.
easyJet's business travel initiative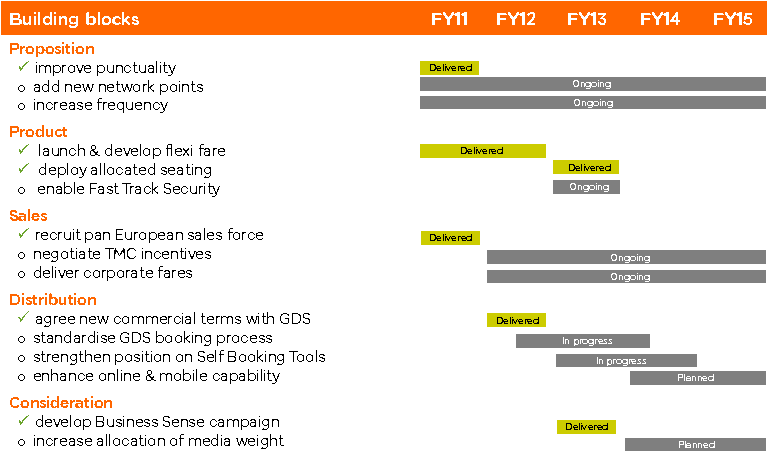 A further feature by which easyJet has been able to increase its appeal to business passengers is through improved levels of punctuality. Although a return to more typical winter weather this year saw its on time performance (OTP) slip relative to the previous winter, it remains at substantially higher levels than three years ago (see chart below). Moreover, as Catherine Lynn points out, passenger communications have improved and this helps when there are any OTP problems: "OTP perception is only as good as the passenger's last journey".
easyJet quarterly on time performance*: 1QFY2010 to 2QFY2013

easyJet is not likely to add a business class cabin, since many of the features traditionally associated with business class are available and it is also adding new product features, including fast track security for flexi-fare passengers at 26 airports. It has a pay as you go lounge at Stansted, Gatwick and Manchester for those willing to pay the extra fee. Further product features are "constantly under review, if we can create a low cost entry point", says Ms Lynn.
Having built up the network and product to appeal to business travellers, the next step was to increase the accessibility of the proposition. Direct sales through the airline website are tailored more to the leisure passenger, while many business passengers book indirectly through their corporate travel departments. easyJet has negotiated deals with all the major global distribution suppliers (GDS), 69 travel management companies (TMC) and directly with 124 corporate customers and public sector organisations, including the Scottish public sector and several large banks. The majority (112) of the corporate deals have been signed since Oct-2012.
The leading GDS providers have invested in technology to standardise the way in which easyJet seats are presented within their systems to allow users to access the easyJet fares more easily. Amadeus and Galileo solutions will be in place in the third quarter of the financial year. Previously, booking easyJet seats through the GDS required more key strokes and different screens compared with other carriers, but improvements now mean that the process more closely resembles the booking of other airlines. According to Ms Lynn, this has resulted in easyJet seeing increased bookings on Travelport.
Adding to its proposition and developing its brand
Ms McCall's 1H2013 presentation also talked about cost reduction initiatives, but easyJet's cost base is never likely to match that of ultra-low-cost carriers such as Ryanair. Recognising this and also that its airport network and product attract a higher yield, easyJet is successfully adding to its proposition and developing its brand. It has managed this while also improving margins and return on capital. Its current demand initiatives should help it to make further profitable gains in market share.
See related reports: