Ryanair SWOT Analysis: Addicted to growth, a great model for bad times
Analysis
Micheal O'Leary's years of shimmying and pulsating have finally worked. His rain dance has brought a flood of almost biblical proportions. Economic misery across Europe has most of its airlines in a fight for near term survival. Not Ryanair. It is one of the only airlines poised to make money this year. But some significant medium term battles are looming. Economic recovery is probably Ryanair's greatest problem and the key reason behind O'Leary's threat to buy Lufthansa. In this report, we review Ryanair's enduring strengths - its low fares super brand and relentless focus on low costs; its progress in identifying weaknesses in its model and turning them into strengths; how it is leveraging its size to develop market opportunities; and its effective strategy of neutralising threats.
Click here for a detailed profile with latest information on Ryanair
STRENGTHS: Low fares super brand
1. Stack 'em high, sell 'em cheap. Ryanair has enhanced its position as the leading brand for low fares in Europe during the current downturn. The carrier now likens itself to budget-conscious consumer brands like Ikea, Aldi and McDonald's - rather than airlines. These brands do well in bad economic times.
Mr O'Leary's enduring conclusion is, "low cost always wins". The numbers from the latest financial year (ended 31-Mar-2009) speak for themselves:
Operating revenue from continuing operations rose 8.5% to EUR2.94 billion;
Passenger numbers rose 15% to 58.5 million;
18 net new aircraft (year-end fleet of 181 B737-800 aircraft);
Six new bases at Alghero, Birmingham, Bologna, Bournemouth, Cagliari, and Edinburgh;
223 new routes, for a total of "800+" routes with "1,200+ daily departures" (the airline has apparently lost count).
Ryanair passenger number growth and load factor growth: FY06 to FY09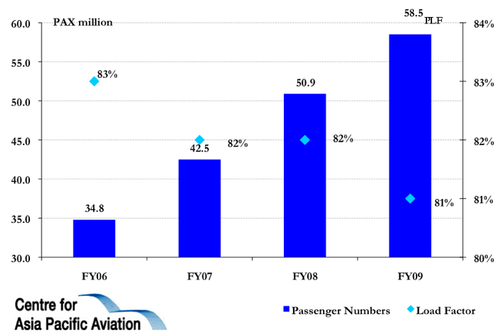 But Mr O'Leary's challenge is to ensure Ryanair can continue to succeed like Ikea, Aldi and McDonald's when the economy does turn up (see below).
2. Ultra low costs, high ancillaries. The carrier's non-fuel expenses fell 3% last financial year, reflecting its unswerving focus on cost control. Another 5% reduction in non-fuel unit costs is targeted in FY2009/2010. Ancillary revenues grew by 23% to EUR598 million, helping Ryanair achieve its target of 20% of revenues (18% last year) one year ahead of schedule. There is still considerable scope for growth in ancillary items and the carrier will do well to continue its focus in this area as underlying fares plummet in the months ahead.
WEAKNESSES: Addicted to...Growth
1. Growth at all costs. The main reason Ryanair can post reductions in unit costs is flying more and more sectors. All cost lines are increasing, but as long as Ryanair continues to add more routes, it doesn't matter.
Again, the recession is helping. Ryanair notes, "significant reductions in capacity across Europe has led to Ryanair being besieged by many large and small airports who are aggressively competing with lower costs and more efficient facilities to attract Ryanair to grow in their markets. This recession is delivering real cost benefits for Ryanair through the combination of a weaker dollar, lower interest rates, lower airport costs, and lower unit costs".
Here is a summary of Ryanair's cost lines (remembering scheduled passenger revenues rose 5% and passenger numbers grew 15%):
Staff costs: Excluding one off charges, staff costs increased by 11%, reflecting a 21% increase in average employee headcount to 6,369;
Depreciation and amortisation: +24% to EUR204.5 million. This reflects, net of disposals, an additional ten aircraft added to the fleet, or a 16% increase in the weighted average number of lower cost "owned" aircraft in the fleet;
Fuel costs: +59% to EUR1,257.1 million, due to the higher cost of fuel in the period and a 13% increase in the number of hours flown;
Maintenance costs: +18% to EUR66.8 million, due to a 23% increase in the number of leased aircraft from 35 to 43 and increased costs arising from increased line maintenance activity at new bases;
Marketing and distribution: -26% to EUR12.8 million, due to tight control on expenditure and the increased focus on internet based promotions;
Aircraft rentals: +8% to EUR78.2 million, which is lower than the 23% increase in the number of leased aircraft from 35 to 43 compared to the year ended March 31, 2008, reflecting the positive impact of lower lease rentals obtained and a stronger euro versus US dollar exchange rate;
Route charges: +11% to EUR286.6 million, due to an increase in the number of sectors flown, offset by the positive impact of a stronger euro versus sterling. Airport and handling charges: +12% to EUR443.4 million, due to rising passenger volumes, offset by lower costs at new airports and bases launched and savings achieved on handling costs;
Other expenses: +14% to EUR139.1 million, which is lower than the growth in ancillary revenues, due to improved margins on some existing products and cost reductions on some indirect costs.
Keeping a lid on cost growth will become more challenging as economic recovery takes hold.
2. Rising costs? Transfer them to your passengers. Ryanair has been very effective at turning weaknesses in its business model into strengths. Many of its adaptations (eg high costs of airport check-in evolved into online check-in and a programme to eliminate airport desks) are being adopted by rival carriers. The carrier will need to continue to innovate in this area, but there is a limit. The core costs such as fuel, staff and fleet will need to be very carefully managed, particularly in the economic recovery.
OPPORTUNITIES: Europe's bloodbath (again)
1. Recessionary conditions suit true LCCs best. The synchronised global economic recession has handed Ryanair and similar carriers near-perfect operating conditions. As Ryanair explains, "this recession has encouraged passengers to become much more price sensitive which is why they are switching to Ryanair's low fares and unbeatable customer service over all other competitors".
The carrier's near term outlook is "bloody brilliant", according to Mr O'Leary, who has warned, "we're determined there will be no green shoots of recovery for any of our competitors. In the coming Winter, there will be a bloodbath and we will be causing that bloodbath".
The carrier expects a 15-20% reduction in average fares this year to around EUR32 per passenger. Ryanair is banking on several of its smaller rivals being unable to withstand falls of this magnitude over a sustained period. The resulting rationalisation of capacity would lead to a stabilisation of yields after the "bloodbath" - or so the theory goes. Regardless, Ryanair is in a position to profit handsomely over the next 12 months.
Ryanair's CFO, Howard Millar, summed it up; "we're the only airline in Europe predicting a profit for next year at this point in time". The airline forecasts a profit after tax of between EUR200 million to EUR300 million for the year ending 31-Mar-2010.
2. "Collapsing" aircraft order books: Ryanair is also on the offensive for a cheap aircraft deal to cover its requirement for 200-300 aircraft between 2013 and 2016. Talks with Boeing have reportedly been scheduled for late Summer. With its negative net order book this year and a customer that is arguably too big to lose, Boeing may be more willing to deal than Airbus. The US dollar is certainly heading in the right direction for Ryanair at present, with a substantial delivery log.
But both manufacturers know Ryanair needs more aircraft to keep its model working next decade and will not be too eager to discount. Contrary to O'Leary's charge that the aircraft order backlogs of Airbus and Boeing are "collapsing", although there has been some churn in orders, the manufacturers still hold the upper hand. 12-18 months from now, it might be a different story.
THREATS: "Distract and conquer"
1. Aer Lingus hobbled, Lufthansa next? Many analysts view Ryanair's pursuit of Aer Lingus as misguided by delusions of grandeur. It has certainly cost Ryanair dear, with another EUR222.5 million writedown of its investment booked in 2008/09. But Ryanair's total outlay for Aer Lingus shares will be a small price to pay for neutralising what was a well-oiled machine just a few years ago. Thanks to Ryanair's effective interference, Aer Lingus is now leaderless and adrift, discounting aggressively to raise cash to stay in the game. It may not survive the Winter independently. Some sort of rescue - possibly involving Ryanair - would result in a rationalisation of capacity and a restoration of yields in the LCC's core UK-Ireland markets. That too would help Ryanair, although the carrier would benefit more from simply growing its market even further.
The airline posted a net loss of EUR169.2 million for the 12 months ended 31-Mar-2009, compared with a EUR390.7 million net profit a year earlier. Ryanair said it fell into the red chiefly because of a EUR222.5 million accounting write-down on the value of its 29.8% stake in Aer Lingus and higher jet fuel costs. Its pre-exceptionals operating profit was down 74% to EUR144.2 million, producing an operating margin of just under 5% - well down on previous form.
Ryanair operating profit margin FY06 to FY09
The Master of Distraction, O'Leary, has now turned his attention to Lufthansa. The German carrier is unlikely to be flattered that Ryanair has identified it as its next biggest threat, but would do well to maintain focused on the delicate task of empire building. If Lufthansa can effectively integrate Austrian Airlines, Brussels Airlines and bmi (plus one or two others), the group will pose a major threat to Ryanair's dominance, particularly as European economic conditions improve. But Ryanair's organic growth is arguably a better bet.
2. Fuel threat neutralised (this year). Surging world oil prices could hamper efforts by many airlines to stem losses this year. After a hedging misstep last year (which contributed to a 59% surge in fuel costs to EUR1.3 billion), Ryanair looks to have got it right, hedging 90% of its fuel requirements for the first three quarters of the current financial year (to 31-Dec-2009) at USD62 per barrel (although there was no word about currency hedging in the report). If oil prices remain at current levels, Ryanair expects its full-year fuel bill will be EUR450 million lower than last year. This factor alone makes its current earnings guidance appear conservative.
Over the longer term, Ryanair faces a massive conundrum regarding fuel costs. Unlike McDonald's, Aldi and Ikea, Ryanair is unable to control its fundamental cost line. It may have missed the chance to lock-in fuel prices at low levels (like Southwest did at the start of this decade) for the next few years. The airline faces a medium to long-term margin squeeze as fuel costs rise on a scale it cannot cover with ancillary revenues.
OUTLOOK: Make hay while the rain pours, but when the sun comes out...?
Ryanair will soar in the next 12 months, but its longer term future faces considerable questions. The architect of its current virtually bullet-proof positioning, Michael O'Leary, probably won't be around to tackle Ryanair's biggest challenges. Indeed, he may do well to keep to his word and strap on the parachute soon, when the Ryanair machine is at its damaging best.
It would not be surprising to see O'Leary to cash in by the end of 2010 with Ryanair in peak form. By early next decade, Europe's biggest LCC will be threatened by the kind of calcification issues plaguing its archetype, Southwest. Fuel prices will rise. And as Southwest has found, the number of markets Ryanair can ultimately tap is finite. The current economic downturn is providing short term relief on both fronts.
Ryanair is showing very effectively that it can survive and flourish in a severe downturn. It may even see off some major competitors. But, as oil prices nudge USD70 per barrel, despite the world still being in the depths of economic recession, a further sustained spike could spoil Ryanair's party.
Click here for a detailed profile with latest information on Ryanair