Ryanair loses traction. Time to leave home?
Analysis
Investors punished Ryanair stocks this week, after the carrier reported news that was less than the upbeat message of previous quarters. A partial recovery yesterday may signal a feeling of over-reaction, but sometimes first instincts can be right.
Despite a reasonable profit of EUR136.5 million on revenues of EUR774.7 million for the quarter – although downright heavenly compared with most of its competitors – the market greeted the results with concern. Passenger numbers were up 11% to 16.5 million, but revenue actually fell by EUR2 million, flagging a large downturn in yield of 13%.
However, a marked reduction in costs of 26% - of which 21% was due to lower fuel prices – helped keep the result positive.
Ryanair share price growth: Jan-09 to Jul-09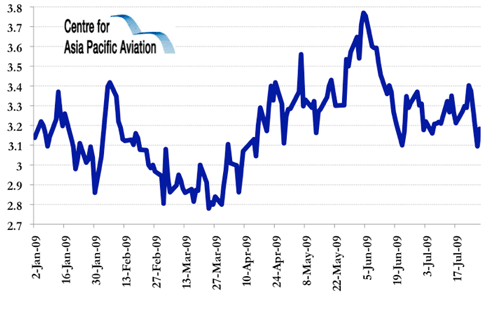 Yield and ancillaries starting to look challenged
Ryanair is not alone in witnessing yield declines, but one of the features which apparently spooked the analysts was the carrier's projected yield decline of over 20% for the 12 months to 31-Mar-2010. That is some cause for concern, especially as the carrier does not see much upside on the ancillary revenue side, even despite the toilet paper humour suggestions, or the possibility of standing "seating", to increase configuration density.
The contrast with easyJet's more positive yield result for the quarter is marked.
Some analysts have suggested that the degree of pessimism over yields is simply Ryanair pleading poverty to help in airport negotiations or lobbying with governments. That is one thing. But intentionally misleading the market is another and the carrier is unlikely to be doing that. So just what would it be that leads Ryanair's own forecasters to be so seemingly pessimistic?
The carrier has been extremely aggressive in containing costs, as it pursued its rapid growth strategy, so that should not be a major concern. This is a very cost-conscious airline. Apart from fuel costs, it has taken another 5% of cost out by improving efficiencies and getting better deals with airports.
A downward trend in yields and ancillary growth
But Ryanair's yields ("average fares") have certainly seen a significant decline over recent quarters. For example, the 13% fall in average fares in the 30-Jun-2009 quarter came on top of a 6% fall in the same quarter in 2008, meaning a decline of more than 20% over the two years since 2007. The revenue per passenger has fallen slightly less, as growing ancillary revenues helped offset the fall in fares.
But the trend is there and illuminates the importance of fuel in the process. Ancillaries are now expected by Ryanair to flatten, apparently reaching at least a temporary ceiling.
Ryanair's ancillary revenue as a proportion of total revenue: 1Q2005 to 1Q2010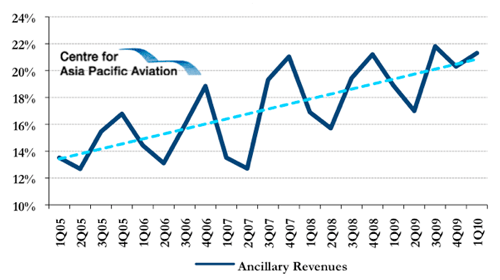 It's the economy, stupid
Perhaps the morbid outlook of the British and Irish economies has something to do with Ryanair's negativity.
On the positive side, one of Ryanair's key risk minimisers is its range of national participation. Over the past eight years it has moved away from being an essentially Dublin and Stansted-based airline to a stage where the UK and Ireland together account for less than 50% of its customers.
The remainder is distributed across Europe. Its 31 bases and 800+ routes give Ryanair considerable market penetration, the opportunity to concentrate expenditures in lower cost markets - and those where economic performance is likely to be stronger.
Ryanair's European bases: 2008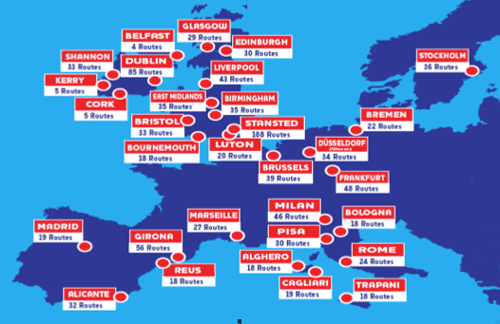 Leveraging flexibility to gain benefit
The EU Commission's latest (May-2009) GDP forecasts for the European Union states give an idea where the growth is likely to be. One thing is clear: Ireland is not a growth area. Its economy is forecast to shrink by 9% this year, with negative growth continuing on right through 2010.
Likewise, the UK, where over a third of the carrier's business is derived, is also expected to slow by nearly 4%, with 2010 likely to be flat.
European Commission GDP forecast; May-2009
| | 2009 | 2010 |
| --- | --- | --- |
| | -13.1 | -3.2 |
| | -11 | -4.7 |
| | -10.3 | -0.8 |
| | -9.0 | -2.6 |
| | -6.3 | -0.3 |
| | -5.4 | 0.3 |
| | -4.7 | 0.2 |
| | -4.4 | 0.1 |
| | -4 | -0.1 |
| | -4 | 0 |
| | -4 | 0.8 |
| | -3.8 | 0.1 |
| | -3.7 | -0.8 |
| | -3.5 | -0.2 |
| | -3.5 | -0.4 |
| | -3.4 | 0.7 |
| | -3.3 | 0.3 |
| | -3.2 | -1 |
| | -3.0 | -0.2 |
| | -3.0 | 0.1 |
| | -2.7 | 0.3 |
| | -2.6 | 0.7 |
| | -1.6 | -0.1 |
| | -1.4 | 0.8 |
| | -0.9 | 0.1 |
| | -0.9 | 0.2 |
| | 0.3 | 0.7 |
| EU TOTAL | -4.0 | -0.1 |
So long as Ryanair relies on its old home markets to derive nearly half of its passengers, two outcomes are possible: either passenger numbers will fall as the recession deepens; or yields will have to be discounted to attract the numbers required to fuel the projected expansion.
No time for 'strategies'
In other words, it may be time for this teenager to stop loitering around at home and seek more hospitable accommodation. Certainly Ireland will only deliver excessively diluted yields over many months to come. That would be a big move for the still essentially Irish airline, which loves to battle with its rival, Aer Lingus, in which Ryanair has invested heavily.
There are undoubtedly "strategic" reasons to be in Ireland, and the receding goal of using Aer Lingus as a vehicle to enter long haul trans-Atlantic markets still lingers. Having lost a lot of money on the equity investment in the flag carrier also creates an emotional tie. And, for example, by another strategic measure, Italy can be attractive too, even though its economy is well positioned among the steepest GDP falls, with a projected 4.4% reduction in GDP for 2009, and no growth in 2010.
But, expecting to take up the market share which Alitalia has recently vacated, Ryanair has announced that Italy should overtake the UK in the medium term as one of its largest markets. Ryanair is planning to open another five bases in the country over the next three years. This is a one-off – strategic - opportunity to establish a foothold in what is potentially a growth market too.
Airline Treasuries typically hate the word "strategic". All it means for them is losses. These are tolerable when all around them is growing, but in tough times the scrutiny of the beancounters becomes more intense.
There are economically some clear no-go areas in the European Union countries, as Ryanair itself pointed out – notably the Baltic states. But Ireland has become such a standout as an economic basket case that it would be hard to make even a strategic case for establishing there right now. If there were a fair certainty that Aer Lingus would exit the market, a case might exist. That is not a likely scenario, even if the government has to mortgage the shop to save it. So the temptation to focus on better performing European economies – an opportunity which Ryanair's multiple bases offer – must grow inversely to the yield declines.