Qatar Airways delays Saudi operation 'Al Maha Airways' until 2014 as government dabbles on reform
Analysis
Qatar Airways has named its forthcoming Saudi Arabian carrier "Al Maha Airways" but says it will not start operations until the first half of 2014 at the earliest. While Qatar has been unusually quiet on the operation and is not known to have ever stated a launch date, Saudi regulators had said it would launch before the end of 2013 as part of its liberalisation process. Qatar, along with a Gulf Air-linked group, was awarded in Dec-2012 a licence to operate domestic flights in Saudi Arabia as part of overdue reform in the aviation and tourism sector.
The Saudi government is right to rejuvenate the sector, but reform in early initiatives – the privatisation of Saudi Arabian Airlines – has proven slow. It now seems loosening the reigns on the domestic market is more challenging than imagined by regulator General Authority of Civil Aviation. GACA says it has had prolonged negotiations with government entities to reduce fuel prices for new carriers. Saudi Arabian Airlines receives fuel subsidies that distort the market and forced the exit in 2010 of start-up Sama. A cap on domestic fares makes some flights unprofitable even for Saudi. Qatar Airways CEO Akbar Al Baker told Reuters in reserved remarks he has an "undertaking" from Saudi authorities that these two "contentious issues" will be resolved. While domestic growth has lagged international growth – creating opportunity – there are, as Mr Baker said, "many challenges".
Al Maha could be Saudi's only third carrier. Saudi Arabian Airlines' monopoly was ended in 2007, which saw the entry of nasair (now flynas) as well as the entry and subsequent exit of Sama. nasair expects to have its first full-year profit in 2013. Saudi is preparing for change – and has joined SkyTeam – but it has a formidable position, having carried 94% of domestic passengers in 2011 (the most recent figures available). Saudi flies 84% of the international traffic handled by Saudi Arabian carriers, while nasair has 14%. But in the overall market, foreign carriers dominate and provide over 60% of international traffic. Their share is also growing. Privatisation is crawling along at Saudi Arabian Airlines while the government is planning more airport infrastructure and the overall market continues to grow and have record years.
See related reports:
Al Maha Airways to launch in 1H2014 at the earliest
Qatar Airways was unusually quiet throughout the process of bidding for a domestic license in Saudi Arabia, being short-listed and then receiving approval. Remarks by Mr Baker to Reuters during the Dubai Airshow were limited but the most detailed given yet. Mr Baker says the carrier will be named Al Maha Airways. Al Maha means oryx, a native animal to the Arabian peninsula. The oryx is Qatar's logo and Qatar employs the the Al Maha term when referring to premium hospitality, so there are some ties in name to Qatar Airways. Prior to Mr Baker disclosing the name, it was unclear if the operation would have its own name or use Qatar's. No further branding information is available, such as if Al Maha will largely borrow from Qatar's brand or have its own distinct brand.
While there are distinct opportunities in Saudi's domestic market, and the country plans to let the new carriers fly internationally, synergies with Qatar Airways would obviously be ideal. The carrier is presumably full-service, although this has not been confirmed. Some reports say Al Maha will operate with A320s, but this cannot be verified, and nor can the airline's ownership structure be.
Mr Baker is known for his confidence and bold plans but said he only "hopes" Al Maha will launch in the first half of 2014. This further shows the different environment Qatar is operating in, as well as some deference to its conservative nature. The relations with the government – especially Saudi Arabia – are in contrast to Mr Baker's vocal approach to commercial entities.
The strategy is interesting since Qatar Airways has largely remained independent, although it joined the oneworld alliance in Oct-2013. Gulf peer Etihad has seven confirmed and pending equity partners while Emirates has a deep partnership with Qantas. Etihad and Emirates are not known to have applied for a license in Saudi Arabia, although the application list was never made public.
Al Maha to focus on Riyadh and Jeddah and then secondary cities
Al Maha will initially focus services from Saudi Arabia's main cities, including Riyadh and Jeddah, Mr Baker said. This is a given since Riyadh and Jeddah are by far the country's two largest airports, collectively accounting for 56% of movements. The next largest airport, Dammam, only accounts for 9%. Passenger flows are highly concentrated as 77% of domestic passengers in 2011 (the latest year statistics are available from) are from only five airports: Riyadh, Jeddah, Dammam, Abha, and Medina. The remaining 23% of passengers are from 22 smaller airports.
Domestic passenger movements by airport in Saudi Arabia: 2011
The GACA groups airports into international and domestic categories. Riyadh, Jeddah, Dammam and Medina are the international airports while Abha and 22 other airports are considered domestic. The international group – Riyadh. Jeddah, Dammam and Medina – account for almost all international traffic; five "domestic" airports had a sprinkling of international passengers.
In addition to Qatar Airways, license given to Gulf Air-linked group
The GACA issued the other license to Saudi Arabia's Al Qahtani Group, a privately-owned conglomerate. GACA however initially announced the tender as being awarded to Bahrain's Gulf Air. Although the circumstances of this is not clear, confusion could have arisen from the fact Gulf Air had a consulting contract with the Al Qahtani Group during the bidding phase and then a second contract to help the group secure its AOC.
Gulf Air issued an unusual statement saying: "Gulf Air did not bid and has not been awarded domestic traffic rights to operate in the Kingdom of Saudi Arabia. The airline's involvement is in a consultative capacity only to the Al Qahtani Group, a consortium of privately owned companies based in the Kingdom of Saudi Arabia. Accordingly, Gulf Air's name and brand remain independent of the venture...Gulf Air has been operating to Saudi Arabia for over 63 years, amassing extensive operational and logistical knowledge of the Kingdom. As such, the national carrier is in a position to support Al Qahtani obtain its Air Operator's Certificate and further facilitate its entrance into the market."
GACA seems encouraged to rectify a bizarre operating environment that benefits no one
The GACA, like most regulators, is not without shortcomings. The Gulf Air-Al Qahtani mixup is perplexing. Other hints of coordination needing improvement were shown in the selection process. In Sep-2012 the GACA said it required more time to evaluate bids and would award the licenses in Feb-2013 instead of Oct-2012. But then the award date target was brought forward to Nov-2012, with the awards actually being announced in Dec-2012. At the time of the GACA planning to award the license in Feb-2013, it expected the airlines to launch in Apr-2013, an exceptionally tight – almost impossible – timeframe.
Overall the GACA has seemed supportive of the process but has hit headwinds with other government bodies. GACA in Aug-2012 said it would sell fuel to the license winners at the same price as it does to Saudi Arabian Airlines, effectively giving the carriers a fuel subsidy. That would have removed the distortion in operating cost – and effectively an ability to make a profit. The fuel subsidy to Saudi Arabian Airlines, as well as fare cap, saw the collapse of Sama.
A negative scenario emerged of little domestic growth: Saudi Arabian Airlines' fuel subsidy effectively prohibited other airlines from providing meaningful competition yet the fare cap meant Saudi Arabian Airlines was often unprofitable and not interested in growing domestic capacity (unless, likely, under instruction from the government). There were reported shortages of domestic capacity, with many frequently unable to book a flight close to departure.
The maximum one-way economy fare on the largest domestic route, Jeddah-Riyadh, is SAR280 (USD75). This works out to a yield per km of USD8.8 cents – high for long-haul, but not for short-haul on a full-service airline operating in an expensive environment (except for fuel).
The outcome is bizarre as no one seems to have won. The population and broader economy did not receive a surge in available capacity and likely lower fares, and nor could Saudi Arabian Airlines take advantage of its near monopoly and increase fares and thus profits, as if often the scenario in government protectionism. While the fare cap may have sought to protect the public from price-gouging, it made flights unprofitable and gave no incentive for Saudi Arabian Airlines to grow. Arguably it is better for the broader economy to have more capacity at higher prices than lower capacity at lower prices since passengers make economic contributions only if they are able to travel.
It is difficult to classify these measures as protectionism. While Saudi Arabian Airlines will now face more competition, it may be in a stronger position if it can increase fares while the regulator limits the number of new entrants. For Saudi Arabian Airlines, there may be more airlines now, but there is also the opportunity for more revenue.
In Sep-2012 GACA said new airlines would have to charge the same economy fares as Saudi Arabian Airlines, but in Dec-2012 Minister of Culture and Information Abdul Aziz Khoja said the government would formally review fuel prices and domestic economy-class ticket pricing. Not only were there fare caps (but not for premium tickets or any cabin on an international ticket) but local reports indicate revenue management is still prohibited; looking at Saudi's domestic economy fares, they are across the board the same for every flight irrespective of date and time. The Minister indicated that the government would allow airlines to increase fares closer to the date of travel but that this would be within GACA guidelines, suggesting some regulatory interference would remain. It is unclear if airlines could price separately from each other, a necessary step to provide competition and/or marketing exposure, or if they have to match each other (or a determined guideline).
The GACA in Oct-2013 said policies would be ready by the end of year allowing airlines to discount tickets purchased early. The full mechanics of the policy are unknown, including if the discount expires at a time determined by the regulator or if airlines can fully revenue manage. Also unknown is if airlines can only discount a base fare rather than build up from it, and critically if there is still a maximum that can be charged. Then there is the largest challenge to airlines to change consumer behaviour to book early and consider a less convenient flight if it is the cheapest.
GACA faces difficulties with other government sectors over fuel subsidies
A larger issue came to be that of fuel subsidies. Local reports say the GACA in Sep-2012 requested national oil company Saudi Aramco to lower jet fuel prices for airlines operating in Saudi Arabia. In Mar-2013 the GACA formally announced plans to provide jet fuel at equal rates, and rates lower than elsewhere in the region. In Sep-2013 the GACA said it had made progress in talks with Saudi Aramco but did not indicate if an agreement was finalised and the GACA's plan could be implemented. In Oct-2013 the GACA said the delay of the new airlines launching was due to government approval of fuel subsidies. There was no indication if hurdles had been cleared, but Mr Baker's Nov-2013 statements indicate he is still waiting for suitable business conditions.
Strong – but not unlimited – potential for domestic growth
With passengers sometimes unable to secure seats, the anecdotal evidence is that there is room for growth. Figures back it up too. Saudi Arabia in Nov-2013 has about 350,000 weekly seats to Vietnam's 375,000 and South Africa's 340,000. Saudi straddles the two in capacity but has a much lower population: 28 million to South Africa's 51m and Vietnam's 88m. So while it seems Saudi Arabia is punching above its weight, GDP is higher in Saudi Arabia, South Africa is in need of its own competition and Vietnam is also rapidly growing despite its smaller landmass and stronger alternative transport options (such as railways).
Top 10 Domestic Saudi Arabia Routes ranked on seat capacity: 18-Nov-2013 to 24-Nov-2013
Rank
Origin
Destination
Total Seats
1
JED
Jeddah King Abdulaziz International Airport
RUH
Riyadh King Khaled International Airport
84,866
2
JED
Jeddah King Abdulaziz International Airport
DMM
Dammam King Fahad International Airport
32,936
3
RUH
Riyadh King Khaled International Airport
AHB
Abha Airport
23,549
4
RUH
Riyadh King Khaled International Airport
DMM
Dammam King Fahad International Airport
20,559
5
RUH
Riyadh King Khaled International Airport
MED
Madinah Mohammad Bin Abdulaziz Airport
17,150
6
RUH
Riyadh King Khaled International Airport
GIZ
Jazan Airport
16,176
7
JED
Jeddah King Abdulaziz International Airport
AHB
Abha Airport
14,757
8
JED
Jeddah King Abdulaziz International Airport
MED
Madinah Mohammad Bin Abdulaziz Airport
13,293
9
JED
Jeddah King Abdulaziz International Airport
GIZ
Jazan Airport
11,662
10
JED
Jeddah King Abdulaziz International Airport
TUU
Tabuk Airport
8,580
In short there is opportunity but not as endless as some see in certain Asian or Latin American markets. While the government is pushing domestic infrastructure to lead to more business travel, as well as encouraging domestic tourism, it should not be forgotten movement is restricted and foreign tourism limited. What could dampen domestic demand is the ending of fuel subsidies and growth of high-speed rail. Due to commence operation in 2016 is the 450km long Mecca-Jeddah-Medina line running at 320 km/h. This will overlap with the country's eighth-largest route, Jeddah-Medina, but high-speed rail overlap with bigger routes is, in the foreseeable future, an insignificant threat. Most major routes are over 700km long, about the distance when air service has an advantage over rail. Saudi Arabia's geography provides another challenge.
The shortest trunk route is Riyadh-Dammam, is 353km-long and already has a train service, albeit a slow one. The government is considering a high-speed option. Although Riyadh-Dammam is the fourth-busiest domestic route, it has a quarter of the capacity as the busiest, Jeddah-Riyadh.
Outlook: advancement will take time, but is worthwhile as domestic market needs renewed momentum
The Saudi Arabian domestic market in recent years has significantly lagged behind other the international market in terms of growth. The noticeably smaller international market could shortly overtake the domestic market if conditions are left unchanged. While there are far more places to visit overseas, the critical difference is that the international market is more open.
Welcoming new domestic carriers and setting the right underlying conditions should jump-start lagging domestic growth.
Saudi Arabia passenger numbers (000s) and y-o-y growth: 2008-2011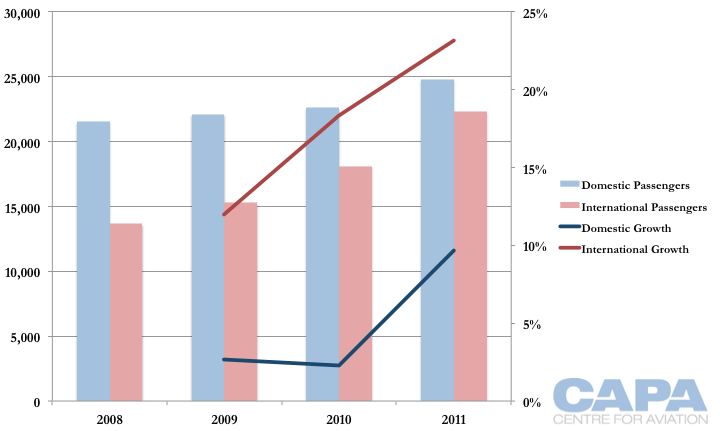 As the new entrants have found, change does not come easily. Many government agencies are involved, and what they are trying to reform currently has an unclear purpose in which neither consumers nor companies win, making change all the more difficult.
The fare cap and fuel subsidies are the major hurdles to clear, but there are indications there will still be regulation of domestic economy fares in some form .
Such regulation seldom helps the market. Then there are smaller issues that will need changing. Maintaining momentum and a level head is not easy, but Qatar Airways and Al Qahtani are so far persevering, keeping the end goal in their sites. As long as the regulatory intervention is not excessive, there may well be others; but for now, the test will be to see if and when Al Maha Airways takes to the air.