Qantas Malaysia Airlines "merger" talks look like the real thing
Qantas and Malaysia Airlines (MAS) have the potential to make a solid combination. There appear to be solid grounds for the rumours again sweeping the market today that the two carriers are looking at linking up. In reality there are few options for cross border mergers (or, rather, "tie-ups" at this stage of regulatory development - full merger is well nigh impossible) in this region.
There has in the past been a lot of casual talk for example about a Qantas- Singapore Airlines link - a prospect that is remote, in view of their highly different attitudes and the near-impossibility of obtaining competition approval for such a deal, where the two account jointly for the majority of seats on Australia's most important international connections, over Singapore.
Likewise, a Cathay Pacific linkage is out on competition grounds - and the two carriers have loved to hate each other over the past few decades, anyway.
Thai Airways is a sad shadow of what might have been and therefore offers no attraction; Garuda is not on the short list either. Neither are any Taiwanese, Chinese, Philippine or Korean airlines likely partners at this stage. And any deal with Air New Zealand has been knocked on the head so many times, it must be brain dead by now.
Qantas has always been close to fellow oneworld member, Japan Airlines, but the operating synergies to flow from any such arrangement would be limited in the short term. Qantas is in any event busy withdrawing from that market, which it just can't make profitable. Might be one to watch in the future, but very long odds for now.
Qantas CEO, Alan Joyce, recently said that Qantas was looking to be the senior partner in any merger or similar relationship that the carrier entered into.
The recently (accidentally) announced merger talks with British Airways would probably not have achieved that, but Qantas would, at least in practical terms, be the bigger of the two in a partnership with Malaysia Airlines.
The two potential partners
A few years back, Qantas would not have considered joining with Malaysia Airlines. It was an unattractive mix of inefficiency, losses and government intervention, but the carrier has staged a remarkable turnaround since Idris Jala moved into the CEO role.
Against the odds, and admittedly earlier helped by good economic conditions, he moved the airline into profitability and has managed to cling in there in the most recent quarter.
Malaysia Airlines net profit margin: 2005 to YTD3Q08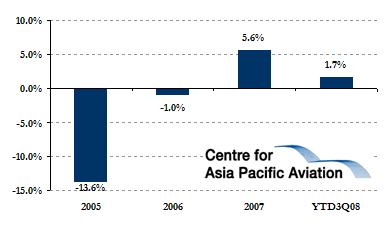 Qantas, meanwhile, has surged ahead and is coming off its most profitable period ever. It is sitting on a comfortable cash balance too, should it want to spend some in Malaysia.
Qantas Group operating profit and net profit margin: 2005 to 2008 (year ended 30-Jun)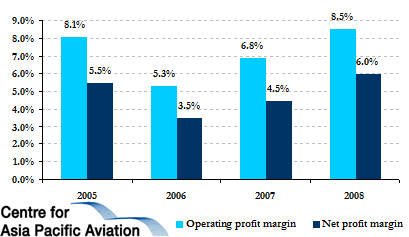 A foothold in Malaysia would be very useful for the Australian group. There is business to be done. Certainly AirAsia is busily making it a low cost hub for Australians. Jetstar also flew Sydney-Kuala Lumpur, but has temporarily withdrawn.
And, as liberalisation spreads - rather lumpily - through the region, Malaysia is at the heart of the movement. Just this month, on 1 Dec-08 - finally - the highly lucrative Singapore-Kuala Lumpur MAS-SIA duopoly was fully opened up to the countries' respective LCCs. Capacity instantly trebled.
These talks have a lot more to them than Qantas. Significantly, Qantas, the mainline carrier, does not even operate to Kuala Lumpur. It pulled out several years ago, when the end-to-end traffic was too low-yielding and it wanted to focus on the economics of scale of Singapore as a hub.
But two carriers by the name of Jetstar do operate there: Australian-based Jetstar and Singapore's Qantas affiliate/subsidiary, Jetstar Asia, now enjoying the unrestricted Singapore-KL access gained two weeks ago. Once Jetstar receives its new B787s, now scheduled for mid-2010, KLIA offers a real opportunity for beyond connections to Europe and the Middle East.
This is where the much-touted two brand strategy of Qantas could really come alive. Establishing a base behind arch-rival SIA's headquarters, as well as a springboard from an established base (unlike for example the more risky Vietnamese venture with Pacific Airlines) into the heart of Asia and India offers many options for future growth. And the Middle East is a well-connected hop away too.
Changing the region
Coupled with liberalisation, a Qantas/Jetstar - MAS link will change the dynamics of the Singapore hub. It will be positive for both parties.
For years, Malaysia resisted opening up the inter-capital city route. It was Malaysia Airlines' most valuable and there was always a fear that any hub role of Kuala Lumpur's Airport would be undermined if travellers could connect more easily to the more attractive (in terms of route and frequency options) Singapore hub.
Now, with the resurgence of KLIA as AirAsia blossomed, Malaysia's main airport is becoming a major low cost hub.
Malaysia Airlines, meanwhile, has moved up in its market positioning, targeting higher yielding traffic and rationalising its route network, while recognising that, despite solid cost cutting, it could never achieve AirAsia's super-low cost base.
KLIA also has the virtue now of a spacious airport footprint, with planned expansion that offers considerable upside for growth.
A good deal for all
Given the constraints of regulatory red tape, any relationship is likely to involve Qantas buying a significant minority share in Malaysia Airlines, with perhaps some cross shareholding.
For the near future, that will be as far as it goes, accompanied for example by joint strategy planning and codesharing. But that will do very nicely for the two. There will be no concerns about competition authority approvals, so long as the Singapore hub continues to offer a viable alternative, which is highly probable.
In short, unlike the British Airways merger talks, this one has real legs. If it can be consummated - and it seems to have the support of MAS' political owners in Malaysia -Southeast Asian aviation will be reshaped. And so will both Qantas/Jetstar and Malaysia Airlines. And KLIA.