Porter Airlines state of limbo persists as it awaits a decision on its controversial expansion plans
Analysis
Canada's Porter Airlines marked its eight year anniversary in late 2014 against the backdrop of uncertainty over its strategic direction and attempts to sell and lease back the terminal it owns at its largest base Billy Bishop Toronto City Airport as a means to fund its growth plans.

Porter necessarily marked its eighth year of operations in partial limbo, as outside forces remained unpredictable. The airline is still awaiting a decision by the city of Toronto to operate Bombardier CSeries jets from Billy Bishop, which is a politically charged proposal that has drawn criticism and is in the midst of further study.

The airline continues to maintain an optimistic outlook, concluding it has options to broaden its base outside Toronto as its current business remains viable. But it seems Porter embarks on 2015 with the same degree of uncertainty about its future as in the beginning of 2014, a scenario that is not sustainable over the long term.
Porter's expansion plans are frozen and in the hands of Toronto's City Council
As Porter's main rivals WestJet and Air Canada were launching their respective new subsidiaries Encore and rouge in 2013, Porter aimed to carve out its place in the Canadian aviation market by placing an order for 12 Bombardier CS100 CSeries narrowbodies that would allow the airline to broaden its reach into western Canada and the US west coast.
Porter's proposed CSeries routes at the time it placed its aircraft order in 2013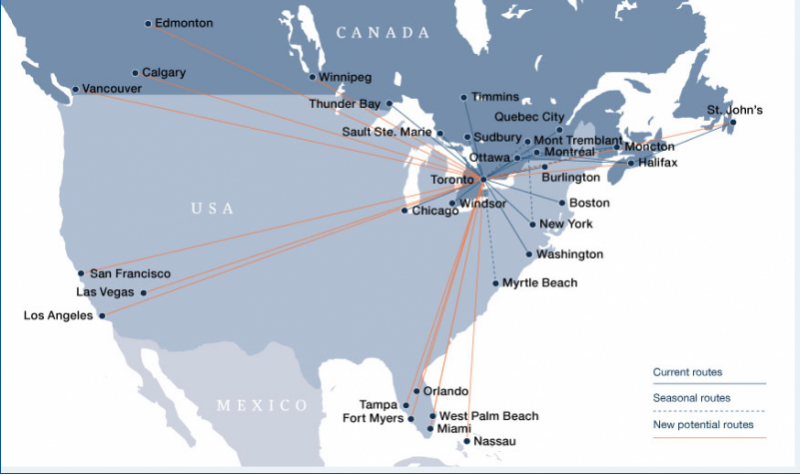 It appeared a seemingly straightforward plan for a niche airline that needed a long term vision beyond the operation of Q400 turboprops to markets mostly in eastern Canada and the eastern US. But Porter had and still has one huge hurdle to overcome in order for its vision to become a reality – approval by the City of Toronto for the necessary infrastructure at Billy Bishop to handle jet operations. Presently Porter and Air Canada operate Bombardier Q400s from the city's island airport.

After Porter crystallised its ambitions, opposition mounted to its plans, which could increase passenger throughput at Billy Bishop from its current 2 million to 4.8 million. The political posturing that ensued resulted in Toronto's city council delaying a vote on runway expansion and other changes at Billy Bishop until further study - the usual resort of cautious politicians - was completed. It does not appear that decision will be rendered until the spring of 2015.

See related report: Porter Airlines' plans remain in limbo as its competitor work to sustain their long-term viability
Porter's decision to sell its terminal sparks questions about its finances
As the political opposition to Porter's plans has frozen the airline's plans to expand, Porter managed to extend the deadline for the payment of non-refundable deposits on the CSeries jets from Dec-2013 to Apr-2014. It is not certain if the airline was given another deadline, but in Aug-2014 Porter stated it was examining a sale and leaseback of its terminal at Billy Bishop owned by Porter Airlines Holdings subsidiary City Centre Terminal Corporation.

Reports in the Wall Street Journal valued the terminal at CAD500 million (USD423 million), and Porter explained it would use the proceeds from the sale to invest in the airline's growth. This sale-leaseback exploration was tabled after Porter cancelled plans in 2010 to engage in an IPO, citing poor market conditions.

During late 2014 Porter CEO Robert Deluce told Canadian news outlet the Financial Post that the terminal was a non-core asset, and that Porter never intended to be a terminal operator. However, Porter's ownership of the terminal was effective at the start of its business in preventing Air Canada through its regional partner Jazz from expanding at the airport prior to Porter's debut. During 2006, City Centre Aviation issued Jazz with a 30-day termination notice.

Air Canada eventually returned to Billy Bishop after a drawn out legal process, but Porter remains the dominant airline at the airport located closer to Toronto's city centre than Toronto Pearson, holding an 83% seat share at the airport.
Ironically, Air Canada is now considering cutting its service from Billy Bishop, explaining it needed to assess the viability of the operations based on terminal rates and terms. The airline offers flights to Montreal through its partner Sky Regional Airlines. It is not clear if Air Canada is genuinely doing a performance analysis of the flights, or threatening to pull out to gain more slots or improve its costs at the airport.

Billy Bishop Toronto City Airport capacity by airline (% of seats): 5-Jan-2015 to 11-Jan-2015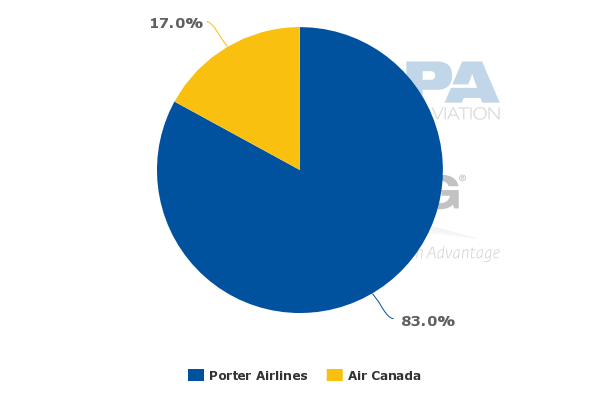 The timing of Porter's intent to initiate a sale and leaseback of the terminal at Billy Bishop spurred questions about the airline's finances. Mr Deluce recently assured the Financial Post that Porter is a "profitable and sustainable airline as it presently exists", but given the lingering strategic value of owning the terminal it does raise questions about the logic of selling; its status as a privately held airline makes it impossible to judge the "present existence" of the airline.

Porter ceased voluntarily reporting its traffic statistics in Apr-2013 after recording declines in load factor and traffic and has likely been trading load for yield, although during that time overall airfares in Canada seem to have remained stable.
A data snapshot from Statistics Canada shows that average airfares from 2Q2012 to 2Q2013 declined just 0.4% to CAD192. Porter can arguably charge a premium for its higher-end product targeted primarily at leisure customers. That said, most of its seats are deployed into eastern Canada, a highly contested market where some routes have experienced oversupply during the past couple of years.
Porter Airlines top ten domestic routes by seats: 5-Jan-2015 to 11-Jan-2015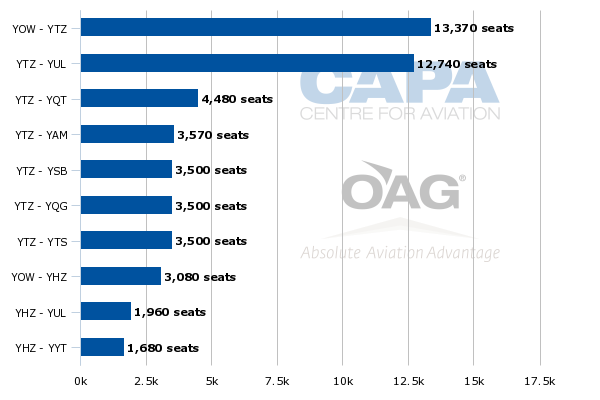 Porter hints that it could expand elsewhere if it loses its bid to expand at Billy Bishop
Porter understandably is exuding confidence that its ambitions for Billy Bishop will come to fruition; but clearly there is a massive risk in placing its future in the hands of politicians. There are various views about how it could execute alternative strategies.

Mr Deluce told the Financial Post that while Porter hopes to gain approval for its expansion at Billy Bishop, "there are always other possibilities in terms of status quo or developing other core focus cities like Ottawa, Montreal or Halifax". Based on data from CAPA and OAG for the week of 5-Jan-2015 to 11-Jan-2015 Ottawa, Montreal and Halifax are Porter's second, third and fifth largest bases.
Porter Airlines global top 10 hubs/bases/stations by seats: 5-Jan-2015 to 11-Jan-2015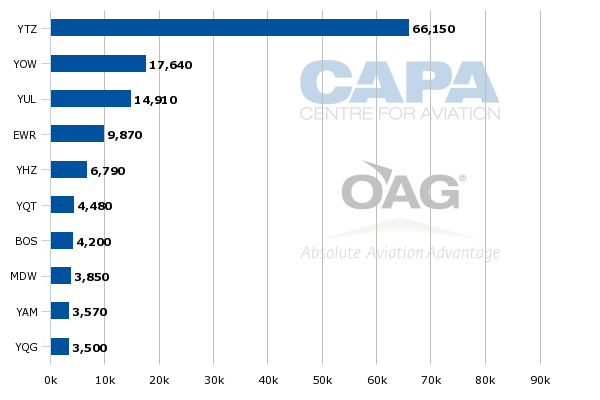 Air Canada is the dominant airline at all three of those airports by a wide margin, holding a 49% seat share in Ottawa, a 50% share in Montreal and a 64% share in Halifax. WestJet and Porter are the second and third largest airlines in Ottawa and Halifax. WestJet has a 19% seat share in Ottawa and a 19% share in Halifax. Porter has a 13% share in Ottawa and a 9% share in Halifax. (All data are from CAPA and OAG for the week of 5-Jan-2015 to 11-Jan-2015.) Air Transat and Sunwing are presently the second and third largest airlines measured by seats in Montreal, representing a 10% and 7% share, respectively.

Porter finds a rather different competitor in Air Canada from when the smaller airline launched operations in 2006. Air Canada has strengthened its balance sheet, cut costs and worked to become attractive to all passenger segments. Although Porter offers some service to leisure oriented destinations, it largely targets business passengers, a segment that Air Canada would fight hard to retain if Porter made a push from those bases.
Given the smaller financial backing of Porter and the scale behind Air Canada, the smaller airline would find challenges in engaging in a fare war for any sustained period of time. WestJet also has refined its product to target more business travellers, and both Air Canada and WestJet have an ability to market a much broader network to passengers than Porter, which does codeshare with some airlines, but does not have the scale of either Air Canada or WestJet.

See related report: Air Canada SWOT: Working towards sustainability, but familiar foes await - long with some new ones
Porter's fate at Billy Bishop should finally be sealed in 2015
Porter has one substantial advantage. Its service levels have given other airlines pause as rival Air Canada has in the past complimented Porter's service offerings that include complimentary snacks and drinks, leather seats and a lounge with free Wi-Fi. It would also be seeking political support from provincial authorities keen to sell the CSeries.

As previously concluded by CAPA, with the slot constraints at Billy Bishop, Porter needs to operate higher gauge aircraft in order to maximise its commanding presence at the airport. If it opts to deploy narrowbodies elsewhere, it runs the gauntlet of injecting capacity into markets that would take some time to reach profitability. Here the funds from an airport terminal sale would come in very handy.

With roughly a year of uncertainty behind it, the prospects are that Porter's fate will be solidified in 2015 as a decision is made about its preferred expansion from Billy Bishop. Hopefully for the airline that will be in its favour. For now, Porter has little option but to place its future in the hands of politicians, meanwhile working towards a scenario that calls for a solid Plan B should Porter's years-long efforts to achieve its vision fail.