Ontario fuel tax can seriously damage Canadian airlines' long-haul competitiveness
Analysis
Constant calls to lower the cost for companies doing business within the aviation sector in Canada have fallen on deaf ears in the Ontario government. The province seems poised to more than double aviation fuel tax during the next three years, creating challenges for airlines operating at Canada's busiest airport Toronto, which is located in Ontario.

Opponents of the tax increase argue that not only will it add millions of dollars to top-line expenses at airlines, but the rise threatens to send more passengers across the border where they can travel more cheaply from US airports.

It is not surprising Toronto's largest airline Air Canada is staunchly opposed to the increase, as Toronto is the main pillar of Air Canada's international expansion. The scenario adds a layer of complexity not only to Air Canada's international aspirations, but also to WestJet's long-haul ambitions, in which Toronto will play a role.
A change of government control could result in the proposed tax becoming reality
The government of Ontario first tabled the proposed increase to the fuel tax in May-2014. Canadian news outlet The Globe and Mail explained the rise was introduced by a minority liberal government that transitioned to a majority after elections were held in Jun-2014. A new budget including the proposed tax increase was introduced in mid-Jul-2014.

Presently the tax stands at CAD2.7 cents and is set to increase to CAD6.7 cents. Air Canada executives told the Globe and Mail that the increase would result in CAD50 million (USD46 million) in extra costs annually for the airline.

The re-introduction of the tax increase occurs at a time when Canadian airlines are already facing headwinds from the depreciation of the CAD against the USD and some fuel price volatility due to uncertainty in the Middle East.
The new tax could dampen Air Canada's sixth freedom strategy
Perhaps even more dangerous for Air Canada is its stature as Toronto's largest airline.
Toronto is among several airports located in Ontario (others include Ottawa and Thunder Bay), and is Canada's largest airport as measured by arrivals.
Canada top 10 system arrivals by city: 14-Jul-2014 to 20-Jul-2014
Among North American airports, Toronto has a higher percentage of international seat deployment, 44% for the week of 14-Jul-2014 to 20-Jul-2014 compared with 41% as the major US international gateway JFK in the northeast and 28% for Los Angeles on the US west coast.

Air Canada represents a system-wide 55% seat share at Toronto, and the airport is the airline's largest base by a wide margin – it deploys more than double the seats from Toronto than Vancouver, its second largest base.
Air Canada global top 10 hubs/bases/stations by seats: 14-Jul-2014 to 20-Jul-2014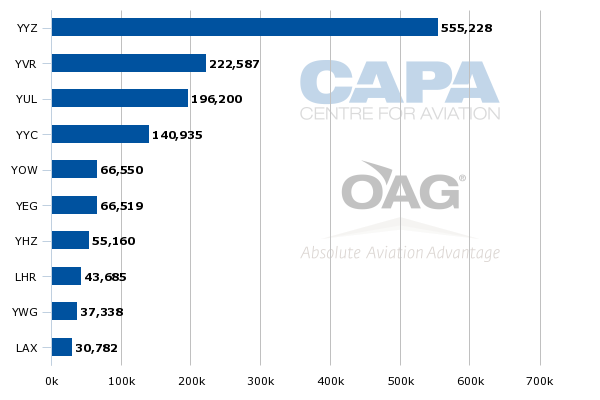 Air Canada is also leveraging Toronto in an international push, particularly as its service to Asia grows at the airport. The airline is positioning Toronto as a sixth freedom collection point to attract US passengers to long-haul flights to Asia and Europe. Air Canada and Toronto Pearson have worked to make transiting through Toronto attractive, including eliminating passenger bag reclaim and automated passport control.

See related report: Air Canada moves to attract more US sixth freedom traffic, but new pressures await

Air Canada's recent launch of daily service from Toronto to Tokyo Haneda was designed in part to attract US travellers from markets such as Boston, Cleveland or Pittsburgh that find the schedule and ease of transiting through Toronto attractive.

But a higher tax creates some headwinds for Air Canada in its sixth freedom strategy since the argument is any increase in taxes or fees ultimately trickles down to the passenger.
Passenger spill is not viable over the long term for favourable hub economics
Air Canada chief commercial officer Ben Smith told the Globe and Mail that the airline already has some disadvantage in attracting US travellers due to higher airport rent. Now having to pass the fuel tax increase will make it even more difficult to attract US travellers. Canada's population is much smaller than the US, so garnering transborder passengers is necessary to achieve the desired scale to make hub economics viable.

A report by the Conference Board of Canada issued in 2012 concluded that US airlines have a CAD5 cent unit cost per available seat mile advantage over their Canadian counterparts. However, the board concluded that taxes and fees were just one contributing factor to the cost gap and the resulting spill of Canadian passengers to US border airports. Other factors include labour, aircraft ownership and navigational fees.

The Board did conclude that landing and terminal fees are generally lower at US airports, and changes to policies in Canada could result in a two million passenger reduction of the five million travellers that annually choose to drive to US border airports for lower fares.
WestJet will also face headwinds from the new fuel tax
WestJet has also cited challenges created by the proposed fuel tax increase, which essentially crimps its ability to keep fares low and stave off passenger spillage to US airports. For the week of 14-Jul-2014 to 20-Jul-2014 Toronto is also WestJet's largest base measured by seats deployed. WestJet has made a push from Toronto as it works to shore up its corporate share within Canada. But obviously a higher cost of doing business in Toronto means that WestJet will need to find ways to offset that expense, which may be a challenge given that the airline's costs are forecasted to rise 1.5% to 2.5% in CY2014.
WestJet global top 10 hubs/bases/stations by seats: 14-Jul-2014 to 20-Jul-2014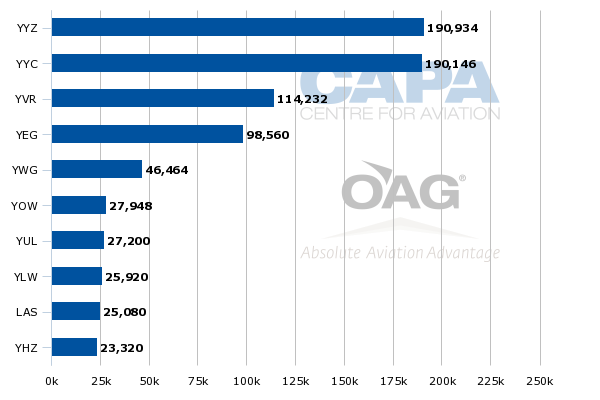 WestJet also recently took a firm step by outlining plans to acquire four widebodies for operation to Hawaii in 2015. But its longer-term aim is to no doubt add long-haul flights from Toronto and Vancouver. A jump in taxes does add a layer of challenges in carrying-out its long-haul plans from Toronto.

See related report: WestJet takes a measured approach in crystallising its international widebody aspirations in 2015

Air Canada and WestJet's smaller rival Porter Airlines also could see some grief from the increased fuel tax. Its operations are concentrated at Toronto Billy Bishop Airport and it is basing its future on gaining approval to operate CSeries jets from its largest base. Porter has a higher end product offering and presumably charges more for its experience. But being forced to raise prices could also diminish its passenger base.
Perhaps airlines need a new approach in dealing with obstinate governments
The counterparts of Canada's airlines in the US also have stepped up rhetoric about government taxes and fees that could ultimately crimp demand. It is a message beaten throughout North America and Europe, but the tremendous effort spent on lobbying for reform has been largely unsuccessful in the US.

As governments in North America appear to be ignoring airline pleas for a more rational taxation scheme, airlines appear to be using the same unsuccessful tactics to persuade legislators to adopt a different line of thinking.

Perhaps airlines need to take a different approach in combating what they have long deemed as onerous taxes and fees. The reality is that for North American airlines little seems to be changing, so a shift in tactics is long overdue. There is not always a willingness to listen, but when logic does prevail - as it did with compelling arguments for Schiphol Airport, recounting a tax's negative impact on the economy - the result is win-win.