Air Canada moves to attract more US sixth freedom traffic, but new pressures await
Analysis
One of Air Canada's key strategic initiatives during the next few years is to solidify its presence as Canada's leading international airline, and its execution of that strategy is now more important than ever after rival WestJet has made the first concrete steps in acquiring widebody aircraft.

Part of Air Canada's efforts in maximising higher-yielding international traffic is wresting sixth freedom flows away from the US to its Canadian hubs. This is particularly important over Toronto where the groundwork is in place to allow for seamless connections to Air Canada's long-haul flights to Asia and Europe.

Air Canada believes that if it succeeds in capturing its projected share of the international transit traffic, it could generate CAD400 million (USD371 million) in annual revenue. But US airlines are improving their onboard product and bolstering long-haul flights, adding new challenges to Air Canada's transit passenger scheme.
Toronto works to make the transfer process for US passengers seamless
For the moment the bulk of Air Canada's sixth freedom efforts are centred on its largest hub and base at Toronto Pearson. The airline during late 2013 reached a five-year agreement with the Greater Toronto Airports Authority that was designed to strengthen the airport's international traffic flows. Basically the agreement entails creating a fixed rate on Air Canada's aeronautical fees and setting growth target incentives for the airline.

Toronto has also worked to make it easier for transit passengers to navigate through the airport. Passengers do not have to reclaim bags, and have the ability to head directly to US customs easing the transfer process. Vancouver and Montreal have similar offerings. Toronto Pearson also offers automated passport control.

Toronto's stature as a leading international hub is reflected in approximately 44% of its seats deployed to international markets for the week of 14-Jul-2014 to 20-Jul-2014.
That contrasts with 14% international seat deployment at the much larger Atlanta Hartsfield airport, which processed roughly 94 million passengers in CY3013 compared with 36 million at Pearson.
Toronto Pearson International Airport international vs domestic capacity (% of seats): 14-Jul-2014 to 20-Jul-2014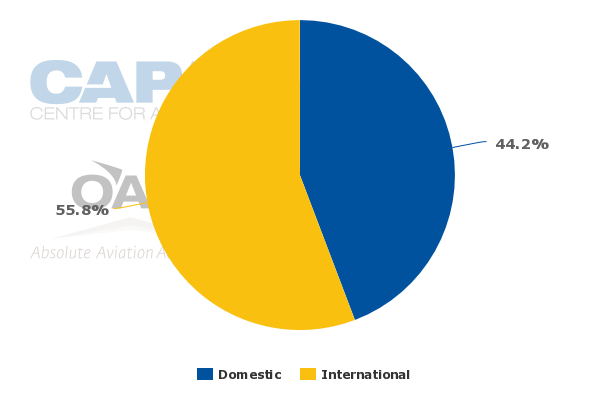 The airport estimates that during 2013 roughly 12 million international passengers to non-US destinations were transported through Pearson, and expects international traffic to increase at twice the rate of other traffic during the next 15 years.
Unlike some of the more congested US airports in the northeast, Toronto appears to have the capacity to support that growth, which coupled with US clearance and bag transfers, could increase its attractiveness during that time period.
Domestic, transborder and international passenger growth at Toronto Pearson: 2013 vs 2012

Air Canada targets US markets with scant long-haul service for connecting passengers
Air Canada has estimated that it represents roughly a 0.3% share of traffic from the US to Asia and Europe captured by non-US airlines. The airline believes it can attain a 1.5% share, and estimates the revenue value of that percentage of traffic at CAD400 million (USD371 million).

The airline's proposition is to offer a better product than its US counterparts and good geographical positioning of its international gateways, particularly Toronto. The goal is to capture travellers from markets like Boston or Pittsburgh with little or no service to Asia and less service to Europe than other large US hubs.

Based on data from CAPA and OAG for the week of 14-Jul-2014 Air Canada offers roughly 962 one-way seats between Toronto and Pittsburgh, which would allow feed into most of its long-haul markets from Toronto. Pittsburgh's only trans-Atlantic flight is a Delta-operated flight to Paris, and the airport has no service to Asia.

Boston's Asian footprint has grown over the past couple of years, so that could alter the dynamics in Air Canada capturing some transit traffic to Asia in that particular market. Hainan in Jun-2014 launched flights from Beijing to Boston with Boeing 787 widebodies. Data from CAPA and OAG show that after a spike in weekly one-way seats in Jul-2014 of roughly 1,500, Hainan's seat offerings level off to roughly 850 in one direction during Sep-2014.

Japan Airlines in 2013 launched service from Tokyo Narita to Boston, and presently offers 1,300 weekly one-way seats in the market. But Air Canada recently introduced daily service from Pearson to Tokyo Haneda, which is closer to Tokyo's city centre.
Haneda's more attractive location, coupled with the ease of US passenger processing in Toronto could drive some traffic from Boston even with the direct service to Narita.
Air Canada could have leverage with US passengers on long-haul from Toronto
Air Canada aims to attract transit traffic from the US to both Asia and Europe; but given the growth potential of Asia there is a lot of room for expansion of sixth freedom passengers in those markets. China and Canada also reached a new bilateral agreement in 2013 that increases weekly flights between the two countries from 66 to 76.

Toronto could offer an easier proposition for some US-Asia services for passengers that do not have direct access to long-haul Pacific flights from US airline hubs. Delta does offers flights to Beijing, Seoul, Shanghai and Tokyo Narita from Detroit, and American offers flights from Chicago to Beijing and Tokyo Narita. United also operates Chicago-Narita service alongside its Star joint venture partner ANA. United and American operate Chicago-Shanghai service.

But for passengers travelling from a market like St Louis or even further south in a market such as Charlotte, it could be viable to have one-stop through Toronto to longer haul destinations via another US airline's hub.

Air Canada presently offers flights from Toronto to Beijing, Hong Kong, Shanghai and Tokyo Haneda and Narita. It has a commanding seat share in Beijing and Shanghai and is uncontested in its Tokyo markets.
That gives Air Canada some leverage among the more higher-yielding business passengers that travel from the US and Canada to Asia. (Note, Air Canada is seasonally suspending Pearson-Narita in Oct-2014)
Air Canada seat share on its flights from Toronto to Asia for the week of 14-Jul-2014
Vancouver is also a major gateway to the Pacific for Air Canada and Asian airlines. Air Canada offers service from Vancouver to Beijing, Hong Kong, Seoul, Shanghai and Tokyo Narita. Air Canada only has a commanding seat share to Narita while other Asian airlines have higher shares on those routes from Vancouver.
Air Canada has a codeshare with its Star partner Air China, which operates from Vancouver to Beijing, allowing Air Canada to market a broader network in China from Vancouver. ANA and Air Canada also codeshare on ANA markets beyond Vancouver. But ANA serves Haneda from Vancouver, so the connection scenario is not optimal.
Air Canada seat share on its flights from Vancouver to Asia for the week of 14-Jul-2014
Other service to Asia from Vancouver includes China Southern flights to Guangzhou and EVA Air flights to Taipei. As Air Canada aims to broaden its reach to Asia and capture more transit traffic, those markets may be under consideration as the airline expands its Boeing 787 fleet. It projects a fleet of 20 787s as of Dec-2016.
See related report: Air Canada eyes healthy demand during the summer season after racking up losses in 1Q2014
When it comes to potential sixth freedom traffic however, Vancouver is currently a more limited option, as Air Canada focuses most of its efforts on building up its Toronto hub. If the push to win sixth freedom traffic shows signs of success, this could open the door to expanding options over Vancouver too, given that city's atrong and expanding links to north Asia's growth markets.
Delta adds a new competitive element in North American trans-Pacific markets
One challenge Air Canada faces in sixth freedom traffic to Vancouver is Delta's aggressive build up in Seattle, which is becoming Delta's largest Pacific gateway. Delta introduced new service between Seattle and Vancouver in Jun-2014, joining Alaska Airlines and Air Canada on the route.

Even though Delta is likely focussing more on a traffic grab from Alaska, Air Canada is also likely to experience pressure as Delta serves Beijing, Hong Kong, Seoul, Shanghai and Tokyo Haneda and Narita from Seattle. Hainan also operates service from Seattle to Beijing and ANA offers flights from Narita to Seattle. Korean and Asiana operate on the Seoul-Seattle pairing.

See related report: Delta Air Lines' latest punch at Alaska in Seattle is an effort to siphon traffic from Vancouver

At the very least the capacity Delta is adding from the US west coast to Asia is likely to pressure prices in the North America-Asia market. Air Canada's unit revenues on Pacific routes dropped 2.8% year-on-year in 1Q2014.
Air Canada has the advantage on a sixth freedom jump start – for now
Air Canada also promotes its product supremacy over the often mediocre long-haul products of its US competitors, which it also uses to sell its long-haul service to US passengers. But the product gap is closing with much needed investment by US airlines in their long-haul products that include flatbed seating and a push for in-flight internet on long-haul routes.

Add to that WestJet's long-haul aspirations that will at some point include service deeper into Europe as well as new flights to Asia and Air Canada's ambitions to grow transit traffic becomes more challenging. The government of Ontario has also revived a proposed increase in the aviation fuel tax, which could also create headwinds for Air Canada as the cost of doing business at Toronto (located in Ontario) rises.
See related report: Ontario fuel tax can seriously damage Canadian airlines' long-haul competitiveness

For the moment Air Canada has a window to leverage its hub geography for connecting passengers to boost high yielding traffic. But its main domestic rival and its transborder competitors are also aggressively working to shore up their long-haul traffic, which means Air Canada needs to move quickly if it is to exploit its sixth freedom aspirations.