New Jamaican upstart faces challenges in building a viable business in the Caribbean
A little over a year after Caribbean Airlines formalised its acquisition of Air Jamaica and became the default national airline of the region, a new Jamaica-based carrier, Fly Jamaica, aims to launch service in the coming weeks to Guyana and inaugurate long-haul flights to North America in a bid to create new competition for Caribbean Airlines. As Fly Jamaica seeks to reclaim some of Air Jamaica's former glory, the carrier faces an uphill climb in launching a successful operation in the unpredictable Caribbean aviation market.
Kingston-based Fly Jamaica has reportedly received its AOC from Jamaican authorities on 31-Aug-2012 after completing proving fights with a two class (12 first, 186 economy) Boeing 757-200 jet. The carrier on its website states it will operate flights from Kington to Guyana, New York and Toronto, routes already well served by both Caribbean and US and Canadian carriers.
The links to Guyana trace to Fly Jamaica's CEO Ronald Reece, who is the owner of Guyana-based Wings Aviation. Wings in turn is the parent company of charter carrier and tour company Air Guyana. Other shareholders in Fly Jamaica reportedly include Jamaican natives Lloyd Tai, who serves as COO, and manager of in-flight service Christine Steele.
Fly Jamaica's management believes an opportunity exists in the long-haul market after the absorption of Air Jamaica by Trinidad-based Caribbean Airlines. Caribbean Airlines has had its share of challenges recently from back-payments owed to Jamaican authorities to possibly being forced to drop the Air Jamaica brand.
Air Jamaica for years suffered from losses both while it was privately owned and after the government assumed full ownership of the carrier in 2004. After the government sought to sell Air Jamaica in 2007, it took three years for the deal to materialise with Caribbean (which is owned by the government of Trinidad and Tobago). It is hard to imagine conditions have changed dramatically enough during the last year to support an independent Jamaican carrier operating into markets where fierce competition already exists.
Operating in well-established markets
If Fly Jamaica does begin flights in the coming weeks it will compete with Caribbean and JetBlue on flights from Kingston to New York. Current schedules in Innovata show that combined Caribbean and JetBlue offer almost 5,000 weekly one-ways seats from Kingston Norman Manley Airport to JFK. Caribbean accounts for a 67% share of capacity on the route while JetBlue accounts for the remainder of the seats.
Kingston to New York JFK capacity by carrier (seats per week, one way): 19-Sep-2011 to 24-Feb-2013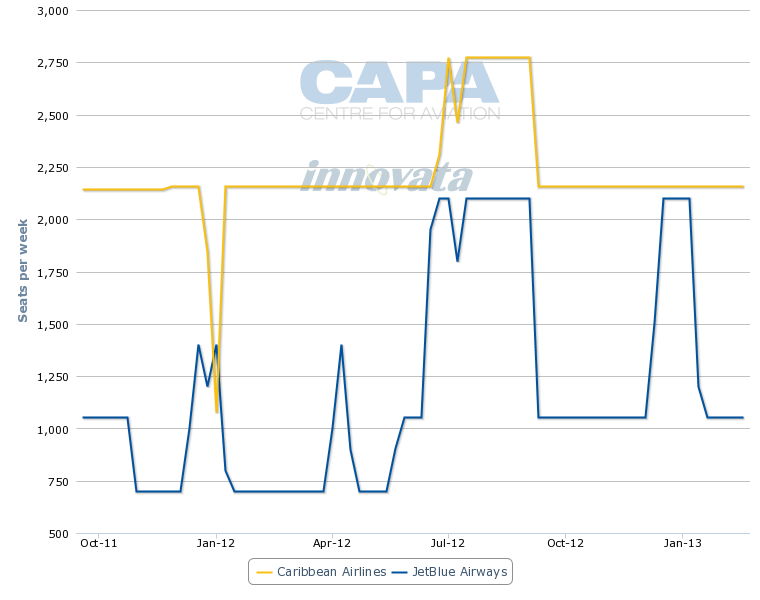 Fly Jamaica also faces strong competition on the Kingston-Toronto route as Caribbean and Canadian carriers Air Canada and WestJet all operate on the pairing. Schedules in Innovata show the three carriers operate roughly 1,900 one-way seats in the market with Caribbean holding a 48% share, followed by Air Canada at 31% and WestJet with 21%.
Kingston to Toronto Pearson capacity by carrier (seats per week, one way): 19-Sep-2011 to 24-Feb-2013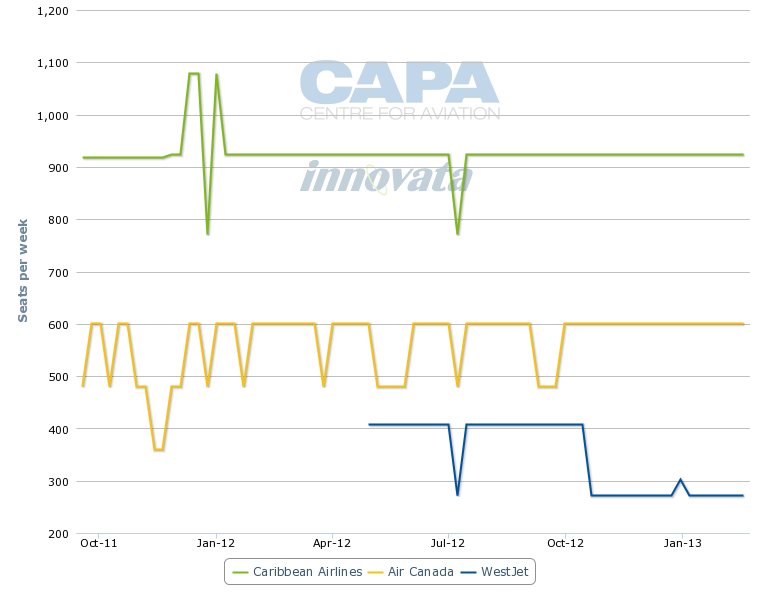 While Fly Jamaica could see some traction in demand from Jamaican nationals travelling to North America, both Air Canada and WestJet compete vigorously in the Canada-Jamaica market and also offer packages through their respective vacation divisions. In addition, while schedules show that Air Canada is ending the Kingston-Toronto pairing on 09-Sep-2012, the carrier aims to launch a new low-cost carrier in 2013 to better compete in sun destination markets, so Fly Jamaica would feasibly compete with two carriers with a lower cost base and newer aircraft.
Demand among native Jamaicans is likely somewhat finite given Jamaica's tepid GDP growth projections of 1% for both 2012 and 2013. Another airline competing directly against Caribbean could spark a price war between the two carriers that neither airline can afford.
With strong carriers serving Kingston from both New York and Toronto capturing North American origin traffic, it would not appear that there is enough origin traffic in Jamaica to support two local carriers operating on those routes. While visiting, friends and relatives (VFR) traffic exists between North America and Jamaica, during Air Jamaica's wind down and Caribbean's spool up some of that traffic could have shifted to other North American carriers serving Jamaica.
Fly Jamaica's 186-seat Boeing 757 will be a larger-gauge aircraft than the two class 154-seat Boeing 737-800s operated by Caribbean Airlines on its routes to North America. The upstart's aircraft is also larger than the 136-seat single class 737-700s flown by WestJet and Air Canada's two class 120-seat Airbus A319s it operates from Toronto to Kingston. JetBlue opearates 150 seat A320s on its flights between JFK and Kingston with 42 seats featuring four inches of extra legroom and 108 seats with a regular 34-inch pitch.
In the beginning of its operations the seats being introduced by Fly Jamaica in its prospective markets shouldn't trigger a major disruption in capacity, but if the carrier hangs on to expand and sticks with 757s, it will operate aircraft with roughly 20% more seats than its competitor Caribbean. Data from the US Department of Transportation from 2011 show that Caribbean's cumulative load factor on its flights to the US that originated from Kingston was 75%. Caribbean also operates flights from Kingston to the Florida cities of Fort Lauderdale and Orlando.
JetBlue's load factors on its flights originating from Kingston to JFK and Fort Lauderdale were 87%, more than 10ppts higher than Caribbean's loads, which could reflect higher demand on North American carriers operating to and from Jamaica. Those demand patterns create challenges for a Jamaican upstart entering the market.
Incumbent Caribbean faces mounting challenges
Fly Jamaica could have a slight advantage in getting off the ground as potential rival Caribbean, during the last few months, has faced multiple challenges, particularly in its Jamaican operations. Rjnewsonline.com has reported the carrier owes Jamaica's civil aviation authority USD500 million in outstanding fees incurred since it assumed control of Air Jamaica in May-2011, and plans to hold negotiations with the government over payment. The deficit has surfaced after Caribbean reportedly lost USD52.8 million in 2011.
Reports have also surfaced that Caribbean could be required to relinquish the Air Jamaica brand, which it retained for Jamaican operations after the acqusition. Trinidad's civil aviation authority has reportedly stated the carrier needs to drop the Air Jamaica brand since its air operating certificate does not allow the carrier to operate two different brands.
It does appear Caribbean has finally received one of two Boeing 767-300ERs it leased from South American airline group LAN for its long-haul flights to London Gatwick after facing certification delays. The carrier was forced to temporarily wet lease another 767 from Omni International to inaugurate its London flights.
See related article: Caribbean's new London flights continue to suffer setbacks
Given Caribbean's challenges and its losses that have mounted since its acquisition of Air Jamaica (which according to reports represented USD38 million of Caribbean's 2011 losses), it seems ill-advised for an upstart to take a gamble on attempting to establish itself during continued worldwide economic uncertainty and the particularly challenging operating environment in the Caribbean. Low-cost carrier REDjet lasted less than a year in the region as protectionist governments hindered the carrier's efforts to establish a pan-Caribbean airline.
See related article: REDjet's woes show unwillingness of Caribbean countries to liberalise
Even as REDjet operated with a different business model, its short-lived stint in the region reflects the realities of operating in the Caribbean. Fly Jamaica is embarking on a road well travelled with its planned service to North America. Unfortunately, that road is not well worn with carriers that have proven to be successful over the long term.