More rapid growth for Brazil's domestic aviation market
Analysis
Low-cost carrier Azul, which has already carried 10 million passengers since its late 2008 launch, has been expanding at the fastest rate. In 1H2011, Azul's RPKs surged 80.7% to 3.855 billion. Azul, which currently operates domestically with a fleet of 37 aircraft serving 38 destinations, also had an impressive 80.7% load factor in 1H2011.
Azul now has a 7.9% share of Brazil's domestic market, up from 5.2% one year ago. That makes it Brazil's third largest carrier after TAM and Gol.
TAM able to grow market share despite rapid growth of LCC Azul
TAM was also able to grow its market share in 1H2011 – an impressive accomplishment given the high rate of overall growth and the fact it is a full-service carrier. The TAM group, which also includes regional unit Pantanal, captured 42.7% of the Brazilian domestic market in 1H2011, up from 42.4% in 1H2011. Domestic RPKs at TAM grew 22.2% in 1H2011.
While Azul's rate of growth was much faster, in terms of actual number of passengers added TAM has been expanding even faster. Total domestic RPKs in 1H2011 grew by 7 billion, of which TAM accounted for 3 billion while Gol and Azul each accounted for just under 1.5 billion.
Webjet acquisition will allow Gol to gain back lost market
Gol saw its market share drop to 40.8% from 37.5% in 1H2010 as its domestic RPKs grew by only 11.4%. But Latin America's largest low-cost carrier is poised to gain back most of the market share it has lost in recent years in 2012, when it expects to complete its recently announced acquisition of Webjet.
Webjet is currently Brazil's fourth largest carrier and third largest low-cost carrier with a 5.4% share of the domestic market. After growing at a 64.1% clip last year, Webjet has significantly slowed down its expansion and only grew RPKs by 6.6% in 1H2011.
Avianca Brazil, on the other hand, has slightly accelerated its pace of expansion. Its domestic RPKs grew 32.6% in 1H2011, compared to a 27.1% rate for all of 2010. But the growth wasn't fast enough to maintain its previous position as Brazil's fifth largest carrier. Faster-growing regional carrier TRIP overtook Avianca Brazil in 1H2011 to become Brazil's fifth largest carrier.
TRIP, which grew its RPKs by 63.8% in 1H2011, now has a 2.8% share of the market, edging out Avianca's 2.7% share. TRIP has an extensive codeshare partnership with market leader TAM, which also announced in Mar-2011 its intention to acquire a 31% stake in the regional carrier.
Brazil domestic market share (RPKs) by carrier: 1H2011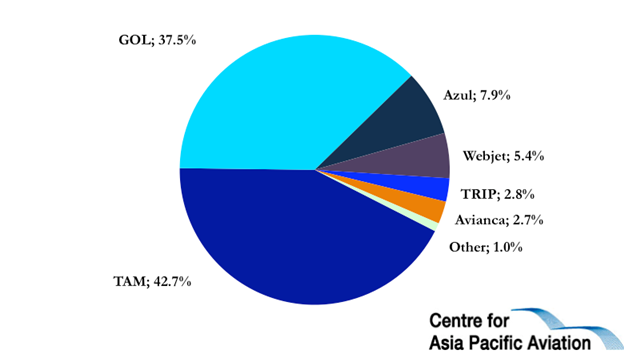 Brazil domestic market share (RPKs) by carrier: 1H2010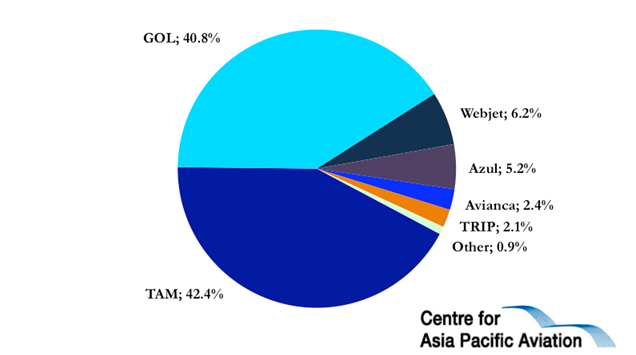 The rest of Brazil's domestic market consists of 10 small regional carriers which combined only account for 1% of the total market. In the group the only carrier of decent size is Passaredo, which recorded 74.8% RPK growth in 1H2011 and now has a 0.8% share of the market.
Brazil is the world's fourth largest domestic market after the US, China and India. It has been growing at a rapid clip (exceeding 20%) since mid 2009.
Brazil domestic passenger traffic (RPK) growth: Jan-2009 to Jun-2011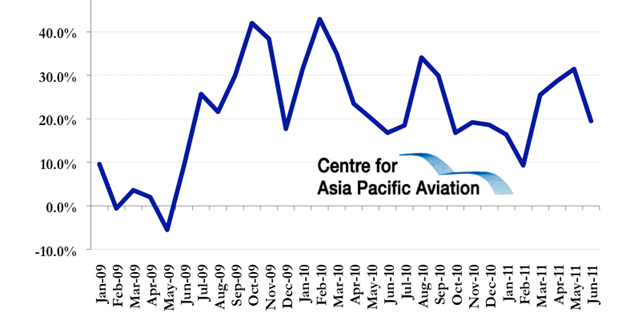 The market is expected to support continued rapid growth as Brazil's economy continues to grow rapidly and as the country's middle class expands. Last year a key milestone was reached as for the first time more Brazilians flew than took intra-state buses.
LCCs are expected to stimulate further growth as the portion of the population that can afford to fly increases and as the propensity to travel among Brazilians who are already flying increases. LCCs are also starting to expand into smaller markets, in particular Azul with its new fleet of ATR 72s, opening up low fare travel to an even larger segment of the population.
The LCC penetration rate in Brazil is already 47% (includes domestic and international market). It will likely be close to 60% in three years, as Azul continues to expand at rates far exceeding the market average.
Brazil capacity (seats per week, to/from/within) by type of carrier, 18-Jul-2011 to 24-Jul-2011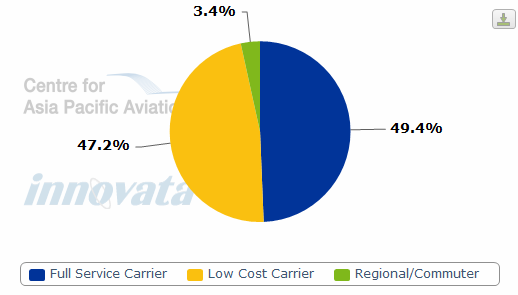 Azul plans to have a fleet of 140 aircraft by the end of 2014. Based on current fleet plans, Azul will have a larger domestic fleet than TAM and the Gol/Webjet combination by the end of 2014. However TAM and Gol will have larger shares of the market as they operate larger capacity aircraft (TAM operates A320s domestically, Gol B737NGs and Azul E-190/195s along with ATR 72s).
Load factors on the rise
So far the appetite for more capacity within Brazil seems almost limitless. The 21.4% growth in RPKs in 1H2011 came with only a 14.6% increase in ASKs. As a result, the Brazilian industry had a relatively healthy load factor of 71.1% in 1H2011, compared to 67.1% in 1H2010. Traditionally the load factor in Brazil has been well below the global average.
TAM and Gol both recorded load factors slightly below the industry average but saw their load factors improve compared with last year. TAM ending 1H2011 with a 69.8% domestic load factor, compared to 65.3% in 1H2010. GOl had a 70.3% domestic load factor in 1H2011, compared to a 66% load factor in 1H2010.
TAM mantains domination of Brazil's international market
In the much smaller international market, TAM recorded an 18.6% increase in RPKs and saw its load factor improve from 77.1% to 80.8%. TAM captured an 87.8% share of the international market (among Brazilian carriers only) in 1H2011, compared to an 88.1% share in 1H2010.
Avianca Brazil, which launched late last year its first international route (Sao Paulo-Bogota), now has a 1.3% share of the international market. The Gol group, which includes the Varig subsidiary, saw its share of the international market drop from 11.9% in 1H2010 to 11.1% in 1H2011. Gol's share of Brazil's international market is expected to drop more in 2H2011 as the carrier recently dropped scheduled service to Bogota and grounded its remaining B767s, which were being used to operate international charter flights. Charter flights are included in the ANAC traffic figures.
Although it continues to serve five South American countries and a few low-frequency destinations in the Caribbean, Gol has decided to focus more on the domestic market to exploit growth opportunities locally. Azul also has stated it has no intention of expanding into the international market as the opportunities domestically are so plentiful.
As Brazil's only long-haul carrier TAM plans to continue modest international expansion while striving to retain its leadership position domestically. But TAM will rely mainly on alliance partners to extend its network.
TAM eyes bigger presence in Asia
For example, TAM seeks to increase its presence in the Brazil-Asia market, which is growing rapidly – particularly Brazil-China as the two powerhouses have been increasing ties and trade. To tap into the growth opportunities in Asia, TAM last year opened sales offices in Hong Kong, Beijing and Tokyo.
TAM VP commercial and alliances Paulo Castello Branco told CAPA earlier this month that while "someday" the carrier will add Asia to its online network, for now it has no intentions of operating its own aircraft to Asia. He said the current focus for TAM instead is to increase cooperation with Asian members of the Star Alliance.
TAM already codeshares with Star carriers Air China and All Nippon Airways via their common European gateways. Mr Branco said a codeshare with Singapore Airlines, which earlier this year launched services to Sao Paulo via Barcelona, is in the process of being implemented.