London's Heathrow competitive disadvantages are beginning to hurt
In the fourth in our series on the world's busiest airport, we review an airport that has been more consistently in the news than any other; London Heathrow. For decades the world's premier international connecting point, virtually every flag carrier on earth has wanted to serve it. For many years access to Heathrow proved the major stumbling block for agreements between the US and the EU. And, despite its pre-eminent position, the airport's physical constraints have made it increasingly congested with any attempt at expansion beyond its present footprint endlessly debated and eventually denied.
Full and increasingly expensive
Unlike most other major cities, where the government and regulators understand the value of air transport, aviation providers in the UK seem to be in constant conflict with plans by the government to further restrict—or tax—the aviation infrastructure.
As a result, Heathrow is showing declines in areas where most major airports are registering positive growth. In addition, its primary tenant, British Airways, has been subject to labour actions that have made many seek other routings in order to avoid unwelcome surprises.
BA has a different dominance than is seen at US hubs
As we see in the chart on the Heathrow profile page on the CAPA site, while British Airways holds a commanding position among the major players, the very large "other" category reduces its total impact to less than 50%, far less concentration than is seen at most US hubs.
London Heathrow Airport capacity (seats per week, to/from) by carrier (28-Mar-2011 to 03-Apr-2011)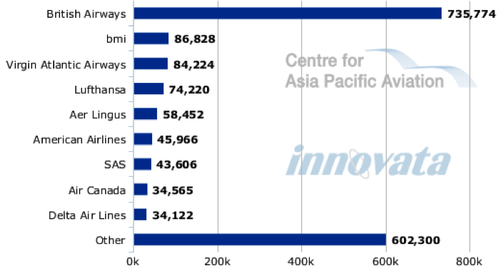 The dominance of British Airways, coupled with a sizable presence by American Airlines, skews the alliance balance heavily in favour of oneworld. As we reported in a previous analysis, the new antitrust immunity granted to oneworld has given it predominance between most US Eastern seaboard cities and London; a premier position in a globally important market.
London Heathrow Airport capacity share by alliance (28-Mar-2011 to 03-Apr-2011)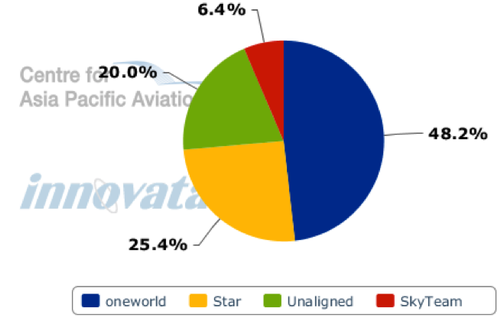 With around 40% of the total transatlantic market, it is no surprise that the number of seats in that market ranks second in the airport's total offer. For decades the primary bridge between North America and Europe, the airport still has a reach across Europe that remains the envy of many other European hubs.
New entrant, new threats
However, the fact that the Middle East ranks third in seat offer is powerful testament to the inroads made by the Gulf carriers as they relentlessly push for a greater number of passengers to connect in Dubai, Abu Dhabi or Qatar. Even smaller players like Oman Air, which lacks much in the way of a European network, flies daily between Heathrow and Muscat.
So while the airport continues to be high on every airline's network planning list, many of those carriers wish to use LHR as a building block in their broader networks. BA flies twice daily nonstops to Mumbai but Emirates offers six daily flights from Heathrow as well as another three from Gatwick, most with onward connections to not only Mumbai but also to numerous other cities in India and the rest of Asia.
London Heathrow Airport international capacity by region (28-Mar-2011 to 03-Apr-2011)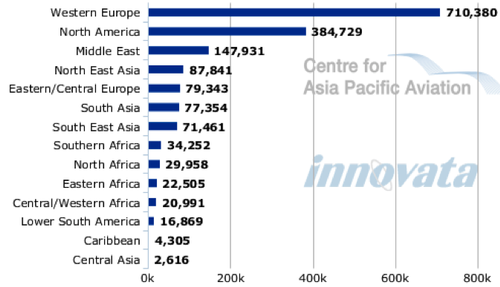 One clear benefit to the legacy airlines that stems from the airport's saturation is the complete absence of low cost competition. The UK has no shortage of LCC seats, but they are not located at Heathrow.
London Heathrow Airport capacity share by carrier type (28-Mar-2011 to 03-Apr-2011)
Whatever other weaknesses may exist at the airport, it remains a clear bastion for full service airlines, a condition very unlikely to change.
Globally International
And, sporting percentages unknown at US airports, Heathrow is truly an international airport, serving far more as a connecting point for the world than it is for UK residents.
London Heathrow Airport international vs domestic capacity share (28-Mar-2011 to 03-Apr-2011)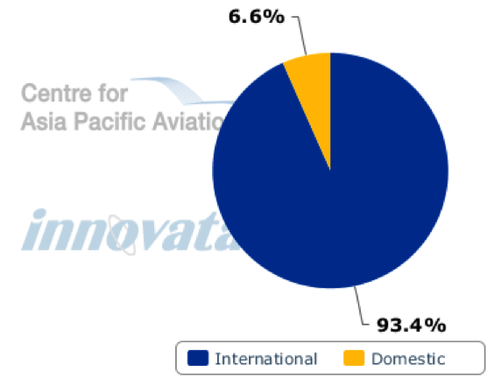 Furthermore, absent changes to the Air Passenger Duty, there may be even fewer UK domestic flights in the future.
With only two runways, movements per hour max out in the mid 80s with little chance of additional capacity. Effectively, Heathrow's runways are full.
Flexible fares
Fares to New York show wide fluctuation over time but average between USD1500-1600 for an economy ticket to JFK, with fares to Newark roughly USD150-200 less. The cost per mile is USD0.20-0.24 but deals abound in the market and the actual cost for a careful shopper can be much less.
But, due to the APD, the "taxes and fees" addendum can add substantially to the trip cost and make other European gateways more desirable.
Click here for more schedule, fares and traffic data, news and analysis on London Heathrow Airport
Slow, steady drop?
Heathrow will always be a major international hub. But its competitive disadvantages, coupled with a government determined to fill its coffers at aviation's expense, are beginning to hurt. If the present decisions and policies stand, we can expect LHR to continue to decline in position amongst its peers, having dropped below Beijing and Chicago O'Hare in the latest world rankings for 2010.