LCC stocks slip again: Allegiant slumps, Virgin Blue, AirAsia, easyJet and Southwest lower
LCC stocks were mixed yesterday (17-Jun-09), with Vueling's 3.9% share price reduction contrasting with Virgin Blue's 6.2% increase.
Selected LCCs daily share price movements (% change): 17-Jun-09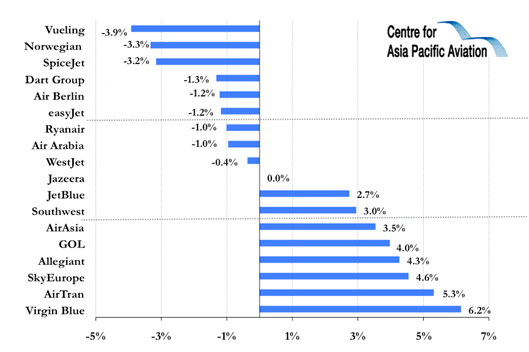 Also in the Asia Pacific region, AirAsia's shares gained 3.5%. The carrier's low-cost long-haul subsidiary, AirAsia X, has featured in the news heavily this week, with the carrier reportedly planning to install flat bed Business class seating on its high seating density A330 fleet, replacing some of its current Premium Economy seats. The number of Premium Economy seats will reduce from 24 to 12. Overall capacity will remain at 383 seats.
AirAsia X also announced plans to lease further A340 aircraft from 2010 to 2016, to further expand into Europe (with two to four new destinations), North America (with two destinations) and potentially New Zealand and Africa. The carrier, which has 25 A330 aircraft on order for delivery between 2008-2015, placed an order for a further 10 A350 aircraft on 17-Jun-09, to replace A340 aircraft and lower costs. AirAsia X added it would be able to fund its latest aircraft orders, with only down payments to be paid at present.
The carrier's ability to gain additional aircraft is a positive step for the airline, whose CEO, Azran Osman-Rani, previously stated that the carrier's outlook this year "hinges very much on getting the planes and starting the destinations. If we don't get it, we might only double our revenue, but we would like to quadruple it to one billion."
AirAsia's shares are currently trading at around the MYR1.15 range.
AirAsia share price growth: Jan-09 to Jun-09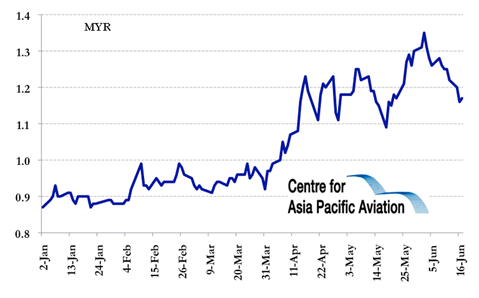 In Europe, Ryanair's shares slipped back to negative territory, down 1.0%, with easyJet and Air Berlin also weaker, both down 1.2%. This reflected overall weakness in the European stock market, with shares in London, Frankfurt and Paris all down by over 1.1%.
NB: All these carriers all feature prominently in The Centre's forthcoming LCC Outlook 2009 report.
Among the US LCCs, AirTran, Allegiant and Southwest reported gains, of 5.3%, 4.3% and 3.0%, respectively.
For daily updates on American aviation stock prices and a complete wrap of the day's breaking news, sign up now for a complimentary subscription to America Airline Daily.