LATAM Airlines Group records losses as balance sheet clean-up and fleet renewal continues
Analysis
Latin American powerhouse LATAM Airlines Group recorded losses for 4Q2013 and FY2013 driven in part by continuing currency fluctuations in Brazil and other markets in Latin America.

Brazil's currency devaluation has dogged LATAM for much the past year even as the company has taken steps to minimise its balance sheet exposure to the weak BRL, and by YE2013 it had reduced its risk by half compared to the year prior.

LATAM's ongoing efforts to minimise risks posed by varying exchange rates and a fleet overhaul are creating some flux for the carrier throughout 2014; but the company assures it is meeting its overall synergy goals estimated by the merger of LAN and TAM, and remains committed to balance sheet improvement.
Lower operating costs lift LATAM's operating income in 4Q2013 and FY2013
LATAM's losses for 4Q2013 and FY2013 were USD46 million and USD281 million, respectively. Revenues year-on-year in the quarter fell 2% and remained essentially flat for FY2013 at USD13.3 billion.
LATAM Airlines Group select financial results: 4Q2013 vs 4Q2012 and FY2013 vs FY2012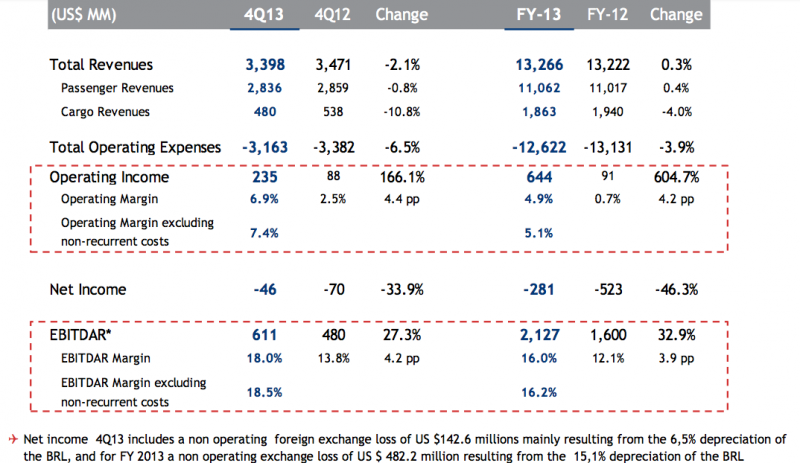 A nearly 7% drop in expenses in 4Q2013 and a roughly 4% decline for FY2013 helped lift LATAM's operating income 166% for the quarter and 604% for FY2013 to USD235 million and USD644 million respectively. The lower operating costs during 4Q2013 were driven in part by a 5% fall in salaries and benefits due to a decline in employee levels of 1% and wages denominated in the BRL.
LATAM faces currency weakness in its other operating regions
Yields in LATAM's passenger operations fell by 1.9% during 4Q2013 as unit revenues in its Spanish speaking countries fell 5%. LATAM executives recently explained that in addition to a currency devaluation in Brazil, during 4Q2013 currencies in Chile and Peru fell 8% against the USD, Argentina recorded a 25% decline and the Colombian peso fell 6%.
LATAM Airlines Group operating results by region: 4Q2013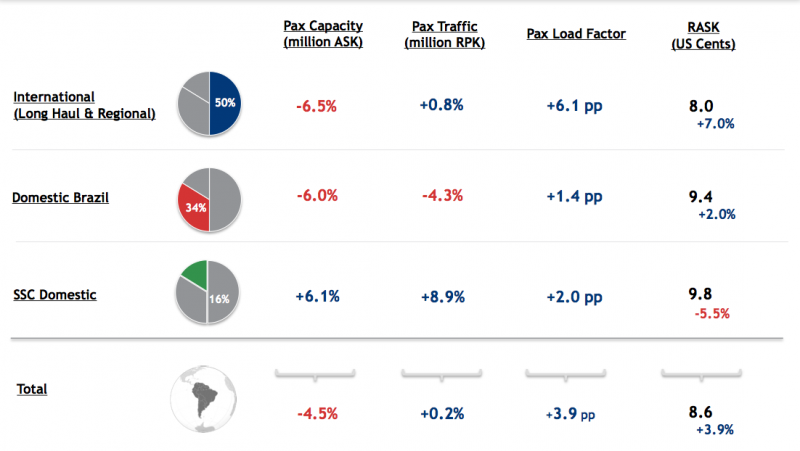 Despite the currency pressure in some of its larger Latin American markets outside Brazil, LATAM is taking a positive view on demand in those countries, and plans 6% to 8% capacity growth year-on-year in CY2014. The bulk of the growth will be centred in Chile, Peru and Colombia. LATAM executives noted the company has no significant growth plans for Ecuador or Argentina this year.
Its rival Avianca has also curtailed growth in Ecuador during 2014 after a fuel subsidy was eliminated and a new airport opened further away from Quito's (the country's capital) city centre. Avianca concluded that those two factors were dampening demand in Ecuador.

LATAM's breather in Ecuador comes after LATAM recorded ASK growth in the country of 35% year-on-year in 3Q2013; but obviously if demand is weaker in the country all carriers need to keep their capacity in check.
LATAM's favourable results in Brazil continue after a major cut in supply
During Nov-2013, LATAM claimed it had achieved a turnaround in its Brazilian operations after taking measures to mitigate weaker demand in the country. Its strategy entailed capacity cuts and improved revenue management in the corporate sector and a price-stimulating element in the leisure segment to improve load factors.

LATAM's capacity in domestic Brazil fell 8% in 2013 while its load factors reached 80%. And during 4Q2013, the carrier's unit revenues in the Brazil domestic market grew 2%. LATAM expects flat capacity growth within Brazil during CY2013.
LATAM's load factor and ASK growth in Brazil versus the industry: 2009 to 2013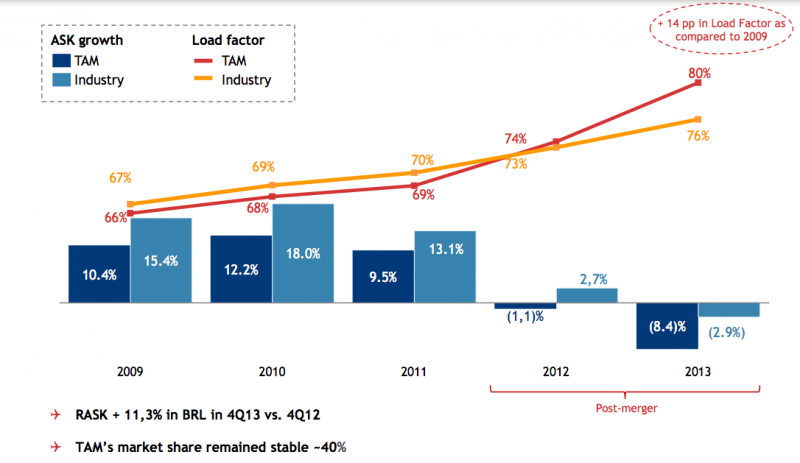 The company is also moving forward with consolidating long-haul operations in Brazil from Sao Paulo Guarulhos, cutting some service from Rio de Janeiro to Europe and the US. Some of the cuts to Europe included service to Frankfurt and Paris. Overall, LATAM estimated an 11% reduction in long-haul ASKs from Rio year-on-year during 4Q2013.

See related reports:
LATAM work to consolidate its fleet by shedding older, less-efficient aircraft
LATAM's consolidation of long-haul flights in Sao Paulo includes grounding 10 of TAM's older Airbus A330s and replacing the widebody jets with 767s that LATAM management concludes feature a better onboard product.

The phasing out of older A330s is part of a significant fleet overhaul LATAM undertook beginning in 2H2013 to reduce the different types of aircraft in the combined fleets of LAN and TAM and to phase less efficient models. LATAM is opting to accelerate the exit of some aircraft types, including Boeing 737s and Bombardier Q400s previously flown in its Colombian operations. It has grounded both those types, and expects to re-deliver some of the aircraft during 1H2013. The moves will result in LATAM operating a narrowbody fleet of Airbus A320 aircraft family aircraft by 2018.
LATAM Airlines Group fleet consolidation strategy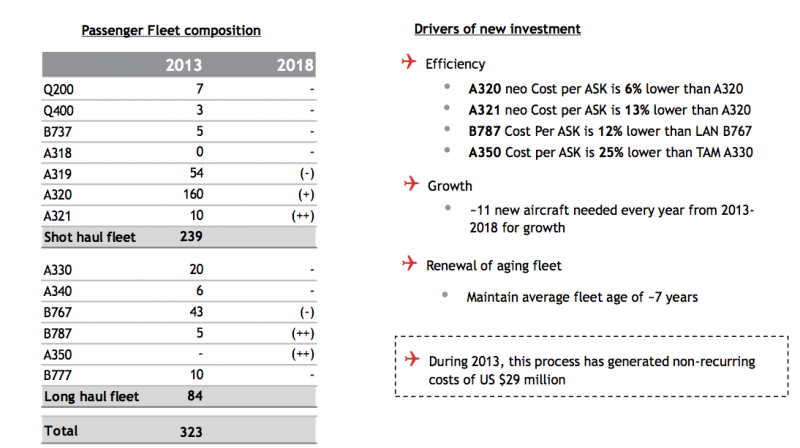 Its widebody fleet will eventually centre on 767s, 787s and Airbus A350s once that aircraft is delivered beginning in 2016. Presently nine of the older A330-300s are grounded and LATAM expects to re-deliver seven of those aircraft during 1H2014, with all 20 of the older A330s exiting the fleet during the next 24 to 30 months. The company is also phasing out roughly a handful of A340s operated by LAN and TAM.

The fleet renewal is a key cost initiative as the still-new LATAM Airlines Group works to rationalise its combined operations, and it has a stated goal of maintaining an average fleet age of seven years. But in the short term the fleet revamp is generating some cost pressure. LATAM estimated the fleet movements generated USD29 million of non-recurring costs in FY2013, and executives expect fleet renewal expenses in CY2014 to exceed CY2013's levels.
LATAM Airlines Group projected fleet levels and financial commitments: 2013 to 2015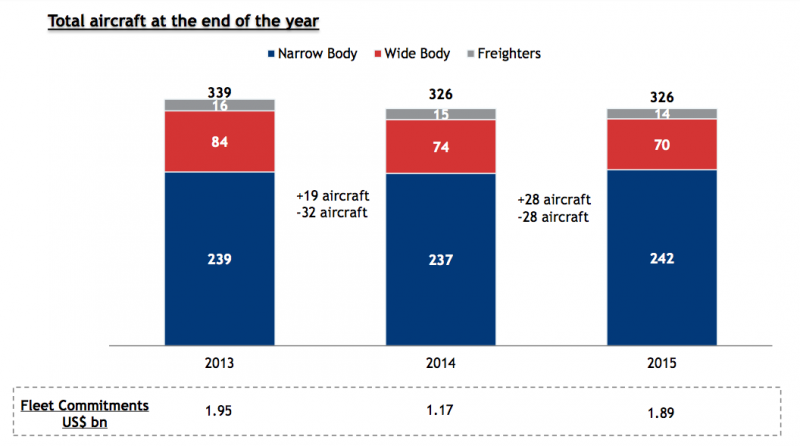 LATAM works to shore-up its balance sheet to deflect foreign exchange rate pressure
One of the more unenviable byproducts of the LATAM merger was LAN losing its investment-grade status driven by the incorporation of TAM. One of the more immediate steps the company needed to take was reducing its exposure to the falling BRL.

LATAM during the last year has worked to move TAM's debt and aircraft obligations to the LATAM balance sheet, which is denominated in the USD. As of YE2013 its balance sheet exposure largely related to the BRL had fallen from USD4 billion to USD2 billion year-on-year, and it expects a further reduction to a half billion by YE2014. Previously, the company has said its exposure would be wiped out by Jun-2014, so it seems the timing of eliminating balance sheet risk related to Brazil's currency weakness has changed.

The company is also working to improve its debt ratios, improving adjusted net debt to EBITAR from 7.2X to 4.9X from YE2012 to YE2013. Part of the improvement was driven by LATAM raising USD940 million from the issuance of 62 million shares and the placement of a USD450 million securitised bond.
LATAM Airlines Group financial ratios: Dec-2012 vs Dec-2013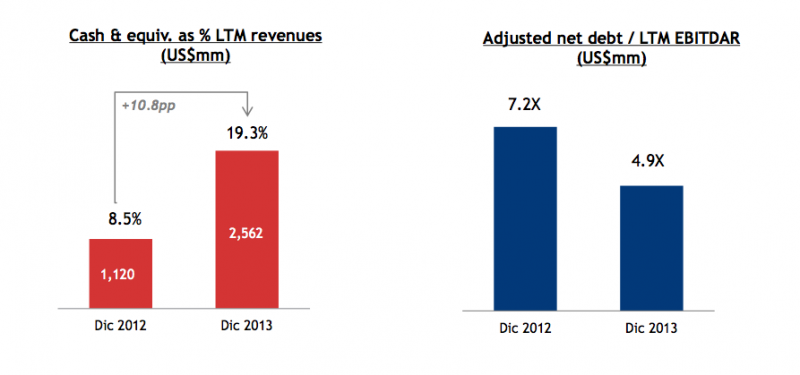 LATAM and its rivals work to ensure their competitive viability
LATAM Airlines Group entered into 2014 with largely the same challenges it has faced during the last year – a weak Brazilian currency in a country that represented 34% of its revenues in 4Q2013 and a balance sheet overhaul necessary after the incorporation of TAM to form the largest airline group in Latin America.

Even as the immediate challenges continue, LATAM assures it will hit its annual run rate synergy target of USD600 to USD700 million in 2016 after achieving USD300 million in FY2013.

The company appears to be making the necessary adjustments to weather some of the headwinds it faces in 2014, but its rivals – most notably Avianca – are also taking similar steps to ensure they remain formidable competitors. The result will be robust competition in the still-burgeoning and high yielding Latin American market.

See related report: Avianca's strength in growth markets lifts its 2013 financial performance