JetBlue's 2Q2014 financials leave investors seeking higher returns as its metamorphosis continues
Analysis
JetBlue Airways recorded solid 2Q2014 financial results as it celebrated the debut of its new premium transcontinental product offering, Mint. The product remains in its infancy, but JetBlue is encouraged by the early responses to Mint, particularly among customers who have not previously travelled on the airline.

The company believes 2014 is shaping up to be one of its most profitable years, which in some ways is a testament to JetBlue's attempts to carve out a niche that offers some frills free of charge while crafting an ancillary strategy based on the premise of creating products that customers value.

But underlying JetBlue's favourable performance during the second quarter is an attempt by investors to understand the airline's specific positioning in the market place and growing curiosity over how the company determines its return on invested capital targets. JetBlue may continue to face more scrutiny as some of its peers achieve ROIC levels that are measurably higher than the respectable 7% JetBlue is targeting for 2014.
JetBlue charts strong revenue growth during 2Q2014
JetBlue's top-line revenues increased nearly 12% year-on-year during 2Q2014 to USD1.5 billion. The company's expenses grew approximately 10% to USD1.4 billion. JetBlue recorded USD141 million in operating income during the quarter compared with USD102 million the year prior.

On a GAAP basis, JetBlue recorded net income of USD230 million during 2Q2014 compared with USD36 million in 2Q2013. The airline's pre-tax income excluding specials was USD103 million compared with USD60 million in the year-ago period.
JetBlue financial results: 2Q2014 vs 2Q2013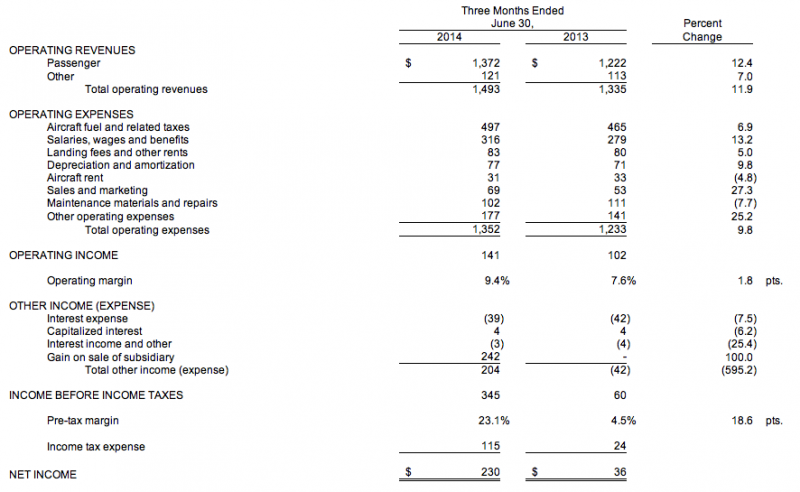 JetBlue also posts solid unit revenue and yield gains, bolstered by Florida
On a unit basis, JetBlue grew passenger unit revenues by 6% during 2Q2014, the same level of increase recorded by US major network airlines American and Delta. JetBlue's yields jumped 6.3%.
JetBlue unit revenue, unit cost and yield performance: 2Q2014 vs 2Q2013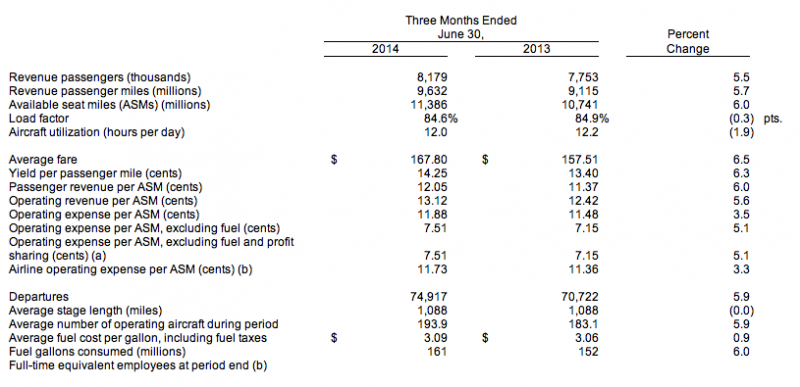 See related reports:
JetBlue announced that on a 12 month trailing basis, profit margins expanded year-on-year in all of its focus cities, with New York reaching its highest margins in several years. JetBlue's largest base and headquarters is New York JFK.
JetBlue global top 10 hubs/bases/stations by seats: 28-Jul-2014 to 3-Aug-2014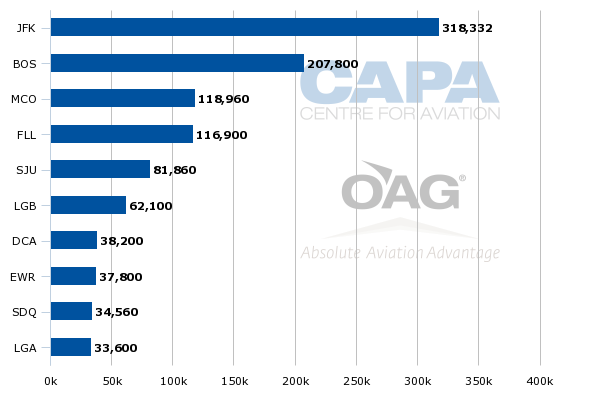 The airline has made a pronounced push from Fort Lauderdale International Airport as it works to reach 100 daily departures from the facility. Previously, JetBlue has stressed that new markets from Fort Lauderdale have a relatively shorter timeframe in reaching maturity. The airline plans 15% capacity growth from Fort Lauderdale during FY2014. JetBlue stated that Florida was its best performing region during 2Q2014, leading the airline's system-wide increase in passenger unit revenue growth.

See related report: JetBlue Airways builds its network strength as cost headwinds strengthen
JetBlue does see some decrease in cost pressure during 2H2014
JetBlue has faced various challenges in unit cost growth during the last couple of years ranging from spiking maintenance expense to increases in wages and benefits. During 2Q2014 its unit cost excluding fuel and profit share increased 5%.

The airline expects some cost moderation in 3Q2014 as unit cost growth is projected at 1% to 3%. JetBlue's FY2014 unit cost projections are for an increase of 2.5% to 4.5%, which is a point lower than the previous forecast driven by the sale of its LiveTV subsidiary to Thales.

During 3Q2014 JetBlue expects capacity growth of 3% and 5% and FY2014 growth in the range of 4% to 6%. JetBlue is continuing its push into the Caribbean and Latin America, with 20% growth year-on-year in those regions in both 3Q2014 and for the full year.
JetBlue aims to find the optimal price point for Mint
JetBlue debuted its new Mint product in Jun-2014 on flights from JFK to Los Angeles, and plans to add Mint on service from JFK to San Francisco in Oct-2014. The airline is equipping 11 Airbus A321 narrowbodies with 16 flatbed seats, four of which are closed-off private suites.

Mint's creation was driven by JetBlue's conclusion that it was losing significant revenue in the New York transcon markets, given those routes in some cases generate 50% higher revenues that other US domestic markets.

See related report: JetBlue Airways faces tough challenges even as its Mint offering drives fresh innovation
The new Mint product is still in its very early days. But unsurprisingly, JetBlue is pleased with early results, noting bookings are strong, with a significant number of those bookings originating from passengers that have never flown the airline.

Mint's initial price points were as low as USD599 one-way, with a typical cheapest price of USD799. Depending on demand for the high quality product and the competition, the Mint fares will probably rise over time and have already drifted up. But the end game for JetBlue is to close the unit revenue gap it was experiencing versus the network airlines that are improving their premium products in transcontinental markets – and at a price point below what those airlines charge.
JetBlue CEO Dave Barger observed that "premium players in this market are often in excess of [USD]2000 for a one-way ticket". So JetBlue's prices need to remain solidly below that benchmark. That still gives a handsome margin of wriggle room.
JetBlue fields some scrutiny over its less ambitious ROIC targets
JetBlue is targeting a ROIC of 7% for FY2014, which is below estimates of mid-teens by some other post-consolidation US airlines. After missing its goal of increasing its target by a point in FY2013 (when its ROIC was 5.3%), JetBlue appears to be getting some pressure to consider expanding its return targets.

Essentially JetBlue believes at 14-years old it is still a young company relative to its US airline peers, and as such, it is still in an investment phase to position itself to grow its ROIC over the medium to long term.
There are some ROIC-driven initiatives still in the early phases including optimising the cost benefits of higher-density Airbus A321s. The CAPA Fleet Database shows that JetBlue has eight of the aircraft in operation and 45 on order. The airline is also installing sharklets on existing A320s which should improve the fuel efficiency of that fleet.
JetBlue Airways Fleet Summary as of 29-Jul-2014

It is not clear if JetBlue's message is getting through to investors or not. Part of the challenge of JetBlue's target passenger base is the traveller looking for value beyond the bare-bones offerings of ultra low-cost airlines but at price points lower than the network airlines.
It is a tough passenger segment to quantify, and arguably network airlines are targeting some of those passengers as well, leaving some confusion about JetBlue's overall position in the market.
JetBlue's innovations need time to pay off – but investors want more solid returns
Mint is the latest evolution of JetBlue's hybridisation after the development of its extra legroom and expedited security offerings. During 2015 JetBlue aims to introduce fare families, which is creating speculation that the airline may introduce checked bags in those fare groupings.

JetBlue's favourable revenue performance is being overshadowed by its cost headwinds and return targets that are far below those of its US network peers. Alaska Air Group, for example, generated a 16% ROIC for the trailing 12 months ending in Jun-2014. But arguably Alaska is a much older airline than JetBlue, and has had more time to craft certain financial targets. As JetBlue works to explain its ROIC positioning, the airline is also undertaking significant product changes that will take some time to bear fruit, which may be leaving investors frustrated.

In many ways even as JetBlue is driving a certain level of innovation with products such as Mint, the uncertain timeframe for the payback of those investments in the form of increased ROIC is leaving the airline in a bit of a paradox – maintaining its status as an innovator while creating uncertainty for investors over when financial gains from its innovations will materialise.
These issues are not unexpected as the airline ventures into higher yielding, higher cost territory.
The Mint product is a bold and market leading move and JetBlue already has a faithful following. Attracting a solid transcontinental business segment will potentially be a big win, but the big guns are unlikely to lie back and watch.