United Airlines improves 2Q2014 performance and defines how it intends to sustain momentum
Analysis
United Airlines improved its fortunes in 2Q2014, and posted net profits that were not dramatically lower than its fellow US network peers. Along with an increase in profitability year-on-year the airline also exceeded its passenger unit revenue guidance and kept its unit cost essentially flat.

Additionally, the airline has outlined a plan for shareholder returns in the form of a USD1 billion share buy-back programme to be completed during the next three years.

The signs are encouraging even as United still has a long road ahead in realising the full value of its merger. But the airline is offering more specifics of how it intends to shore up revenue through additional network optimisation that includes improving its regional operations.
United records growth in profits, revenues and operating income in 2Q2014
United recorded a 2Q2014 net income of USD789 million, a 68% improvement over the year prior. Its profits were not drastically lower than the USD864 million posted by American Airlines in 2Q2014 and the USD801 million recorded by Delta.

Operating revenues for United increased 3% year-on-year during 2Q2014 to USD10.3 billion and operating expenses increased 2% to USD9.4 billion, resulting in an 18% improvement in operating income to USD906 million.
United operating revenue, expense and income results: 2Q2014 vs 2Q2013 and 6M2014 v 6M2013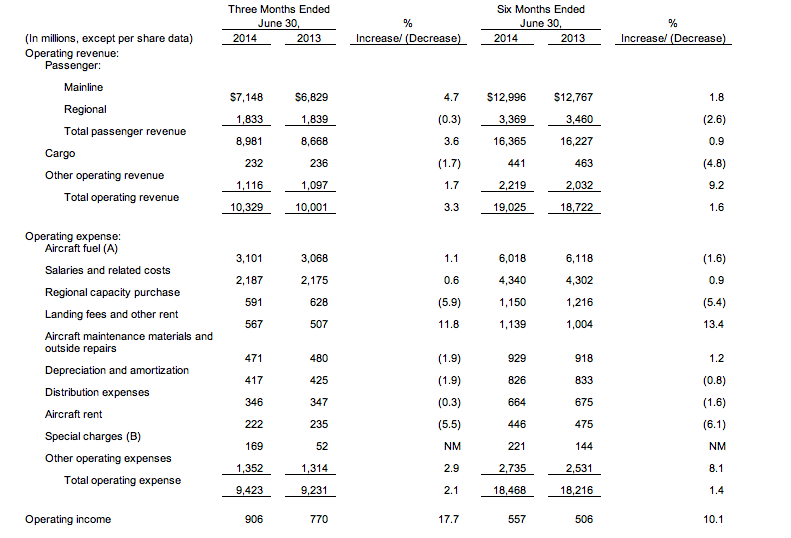 United posts its strongest revenue results in US domestic markets
United's 3.7% increase in consolidated passenger unit revenues during 2Q2014 was an improvement over previous guidance of a 1% to 3% rise. The airline attributed the better than expected results to a strong domestic environment and an improved performance in its Pacific operations.
United unit cost, unit revenue and yield performance: 2Q2014 vs 2Q2013 and 6M2014 vs 6M2013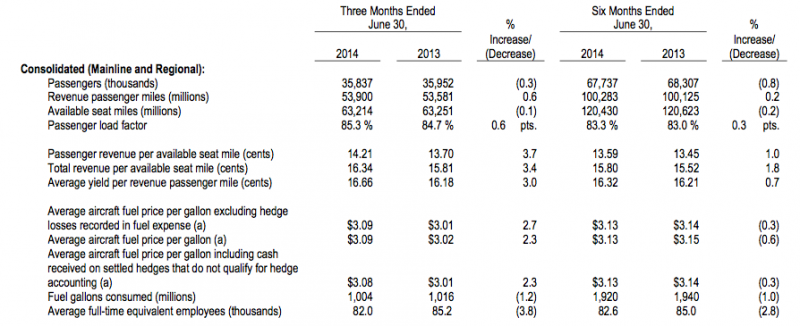 Unit revenues in United's domestic entity increased 7.8% year-on-year during 2Q2014 driven by a 6.8% increase in yields. Airline chief revenue officer Jim Compton attributed United's strong domestic performance to robust demand and benefits from revenue management improvements that United has undertaken to better optimise booking curves to hold more seats for close in, high-yield bookings.
Mr Compton estimated the changes in holding seat inventory contributed three-fourths of a point to United's consolidated passenger unit revenues in the quarter, and forecasted the changes should produce a full point of revenue gains in 3Q2014. Delta also had its strongest revenue performance in the US domestic market in 2Q2014.
United unit revenue and yield performance by region: 2Q2014 vs 2Q2013

United manages some improvement in the Pacific from its Asian network restructuring
United's unit revenues in its Pacific markets fell 2.6% in 2Q2014 as yields remained flat on a 2.4% increase in capacity. The results were a sequential improvement from 1Q2014 when United recorded a 5% drop in Pacific unit revenues and a 6% decline in yields.

Mr Compton highlighted United's restructuring of its Asian network that entails relying less on connecting through Tokyo and more on direct flights from the airline's US west coast hubs. He remarked that United's new service from San Francisco to Chengdu and Taipei, part of a strategy to serve secondary markets with the Boeing 787, is performing better than anticipated with strong point of sale in Chengdu.

United is also seeing some benefits from a 747 optimisation initiative undertaken last year to improve the aircraft's reliability. The reliability improvements have allowed United to deploy the 747s in areas of its network where demand is better suited to that size aircraft. It down-gauged to 777s on its routes to Australia (San Francisco and Los Angeles to Sydney), and Mr Compton noted the shift produced a double digit passenger unit revenue improvement on those routes in 2Q2014.

The airline also posted better than expected yields in China during 2Q2014 even after previous declarations that it expected capacity from the US to China to increase 20% year-on-year in the quarter. However, Mr Compton warned that the accelerated capacity growth would continue to pressure yields after the US peak summer season.

See related report: United Airlines: time to deliver as sceptics look for improved fortunes in 2Q2014
United also performs solidly in the Atlantic and Latin American markets
United's performance in the trans-Atlantic market was solid during 2Q2014 as unit revenues increased 2.5% on 2% yield growth. The airline has not been as vocal about trans-Atlantic overcapacity as rival Delta and its Star Alliance joint venture partner Lufthansa, but Mr Compton did note that presently United is forecasting flat capacity in the trans-Atlantic during the winter season. Delta and its joint venture partners Air France-KLM and Alitalia have halved their winter capacity growth in trans-Atlantic markets to between 1% to 3%.
See related report: Delta Air Lines puts trans-Atlantic worries to rest as it posts strong 2Q2014 results
In Latin America, United recorded 4% unit revenue growth on a 1% rise in yields in 2Q2014. In an investor update issued 24-Jul-2014, United stated that for a period six weeks out, advanced booked seat factor in Latin America is up 4.6 points year-on-year. Mr Compton remarked that demand was particularly strong in Latin American leisure destinations and Mexican business markets.
United looks to re-banking to improve connecting yields
Even as United beat its own expectations in the passenger unit revenue metric, its 3.7% growth was below the 6% increase recorded by Delta and the 6% rise at American. For the last couple of years United has been battling a passenger unit revenue gap with its peers, but has offered some specifics of how it intends to improve its standing during the next 18 months.

In addition to continuing revenue management improvements, United aims to re-bank three of its hubs – Denver, Houston and Chicago O'Hare. It plans to start in Denver during 4Q2014 followed by Houston by YE2014 and Chicago by the spring of 2015.
The re-banking entails reducing connecting times to drive more connections that should drive higher yields, said Mr Compton. American Airlines is also re-banking its hubs in Miami, Dallas/Forth Worth and its hub in O'Hare in 2014 and 2015.

See related report: American Airlines' network tweaks officially begin as early revenue trends look favourable
Other changes include making seasonal adjustments to capacity. In Jul-2015 United is targeting to have 25% more capacity than in Feb-2015.

United also plans to make changes to its regional operations by removing from its schedule the equivalent of 130 50-seat jets by next year and replace some of those jets with 70 76-seat Embraer 175s. Mr Compton estimates that 50-seat jets and smaller aircraft represented roughly 8% of United's consolidated capacity at the beginning of 2014 and with the changes projects that will fall to 5% in 2015.

There is obviously a significant unit cost upside in replacing the 50-seat jets with 76-seat aircraft, and United largely concludes that the cost benefits far outweigh any unit revenue dilution. Mr Compton also believes the operation of the Embraer 175s allows United to offer both a first class and a premium economy product, creating new ancillary revenue opportunities for the airline.
United provides no hints for the fate of Dulles as its network analysis continues
As part of the overhaul of its regional operations Mr Compton explained that United is aiming to reduce the number of its regional partners flying from its hubs, and the number of Express airlines operating from its Washington Dulles hub would fall from eight to four by Sep-2014.

Recently United's Dulles hub has come under scrutiny, with some critics concluding the airline should de-hub the airport. Dulles is roughly 336km from United's hub in Newark Liberty, so the rationale is the geographical proximity creates some inefficiencies.

See related report: United Airlines pressured to make changes as its revenue growth remains sluggish

United executives obviously fielded questions about the future of Dulles; but only stated that granular analysis of the network is continuing, including the contribution of each hub and the concentration of its most loyal customers. However, CEO Jeff Smisek made clear "...that nothing is off the table" regarding actions United needs to take in order to "maximise the value of the enterprise".
United may be starting to trend in line with its peers, but much work remains undone
United expects passenger unit revenue growth of 2% to 4% in 3Q2014, which is similar to guidance issued by Delta. It also estimates unit costs excluding fuel, third party business expense and profit sharing to grow 1% to 2% for both 3Q2014 and FY2014, which is also in line with guidance supplied by Delta.

United believes that some of the revenue enhancing initiatives it has launched during the last year are bearing fruit, and its 2Q2014 results are certainly a step in the right direction.

United seems to be offering an 18-month time period for its network optimisation efforts to bear fruit. Arguably, some of that effort should have got under way much earlier. But it does seem United has laid out a clearer plan of how it intends to close the gap with its rivals.
Now its biggest challenge and largest source of uncertainty is proper execution of its plans – something United has not excelled at in during the recent past.