JetBlue Airways faces tough challenges even as its Mint offering drives fresh innovation
Underlying JetBlue's official debut of its highly anticipated Mint premium product is growing shareholder impatience for a timeframe of anticipated rewards and perhaps a high level leadership change as the financial markets at large look for improving revenue and lower costs at the airline.

With the new Mint offering, JetBlue continues its history of carving out new products within the airline market place. But at times frustration can accompany innovation as investors look for quick returns. In tandem with seeking returns, JetBlue's investors are also awaiting a leveling off of the airline's unit costs excluding fuel. After battling cost creep for the better part of two years, JetBlue is hesitating from providing a clear cut timeline of when its costs will normalise.

Even as Mint offers JetBlue a new level of product distinction, scrutiny is growing over the airline's financial performance, and whether it will meet its declared intention of delivering a return on invested capital (ROIC) of 7% during CY2014.


JetBlue aims to shave costs while attempting to explain its business model
Memories of JetBlue's financial performance during CY2013 – the most profitable year in the airline's 14 year history – faded fast as the cost overhang it has experienced during the past couple of years remains intact.

The airline forecasts unit cost growth of 3.5% to 5.5% during CY2014 driven mostly by labour costs. JetBlue has reached an agreement with pilots that includes a 20% increase in base pay during the next three years, for a collective total costs of USD145 million through 2016. Its pilots also recently elected for union representation, so the outcome of a negotiated collective bargaining agreement under the leadership of JetBlue's ALPA unit could create more labour costs headwinds for the airline.

See related report: JetBlue builds its network strength as cost headwinds strengthen
JetBlue continues to stress that in many ways its unit costs reflect how it has chosen to position itself within the North American market place – a medium frills carrier targeting a passenger segment seeking more comfort than provided by ultra low-cost carriers, but at a lower price point than global network airlines. The airline estimates its roughly USD8 cent unit cost excluding fuel and profit sharing for 1Q2014 was in the middle of ultra low-cost airlines and full-service global network airlines.
JetBlue 1Q2014 unit costs versus ULCCs and US network carriers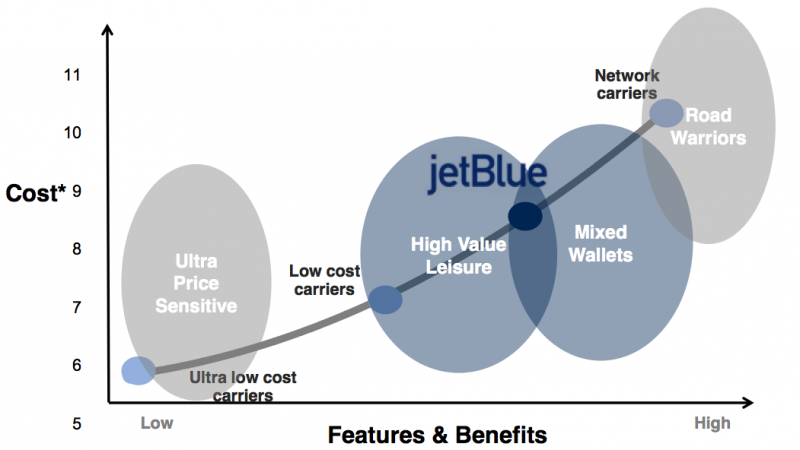 Mint may be somewhat low risk; but its revenue prospects remain uncertain
Perhaps one of JetBlue's most ambitious projects to showcase its hybrid model is the new Mint premium product it recently debuted on US transcontinental service from New York JFK to Los Angeles. Mint makes its debut on JFK-San Francisco service in Oct-2014.

JetBlue is equipping 11 Airbus A321s with 16 flat bed seats, four of which are closed off private suites. The creation and development of Mint was fostered by JetBlue's conclusion that it was at a revenue disadvantage on those routes due to a lack of premium product to attract higher yielding customers. Previously, JetBlue has estimated that revenue from JFK to Los Angeles and San Francisco is 50% higher than other routes within the US.

See related report: JetBlue Airways further evolves its hybrid strategy and takes a gamble with new premium cabins
The airline's pricing for its new Mint product – as low as USD599 one way – is designed to appeal to the higher end leisure traveller or small business owner looking for a more upscale experience at a reasonable price. The exact size of that passenger segment remains unknown, and with American, United and Delta all offering a new premium product on those same transcontinental routes featuring lie-flat seats, the success of Mint is uncertain.

But with just a fraction of its Airbus fleet featuring the new product, perhaps JetBlue is attempting to create a new premium experience from a lower risk profile. Once all 11 aircraft featuring the Mint product are in service, the total Mint seat count across the 11 jets will be 176. According to CAPA's fleet database, JetBlue has a total of 76 Airbus A321s on order (30 NEOs and 46 current generation jets), and the number of Mint jets will represent roughly 14% of the airline's A321 fleet once all aircraft deliveries are completed.
JetBlue's fleet summary as of 18-Jun-2014

JetBlue has not quantified its investment in Mint; but even as the overall number of Mint seats represent just a fraction of the airline's total capacity, the spend on other elements of the Mint experience – food and flight attendant training – are likely to create some unit revenue pressure in CY2014 as JetBlue works to get the product up to scale.
JetBlue sees improved revenue trends in 2Q2014, but also growing costs
After battling winter storms that wreaked havoc on all carriers, JetBlue posted unit revenue growth of just 1.1% in 1Q2014. With it main base of operations in JFK and an ample amount of its operations centred on the US east coast, JetBlue arguably had somewhat of a disadvantage in combating the effects created by the flight cancellations and disruptions.

See related report: JetBlue Airways' hybrid model remains enigmatic as cost creep outpaces revenue production

But JetBlue's passenger unit revenues increased just 2.3% in CY2013 as unit costs excluding fuel grew 3.8% year-on-year. Given JetBlue's unit cost estimates of a 3.5% to 5.5% increase in CY2014, the airline needs some revenue momentum to create a better cost/revenue scenario.

Prospects for 2Q2014 look encouraging as unit revenues at JetBlue increased 11% year-on-year in Apr-2014 and 4% in May-2014. Part of April's marked rise is the shift of the Easter holiday from Mar-2013 to Apr-2014, but nonetheless it does bode well for JetBlue. With a projected unit cost rise of 4.5% to 6.5% in 2Q2014, JetBlue is likely to find itself stuck with unit cost growth outpacing unit revenue growth. And arguably, with Mint representing just a small fraction of JetBlue's operations in CY2014, its revenue contribution will be negligible.
JetBlue's top-line revenue and expense growth slows in CY2013
JetBlue's recorded roughly 9% growth in its operating revenue during CY2013 compared with a 19% jump in CY2011, which is not exactly the trajectory investors like to see for an airline that still declares itself as a growth company.
JetBlue Airways annual operating revenue growth: CY2011 to CY2013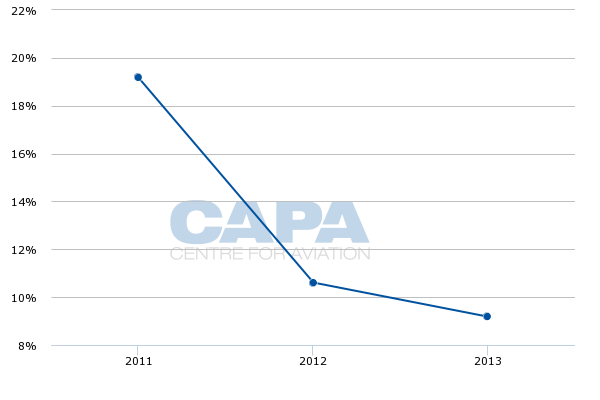 But while the airline continues to face unit cost headwinds, its top-line operating expenses slowed to almost 9% in CY2013 after soaring 21% in CY2011. Its USD5.4 billion in operating revenue did outpace its USD5 billion in top-line expenses for CY2013, creating positive momentum for JetBlue's operating income, which grew nearly 14% year-on-year in CY2013, down from nearly 17% growth in CY2012.
JetBlue Airways annual growth in operating costs: CY2011 to CY2013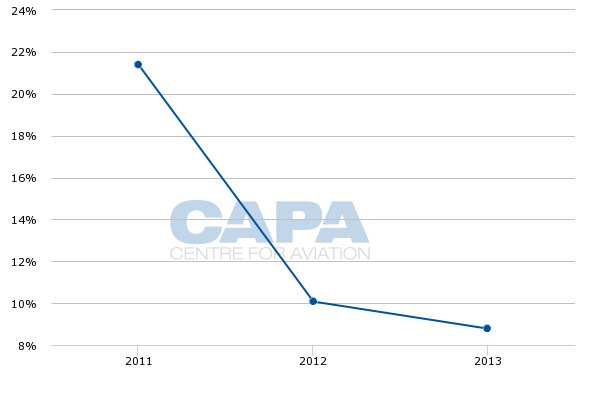 JetBlue Airways annual operating profit (loss) growth: CY2011 to CY2013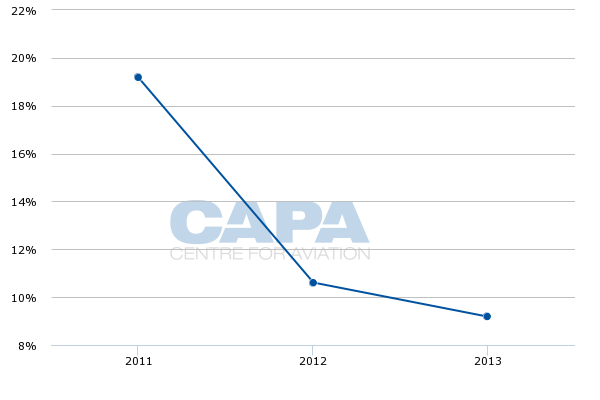 JetBlue's lack of shareholder returns is possibly causing a management shake-up
JetBlue has been a publicly traded company for about 12 years; but has never issued any dividends to stockholders. It has engaged in share buyback programmes, but it seems some of the airline's investors are becoming more vocal about returns, prompting questions regarding a leadership change at the company.

Its chief operating officer departed earlier in 2014 and a recent article in The Wall Street Journal prompted questions over the fate of CEO Dave Barger once his contract ends in Feb-2015. Also in 2014 JetBlue's chief commercial officer Robin Hayes has been elevated to the role of president.

It remains unclear if Mr Barger is feeling pressure to step down; but it does appear that sentiment is growing among shareholders that they deserve a higher level of rewards, and a timeline for when increasing rewards should be delivered.
Continuing cost pressure dampens JetBlue's mid-market promise
For all the positive buzz Mint's debut is generating, the challenges facing JetBlue remain firmly intact – getting its unit cost under control, achieving its ROIC targets after missing its goals in CY2013 and dealing with a newly unionised pilot workforce.

JetBlue has undoubtedly charted new territory in the US airline business with its mid-market offering that is built on creating added value products rather than stripping amenities away from passengers.
But the returns on the investments that JetBlue has made to distinguish its business model have been slow to materialise as its costs have remained stubbornly high. Until its costs stabilise, it could be difficult to deem its strategy a complete success. The signs are relatively benign, but the case is yet to be proven.