JetBlue Airways further evolves its hybrid strategy and takes a gamble with new premium cabins
JetBlue's decision to introduce a premium product on a sub-fleet of its Airbus narrowbodies pegged for operation on highly contested transcontinental US markets marks a new era in the carrier's hybrid evolution. As all carriers are amping up their products on transcon routes from New York to retain and steal coveted, high-yielding passengers, the outcome of JetBlue's gamble is tough to predict.

While the creation of its strategy to attract higher-yielding customers has likely been under development for quite some time, JetBlue's formal introduction of its premium product occurred shortly after the airline reported 2Q2013 financial results that featured continuing cost inflation and falling unit revenues, and warnings that it will not see a reprieve in cost pressure during the current quarter.

Obviously JetBlue's forging into new territory with its premium cabin is a long-term endeavour; but in the short-term it will need to be prudent with a significant investment of this nature as its costs continue to rise - with yields meanwhile probably lagging the new investment. The carrier recently revised its 2013 unit costs estimates upwards, driven in part by a small decrease in capacity.
See related report: JetBlue continues to battle cost spikes compounded by weaker demand in 2Q2013
JetBlue jumps into the new pool of premium cabins available on hotly contested routes
JetBlue is creating a new bar among hybrid carriers during 2Q2014 when it introduces a premium cabin on new delivery Airbus A321s. Specifically, the premium cabin will comprise 16 lie-flat seats, four of which will be partially closed off private suites.
The carrier is configuring 11 of its A321s with the 16 business class seats and 143 in economy for operation from its largest base and headquarters JFK to Los Angeles and San Francisco, two of the most contested markets in the continental US.

JetBlue's decision to engineer a premium product caps off a raft of plans tabled by American, Delta and United to shore-up their business class offerings in transcon markets. Delta and United have already introduced an amped up premium product featuring lie flat seats from JFK to Los Angeles and San Francisco (Delta intends to operate its new business class from JFK to Los Angeles, San Francisco and Seattle), and American plans to launch three class service on its new A321s scheduled for delivery beginning in late 2013. Perhaps JetBlue with its four private suites is attempting to offer a lower-cost alternative alternative between the two-class offerings from Delta and United and the the three class service that American plans to deploy on transcontinental routes.

See related report: JetBlue Airways enters new phase of hybridisation with premium-seats, two-way codeshares
JetBlue is targeting what it deems as an underserved corporate traveller
It appears JetBlue's rationale for undertaking the complexity and expense of introducing a premium product on a sub-fleet of its aircraft was less about competing directly with the major carriers (although their product improvements obviously played some role in how JetBlue approached creating its new premium cabin) and more about capturing lost revenue due its lack of a distinctive product aimed at corporate travellers.
JetBlue executives have stated that based on net promoter scores, (essentially a customer loyalty metric) it is at a unit revenue disadvantage on the specific JFK-Los Angeles/San Francisco transcontinental routes relative to its peers. At the time of the formal debut of its new product, JetBlue remarked that revenue between JFK and Los Angeles/San Francisco is 50% higher than any other route in US, primarily due to the higher concentration of premium seats that garner higher fares.
Generally JetBlue would not count American, Delta and United among its so-called peers as it constantly stresses its hybrid business model based on lower costs plus frills that passengers are willing to pay for. But those those carriers, along with fellow hybrid carrier Virgin America, are its competitors in the New York transcon markets as the route develops into to a major battlerfront. Based on data from Innovata (18-Aug-2013 to 24-Aug-2013), JetBlue accounts for roughly 14% of the seats on offer between JFK and Los and Angeles and roughly 11% of the seats on offer to San Francisco.
In either market no one carrier has a huge share as American accounts for the highest seat share to JFK with 28% while United represents nearly 32% of the seats operated to San Francisco.
One-way seat share (% of seats) by carrier from JFK to Los Angeles: 18-Aug-2013 to 24-Aug-2013
One-way seat share (% of seats) by carrier from JFK to San Francisco: 18-Aug-2013 to 24-Aug-2013
JetBlue has concluded that an "underserved" segment of corporate traveller – high end leisure customers and small business owners (according to CNBC) – looking for a business class product at fares lower than those charged by legacy carriers is embedded in those transcon routes. Its strategy offer its premium product at prices below what the legacy carriers charge to capture the revenue it is spilling by not offering a business class.
But inevitably the immediate reaction by the legacy airlines is to match JetBlue's fares and promote frequent flyer miles to its top-tier cusotmers. This could continue to pressure JetBlue's cost in the short term as the return on this investment will likely be pushed back until rational pricing takes hold.
JetBlue could have some flexibility in trading loads for yields on transcon markets
An obvious challenge JetBlue faces as its premium cabin strategy unfolds is ensuring that its sacrifice of valuable cabin space for a business class product produces the expected revenue results. On a pure numbers basis, its load factors from JFK to Los Angeles and San Francisco during the last couple of years indicate available flexibility exist in its aircraft configuration.
Based on data from the US Bureau of Transportation Statistics, during 2011 and 2012 JetBlue's load factor from JFK to San Francisco dipped below 75% only once and peaked at roughly 94% in Oct-2012.
During that same time frame its loads between JFK and Los Angeles never fell below 80% and peaked at nearly 91% also in Oct-2012. Perhaps JetBlue has done internal analysis that shows some benefits of trading loads for yields in those markets if it can net enough revenue to offset the load factor dilution.
JetBlue Airways Load Factor from New York John F Kennedy International to San Francisco International Airport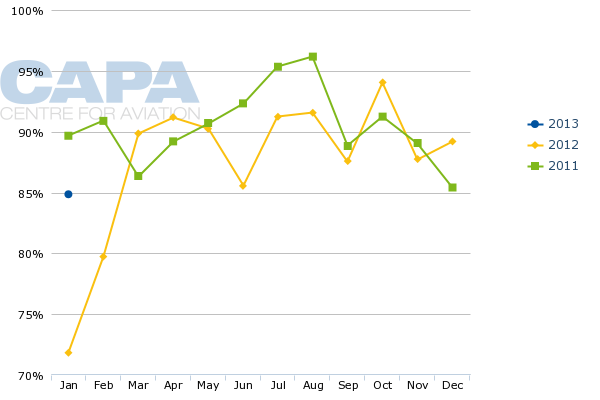 JetBlue Airways Load Factor from New York John F Kennedy International to Los Angeles International Airport
Virgin America could suffer the most from JetBlue's new premium attack
Even as JetBlue's strategy is to offer a more economical premium offering than legacy carriers to capture untapped revenue, Virgin America likely stands the most to lose in the new premium product wars on US transcontinental routes.
Virgin America's premise during its nearly six year existence has been offering a medium-frills experience at price points lower than network carriers. Once all of its competitors introduce their respective lie-flat seating products, Virgin America will be the only carrier in the JFK-Los Angeles/San Francisco markets not offering a lie-flat business or first class seat.

While JetBlue is obviously keeping pricing for its new product close to the chest, it is likely its premium offering will fall somewhere between the legacy and Virgin America's product. By charging a small premium over Virgin America's fares for its first class seats that recline and touting its loyalty programme that does not allow miles to expire, JetBlue has a favourable chance of eroding Virgin America's higher-yielding passenger base.

JetBlue's potential to eat away at Virgin America's premium passengers occurs just as Virgin America is turning a small corner after recording a profit during 2Q2013 – the second quarterly profit in its history. The siphoning off of mid priced premium passengers by another carrier is a credible threat to Virgin America's tenuous path to sustained profits.

See related report: Dialled-back growth helps Virgin America finally swing to the black
Like any gamble, JetBlue's plans are risky – but game changing if executed successfully
JetBlue has made a pledge to improve its returned on invested capital (ROIC) by about 1% on annualised basis. The 14-year old carrier has just begun to embrace that metric within the last year and recorded a 4.8% ROIC for 2012. By comparison JetBlue's 16-year old hybrid Canadian counterpart WestJet has grown its ROIC from 6.5% in 2005 to 13.7% in 2012.

The premium product planned by JetBlue should at some point help to lift its ROIC. But like any significant undertaking, its plans are not without risk. A few questions remain unanswered specifically about the product with respect to meals and training flight crews to deliver a new level of service. All those elements are up front costs that contribute to the substantial expense JetBlue will incur as it embarks of the next chapter of its hybrid evolution.

Although it may have little option but to respond in this way, JetBlue's strategy is arguably both risky and costly as the added complexity of a sub-fleet dedicated to specific routes creates an additional layer of operational capacity and possibly a new level of flight crew training. But few successful ventures are executed without risks.
If JetBlue carries out this phase of its evolution successfully, it will go a long way towards proving its theory that the US market can sustain three business models – full service, ultra low cost and hybrid. It could also be a forerunner to JetBlue taking the hybrid playbook it continues to re-write into long-haul markets.