jetBlue starts heavy scrutiny of Embraer 190 fleet as it works to meet cost and margin ambitions
Analysis
jetBlue Airways has joined many other US airlines in undertaking a comprehensive fleet review, but its reasons are different from those of its larger counterparts United and Delta, which are assessing their future widebody needs. jetBlue is focused on the opposite end of the spectrum, studying the future viability of the smallest aircraft in its fleet – the 100-seat Embraer 190.

The airline is reiterating declarations it made regarding the Embraer 190s earlier in 2017 to determine whether the unit revenue benefits it derives from their operation are worth the aircraft's higher operating costs. jetBlue is the largest worldwide operator of the aircraft, and represents 33% of existing orders for the Embraer 190.

jetBlue has also deferred some Airbus deliveries and switched some of its 2018 orders from the NEO model to current generation jets as A320neo operators have experienced some engine problems with the jets. The fleet review is part of jetBlue's efforts to achieve lower costs in the 2018 to 2020 period, while attempting to drive margins above the industry average.
jetBlue cites the Embraer 190 as a factor in its Boston success story
During Mar-2017 jetBlue stated that it was reviewing the Embraer 190s, after outlining plans in late 2016 to record flat to 1% growth in unit costs excluding fuel for the 2018 to 2020 period. Those targets are underpinned by jetBlue's declarations that it plans to shed USD250 million to USD300 million in structural cost savings by 2020.

See related report: LCC jetBlue sets ambitious cost targets; quiets critics over the staying power of its business model

jetBlue executives have calculated that the unit costs of the Embraer 190 are 20% higher on a stage length adjusted basis than for the higher density A320 models it operates. However, the company has stated that the smaller Embraer 190s also generates higher unit revenues, which is a common quandary that all operators face as they evaluate the merits and margin potential of smaller aircraft versus higher density jets.

jetBlue has singled out the effects that operating the Embraer 190s have had on its performance in its second largest focus city by frequency – Boston.
jetBlue Airways top 10 hubs/bases/stations by frequency (to/from): 24-Apr-2017 to 30-Apr-2017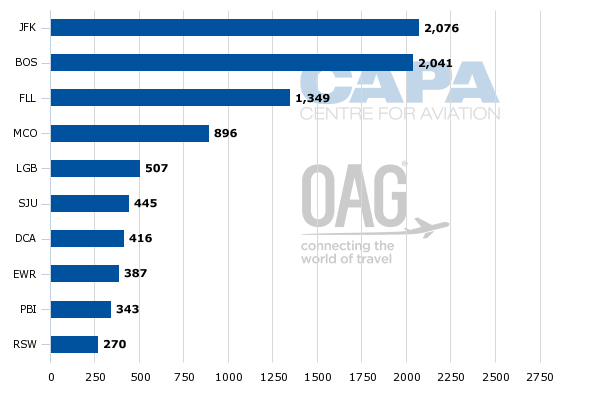 The company has calculated that between 3Q2006 and 3Q016 it had improved margins in Boston by 34 points, which is the largest increase among its six focus cities – New York JFK, Boston, Fort Lauderdale, Orlando, San Juan and the Los Angeles basin.

"I'd like to reiterate that the success we've had in Boston and the high margins that we generate in Boston, the Embraer 190 is a critical part of that," jetBlue CFO Steve Priest has stated; "...it is a higher CASM aircraft, but we do drive higher RASM benefits over the size of it".

Schedules in CAPA and OAG show that jetBlue operates the Embraer 190 on 27 routes from Boston, ranging in size from smaller leisure markets such as Jacksonville, Florida, to larger shuttle markets, including New York LaGuardia.

On a system wide basis, jetBlue operates more than 2,000 weekly frequencies with its Embraer 190s.
jetBlue Airways capacity system capacity by aircraft type by frequency: 24-Apr-2017 to 30-Apr-2017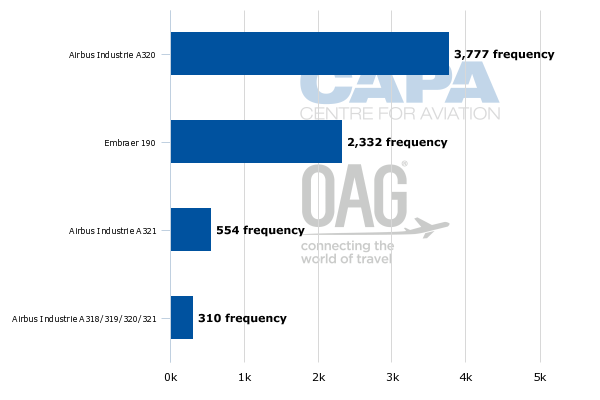 For the full year 2107, jetBlue estimates its Embraer 190 fleet will represent 12% of its ASMs.
jetBlue 2017 ASM allocation by aircraft type

jetBlue examines many factors in its Embraer 190 fleet evaluations
jetBlue needs to decide whether there are opportunities for the Embraer 190 in its network that are similar to the revenue results it derives from the aircraft in Boston. The airline is the largest operator of the aircraft, with 60 in its fleet.
Top five worldwide Embraer 190 operators
In late 2013 jetBlue decided to defer deliveries on the remaining 24 Embraer 190s in its order book: from 2014 to 2018, to 2020 to 2022.
Now it must decide whether 60 is the right size fleet for smaller jets, or it needs to shrink the size of its existing fleet and cancel orders. Leases on 30 of jetBlue's Embraer 190s begin to expire in 2023, so the aircraft will retain some presence in the airline's fleet during the next few years unless it concludes that it can attain favourable economics from forging agreements for early lease returns.
jetBlue Airways fleet summary as of 29-Apr-2017
jetBlue also needs to determine the right size Embraer 190 fleet if it opts to retain the aircraft in its fleet over the long term. Being the largest operator of the aircraft type does give the airline leverage in negotiating maintenance contracts, but that concept needs to be evaluated in the larger context of maximising returns on the airline's entire fleet.
jetBlue cites prudence in switching from Airbus neo to ceo deliveries in 2018
In addition to determining the future role of the Embraer 190 in its fleet, jetBlue has also opted to make some short term changes to its Airbus order book. The modifications entail deferring eight aircraft deliveries from 2019 to 2023, and five from 2020 to 2024. Additionally, jetBlue has switched its 11 Airbus deliveries scheduled for 2018 from the neo model to current generation aircraft.

Recently, some operators have encountered high profile problems with geared turbofan Pratt & Whitney PW1100G powering A320neos. Production delays with the engine have also had a cascading effect on A320neo deliveries for Airbus.

Fielding a question about whether the engine issues drove jetBlue's decision to switch to current A320 models for its 2018 deliveries Mr Priest stated: "We just felt that swapping the neos with the ceos between 2018 and 2019 was just prudent, good contingency planning for us. So that's the approach that we've taken". US ULCC Spirit Airlines has also converted dome 2018 A320neo deliveries to current models.

The deferrals, and switching to the lower priced A320 current aircraft model, will help jetBlue's capital allocation in coming years. Its projected aircraft capex for 2017 is USD1.05 billion to USD1.2 billion, and total capex for 2017 to 2020 is forecast at an average of USD1.1 billion.
jetBlue works through fleet options in order to attain its margin goals
jetBlue's scrutiny of its fleet occurs as its unit costs excluding fuel are projected to grow 1.5% to 3.5% before the airline works toward its goal of flat to 1% growth between 2018 and 2020 – driven by the up to USD300 million the airline aims to achieve in structural cost savings by 2020.

The airline has also committed to margin performance above its industry peers, and adjusting its fleet commitments could also help jetBlue achieve the cost necessary to achieve its margin goals.
Its pretax margins for 2015 and 2016 were 17.1% and 18.3%, respectively. Its 7.9% pretax margin for 1Q2017 (a 12.1ppt drop) was just below the average 8.3% average of American, Alaska, jetBlue Delta, Southwest, United and Spirit Airlines. Most US airlines are bracing for margin pressure in 2017, driven by higher fuel and labour costs.
jetBlue Airways pretax margin performance versus its peers: 1Q2017 and 20Q2016 and 12M ending 1Q2017
The jetBlue CEO Robin Hayes has reiterated the company's commitments to its margin goals, "because that's how we drive shareholder value". Mr Hayes cited past success with Airbus in creating a flexible order book. An easing of its Embraer commitments would also help jetBlue in attaining industry leading margins.
jetBlue offers few new clues about it trans-Atlantic aspirations
jetBlue's decision to switch its 2018 Airbus deliveries to current models is driving speculation about its decision to option A321neoLR long range jets for potential trans-Atlantic flights.

In 2016 jetBlue reached a deal with Airbus for 30 incremental A321 narrowbodies, 15 of which can be optioned for the A321neoLR, featuring a range of up to 4,000nm. jetBlue has singled out Boston as a potential launch pad for new trans-Atlantic services.

See related report: jetBlue Airways, armed with its premium product Mint, is poised to disrupt the trans-Atlantic market

Previously, jetBlue has said it planned to render a decision about the long range jets by YE2017.

Mr Priest reiterated the optionality for the long range aircraft, which Airbus would deliver in 2019. He said that the decision would be made on a margin basis, and if the margins on the longer range jet are not comparable to those of the domestic A321neo, "then we wouldn't consider it".
If the long range aircraft is a higher margin use of capital, then jetBlue would take the investment accordingly, Mr Priest explained. Of course, attaining favourable prices from Airbus would also factor into jetBlue's evaluation. As of mid-Apr-2017, Airbus had secured a total of 55 orders for the A321neoLR.
Airbus A321neoLR orders as of mid Apr-2017
jetBlue likely to determine a smaller E-Jet fleet is necessary to meet margin goals
jetBlue's cost and margin goals warrant necessary scrutiny of its fleet composition in order to meet those goals. Its evaluation of the Embraer 190s is a logical evolution as it works toward sustaining a margin performance that meets, or exceeds, the US industry average.

Even as jetBlue has drawn no conclusions about the fate of the Embraer 190s, it is a safe bet to assume that the airline is likely to determine that a fleet of 84 small jets is not ideal to meet its cost and margin goals for the medium to long term.