Israel's air travel markets benefit from liberalisation, but El Al is losing out to LCCs: Part 1
Analysis
Israel's air travel market seems to be attracting attention. In recent weeks, there have been headlines about new routes from Vueling, TAROM, Arkia, Transavia, Jetairfly, Wizz Air, Yan Air, Med-View Airline, easyJet, Meridiana, Air Serbia and Air Onix; and increased frequencies by TAROM, Norwegian, easyJet, El Al, Alitalia, Lufthansa and airberlin.
Following the signing of an EU-Israel open skies agreement in 2012, a factor in increased services from the EU, countries including Russia, the Philippines and Kenya are also considering developing new air services agreements with Israel. In addition, a security-related restriction on Israeli carriers operating to Turkey (one of the few major aviation markets outside Western Europe and the US that has links to Israel) looks set to be lifted.
For a country of above average levels of wealth, as defined by GDP per capita, air travel penetration is also high, but lower than for other similarly wealthy nations. The Israeli market has generally seen healthy growth in recent years, but this has been uneven. Israel has significant potential for the airline industry, but its realisation will continue to be subject to politically-driven developments on traffic rights.
Market growth is driven by international routes
The total number of scheduled airline seats in Israel reached 14.7 million in 2013, according to data from OAG, an increase of 5% over 2012, when the number had dropped by 4%. Over the period 2003 to 2013, the Israeli market achieved compound average growth of 6% pa in the number of seats. This was entirely driven by growth in international markets (CAGR 7% pa), while the small domestic market contracted (CAGR -4% pa).
Israel – total international and domestic seats: 2001 to 2013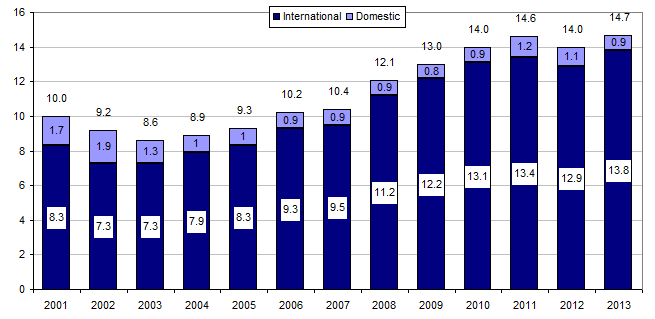 Europe is the dominant destination, followed by North America
According to data from OAG for the week of 27-Jan-2014, 91% of seat capacity to/from Israel is in the international market. The vast majority of this international capacity is to/from Europe, with 43% in Western Europe and 35% Eastern/Central Europe. North America is the next biggest region, with 13% of seats. In spite of Israel's geographic location, less than 2% of international seats are in the Middle East market.
Israel international seat capacity by region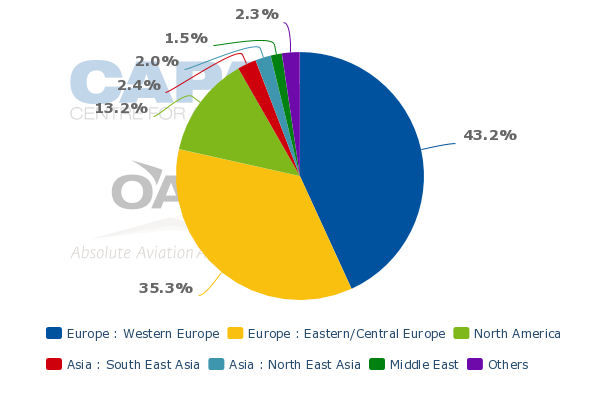 The US is Israel's biggest country market, followed by Turkey, Russia and the major Western European countries. This reflects the nation's political, cultural and economic ties.
Israel international seat capacity by country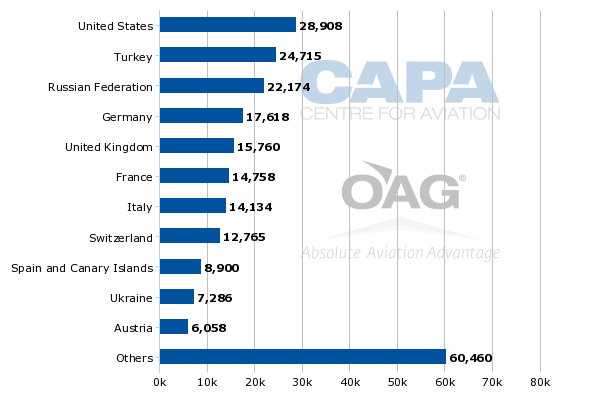 Unaligned El Al is the largest of Israel's airlines
Israel's three principal scheduled carriers are El Al, the national carrier with a main hub at Tel Aviv Ben Gurion; the privately-owned Arkia Israel Airlines, a largely domestic player, whose biggest base is Eilat Airport and which also operates from Tel Aviv Ben Gurion and Tel Aviv Sde Dov; and Tel Aviv Ben Gurion-based Israir.
Israel fleet by airline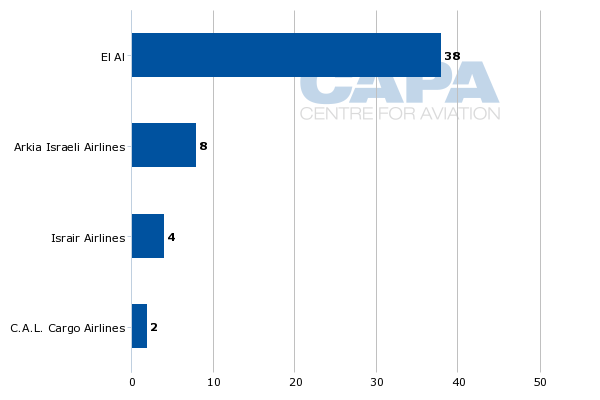 El Al is the leading carrier, with 27% of seats, with Turkish Airlines in second place on 7%. Apart from El Al, the other two Israeli carriers are Arkia Israeli Airlines and Israer, in third and fourth place respectively.
In spite of Turkish Airlines' relatively strong presence in Israel, Turkey has until recently prevented Israeli airlines from operating to Turkey for security reasons, although they will be allowed to resume services in summer 2014.
Israel seat capacity share by carrier: 27-Jan-2014 to 2-Feb-2014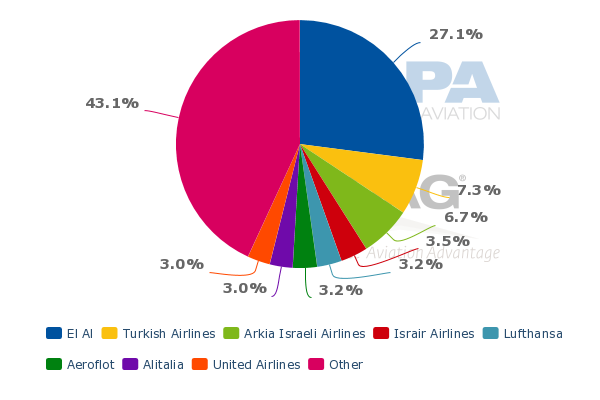 The landscape changes a little in the summer. Schedules data for Jul-2014 shows El Al's share of seat capacity increasing to 35%, Turkish Airlines being nudged down into third place, and LCC easyJet ranked in fourth place.
None of Israel's three passenger airlines is a member of one of the global airline alliances and 58% of capacity in this market is unaligned. The Star Alliance is the leading alliance in Israel, reflecting the relative strength of Turkish Airlines, Lufthansa and United in the country, followed by SkyTeam and oneworld.
Israel seat capacity share by carrier: 7-Jul-2014 to 13-Jul-2014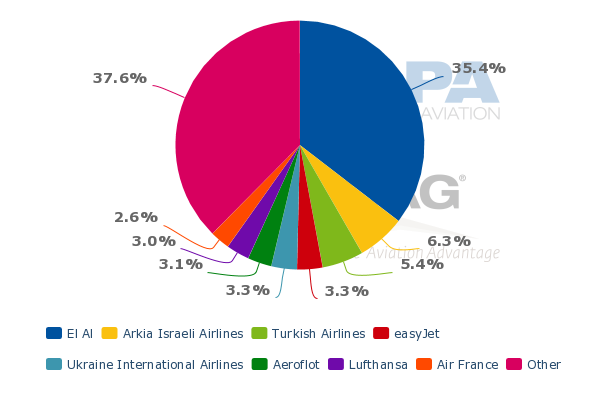 Tel Aviv Ben Gurion is the dominant airport
Tel Aviv-Yafo Ben Gurion is the dominant airport in Israel, accounting for 87% of seats (week of 27-Jan-2014; this share is even higher in the summer, according to data from OAG). As might be expected, El AL is the leading carrier at Tel Aviv and the share of seats held by the leading airlines at the airport broadly reflects the figures given above for Israel as a whole.
Tel Aviv's schedule includes a higher proportion of premium seats than the global average. Although it has a lower percentage of first class seats (0.5% vs global average 1.6%), it has more business class (7.8% vs 4.5%) and premium economy seats (1.8% vs 1.1%). This perhaps reflects the relative wealth of Israel and the importance of its business sector.
Tel Aviv-Yafo Ben Gurion International Airport schedule by class of seat: 27-Jan-2014 to 2-Feb-2014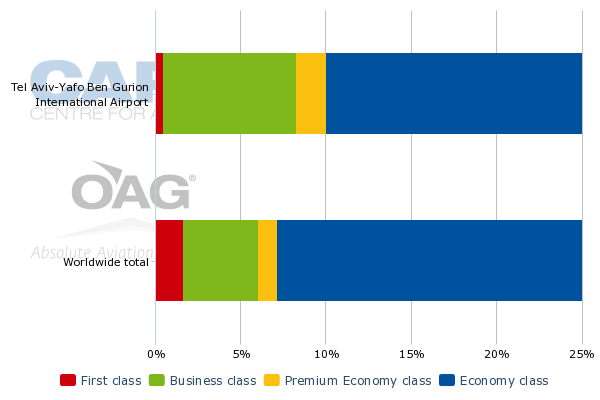 El Al is losing market share at Ben Gurion in the face of competition stimulated by EU-Israel open skies
The share of traffic at Ben Gurion held by El Al and its charter subsidiary Sun D'or is on a downward path. It fell from 43.5% in 2005 to 33.6% in 2012 and dropped further to 32.4% in the first nine months of 2013 (source: El Al). It seems that foreign carriers, particularly those from the EU, led by LCCs, have been attracted by the open skies agreement between Israel and the EU.
El Al and Sun D'or share of total traffic at Tel Aviv-Yafo Ben Gurion Airport: 2005 to 2012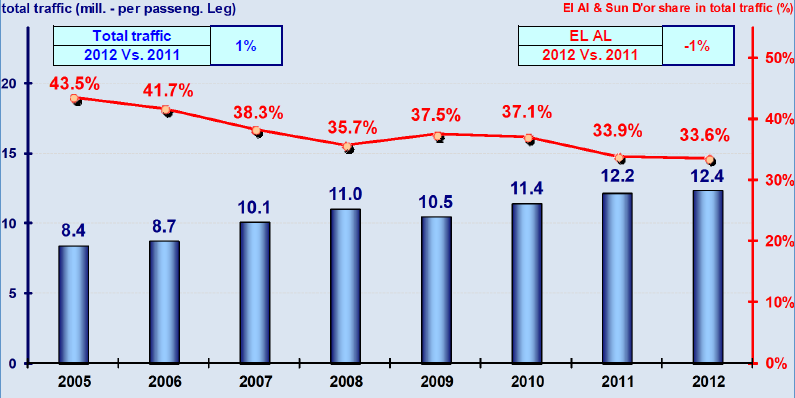 Before its signing in 2012, El Al and the other Israeli carriers expressed their concerns about increased competition resulting from the agreement, which provides for a gradual liberalisation until 2017.
The Civil Aviation Authority of Israel's Director of Air Transport Ishay Don Yehiya was critical of El Al's initial response to Israel's open skies agreement with the European Union. He said: "We have really increased the level of competition, and we have seen El Al's response was not good. El Al has failed to do the necessary steps to compete, and to stay competitive. It will have to grow much more efficient, and it will have to do it now, because it's already starting to be too late." (BBC, 20-Nov-2013).
El Al's competitive disadvantages
El Al has an ageing fleet, particularly on long-haul, where it operates Boeing 747-400s (average age 18.6 years, according to the CAPA Fleet Database) and 767s (average age 18.4 years) and 777s (10.7 years). While its narrowbody fleet consists of Boeing 737-800 and 737-700 aircraft, with a slightly lower average age of 9.5 years, this contrasts with the much younger fleet of many of its new LCC competitors. Other features of El Al's operations, such as a schedule that avoids the Jewish days of rest from sunset on Fridays to sunset on Saturdays, add to its competitive disadvantages.
El Al made a net loss of USD18.8 million in 2012, after a loss of USD49.8 million in 2011. In 9M2013, its net result was a profit of USD29.1 million, compared with a profit of USD8.2 million in 9M2012. Its financial performance seems to be on an improving trend, but it may need to increase the rate of improvement in the light of growing competition. We shall consider El Al's finances and strategic positioning in more detail in a separate report.
El Al recently appointed a new CEO, David Maimon, to assume the role from 20-Mar-2014. Mr Maimon is currently VP commercial and industrial affairs, and will replace Elyezer Shkedy. As previously reported by CAPA, Mr Shkedy announced his resignation in Dec-2013.
Penetration of air travel in Israel is less than in other countries with a similar level of wealth
Israel is among the world's wealthier nations; its economy generates a higher level of GDP per capita than the global average. According to seat capacity data from OAG for Jun-2014, we calculate that its aviation market has a higher number of airline seats per capita than the global average. Nevertheless, it sits a little below the trend line in a plot of seats per capita versus GDP per capita.
Put differently, other nations with a similar level of wealth have higher levels of penetration of air travel. This is the result of a lack of traffic rights granting access to Israel under the bilateral system. The dominance of Europe and North America as the major origin and destination for international air traffic to/from Israel highlights the almost complete absence of connections to other regions of the world.
Seats per capita (vertical axis) versus GDP per capita (horizontal axis)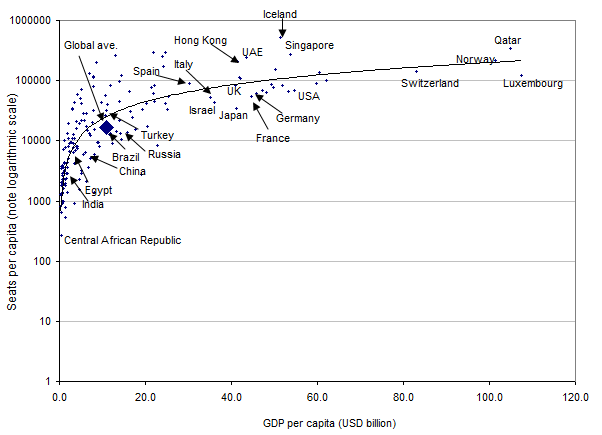 LCCs are growing their share of international seats
Restrictive traffic rights have also inhibited the growth of LCCs in the Israeli market in the past, although the EU-Israel open skies agreement is changing this. LCC penetration remains relatively low at only 10% of seats on international routes and no seats in the domestic market.
This is up from 2% in 2008 and 4% in 2011, but comparison with the wider region suggests scope for further growth in LCCs' share of seats to/from Israel. While LCCs' share on Israel/international markets is similar to that achieved on routes to/from the Middle East region overall, they have a 16% share of seats within the Middle East.
easyJet is the biggest LCC in Israel and almost every major European LCC, with the notable exception of Ryanair, serves the country. No LCCs from the Middle East or North Africa serve the country, reflecting its political relationship with its surrounding region.
Israel LCC capacity share of total seats: 2001 to 2014*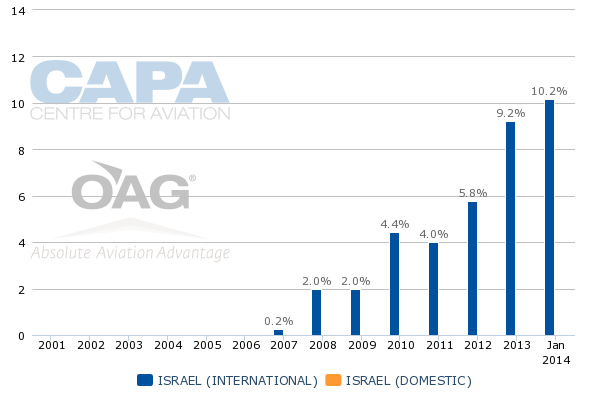 LCC Airlines based in or flying to/from Israel
| | Airline |
| --- | --- |
| BT | |
| U2 | |
| DS | |
| 4U | |
| LS | |
| TB | |
| HG | |
| DY | |
| PC | |
| QS | |
| HV | |
| TO | |
| VY | |
| W6 | |
Ground infrastructure developments also appear to be welcoming to LCCs. Tel Aviv Ben Gurion International Airport has a new passenger hall for international LCC services in terminal 1, now the main terminal for LCCs operating to/from Europe. The Israel Airports Authority expects 55 international LCC services to depart from Ben Gurion every week over winter 2013/2014, compared to 33 during last winter. This is an increase of more than 66%.
Israel still has more potential
When announcing the launch of a London Gatwick-Tel Aviv service, to add to its London Luton and Manchester flights, easyJet summarised the appeal of operating to Israel: "The most striking finding [of our research] was the destination's growing popularity with young travellers who viewed it as a relaxing, beach destination to visit. One of the reasons for launching new flights from London Gatwick is because Tel Aviv's appeal as a popular leisure destination has been growing."
Tel Aviv is within five and a half hours of anywhere in Europe, putting it firmly in the zone of the pan European LCCs. In 2013, LCC seats on international routes increased by 70% versus 2012.
As the EU-Israel open skies agreement gradually liberalises traffic rights further, and as European LCCs (and others) take more note of the attractions of the Israeli market, this LCC-led growth looks set to continue. Even Ryanair, notably reticent in pushing the sector length frontier that far, has asked for permission to fly to Israel and is reportedly considering both Tel Aviv and Ovda in the south.
All of this has to be good for Israel's tourism and for the country's connectivity generally. But it is bound to maintain pressure on El Al to plot a way to long term sustainability. So long as Israel pursued a relatively conservative policy, El Al remained relatively powerful in its home markets; that is changing now, but it is less obvious whether El Al is equally able to measure up to growing levels of competition.