Indian aviation's lost year: 2008
India's airlines are likely to account for one in every three dollars of losses in the global airline industry this year. It is a staggering amount for a country that accounts for less than 2% of worldwide traffic. How did the situation become so dire?
The Indian airline industry has seen a major imbalance between supply and demand in recent years - a situation that became exacerbated in 2008 as fuel prices rose and demand slowed. This has resulted in big declines in load factors. Domestic traffic has contracted over the last four months, declining by as much as 19% in Sep-08.
Indian domestic passenger numbers and passenger numbers growth: Jan-07 to Sep-08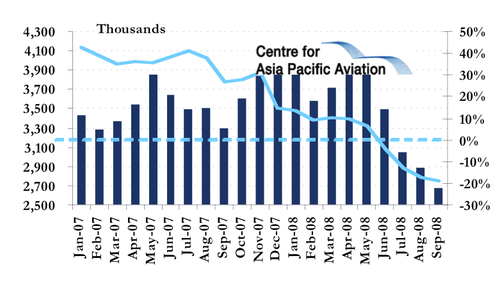 The one bright spot presently is international traffic growth, which has remained consistently robust at 10% year-on-year for the first half of 2008/09. Some carriers, such as Singapore Airlines, Finnair, Austrian, have started announcing capacity cuts, but others continue to grow. Emirates for example is now the largest foreign carrier in India and has an extremely aggressive growth plan, expanding from 132 to 163 weekly services over the next six months alone.
The decline in demand has been driven by a combination of the slowing economy and higher fares resulting from the dramatic increases in fuel prices in the middle of 2008. On some routes, particularly non-metro routes, fares have increased by more than 100% in the last 12 months, resulting in a substitution effect back to the railways.
The cost pressure resulting from the increase in fuel (which grew to account for more than 50% of operating costs for some airlines) coincided with a time when demand was slowing and access to capital was also becoming more challenging. Balance sheets were already weakened by a couple of years of industry losses. The industry is expected to lose USD1.75-2 billion in the 12 months ending 31-Mar-09.
In response to this situation, airlines have been cutting capacity for the last few months - industry capacity declined 17% year-on-year in the six months ended 30-Sep-08, to approximately 164,000 seats per day.
Yields have increased, although this has had an impact on demand. Provided that capacity can be rationalised in line with the revised demand, this should eventually help bring the industry back towards profitability. However, in the short term, the key priority is to reduce the cash burn.
The 20% reduction in fuel prices this month (a combination of falling world oil prices and moves by the government to withdraw customs duties on fuel) should provide some short term relief on the cost side. But India's airlines have huge outstanding jet fuel bills to pay off over the next six months.
Jet-Kingfisher alliance - the unthinkable happens
Against this background, industry consolidation was inevitable. The Jet Airways-Kingfisher alliance, which although unthinkable just a few weeks ago, is a reflection of the current fragile state of the market. The primary objective of this arrangement is to bring together the two largest players in the market, with overlapping networks, to reduce capacity and align it with demand, whilst at the same time being in a position to influence fares. At this stage, it would appear that this alliance will lead to extensive engagement and integration between the two carriers.
Key elements of the alliance will include codesharing; interline and special prorate agreements; network rationalisation; joint fuel management; common ground handling; GDS integration; frequent flyer reciprocity and human resource sharing.
The alliance is yet to take-off in any meaningful way, to date there have been some initial meetings, but it is too soon to expect any concrete steps. The initial focus will be on network, commercial and revenue management issues. Both carriers are hoping that a reduction in capacity, optimisation of their respective networks, higher yields and lower fuel prices, together with the generally strong demand in the third quarter, should reduce losses. The future of the alliance depends on both carriers seeing equal and measurable improvements in performance.
Jet Airways is similarly restructuring its domestic and international operations. Jet has reduced its capacity in H1 2008/09 by 13%. The combined seat production of Jet and JetLite has declined from around 56,000 daily seats in April 2008 to 50,000 in Sep-08.
Jet is actively pursuing a cost reduction strategy - staff rightsizing is a key element of this and has been implemented actively at JetLite. The recent attempt to do so at Jet Airways was poorly timed and managed, resulting in a significant media and political uproar. However, other measures include a zero commission structure, a focus on direct distribution and e-commerce, renegotiating GDS fees and other measures. Maintenance and operational issues are currently under intensive review.
On the other hand, investment is being made in strengthening areas considered weak, such as the overseas sales network which has not been making a sufficient contribution to the international routes. Targeted sales and marketing initiatives are being pursued to enhance revenue and yield.
The integration of Jet Airways and JetLite continues and although the process has been longer and more challenging than anticipated, positive results are expected to be seen shortly.
As a result of focusing on core operational and commercial issues over the last six months, the Jet Airways/JetLite combine has increased its market share lead over Kingfisher/Kingfisher Red and has posted much healthier load factors in the last quarter.
Seven B737s are being returned prior to the end of this year, while five B777s are being leased to Turkish Airlines, allowing for capacity on North American routes to be better aligned with demand. These routes have been under significant pressure. Deliveries due in the next 12-18 months are being deferred and no new international routes are expected during this period.
JetLite is expected to operate with a full strength of 24 aircraft shortly with the return of two CRJs from maintenance.
Kingfisher rationalising its capacity
The first steps of rationalisation can already be seen: Kingfisher Airlines has sold five A340-500s, which would suggest that plans to launch non-stop services to the US have been shelved for the time being. The current fleet of five A330s has two aircraft being used for the Bangalore-London route, with the remaining three aircraft yet to be deployed: routes under consideration are Mumbai-London; Mumbai-Singapore and Mumbai-Hong Kong.
On the domestic front, seven A320s are being returned in Nov/Dec and further reduction is still expected. Some A320s may be redeployed on short-haul international routes, primarily to the Middle East, where they can be used for back-of-the-clock operations. The ATR fleet is also under review, Kingfisher is reportedly not happy with the performance of the regional aircraft.
No expansion in the fleet is expected for the next 12-18 months.
The focus is on achieving commercial stability, stemming cash losses and addressing issues related to the integration of Kingfisher Red. The next 12-18 months will be a time of consolidation in terms of people, systems, operations and commercial issues and to restructure the cost base to compete more effectively.
The two largest independent LCCs are taking a cautious approach with respect to capacity expansion, SpiceJet has leased five of its aircraft to other airlines and is operating with a fleet of 15 aircraft. Its second quarter results were significantly below expectations and continued performance at this level will set the stage for further realignment.
IndiGo has also leased two A320s to Turkish Airlines and is evaluating fleet induction plans for the next 12-18 months.
Both carriers will benefit from lower oil prices and are launching some fare initiatives to stimulate the market. SpiceJet is currently the more vulnerable of the two carriers, despite its recent cash injection by a US-based private equity firm.
Air India ill-equipped to handle current environment
Air India is expected to show continued weakness in its domestic operations. The Jet-Kingfisher alliance will further accelerate this.
Air India is possibly the only domestic airline in India which does not have a modern yield management system - most fare decisions are taken manually.
Internal issues related to the merger between Air India and Indian, staff morale and a public sector mindset, continue to play havoc with its operations.
A massive cost-cutting exercise is under way which includes:
Fuel conservation measures, for which IATA is assisting with an efficiency gap analysis;
Older, less fuel-efficient B747s and A300s are being retired and leases on B747s and A310s are not being renewed. Of the 111 aircraft on order, 38 have been delivered, which has reduced the average age of the fleet from 14 years to ten years;
International operations are being reviewed and the network is being restructured, including the suspension of certain loss-making routes;
Reduction in weight and category of inflight catering.
However, Air India lacks the management strength to navigate the significant issues which it faces to be able to effectively challenge other players. Furthermore, with political impediments to rightsizing its workforce of 35,000, achieving a viable business model will remain tough.
Conclusion: Slow growth outlook for 2009
Overall, 2008 has been Indian aviation's lost year. The airlines are doing what they can to survive the extreme bout of turbulence which, despite recent oil price reductions, still has several months to play out. Growth rates could be subdued again for the first half of next year as the Indian economy adjusts to the new global conditions and the disruption of national elections.
But the longer term outlook is much more exciting. Those that can survive the current turmoil can look forward to a brighter future.