Houston airports: efforts to weather oil sector downturn rewarded. International traffic grows
Analysis
Airports in the US energy capital of Houston appear to be effectively weathering the downturn in that business sector due, in part, to a diversification scheme undertaken three to four years ago. This scheme was designed to shore up the number of foreign airlines serving the area's largest airport – Houston Intercontinental. International passenger growth at the airport has helped to alleviate some of the pressure created by fewer domestic connecting passengers from its biggest operator United.

Houston Hobby is also posting solid growth, partially attributable to new transborder services that Southwest started up from a new international terminal at the airport in late 2015. The new service has helped to sustain overall passenger growth of 1.3% in the Houston area for 1H2016. For the first five months of 2016 Hobby recorded 10% passenger growth year-on-year.

With two airports offering commercial service for the metro area Houston has a unique operating profile. Southwest's dominance at Hobby and Frontier, and Spirit's operations at Intercontinental, also ensure a solid mix of full service and low cost airlines.
United the largest airline at Houston Intercontinental; but it feels the sting of depressed oil demand
The sharp drop in oil prices during the past year and a half has created some pressure on corporate travel in the Houston area, given the economic importance the oil industry plays in the region.
United, the airport's largest airline presence with a 75% seat share, has been battling weak corporate revenues in the oil sector during the past year. For example, in 3Q2015 United's corporate revenues in its energy sector portfolio fell 35% year-on-year, and 40% in 4Q015.
Houston George Bush Intercontinental Airport capacity by airline (% of seats): 22-Aug-2016 to 28-Aug-2016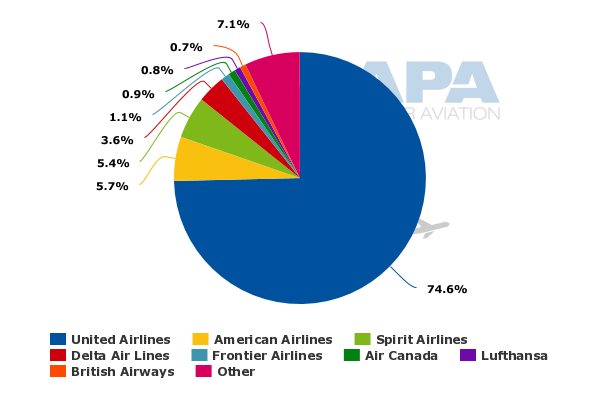 See related report: Delta aims for positive PRASM starting in 2H2016. United aims to mitigate weakness in Houston

As a result of continued depressed corporate revenue in the oil sector, during 2016 United has moved capacity from its third largest hub at Intercontinental to other hubs in Denver and San Francisco. Previously United had anticipated growing 2% in Houston in 2016, but has revised that forecast to flat growth.
United Airlines global top 10 hubs/bases/stations by seats: 22-Aub-2016 to 28-Aug-2016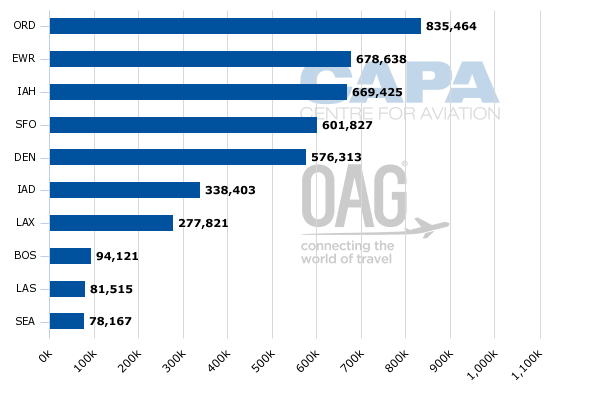 Oil sector weakness affects domestic passenger throughput at Houston Intercontinental
At the recent CAPA Australia Pacific Aviation Summit the director of aviation for the Houston Airport System Mario Diaz stated that the year-long slump in the energy sector was beginning to have an impact on premier business class travel, and he cited a reduction in domestic connecting passengers for United at Intercontinental.
Houston Airports System director of aviation Mario Diaz
The number of domestic seats on offer from Houston Intercontinental has dropped throughout 2016, which reflects the changes that United and other airlines are making to adjust to depressed demand in the corporate sector.
Houston George Bush Intercontinental Airport domestic seats per week: 2014 through early 2017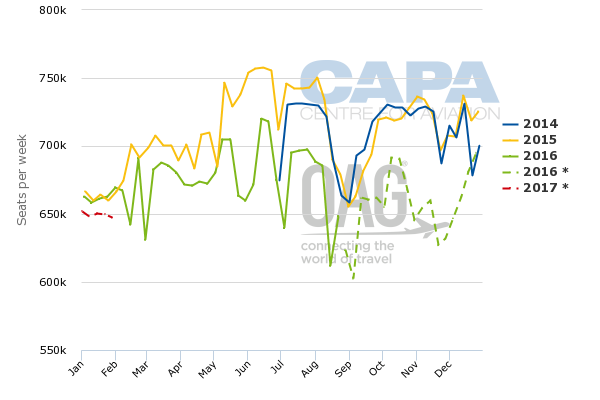 For the first five months of 2016 passenger numbers (enplaned and deplaned) at Houston Intercontinental fell just 0.5%, to 16.9 million. Domestic passenger levels dropped 2.7%, while international passenger levels grew 6.2%.
International growth at Intercontinental helps to offset the domestic pressure
International seat deployment from Houston Intercontinental for the first five months of 2015 was generally in line with levels a year ago. Mr Diaz stated that the Houston Airport System undertook a diversification scheme for Intercontinental three to four years ago, and 10 new international airlines have launched services from the airport in the past three to five years.
He highlighted that Houston is the only city in the Americas featuring direct services to all six inhabited continents.
Houston George Bush Intercontinental Airport international seats per week: 2014 through early 2017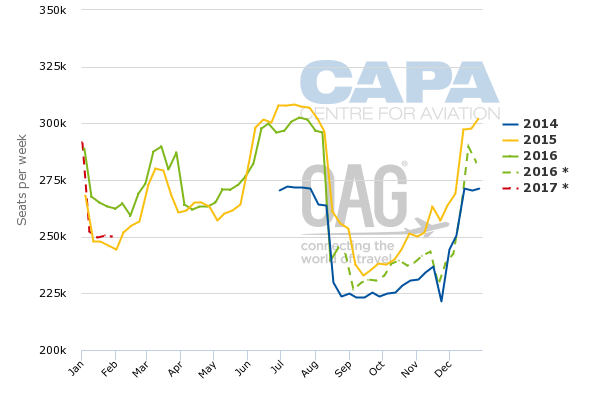 During 2015 Houston Intercontinental logged 8% growth in international passengers.
Houston George Bush Intercontinental Airport annual passenger numbers (International): 2012 through Apr-2016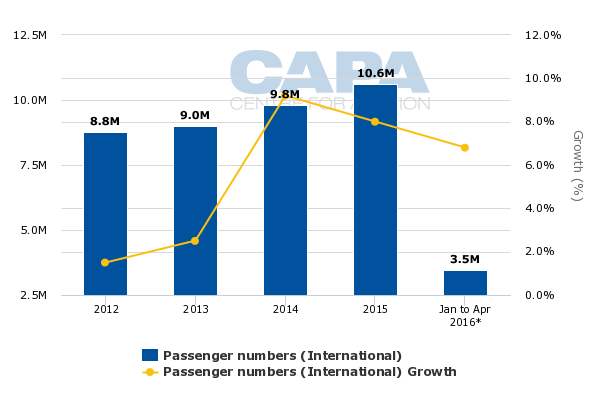 Some of the airlines launching service include Turkish Airlines, Air China, Korean, SAS, Eva Air, All Nippon Airways, Volaris, Interjet and WestJet. Air New Zealand introduced flights from Auckland to Houston Intercontinental in late 2015.
Service to Asia has grown significantly during the past four years. In 2012, Houston Intercontinental's Asia portfolio consisted of a single route operated by United Airlines to Tokyo. Now Northeast Asia is Houston Intercontinental's second largest international region measured by ASM deployment.
Houston George Bush Intercontinental Airport international capacity by region (% of ASMs): 22-Aug-2016 to 28-Aug-2016

Mr Diaz believes that efforts to diversify Houston Intercontinental's airline portfolio have resulted in a reduction in fares at the airport – to Europe, Asia and Africa – and has said that "it has really made a difference". Intercontinental's average annual international passenger growth from 2012 to 2015 was 5.2%.

The increased growth in international passengers stemming from Houston Intercontinental's diversification efforts has helped to blunt some of the decreases in domestic passenger levels traceable to the energy sector downturn. The airport's relatively low total passenger decline of 1% for the first five months of 2016 reflects the success of those diversification efforts.

New international service by Southwest helps to drive double digit growth at Houston Hobby Airport
Houston William P Hobby Airport reached a milestone in late 2015 with the opening of a new international terminal for transborder services, and this is operated by the airport's largest airline – Southwest.
Schedules for the week of 22-Aug-2016 to 28-Aug-2016 show that Southwest operates international flights from Hobby to the Mexican cities of Cancún, Puerto Vallarta, Los Cabos and Mexico City.
The airline also serves Liberia and San José, Costa Rica. Other international destinations that Southwest operates from Hobby include Belize and Montego Bay.
Houston William P. Hobby Airport capacity by airline (% of seats): 22-Aug-2016 to 28-Aug-2016
Mr Diaz observed that Hobby is recording 9% to 10% compounded passenger growth annually. For the first five months of 2015 the airport's total passenger counts (enplaned and deplaned) grew 10.4% year-on-year, to 5.1 million. Domestic passenger levels increased 4% and international passengers jumped to three million, driven by Southwest's new international service.
Southwest covered the USD156 million expense of the new terminal building, which features five gates. For the week of 22-Aug-2016 to 28-Aug-2016 the airline is offering 20,306 international seats from the airport. In early 2016 Southwest executives stated that one of the company's network priorities was to continue growing international service from Hobby, but they refrained from offering when the airline would reach capacity at the new terminal.
The Houston Airport System has estimated that in the coming years the addition of international service should add one million passengers per year to Hobby. Currently (22-Aug-2016 to 28-Aug-2016) international seats represent 9% of Hobby's total seat deployment.
Houston William P. Hobby Airport international vs domestic capacity (% of ASMs): 22-Aug-2016 to 28-Aug-2016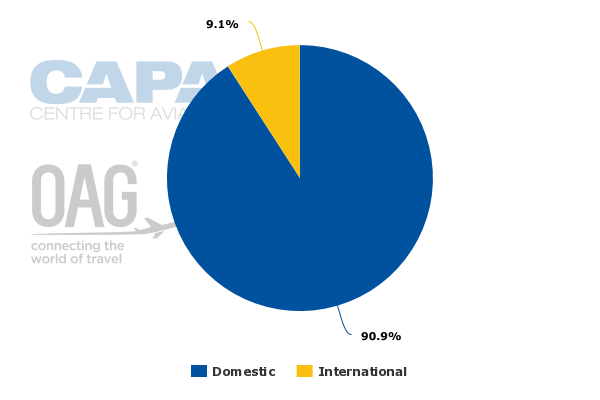 Southwest's 2012 announcement of its intention to add international service from Hobby drew strongly voiced opposition to the plans from United. United stated that even minor spill of international passengers to Hobby would render some routes unprofitable. After Southwest succeeded in gaining approval for the new flights from Houston's city council, United outlined its own plans to cut capacity at Houston Intercontinental by 10%.
See related report: United begins small market cuts from Houston in fallout from battle over Hobby
Four years later – United has said little publicly about the effects of Southwest's new service in the Houston market, and any fallout from cuts made by United has been offset by Intercontinental's growth of its international throughput.
During the past few years the airport has also been a growth market for the ULCC Spirit Airlines, which is the third largest airline at Intercontinental measured by seat deployment.
Both Spirit and its fellow ULCC Frontier Airlines operate services from Intercontinental, providing an element of ultra-low cost competition in the market for the dominant airlines in the Houston region – United and Southwest.
Even as United, Southwest and the other large US global network airlines devise schemes to offer a percentage of low fares to match the ULCCs, Spirit and Frontier's presence in Houston has nonetheless had an effect on average fares in the market.
Houston airports have made smart moves to withstand the oil sector downturn
Airports serving the Houston metro area seem to be weathering the downturn in the oil sector, thanks to efforts by the Houston Airport System to bolster the number of international airlines serving the airport and Southwest's international push from Houston Hobby.
Those efforts, which are resulting in the Houston metro area's passenger numbers growing at a solid rate, will position the region favourably to capitalise on further growth once a rebound in the oil industry begins.