Delta aims for positive PRASM starting in 2H2016. United aims to mitigate weakness in Houston
Analysis
US airlines enjoyed huge top-line benefits in 2015 from plummeting fuel prices. But the decline in energy costs affected the pricing environment, which sent yields spiralling down during the year. The resulting pressure on passenger unit revenues (PRASM) overshadowed the record profitability of US airlines as investors became concerned about the duration of PRASM declines.

At one point, some airlines believed, the industry could begin a positive PRASM trajectory in 2H2016, and Delta believes unit revenue trends should stabilise by the summer of 2016. Both Delta and rival United continue to cite yield pressure rather than a deterioration of demand as one driver of their projected PRASM declines for 1Q2016. Fuel remains a wildcard for US airlines as they work to determine when they can achieve positive PRASM results; some forecasts indicate oil prices could drop an additional 15% to 20%.

Delta's projected 1Q2016 passenger unit revenue performance, while still negative, is better than United's PRASM forecast for the quarter. United is facing challenges at its Houston Intercontinental hub, which is enduring pressure from a fall-off in corporate demand from the energy sector.
United feels the sting of depressed energy sector demand on its Houston hub
Pressures from foreign currency due to the appreciating USD against most global currencies, falling fuel surcharges on international routes, and soft US domestic pricing drove down yield and passenger unit revenues for both Delta and United for most of 2015. United charted flat growth in each metric for 1Q2015, but then suffered declines throughout the rest of year, culminating in a 4.4% drop in passenger unit revenues for the full year, and a 4.3% decrease in yields.
United Airlines PRASM and yield performance (% increase/decrease) by quarter and full year 2015
| | | |
| --- | --- | --- |
| Quarter | PRASM | Yield |
| 1Q | 0.4% increase | 0.4% increase |
| 2Q | 5.6% decrease | 4.1% decrease |
| 3Q | 5.8% decrease | 5.6% decrease |
| 4Q | 6.0% decrease | 7.2% decrease |
| Full year | 4.4% decrease | 4.3% decrease |
Delta's system passenger unit revenues suffered the largest declines in 2Q2015 and 3Q2015, before slowing to a 2% drop in 4Q2015. The airline cited solid growth in corporate revenue, which grew 3% year-on-year in the quarter.
Delta Air Lines PRASM and yield performance (% increase/decrease) by quarter and full year 2015
| | | |
| --- | --- | --- |
| Quarter | PRASM | Yield |
| 1Q | 1.7% decrease | 0.4% decrease |
| 2Q | 4.6% decrease | 3.9% decrease |
| 3Q | 4.9% decrease | 5.4% decrease |
| 4Q | 1.6% decrease | 4.4% decrease |
| Full year | 3% decrease | 4.2% decrease |
The airline's domestic passenger unit revenues in 4Q2015 dropped 1.4% on a 4.3% drop in yields. Delta president Ed Bastian has concluded that the US domestic yield environment remains competitive, "similar to what we have been experiencing for most of the year [2015]".

As oil prices fell in 4Q2015, settling below USD40 per barrel by YE2015, United continued to face pressure in its Houston hub. The economy of Houston's metro area is solidly dependent on the energy sector, and United felt the effects of deflating demand from the energy business throughout 2015.
United Airlines Global top 10 hubs/bases/stations by seats: 18-Jan-2016 to 24-Jan-2016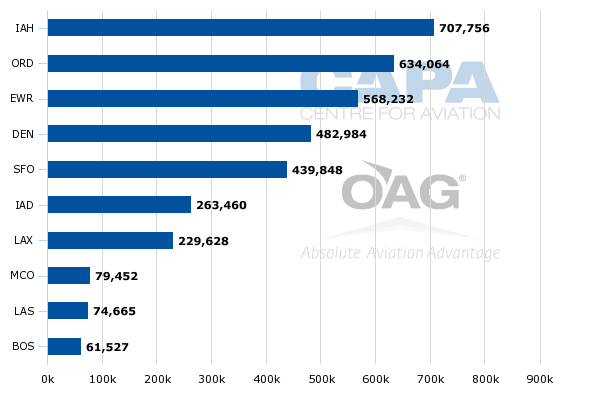 At one point, United believed that the deepest revenue declines in the energy sector were occurring at the end of 2Q2015, and that its revenue performance in that sector would improve in subsequent quarters.
United's performance actually worsened in 3Q2015 and 4Q2015. Revenues in the company's corporate energy portfolio fell 35% in 3Q, and 40% in 4Q, versus a decline of 20% in 1Q2015 and a 30% decrease in 2Q2015.

See related report: The Big 3 US airlines continue capacity expansion in 2016. Domestic pricing pressure remains a worry
United's PRASM outlook for 1Q2016 is a decline of 6% to 8%. The company projects a 4% to 6% drop in the domestic market, and an 8% to 10% decrease in its international network.

The airline allocated 1ppt of the decline to continuing FX pressure, and another single ppt stemming from lower fuel surcharges on long haul international routes, largely to Japan. United explained that surcharges in Japan are pegged to the trading price of oil by law. Company chief revenue officer Jim Compton also recently stated that United has started to experience revenue declines outside the energy sector in the Houston market. Lower demand from the energy sector, driven by falling oil prices and the growing revenue pressure in Houston outside that business segment, represent approximately 1ppt of the company's anticipated passenger unit revenue decline in 1Q2016.

United is taking steps to mitigate the challenges it is experiencing in Houston. Mr Compton stated that the airline was shifting capacity out of Houston into what he deemed to be "other growing markets" in San Francisco and Denver. Mr Compton concluded that Houston's growth should remain flat year-on-year in 2016, versus previous projections of a 2% expansion.

Denver and San Francisco are United's fourth and fifth largest hubs, respectively, measured by seat deployment. San Francisco is also United's major gateway to Asia. Mr Compton stated that United was examining markets from those hubs to the East Coast, "to fill in some holes we don't serve today, that will clearly be focused on business markets".

United has already outlined plans to introduce new flights from its Denver hub to Richmond, Virginia and Hartford, Connecticut.

Competitive pricing actions are driving 1.5ppt of United's anticipated PRASM decline in 1Q2016. Mr Compton stated that load factors are at year-ago levels; however, "It's the yield pressure that we see in the first quarter".
United's assurances that demand is absorbing capacity growth to China, but yields are lower
United is also fielding investors' questions about its outlook for China. The airline is the largest operator between the US and China for the week of 19-Jan-2016, holding a 23% share of the roughly 75,200 one-way seats on offer between the two countries (based on data from CAPA and OAG). Given the jitters that China's economic performance has stirred up throughout global markets, it is not surprising that investors are interested in how United evaluates its operating prospects for China.
United States of America to China (seats per week, one way): 19-Sep-2011 to 3-Jul-2016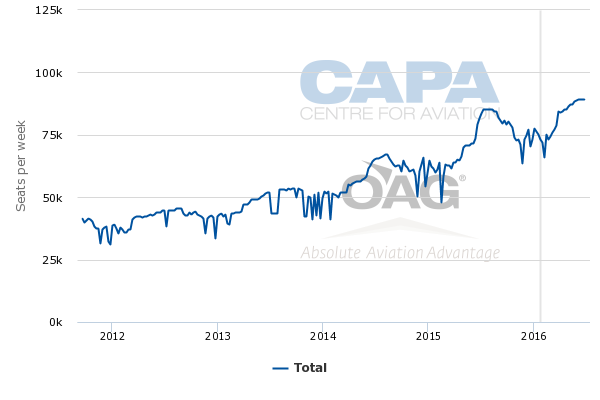 Mr Compton has assured investors and the market that demand in China is growing in line with industry capacity. Yields have been somewhat lower, but the region remains profitable for United. He remarked that industry capacity growth between the US and China for 1Q2016 is rising roughly 19%, "but (yet) we are also seeing bookings for the industry going at that rate".
Delta believes it can start a positive PRASM trajectory by US summer 2016
Delta's passenger unit revenue forecast for 1Q2016 is more favourable that United's. Delta anticipates a 2.5% to 4.5% drop year-on-year, with 1.5ppt driven by FX pressure.

Offering a bit of colour on the revenue environment for the first three months of 2016, Mr Bastian stated that Delta expects the off-peak periods of Jan-2016 and Feb-2016 to be more challenging than Mar-2016, when Delta should benefit from the Easter and Spring Break holidays.

Mr Bastian believes that Delta's unit revenue trends should stabilise by the US summer 2016, and admitted that lower fuel prices have resulted in unit revenue declines for longer than the airline expected. Queried about Delta's timeframe for unit revenue stabilisation if fuel prices continue to fall, Mr Bastian stated that Delta's projections are based on current fuel price projections (as of mid-Jan-2016). He did state that if fuel prices drop 15% to 20% over the next few months, as some forecasts suggest, passenger unit revenues could face incremental pressure.

It is a trade-off that most airlines are willing to accept. Delta is forecasting a USD3 billion decline in top-line fuel expense in 2016, with substantially lower hedge losses year-on-year of USD100 million to USD200 million. During 1Q2015 Delta posted USD1.1 billion in hedge losses, and worked throughout the year to mitigate losses from its hedging portfolio.

See related report: US airline fuel hedging Part 1: United, Delta fight to reduce losses. American enjoys hedge freedom
United and Delta aim to keep system capacity growth below 3% during 2016
Delta is sticking to previous pledges that its system capacity growth in 2016 would sit between flat, and an increase of 2%. For 1Q2016 the airline plans 2% to 3% system capacity growth, with a 4% to 5% increase in the US domestic market and a 2% to 3% rise in international capacity.

United's capacity projections for 2016 are growth of 1.5% to 2.5%. Its capacity growth estimates for 1Q2016 are also in that range.

Both airlines are engaging in aircraft upgauge projects. Delta is removing 40 additional 50-seat regional jets from its fleet during 2016, while adding seats to 23% of its narrowbody fleet.

For 2016, United estimates that its average gauge will increase by 5% year-on-year, while its average departures should drop 1%. The airline constantly stresses that the upgauge strategy is positive for United's unit cost performance, but does create unit revenue pressure. Its current unit cost projections excluding fuel, profit share, and third party business expense are projected to increase 0.5% to 1.5%.
Delta acknowledges to investors the importance of returning to a positive PRASM
For 1Q2016, Delta projects an operating margin of 18% to 20%, despite outlining that there will be pressure in the off-peak periods for the first two months of the year. It posted an operating margin of 16.2% for full year 2015 and delivered a return on invested capital of 28.3%.

United's return on invested capital in 2015 was 21%. The company touted that its USD4.5 billion in pre-tax income for 2015 was the best in the airline's history.

Delta is acknowledging to investors that despite its strong financial performance, it clearly understands the importance of returning to a positive unit revenue performance. United is still stressing that while passenger unit revenues are an important metric, there are other equally important metrics, including earnings and margins. The airline has also not offered a clear-cut timeframe for a return to positive passenger unit revenues.
The US pricing dynamics ushered in by lower fuel prices could linger for some time to come
Fuel prices that began falling in late 2014, and stayed below historical highs in 2015, created interesting market place dynamics for US airlines during 2015. In Jan-2016 prices briefly fell below USD30 a barrel. It seems the same dichotomy of record profits and lower passenger unit revenues driven by lower fuel prices that was a mainstay in 2015 is a trend continuing for at least 1H2016.

For now, the situation is status quo – airlines are enjoying record profits from falling fuel prices while attempting to weather a weak domestic yield environment. Despite Delta's best intentions, this state of affairs could be in place for quite some time.