Hawaiian outlines 2014 goals: mature long-haul markets and begin work to shore-up its balance sheet
Analysis
Mastery is the buzzword of choice for executives at Hawaiian Airlines as the carrier heads into 2014 aiming to drastically slow its capacity growth and turns a sharp focus on maturing a number of new long-haul markets it has rapidly introduced during the past three years.

In tandem with the slower capacity growth, Hawaiian's capital commitments are winding down as it takes delivery of its last Airbus A330 widebody in 2015. The company expects to turn a corner that year by generating positive free cash flow to improve its financial leverage.

For management and investors alike, the slowdown and shift of focus to ensuring new routes reach profitability is likely a welcome change from the frenetic expansion Hawaiian has undertaken since 2010, when it started down a path of introducing 10 new long-haul markets that will culminate with new service from Honolulu to Beijing, scheduled to launch in Apr-2014. Hawaiian faces specific challenges in each of its long-haul geographies that it needs to overcome, but executives remain bullish that the company's network diversification strategy will deliver favourable results over the long term.
See related report: Hawaiian Airlines preps for a new phase of slower growth after rapid international expansion
Hawaiian slows its capacity growth to single digits in 2014
During 2014 Hawaiian estimates its capacity should increase between 5% and 8.5% after 22% growth year-on-year in 2012 and anticipated growth of 14% during 2013.
Hawaiian Airlines capacity growth: 2010 to 2014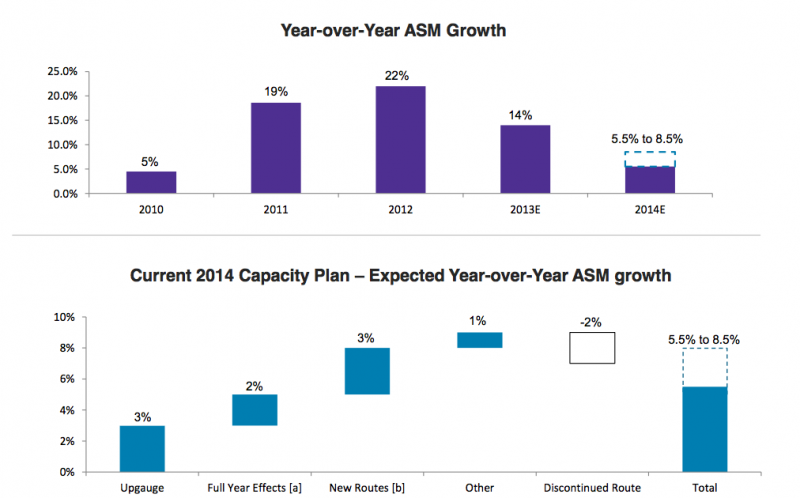 The explosive growth has been driven by the introduction of service to five new cities in Japan since 2010 – Tokyo Haneda, Sapporo, Sendai, Osaka and Fukuoka.
Other long-haul destinations the carrier has introduced during the past three years include Seoul, Brisbane, Auckland and Taipei. The new service to Beijing caps off Hawaiian's breakneck, long-haul expansion that commenced in late 2010.
Hawaiian Airlines new long-haul route launches: 2010 to 2014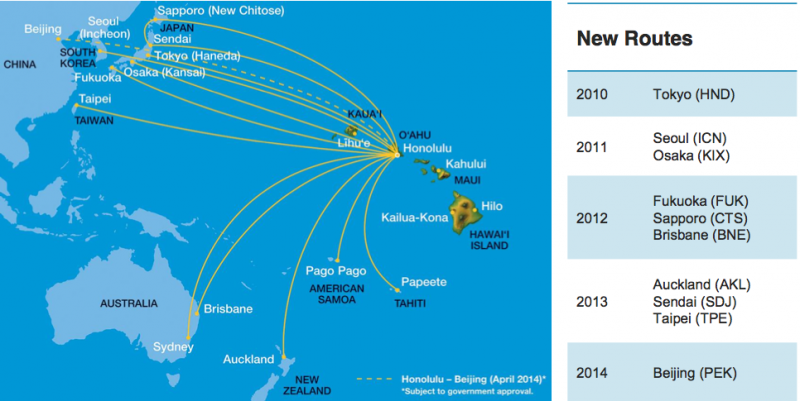 In a recent discussion with investors, Hawaiian CEO Mark Dunkerley noted that as the carrier readies to close 2013 it serves more destinations outside the continental US than on the country's mainland.

Hawaiian's moderating of growth during 2014 reflects what Mr Dunkerley deemed an inflection point in the carrier's operations. He concluded that during the next few years Hawaiian will be slowing its growth considerably as its focus is deliberately shifting to maturing its new long-haul markets.
Hawaiian remains steadfast that its Asian long-haul expansion will be fruitful
It seems the time is right for Hawaiian to shift its focus to ensuring its investments in long-haul expansion pays off as approximately 67% of the company's international capacity during 4Q2013 will be deployed into markets either categorised as a new market or which have only been on offer for one to two years.
Carrier executives estimate that, generally, Hawaiian can achieve profitability in long-haul markets between one and three years.
Hawaiian's breakdown of international capacity by market maturity: Nov-2013
That mix has pressured the carrier's unit revenues, which fell 6.3% for 9M2013. This pressure is likely to intensify as the full impact of currency drops in the (predominantly origin) markets of Japan and Australia filter through. Competitive industry capacity in other long-haul markets has also dragged down Hawaiian's performance in its long-haul operations. During 3Q2013 unit revenues in its Japanese markets fell nearly 18% year-on-year. But the carrier has previously assured that it will ultimately succeed in Japan, even if the currency pressure continues.

In other long-haul markets, Hawaiian has faced pronounced competitive capacity increases from Honolulu to Seoul, particularly from Asiana. That pressure is also contributing to a slower than expected maturity rate for that route. The carrier also recently warned it faces currency headwinds in its Australian markets – Sydney and Brisbane – during 4Q2013 and into 2014 as the US dollar strengthens.
Improving dynamics to the US mainland offset negative effects of long-haul routes
As Hawaiian works to maximise profitability in its long-haul markets, it has received a reprieve from competitive capacity pressure on its routes to the US mainland. It appears industry capacity peaked in mid to late 2012 and began to finally rationalise during mid 2013.
Year-on-year capacity changes from the Hawaiian islands to North America: 1Q2012 to 2Q2014E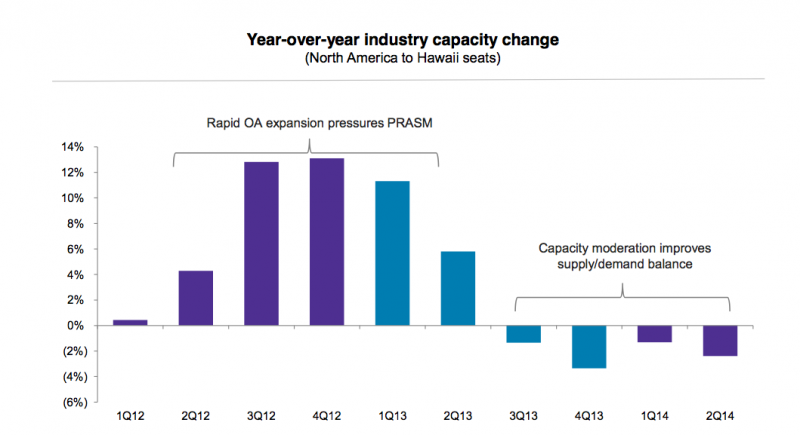 Hawaiian chief commercial officer Peter Ingram concluded that a significant amount of the increase between Hawaii and the mainland was speculative, and the moderating of supply is positive for the industry as a whole. Alaska Air Group, which has added a significant number of new routes to Hawaii during the past few years, began trimming its capacity to the islands during 2Q2013 largely through frequency reductions, which resulted in the carrier removing the equivalent of two Boeing 737 narrowbodies from its operations.

North America still serves as Hawaiian's largest source of revenue on a geographical basis, so the carrier has been making subtle changes to shift its capacity "into places where we see opportunities and strength", said Mr Ingram.

Hawaiian has focused more on Oakland and Los Angeles, and plans to add nonstop service to those markets from Lihue and Kona during the peak 2014 summer season. Markets where Hawaiian has opted to trim capacity include San Jose, Portland and Seattle (the latter two are hubs for Alaska). From Portland, Alaska serves Honolulu (alongside Hawaiian), Kahului, Kona and Lihue. Alaska also operates to those markets in Hawaii from Seattle, and competes with Hawaiian on service to Honolulu and Kahului. Schedules in OAG also show that Alaska operates service from Oakland to Lihue.

Mr Ingram also highlighted Hawaiian's codeshares with JetBlue and Virgin America, which allow Hawaiian to access markets the carrier cannot serve with its own metal economically, particularly markets in the US northeast.
Hawaiian and JetBlue codeshare on flights from JFK and Los Angeles while the Virgin America codeshare allows Hawaiian to place its code on Virgin America's flights to Boston, Dallas, Fort Lauderdale, Washington Dulles, JFK, Las Vegas, Chicago, Philadelphia, Portland, Seattle and San Francisco.
Hawaiian improves its inter-island performance as launch of subsidiary Ohana is stalled
Hawaiian's fortunes are also turning in its inter-island network after the carrier re-jigged some capacity it added from Maui when the carrier opted to transition Kahului into a hub in Jan-2012. At the time Hawaiian increased capacity from Maui to neighbouring islands by 25%. But after the excess supply pressured its inter-island unit revenues, the carrier opted to re-adjust the supply it opted to deploy from Kahului.

Mr Ingram concluded that while Hawaiian may have initially executed its scheme for the Maui hub poorly, Hawaiian's original thesis in building out Maui as a hub is intact. On a two year comparison, Hawaiian's inter-island ASMs grew about 8%, 6% and 8% in 1Q2013, 2Q2013 and 3Q2013, respectively. During those same timeframes, unit revenues fell almost 2% during 1Q2013, but rebounded with roughly 8% growth in 2Q2013 and about 6% 3Q2013.
Hawaiian Airlines inter-island capacity and unit revenue growth: 1Q2012 to 3Q2013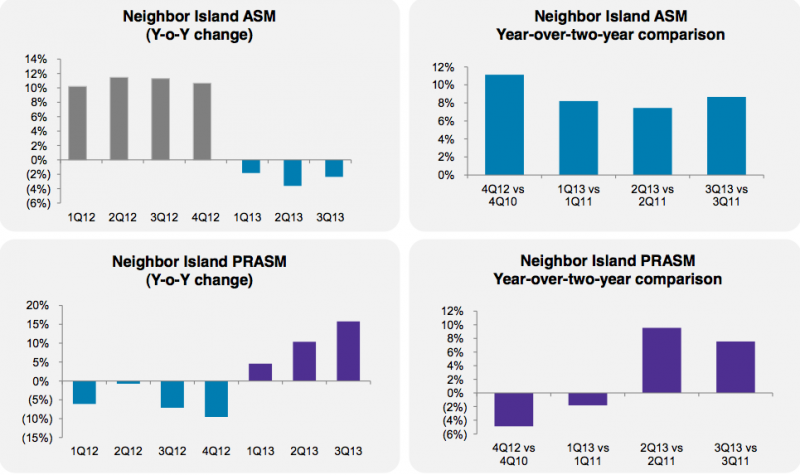 The carrier's launch of a new inter-island ATR operation in conjunction with Empire Air, dubbed Ohana by Hawaiian, has slipped as resources at the US FAA remain scarce, which has pushed back the carrier's certification. Once the project receives all the necessary approval to commence operations, Ohana will operate two 48-seat ATR 42 turboprops to origin and destination markets within the islands not economically viable for the Boeing 717s Hawaiian operates among the islands.

Initially Ohana plans to operate flight from Honolulu to Molokai and Lanai. Another possible destination is Honolulu to Kapalui, located on western Maui near popular vacation resorts. Additionally, Mr Ingram said Hawaiian was also considering operating the smaller aircraft in existing inter-island markets during off-peak times when there is not sufficient demand from Hawaiian's long-haul flights to fill the larger 717s, and named Hilo, Kona and Lihue as examples.
See related report: Hawaiian attempts to reverse negative inter-island performance dragged down by new Maui hub
Hawaiian plans to begin generating positive cash flow in 2015
Accompanying Hawaiian's significant expansion into long-haul markets during the past three years is the delivery of Airbus A330 widebodies to replace older, smaller-gauge, Boeing 767s. Between 2011 and 2015, Hawaiian's A330 fleet will grow from five to 22, while its 767s are expected to decrease from 16 to 7.
Once Hawaiian accepts delivery of all 22 Airbus widebodies, its order will be complete, and no deliveries are expected during 2016. The carrier has also ordered 15 Airbus A321neos for delivery beyond 2016, which will be a new aircraft type for Hawaiian.
Hawaiian Airlines' fleet plan: 2011 to 2015

Outlining the carrier's fleet trajectory, Hawaiian CFO Scott Topping remarked to investors that capex spend should peak during 2013 at USD520 million to USD530 million. Given that expenditure he remarked that it is not surprising that Hawaiian will be free cash flow negative during 2013 in the range of USD300 million to USD310 million.
But as Hawaiian's fleet commitments reach completion, the company expects to reverse its negative cash flow performance beginning in 2015, with a marked improvement in 2016 as it takes a breather from aircraft deliveries.
Hawaiian estimated free cash flow: 2013 to 2016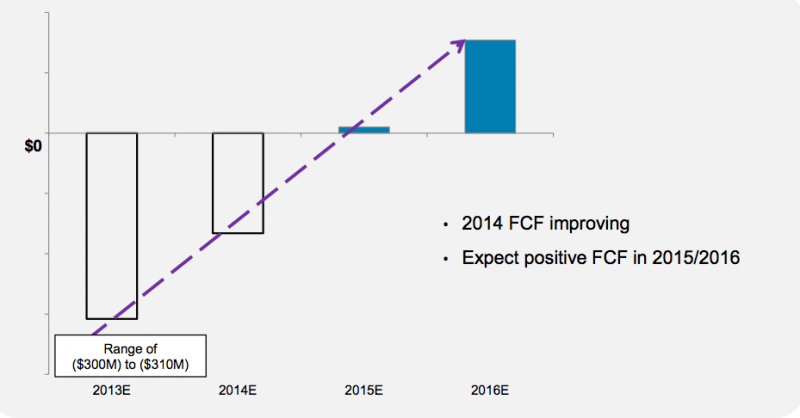 As it turns free cash flow positive, Hawaiian also expects its leverage to improve from an adjusted debt to adjusted EBITAR of 4.8X during 2013, while its adjusted debt to capitalisation should fall below its current level of 85%.
Hawaiian Airlines' leverage 2011 to 2016 and debt to capital comparisons with other US carriers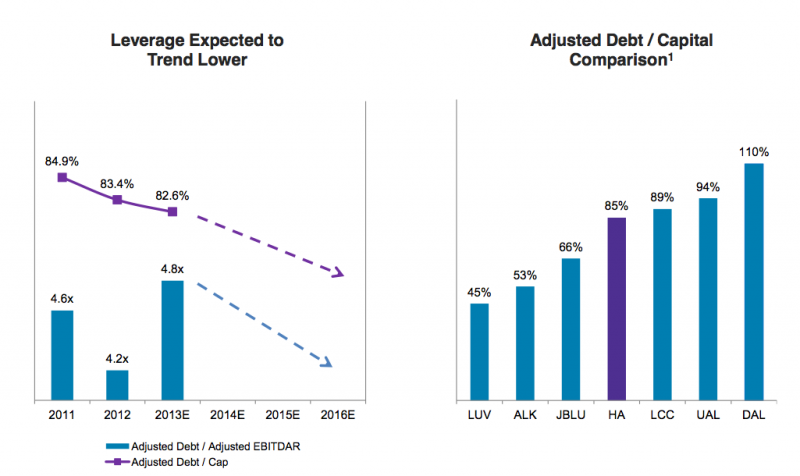 After outlining its slowing growth, Hawaiian needs to execute on long-haul profitability
Hawaiian's strategic shift from continuing growth in 2013 to redirecting its efforts to spooling long-haul routes in 2014 is necessary as the carrier needs to develop a singular focus on the nuances that are creating obstacles for those routes in reaching profitability reasonably quickly.
The decrease in capacity should allow Hawaiian to reallocate resources from route launches to deepening its understanding of those markets in order to derive more revenue, and ultimately develop a plan for long-term profitability in its relatively new international long-haul operations.

As the US industry touts a new paradigm of capacity discipline and balance sheet de-leveraging, Hawaiian's efforts to reverse negative free cash flow and improve its leverage position should curry favour with investors.
Obviously the proof lies in execution; but for the moment, despite some notable headwinds, Hawaiian's management expresses confidence in its ability to master the carrier's destiny.