Global freight outlook: declines punctuated by Cathay Pacific's volume falling below 2009 levels
Analysis
The outlook for freight volume – and implications for passenger traffic – continues to worsen as Cathay Pacific, the world's largest international freight operator, reported its Sep-2011 freight volume declined 10.1% year-on-year, even dipping below 2009 levels for the first time. Cathay worriedly foreshadowed continued weakness in the sector for the remainder of the year and into 2012 – a sentiment echoed by leading cargo carriers China Airlines, EVA, FedEx, Korean Air and Lufthansa, as this global freight outlook surveys. So far DHL is alone in being a major freight carrier not to forecast any downturn.
Based on traffic trends in recent months, and comments from the world's largest freight operators and global airline and airport associations, it appears there is a growing likelihood of a protracted period of slow or negative year-on-year freight growth in the months ahead, even with the approach to the peak pre-Christmas season.
The current economic weakness and deteriorating consumer and business confidence is translating into lower demand, particularly from manufacturing hubs in Asia, and does not provide a positive outlook for the global air freight industry. This weakness in freight traffic, in turn, foreshadows an expected weakening in passenger markets.
IATA and ACI warn of declines
Cathay's comments echo those made by some of the world's other largest freight operators, and by IATA and Airports Council International (ACI World) earlier this month, with both associations noting the deepening freight declines in recent months as business and consumer confidence wane amid concern that economies may slide into recession.
Stagnating cargo flows in recent months also point to weaker passenger markets going forward into next year, IATA has warned. IATA director general and CEO, and former Cathay Pacific CEO, Tony Tyler cautioned: "Generally speaking, cargo performance has often been a leading indicator of the passenger side of things so there are good reasons to be cautious about the outlook for passenger traffic over the next few months".
See related article: Airline industry in continued 'crisis' state amid uncertain outlook: IATA
Similarly, ACI World warned that the air freight performance in Aug-2011 "does not paint a particularly rosy picture" for the industry, with the organisation's new economics director Rafael Echevarne cautioning that "the dramatic deceleration in the evolution of freight traffic over the year puts into question whether we will end the year in positive territory".
See related article: Passenger growth slows in Aug-2011. Freight downturn a cause for concern: ACI
Cathay Pacific reports sixth consecutive month of cargo declines, reflecting global slump in worldwide cargo market
Sep-2011 was a challenging month for Cathay Pacific and wholly-owned subsidiary Dragonair, with the airlines reporting a combined year-over-year cargo traffic decline of 10.1% to fall below both 2010 and 2009 levels. It was the sixth consecutive month of freight declines for Cathay Pacific. Sep-2011 is traditionally the start of peak season for the carrier, which stated it has been "disappointed" by cargo demand levels in the month. The carrier added that "there is no sign yet of the traditional year-end peak beginning".
Cathay Pacific Airways cargo volume: 2009 to 2011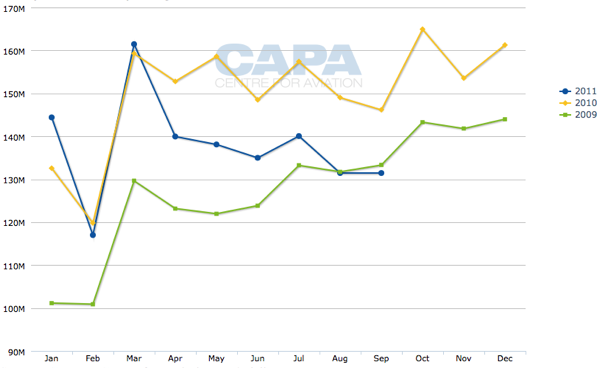 Cathay Pacific now expects tough times ahead, saying its cargo business, which accounts for about 30% of revenue, has been hit hard by the current global economic jitters. In the Oct-2011 edition of CXWorld, Cathay Pacific general manager cargo sales and marketing noted that an extremely strong year for cargo in 2010 was "always going to be difficult to beat, but a downturn in the two key markets of Hong Kong and Mainland China has turned 2011 into a challenging year".
"Both these markets have been weaker than hoped from April and particularly disappointing for the first half of September. Traditionally this is when the peak season starts to build momentum," he added said. The carrier noted that the sovereign debt crisis in Europe and the loss of consumer confidence in North America has "severely affected demand for air freight from Asia leading to buyers in Europe and USA being careful to keep inventories under control". "Any improvement for the rest of the year is dependent on improved macro-economic news and a consequent improvement in consumer confidence," Mr Woodrow noted.
Cathay Pacific John Slosar this month similarly noted: "We all know that when a downturn comes, it hits aviation hard and fast. We need to be ready for that, but I believe we are in a better position than most because our balance sheet is strong." Cathay Pacific COO Ivan Chu late last month, as quoted by Dow Jones, stated the carrier does not expect to see the traditional peak shipment season in 4Q2011 due to the global economic conditions, adding the carrier's performance will likely be "in line with the market". The carrier also noted that although the situation in 2011 is concerning, it remains improved from 2008 levels.
Cargo load factors and capacity down too
Cathay Pacific and Dragonair transported 131,443 tonnes of freight and mail in Sep-2011. The cargo and mail load factor was down 5.0 ppts to 64.8%, marking over 12 months of year-on-year load factors reductions, as the 0.8% year-on-year reduction in cargo capacity available cargo/mail tonne kilometres) was outpaced by a 7.9% reduction in cargo demand (cargo and mail tonne kilometres). For the year to date, tonnage has dropped by 6.4% compared to a capacity increase of 9.8%.
Cathay Pacific Airways cargo load factor: 2009 to 2011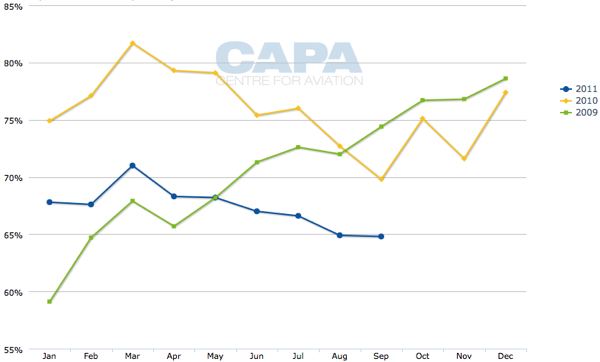 Responding to the current operating environment, Cathay Pacific has reduced freighter capacity to long-haul destinations and launched new regional services to offset weakening US and European demand. Cathay said its new Bangalore service, launched in Aug-2011, has exceeded forecasts. Its twice weekly freight service to Chongqing was also "going well" and may be doubled to four times weekly in Nov-2011, the carrier said. Freighter service to Chengdu, which has a growing technology industry, is set for launch this month. "Business to and from both Chongqing and Chegndu will grow strongly over the months and years to come," Mr Woodrow added. Overall, the carrier noted that "intra-Asia traffic is holding up well and flights from most destinations into Hong Kong have been relatively full."
However, the carrier has reduced Europe cargo services from 28 weekly services in 2010 to 22 weekly in Oct-2011, amid "weakening" and "below expectation" demand to European destinations, and its trans-Pacific cargo network has been reduced from 40 to 34 weekly services.
DHL, seeing no sign of slowdown, has no plans to cut capacity
DHL Express is alone in bucking the trend of its competitors who are universally seeing a downturn. The cargo carrier stated it is not seeing signs of a slowdown in the region despite recent warnings from rivals about poor business conditions.
DHL CFO Larry Rosen, as quoted by Dow Jones, stated: "We haven't seen a slowdown in the volumes moving through our warehouses." He added that the company does not plan to reduce capacity and is, in fact, adding routes to its network, half of which start or end in Asia.
Mr Rosen said its business mix has protected the company from the weakness experienced by its competitors. DHL has a more extensive intra-Asia business than FedEx and UPS, both of which are more focussed on longer-haul routes from the region to Europe and North America. He however said that while business has not declined as yet, it is too early to determine the strength of the key peak holiday shopping season.
Korean Air Lines: European freight demand missing expectations
Korean Air Lines, the world's second largest international cargo carrier, this month stated European freight demand was missing expectations as an economic slowdown results in reduced demand for mobile phones and consumer electronics. "There should have been more demand from Europe this time of the year," senior vice president Cho Won Tae said in an interview with Bloomberg. Cargo has been "weak" network wide all year, while passenger demand has risen steadily, he said. The carrier has reported year-on-year reduction in freight traffic this year except for Jan-2011.
Korean Air Lines revenue freight tonne kilometres (international): 2009 to 2011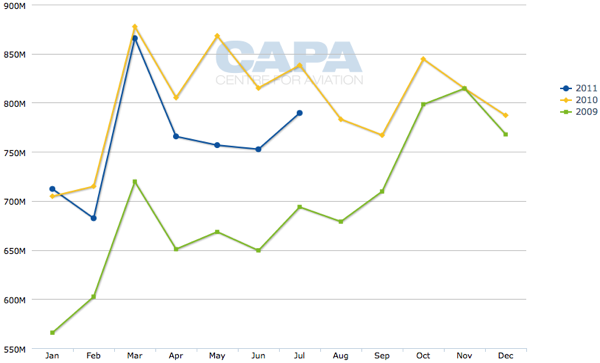 Emirates not upbeat about market
Emirates, the world's third largest international cargo operator in 2010, has not commented on freight weakness across its network, only stating the global economic volatility and the "stubbornness" of oil prices are the major concerns for the carrier at present.
Lufthansa Cargo reports cargo weakness in recent weeks
Lufthansa Group, the world's fourth largest international cargo operator in 2010, reported a 4.1% reduction in cargo volume in Sep-2011 to 170,000 tonnes, for a second consecutive month of year-on-year declines. The company also reported a 5.1% reduction in Lufthansa Cargo tonnage, to 150,000 tonnes. Group cargo load factors declined 1.0 ppts to 64.8% and Lufthansa Cargo load factors weakened 0.7 ppts to 67.6%.
Lufthansa Cargo volume: 2009 to 2011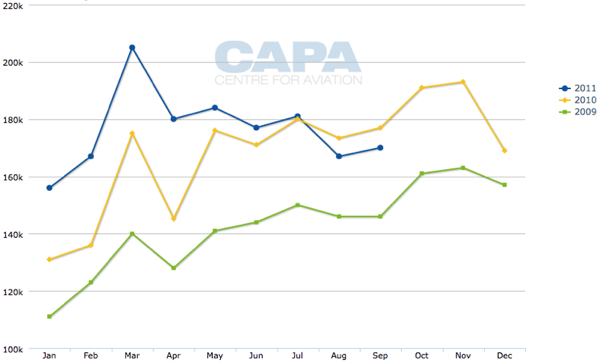 Lufthansa Cargo chairman and CEO Karl Ulrich Garnadt this month cautioned that in recent weeks the "market had become increasingly tough for the entire industry". He continued: "Growth, particularly in Asia, had been weaker than in the previous year. How strong demand would be this year during the high season in the fourth quarter was still uncertain." Similarly, Lufthansa CFO Stephan Gemkow, in an interview with Boersen Zeitung, this month stated the carrier expects cargo weakness in coming months amid slowing economic growth.
FedEx expects 'sluggish economic growth will continue'; full-year forecast cut
FedEx CEO Fred Smith last month warned of continued reduced demand from Asia that commenced in Jul-2011, leading to a reduction in the company's full-year forecast amid weak orders from sectors such as consumer electronics.
The company, the world's largest freight operator by combined domestic and international freight traffic and the fifth largest international freight operator in 2010, said that from "talking to our customers – the retailers, the manufacturers and so forth – the primary driver of the reduced demand is the lower sales of electronic products". Mr Smith added, in an interview with Bloomberg: "We expect sluggish economic growth will continue."
The carrier last month cut its full-year profit forecast amid declining demand in the US and Asia and the "challenging" economic environment. "The US and global economy grew at a slower rate than we anticipated during the quarter. While FedEx Ground and FedEx Freight achieved improved operating results despite lower than expected growth, the more rapid decline in demand for FedEx Express services, particularly from Asia, outpaced our ability to reduce operating costs. We have slightly reduced our earnings forecast to reflect current business conditions and are aggressively working to adjust our cost structure to match demand levels," Alan Graf, executive vice president and CFO said, explaining the forecast reduction.
Meanwhile, Fitch Ratings noted that the "most significant risk to FedEx's credit profile in the near term is the potential for a 'double-dip' recession that results in another significant decline in global economic conditions in the next 12 to 18 months". Fitch Ratings continued: "Under such a scenario, the company could potentially experience a follow-on reduction in volumes across its transportation units, increasing pressure on margins and free cash flow. Although it is likely the company could find opportunities to further cut operating expenses, as well as lower its capital spending, free cash outflows could become material under such a scenario and the company's credit metrics could weaken enough to prompt Fitch to revise the company's rating from its current 'stable' outlook to 'negative'."
China Airlines 'can't see a recovery in cargo demand' in 4Q2011
While Singapore Airlines, the world's sixth largest freight operator in 2010, has been quiet on the impact the current economic conditions on its freight business, Taiwan's China Airlines, the world's seventh largest international freight operator in 2010, stated it has suffered a 16.2% year-on-year drop in cargo traffic (FTKs) in Sep-2011, marking the 11th consecutive month of year-on-year declines. "I can't see a recovery in cargo demand in the fourth quarter," Hong Kong general manager, Tong Huai Ming said, adding that new freighter capacity worsened the situation and put freight rates under great pressure.
China Airlines revenue freight tonne kilometres: 2009 to 2011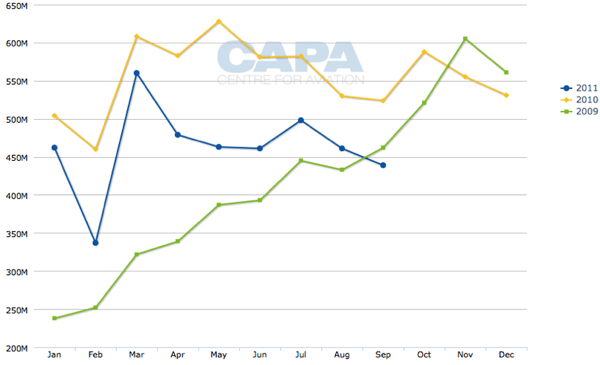 Also in Sep-2011, the carrier reported an 8.5% reduction in cargo yield to TWD7.96, marking the sixth consecutive month of year-on-year declines. Cargo revenues declined 23.4% year-on-year, also for the sixth consecutive month of double-digit cargo revenue declines. Cargo load factors also declined, by 0.5 ppt in the month to 67.6%. Load factors have declined on a year-on-year basis for the past four months.
China Airlines yield (cargo yield): 2009 to 2011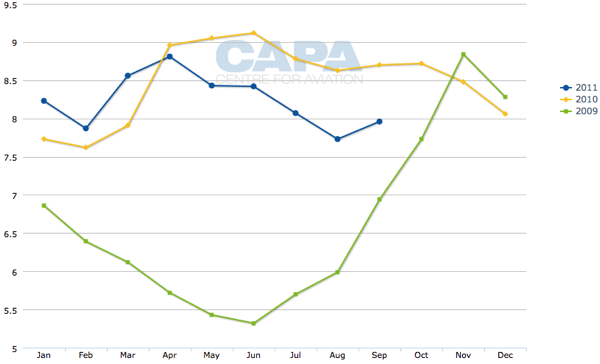 China Airlines operating revenue (cargo revenue): 2009 to 2011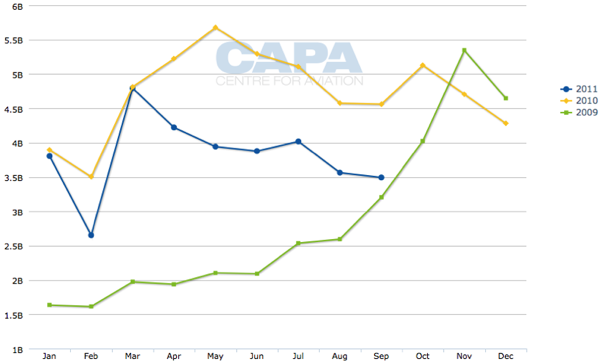 China Airlines cargo load factor: 2009 to 2011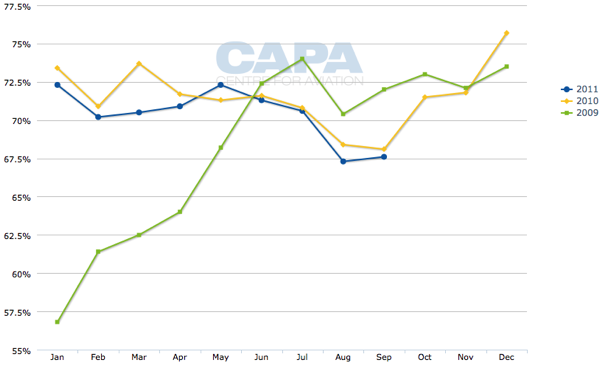 EVA Air also sees sixth consecutive month of declines
Similarly, EVA Air reported an 11.4% reduction in cargo volume to 63,458 tonnes in Sep-2011 and a 0.8 ppt reduction in cargo load factor to a still-high 80.7%. Cargo revenues declined 20.5% year-on-year in the month, for six consecutive months of double-digit cargo revenue declines, and cargo yields declined a 10.3% reduction to TWD7.39. Like China Airlines, this marks the sixth consecutive month of year-on-year yield declines, with double-digit declines in both Aug-2011 and Sep-2011.
EVA Air operating revenue (cargo revenue): 2009 to 2011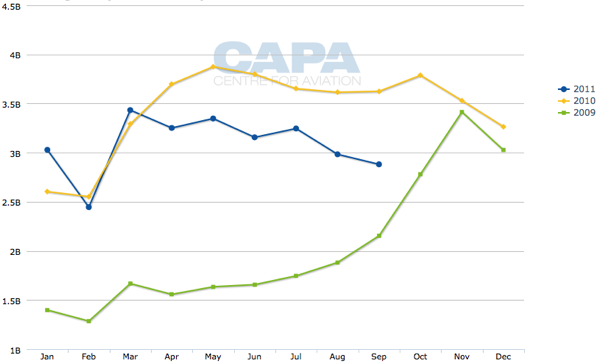 EVA Air cargo load factor: 2009 to 2011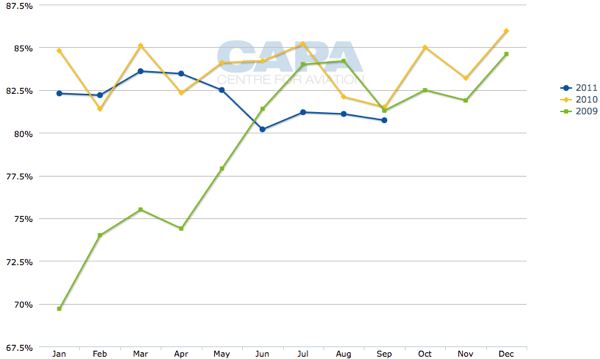 EVA Air yield (cargo yield): 2009 to 2011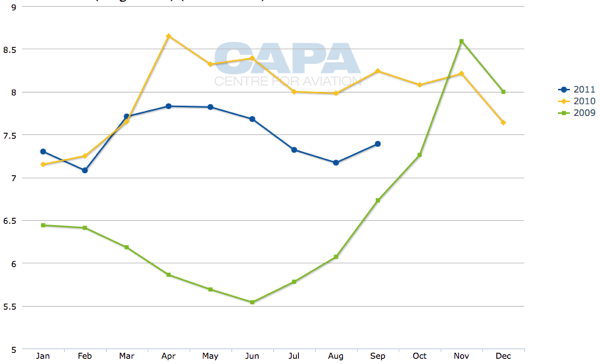 China Eastern Airlines, the fifth largest domestic freight operator in 2010, also stated the outlook for international cargo and passengers was bleak. China Eastern Airlines director Lao Zhuping added the carrier is considering changing its aircraft orders by acquiring smaller aircraft, due to strong regional and domestic demand, rather than large aircraft. The carrier has, however, reported cargo volume and load factor improvements in the past three months, from Jun-2011 to Aug-2011. The carrier is yet to release Sep-2011 traffic results.
China Eastern Airlines cargo volume: 2009 to 2011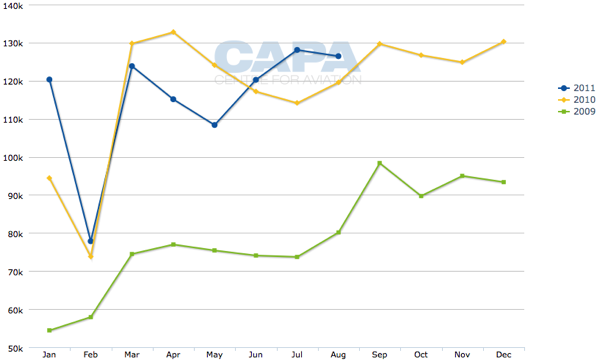 China Eastern Airlines cargo load factor: 2009 to 2011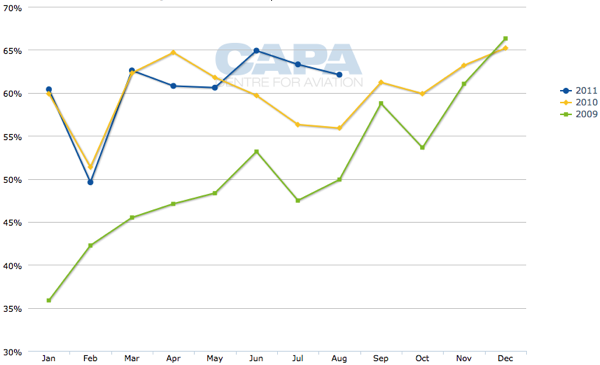 In the US, Delta Air Lines' (the 10th largest cargo operator in 2010) chief cargo officer Neel Shah warned that consumer nervousness and volatility, due to uncertainty regarding the economic outlook, is having an effect on air cargo traffic. Cargo traffic increased from 2010 levels in Sep-2011, but is weaker than Sep-2009 levels.
Delta Air Lines revenue freight tonne kilometres: 2009 to 2011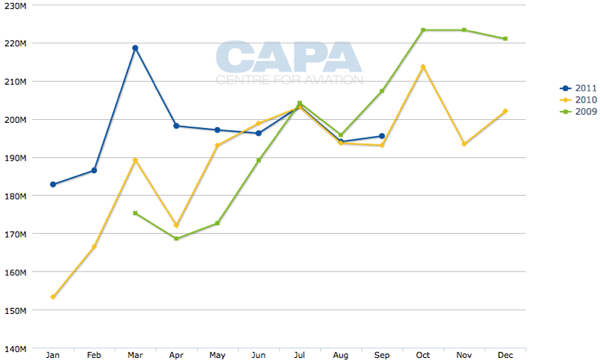 UPS, the world's eight largest freight operator and the second largest domestic and system freight operator based on 2010 data, has not recently commented on the freight outlook.