Germany's other airlines: Condor, TUIfly, Germania, SunExpress Germany
Analysis
When Air Berlin Group disappeared from the market in Oct-2017 it took 10% of Germany's airline seat capacity. As has been pointed out in a number of CAPA reports, this gap has quickly been filled, with Lufthansa (through its Eurowings subsidiary) and easyJet taking on much of airberlin's capacity and Ryanair continuing on its organic growth path.
While these big players dominate much of the German market and the headlines, Europe's number two aviation market has four other indigenous airlines that are quietly pursuing their own growth plans.
They comprise Condor and TUIfly (subsidiaries of Europe's leading tour operators), SunExpress Germany (co-owned by Lufthansa and Turkish Airlines), and Germania, which has been the fastest growing German airline over the past five years.
Germany's 'other four' airlines are not yet challenging the dominance of Lufthansa Group, or even of Ryanair and easyJet (respectively number two and three in Germany), but they demonstrate the dynamic nature of this market.
Summary
After Lufthansa Group's 431 aircraft, four other German airlines have double digit fleets
It will be no surprise to see confirmation that Lufthansa Group is the dominant German airline by fleet size. Its 431 aircraft account for 70% of Germany's total fleet (week of 14-May-2018, source: CAPA Fleet Database).
However, among the chasing pack far behind Lufthansa Group are four airlines each with a double digit number of aircraft.
The two biggest of these four are subsidiaries of Europe's two leading tour operators. Condor Flugdienst, part of Thomas Cook Group, has 43 aircraft (7% of the German fleet), of which 16 are widebodies. TUIfly, part of TUI Group, has 34 narrowbodies (6% of German aircraft).
The privately owned and Berlin-based Germania has 28 aircraft (5% of the German fleet), all narrowbodies, and SunExpress Germany has 18 aircraft (3% of the total). For many years a charter airline (for TUI and Condor, among others), Germania transitioned to a scheduled model close to a decade ago.
SunExpress Germany is partly owned by Lufthansa, together with Turkish Airlines, but is not consolidated into the Lufthansa Group.
Its seven widebodies (A330-200s) are used under wet lease by Eurowings on its long haul network, leaving 11 narrowbodies for SunExpress' own operations. (Its sister company, SunExpress, is registered as a Turkish airline, with a fleet based in Turkey.)
Germany: top 10 airlines by total fleet size*, week of 14-May-2018
| | | | | | |
| --- | --- | --- | --- | --- | --- |
| Rank | Airline | Widebody | Narrowbody | Other | Total |
| 1 | Lufthansa Group | 106 | 256 | 69 | 431 |
| 2 | | 16 | 27 | 0 | 43 |
| 3 | | 0 | 34 | 0 | 34 |
| 4 | | 0 | 28 | 0 | 28 |
| 5 | | 7 | 11 | 0 | 18 |
| 6 | Private Wings Flugcharter | 0 | 0 | 9 | 9 |
| 7 | | 0 | 0 | 6 | 6 |
| 8 | | 0 | 0 | 5 | 5 |
| 9= | Business Wings Luftfahrtunternehmen | 0 | 0 | 4 | 4 |
| 9= | Privatair [Germany] | 0 | 4 | 0 | 4 |
| 9= | | 0 | 4 | 0 | 4 |
| | All others | 2 | 3 | 26 | 31 |
| | Total | 131 | 367 | 119 | 617 |
Of course, the German aviation market includes significant non-German airlines that fly to/from the country (and, in the case of Ryanair and easyJet, within Germany).
Lufthansa Group is comfortably the biggest operator by seat capacity in the German market, with 54% of projected seats in 2018 made up of 36% for Lufthansa itself, 15% for Eurowings and 3% for other group airlines (source: OAG Schedules Analyser).
Ryanair is number two, with 7%, followed by easyJet with 5%. These top three groups in Germany account for two thirds of seats (67%) in 2018.
The four German 'also ran' airlines (Condor, TUIfly, Germania and SunExpress Germany) have only a 7% share between them, broadly adding up to Ryanair's capacity in 2018.
The biggest of the four, Condor, has around half of their combined seats and is the only one whose capacity is significant enough to be visible on the chart of the annual capacity of leading airlines operating in Germany (see below).
Germany: total seat capacity (one way) for leading airlines, 2008 to 2018*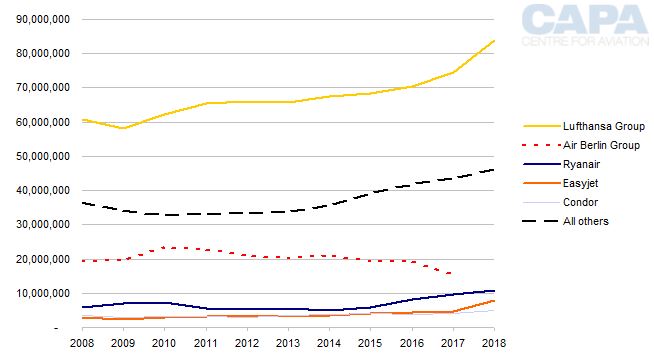 But the 'other four' are growing rapidly in 2018
However, if the scale is expanded to reveal the capacity of the German 'other four', this reveals a dynamic group of airlines expanding rapidly and almost below the radar.
The headlines focus on the demise of airberlin, the parcelling out of much of its capacity to Lufthansa Group (through Eurowings) and easyJet, and Ryanair's organic growth.
The growth rates of the leading three groups justify the headlines. According to OAG data, Lufthansa Group is growing seat numbers in Germany by 13% in 2018 (24% for Eurowings and 8% for Lufthansa), easyJet is growing by 71%, and Ryanair by 12%.
However, the other four are also seizing the opportunity to grow. Germania is growing seat numbers by 26% in 2018, Condor by 23%, TUIfly by 9%, and SunExpress Germany by 5%.
Indeed, although much smaller, the other four are collectively outgrowing the leading three in 2018 (by 18% to 15%).
These growth rates compare with total German market growth of just 1% this year. The disappearance of Air Berlin Group, which accounted for 10% of seats in Germany in 2017, has allowed all these operators to grow much faster than the market.
Germany: total seat capacity (one way) for Condor, TUIFly, Germania and SunExpress Germany, 2008 to 2018*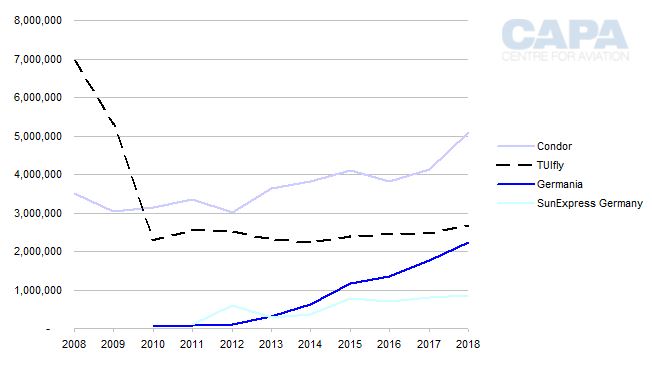 Since 2013, Lufthansa capacity has been flat but Eurowings' capacity has almost tripled
In response to LCC competition, Lufthansa began its strategy of growing a low cost point-to-point business in 2013, via subsidiary companies.
Although they are not truly low cost in CASK terms, Lufthansa first began to transfer non-hub point-to-point routes to Germanwings first, and then to Eurowings (because Germanwings pilots were covered by the same collective bargaining agreement as Lufthansa mainline pilots).
Between 2013 and 2018, Lufthansa's annual seat capacity will be flat, while Eurowings will have grown nearly threefold, according to OAG data (based on comparing Eurowings in 2018 with Germanwings in 2013).
Lufthansa Group: total seat capacity in Germany (one way) by airline, 2008 to 2018*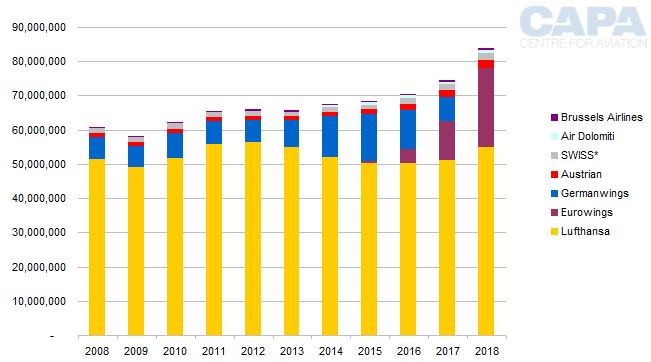 Rebasing each airline's own seat capacity to 100 in 2013, Eurowings will be at 294 in 2018, while Lufthansa will still be at 100 (implying that growth in its hub operations has balanced the decline in its point-to-point activities).
Europe's two biggest LCCs and the next biggest competitors in Germany after Lufthansa Group have also grown rapidly since 2013, but not as fast as Eurowings.
EasyJet's 2018 seat capacity index will be at 233 (i.e.more than doubling its capacity in 2018 versus 2013), while Ryanair will be at 194.
However, two of the German 'also rans' will have outpaced even Eurowings.
Leading airlines in Germany: index of annual seat capacity 2018* versus 2013**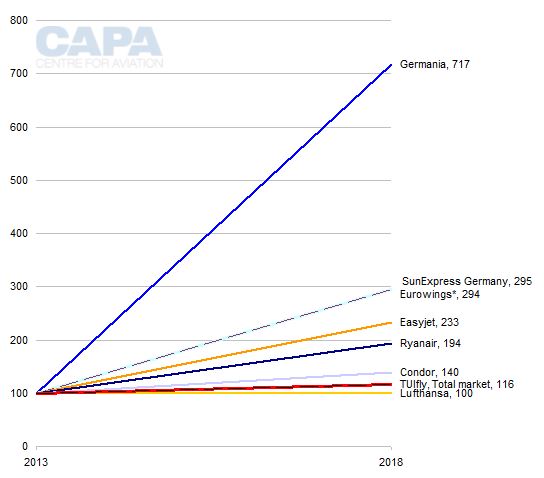 Germania's growth since 2013 has outpaced all other German airlines
Germania has grown faster than any other German airline since 2013, reaching an index level of 717 in 2018 (i.e. growing by more than seven times).
This is almost entirely based on international routes to short/medium haul destinations in Europe, Middle East and North Africa.
SunExpress Germany has (just) outgrown Eurowings since 2013, but growth is slowing
SunExpress Germany's growth will be just ahead of Eurowings', reaching an index level of 295 in 2018. However, much of this growth was achieved in 2013, and its 2018 seat growth is the slowest among the airlines featured in this report.
Launched in 2011, initially to serve the Turkish market from Germany, SunExpress Germany now operates to a range of mainly Mediterranean destinations in Europe and North Africa.
See related report: SunExpress Germany: summer 2016 route launches may signal a shift to a more pan-European model
Condor is growing rapidly again, after capacity cuts in 2016
Condor's 2018 level relative to 2013 will be 140, with most of its growth achieved since 2016. It is Thomas Cook Group's largest airline by passenger numbers and has the lowest proportion of in-house customers.
Condor operates to leisure destinations in Europe, Africa, the Americas and Middle East. It has taken advantage of airberlin's demise, particularly through long haul growth to the Caribbean.
See related report: Condor Flugdienst: Thomas Cook Group's German airline raises profile with airberlin's demise
TUIfly's growth has only matched the German market since 2013
TUIfly is the slowest growing of the 'other four', with an index level of 116 in 2018 relative to 2013. This matches growth in total seat capacity in the German market over the past five years.
Lufthansa cannot ignore homegrown competition
A recent CAPA analysis of the German market, focusing on the larger operators, concluded that Lufthansa had been quite successful in defending itself from foreign competition (particularly from LCCs) through the use and expansion of Eurowings, assisted by the exit of airberlin.
See related reports:
However, Lufthansa and Eurowings are high cost operators by comparison with other airlines in their respective market segments. Moreover, as this report demonstrates, Lufthansa Group also faces four small, but growing, home based competitors.
While focusing on external invaders, it cannot afford to ignore the threat nearer to home. The competitive pressure on Lufthansa will remain fierce.