Germanwings has preserved Lufthansa's market share, but still has too many legacy issues for a LCC
Analysis
Last month, Lufthansa confirmed plans to extend its low-cost operations under what it terms its 'Wings concept'. Short haul LCC subsidiary Germanwings will continue to expand, with a renewed emphasis on using group company Eurowings to provide it with capacity. Eurowings' pilots are under a separate (more flexible) contract from those of Lufthansa and Germanwings and its 23 Bombardier CRJ900s are to be replaced with an equivalent number of A320ceo aircraft.
Perhaps referring to this, and to Lufthansa's low cost long haul plans, Ryanair CEO Michael O'Leary* said that Lufthansa "has some bizarre plan about establishing a new low-fare airline." He added: "Unfortunately they started with a high-fare airline called Germanwings and they'll need to do a lot more than call it that and paint it yellow to make it a low-cost carrier."
Lufthansa began transferring all its European point to point routes that do not serve its Frankfurt and Munich hubs to Germanwings in Jul-2013. Just over 15 months on, we review its capacity growth and the impact on the market share of Lufthansa/Germanwings in this segment.
CAPA's World Aviation Summit will he held at the Hilton Antwerp Hotel on 20/21 November 2014, preceded by a Corporate Travel Innovation Day on 19 November.
Register now to hear:
- Director General João Aguiar Machado of DG MOVE
- the highest level debates on EU objectives,
- global liberalisation,
- the role of unions and many other critical issues, involving over 20 airline CEOs and numerous other industry and government decision makers. Please click here: CAPA World Aviation Summit and Corporate Travel Innovation Day
*as reported in Buying Business Travel (24-Sep-2014)
The focus of the Germanwings strategy is very much on non-hub European traffic. In terms of seat numbers, the total market for air travel between Germany and Europe (including Germany) is surprisingly evenly divided between traffic that begins or ends at the hubs Frankfurt or Munich and traffic from/to other German airports.
The segment that excludes Lufthansa's two main hubs has accounted for 52% of the total number of short and medium haul seats in Germany since 2011 (source: OAG Schedules Analyser).
Germany to all Europe: total market by seats 2005 to 2014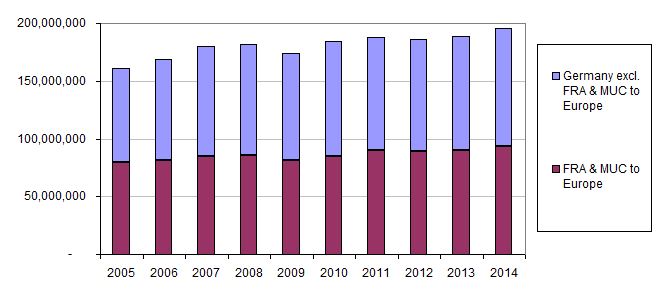 In spite of the roughly even divide between the short/medium haul market from Frankfurt and Munich and that from other German airports, Lufthansa (including Germanwings) has almost three times the number of seats serving continental destinations from its two hubs as it does from the rest of Germany.
Germany to all Europe: Lufthansa* seats split between Frankfurt & Munich and all other German airports 2005 to 2014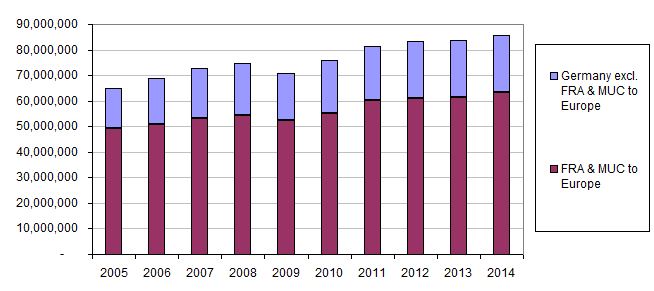 This means that Lufthansa's share of short and medium haul seats from Frankfurt and Munich (around two thirds) is much larger than its share from other German airports (a little more than one fifth), using data from OAG Schedules Analyser.
This is, of course, to be expected: Lufthansa is the dominant airline at its two main hubs and a large proportion of the continental traffic that it carries in Frankfurt and Munich is connecting to its long haul network.
Lufthansa* market share of seats from Frankfurt & Munich to all Europe and from all other German airports to all Europe 2005 to 2014

The strategic focus of Germanwings is specifically on the short and medium haul market from Germany's non-hub airports. Data from OAG Schedules Analyser show that Airberlin is the biggest carrier in this segment, with 23% of seats in 2014.
Its return to growth in 2014 has allowed it to keep its share at its 2013 level, but it has fallen from 27% in 2010 as a result of capacity cuts. Airberlin grew its share from 2005 to 2010, mainly as a result of its acquisitions of LTU and dba.
Germany excluding Frankfurt and Munich to all Europe: airline share by seats 2005 to 2014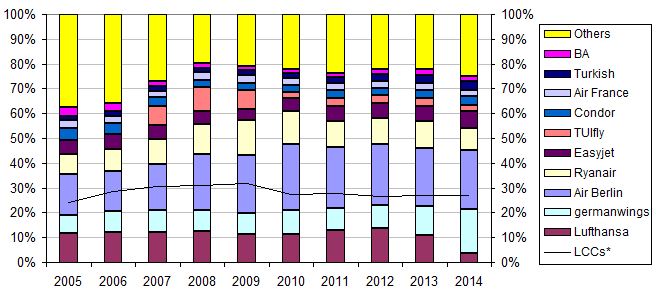 The core Lufthansa brand held a fairly steady share of non-hub continental seats from 2005 to 2011 of between 11% and 13%. Its share actually increased to 14% in 2012, the year when made the decision grow Germanwings aggressively from 2013. Germanwings' share of this market grew from 7% in 2005 to 9% in 2007 and then held steady until 2012, before ramping up to 12% in 2013 and 18% in 2014.
The increased share of Germanwings over the past two years mirrors the fall in the share of the core Lufthansa brand to 11% in 2013 and 4% in 2014. The transfer of non-hub continental routes from Lufthansa to Germanwings is due to be completed by 2015, when the latter's share might be expected to be in the region of 22%.
Lufthansa's decision to switch this traffic from its core brand to Germanwings was taken when its share was holding steady and that of rival airberlin was falling. Moreover, at the time, the share of LCCs other than Germanwings in the short and medium haul markets from German airports excluding Frankfurt and Munich was broadly stable, having taken a downward step in 2010.
The biggest rival LCC in Germany is Ryanair, whose share of seats in this segment (ie excluding FRA and MUC) has fallen from 14% in 2009 to 9% in 2014, followed by easyJet, whose share has grown from 4.5% to 6.5% over the same period.
Switch to Germanwings was not motivated by market share reduction, but to stem losses
The reason for Lufthansa's strategic decision, then, did not relate to any loss of market share in the non-hub short and medium haul segment. The combined share of Lufthansa and Germanwings has been broadly stable for a number of years. To some extent, its frequent flyer programme, brand loyalty and product quality were helping it in the battle with LCCs and airberlin. In addition, the significance of its hub activities meant that it was more focused on growing its share of that segment.
Rather, the decision to transfer capacity to Germanwings related to the financial losses that it had to sustain in order to maintain its market share. In 2012, its non-hub European network lost around EUR200 million and its losses were around EUR300 million at the lowest point in the cycle.
Even if the LCCs were not eroding Lufthansa's market share in the years before it made its strategic decision about Germanwings, their prices were (and still are) at a huge discount to those of the German national airline. This was having a damaging effect on Lufthansa's pricing as it had to discount its fares in order to maintain its market position. LCCs can be profitable at much lower fares, but Lufthansa's higher cost base meant that the weaker pricing eroded more than all of its profit margin.
Lufthansa's fares in Europe have not recovered since the financial crisis
Lufthansa does not separately disclose data on fares in each sub-segment of its network, but it does report passenger traffic revenue and passenger numbers for the Group's passenger business in each major region.
From this, we can calculate average traffic revenue per passenger for the Group on its European network. The largest part of this is accounted for by the core Lufthansa brand, but it also includes SWISS, Austrian and Germanwings itself. The resultant figures do not precisely represent fares on Lufthansa's non-hub European network, but the trend in them is informative.
From 2005 to 2008, before the global financial crisis, but in the years when LCC market share was growing, the Lufthansa Group's average traffic revenue per passenger in Europe held fairly steady. Market conditions were good and demand for Lufthansa's superior product was strong and fairly price insensitive. During this period, the LCCs' market share gains were at the expense of other competitors (rather than Lufthansa).
Lufthansa Group average revenue per passenger (left hand axis) and average trip length (right hand axis) on Europe network 2005 to 2013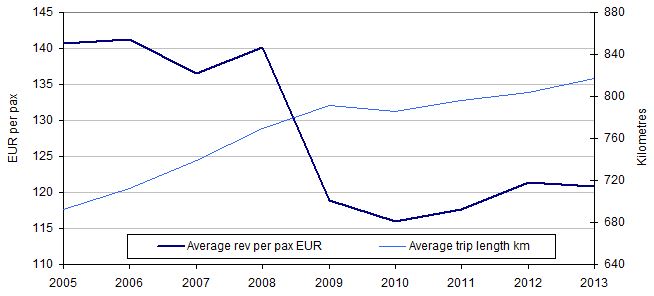 The financial crisis, however, had a dramatic impact. From 2008 to 2010, the Lufthansa Group suffered a 17% fall in traffic revenue per passenger in Europe, from EUR140 to EUR116, in spite of a 2% increase in average trip length. By 2012, this had recovered only to EUR121, where it remained in 2013.
What appeared in 2009 to be a cyclical effect was clearly revealed to be a permanent, structural market shift to a more price sensitive environment. Lufthansa could no longer rely on its global network, service quality and branding to charge a big premium in the increasingly commodity-like short and medium haul market, particularly on point to point routes.
Germanwings' 2011 rev/pax was 22% lower than Lufthansa Group on Europe network, but 30% higher than LCCs'
By comparison, Germanwings' revenue per passenger held steady at EUR82 from 2008 to 2010 and recovered to EUR91 in 2011, the last year for which Lufthansa has reported separate data for its LCC.
This suggests much lower fares for Germanwings than for the Lufthansa Group as a whole in Europe (a discount of 22% in 2011).
However, comparison with average revenue per passenger for the leading LCCs in 2012 reveals a 30% premium for Germanwings compared with the average of easyJet, Ryanair, Vueling and Wizz Air. Moreover, as it recorded an operating loss in 2011 and we can deduce that Germanwings' cost per passenger was 52% above the 2012 average for these four LCCs.
See related report: Germanwings rebrands: you say you want a revolution? To be led by cost and operations
Germanwings' profits depend on premium pricing and cost reduction
Since that loss in 2011, the last time Lufthansa reported figures for Germanwings, there has been some further recovery in market demand and Germanwings has been relaunched with a new fare structure and with a renewed focus on cost reduction.
Its profitability (and future survival) depends on its maintaining a premium over other LCCs' fares, driven by price bundling, its airport network and its association with Lufthansa. This is not easy in a price sensitive market, particularly given that the very act of transferring routes from Lufthansa to Germanwings emphasises pricing, rather than Lufthansa's premium brand qualities, as the main dimension of competition.
Moreover, it must also ensure a lower cost base and this is also not easy, although it has been working to achieve this. One of Germanwings' big challenges is that its pilots are under a Lufthansa group-wide labour contract, with union Vereinigung cockpit representing staff at Germanwings and Lufthansa. Not only does this place more hurdles in the path of cost reduction, but it can also expose Germanwings' schedule to strike action, as was seen this summer. The increased use of Eurowings to provide capacity should be helpful in this respect.
See related report: Germanwings: can a premium strategy sustain an LCC? Lufthansa would like to think so
2015 breakeven target will not be enough
If Germanwings can at least achieve breakeven, then some might argue that the transfer of loss-making Lufthansa routes to breakeven Germanwings operations will have been worthwhile. Lufthansa is targeting 2015 to achieve breakeven in its non-hub European network, but this will still not be enough.
As Lufthansa Group CEO Carsten Spohr said when still head of Lufthansa Passenger Airlines in 2013, "…a company the size of new Germanwings, with 90 aircraft, eventually needs to make sure it makes enough profit to pay for its own capital. That's what we are in the industry for".
An opening for Ryanair, while Lufthansa tackles legacy issues
Mr O'Leary's typically forthright comments about Germanwings were made as he announced plans for Ryanair to grow its business in Germany. As noted above, OAG data show that Ryanair's share in the country has fallen in recent years, but it is still the biggest foreign airline in the German short haul market. Moreover, the Irish LCC may have spotted a new opportunity created in part by Lufthansa's strategic shift, which emphasises low fares. No airline in Europe has lower average fares than Ryanair.
"As we expand more rapidly in Germany we will start to take more traffic away from Lufthansa as people are fed up with their high-fares, frequent strikes and the high-fare subsidiary," said Mr O'Leary (Buying Business Travel, 24-Sep-2014), "The problem for legacy carriers is the more they are dealing with legacy issues, such as unions who don't see the way forward, the harder it will be to set up a subsidiary and call it a low-cost airline. This will only help us grow in Europe". He has a point.
See related report: No hamburgers or frankfurters, but Ryanair will be serving Germany more
For his part, Lufthansa's Mr Spohr recognises the challenge in tackling such legacy issues. "When I look at our most important stakeholders - customers, employees and shareholders - I think in the past years our employees have been the best off." Mr Spohr added: "I have to make a trade-off between our long-term perspectives and short-term burdens. If conflict is needed for change, I regret that, but the reasons that force us to change won't go away." (Bloomberg, 11-Sep-2014).
See related report: Lufthansa pilot strike highlights labour issues for Europe's legacy carriers. It's time to wake up
Lufthansa's dispute with its pilots does not yet look to have been resolved. While Mr Spohr is rightly attempting to face the conflict and effect much needed change, he may have left an opening for the ever-nimble Mr O'Leary to have another crack at Germany.
See related report: Lufthansa's new long-haul low-cost plans show new CEO Carsten Spohr's eagerness to move forward