EVA Air order for 787s/777s to fuel long haul growth, but no Chinese transfer traffic for now
Analysis
Mainland China is the market fuelling Asia's long haul growth – except in Taiwan. Boeing on 15-Oct-2015 confirmed EVA Air's intent to purchase 26 Boeing widebodies (24 787-10s and two 777-300ERs) in addition to an existing 13 777-300ERs on order, bringing its passenger Boeing widebody backlog to 39 with a further six from Airbus. EVA has the sixth-largest passenger widebody backlog in Asia. EVA's long haul network is mostly comprised of 21 777-300ERs, which it has used to quietly grow to North America, bolstering its Taipei Taoyuan hub. EVA in 2015 is the ninth largest trans-Pacific carrier based on flights, but fourth fastest growing.
EVA's growth is slightly ahead of the average of all airlines in the trans-Pacific market. This is more important than it seems: EVA has been unable to tap the mainland China-North America transfer market owing to complex government restrictions. In comparison, all of its major competitors – including the three airlines with higher growth rates: ANA, Air China and Cathay Pacific – owe much of their growth to the China market. It was expected that Taipei by the end of the year would be open to mainland China transfer traffic, currently prohibited. These hopes were dashed on 14-Oct-2015 when Beijing and Taipei failed to reach an agreement. EVA, and competitor China Airlines, continue to sit on remarkable if uncertain potential of making Taipei a mainland China-North America transfer hub.
777/787 order grows EVA Air widebody backlog to 45, sixth-largest in Asia
On 15-Oct-2015 Boeing announced EVA Air's intent to purchase 26 widebody aircraft, comprised of 24 787-10s and two 777-300ERs. Delivery dates were not disclosed but EVA previously flagged to CAPA a medium widebody delivery around 2018. This is EVA's first order for the 787, and one of Boeing's first orders globally for the -10 variant. The 777 order is a top-up. Prior to the announcement
EVA Air operated 21 777-300ERs with 13 on order. The purchase intent grows EVA's passenger widebody backlog to 39 Boeing aircraft: 15 777-300ERs and 24 787-10s. There are also six A330s on order for a total passenger widebody backlog of 45. (EVA's cosy relationship with Boeing also includes five 777Fs.)
EVA's 787-10 order was well-flagged, being discussed as far back as 2012 although in recent months EVA said it was unhappy with price and could look at other options (i.e. Airbus) although this seems to have been a negotiating tactic. There were no orders at this time for the 777X, for which EVA has said it would consider being a launch customer.
EVA Air Fleet Summary: as at 17-Oct-2015
Once this 777/787 order is confirmed, EVA will have the sixth largest passenger widebody aircraft backlog in Asia. The fifth largest, JAL, has approximately 50 on backlog while AirAsia X, Cathay and ANA have approximately 70 on backlog. The largest, Singapore Airlines, has almost 100 aircraft on backlog.
However, this is a very fluid ranking. AirAsia X, with the second-largest backlog, has 10 A350s still listed despite saying these will be cancelled. Its 55 A330neos on order may be too ambitious. Mainland Chinese carriers have been under-represented for two years.
First, widebody aircraft have been ordered for the country but have not been publicly allocated to individual airlines. Second, Chinese carriers have a special relationship with aircraft manufacturers in which production slots are effectively reserved for them despite the aircraft not being a confirmed order.
10 largest Northeast/Southeast Asian airlines based on passenger widebody aircraft backlog: 17-Oct-2015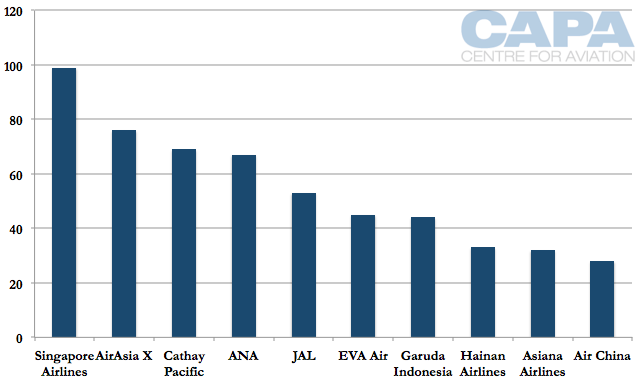 EVA Air will be one of five Northeast/Southeast Asian airlines (with over 15 widebody aircraft in service) with more aircraft on backlog than in service (see graph below). EVA's backlog as a percentage of in-service widebody fleet is 125%. Of the five carriers with more passenger widebodies on backlog than in service, EVA Air has the second highest number on order (45, after AirAsia X's 76).
Five carriers (see graph above) have more widebodies on order compared to EVA Air. With the exception of AirAsia X, they all presently have a larger in-service fleet of widebody aircraft (SIA, Cathay, ANA and JAL) than EVA Air.
Ranking of the 10 Northeast/Southeast Asian airlines with highest ratio of passenger widebody aircraft on backlog (left axis) compared to in-service fleet (right axis): 17-Oct-2015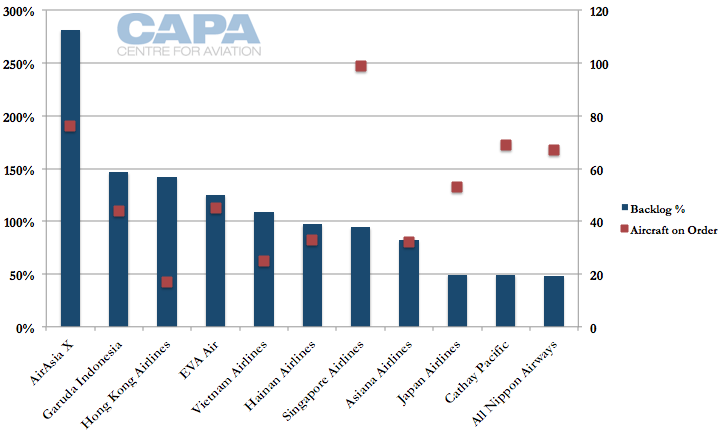 EVA Air does not rank in Oct-2015 among Northeast and Southeast Asia's 10 largest airlines based on passenger widebody aircraft (it is 12th). The future composition of the largest widebody operators has too much variance to predict with any certainty.
10 largest Northeast/Southeast Asian airlines based on passenger widebody aircraft in-service: 17-Oct-2015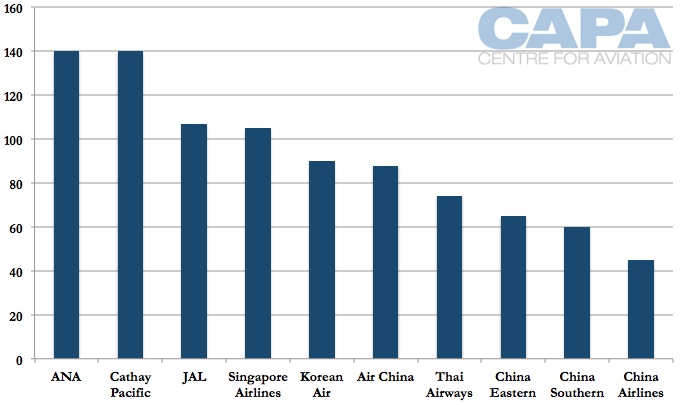 EVA has flagged the 787-10 as a replacement for its A330s, which mainly operate regionally with limited long haul services. EVA operates 12 A330s with six on order, so there is a gap between these 18 A330s (assuming the six on order are used for growth and not replacement of older A330s) and the 24 787-10s it has on order. The 787s could be used for growth in regional markets, but also potentially as a replacement for its 777s operating to Europe (thereby allowing for 777 re-deployment) or 777s operating thinner North American markets (such as Seattle).
One thing certain is that the increased backlog of 777-300ERs to 15 will mean EVA continues to focus on North America as its key long haul market. (There are some passenger 747s to be replaced, but the backlog is mostly for growth.) About half of its passengers transfer beyond Taipei, mostly to Southeast Asia.
EVA Air had about 5-6 daily trans-Pacific flights between 2005 and 2013, but grew to seven in 2014, eight for the average of 2015 but nine by the end of 2015. EVA expects to have 11 daily flights in 2016 (about the size of today's ANA) and then 14 around the end of the decade (the size of today's Cathay Pacific).
For the average of 2015, EVA is ninth largest in the trans-Pacific market based on frequency. EVA's size is similar to JAL and Air China. Korean Air, ANA, Air Canada and American have about 10-13 daily flights while Delta and Cathay Pacific have 15-16. Market leader United Airlines has approximately 22.
Average daily trans-pacific flights from the 10 largest carriers in 2015: 2005-2015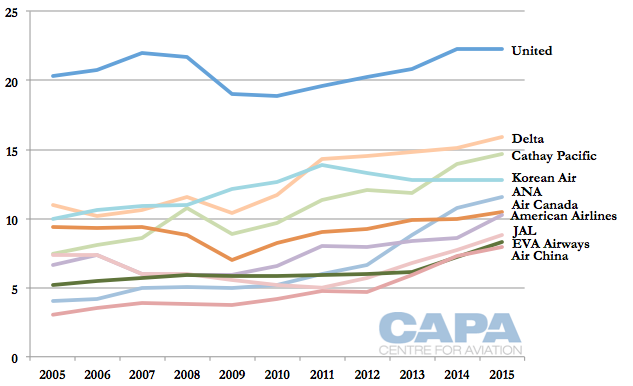 In terms of growth, EVA Air has grown above the market average (dotted black line in the graph below).
But ANA, Air China and Cathay Pacific have each grown significantly faster – multiples of growth, in fact. But for ANA and Air China, this was from a low base. In 2009 and 2010, EVA Air was seventh largest across the Pacific in terms of frequency. This was the result of EVA being relatively flat while competitors cut capacity post-GFC.
Index of daily trans-pacific flights from the 10 largest carriers in 2015: 2005=100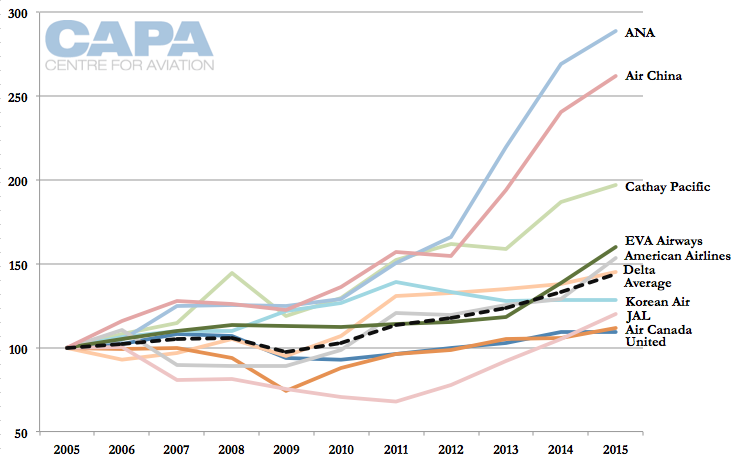 EVA Air last planned to take seven 777-300ERs in 2016 in order thicken existing schedules (not all services are daily), launch a new service to Chicago and grow its second long-haul scheduling bank. EVA Air in Jun-2015 opened service to Houston (which is also seeing new long-haul Star Alliance service from Air New Zealand and ANA).
EVA, as CAPA previously wrote, was interested in using medium-sized widebodies to grow in Australia:
EVA also plans to look at using the A350 or 787 to expand in Australia. EVA currently only operates two weekly flights to Australia, an A330-200 service to Brisbane, but sees potential opportunities to expand in Australia if mainland China lifts current restrictions which prevent Chinese travellers from making a transit stop in Taipei.
See related reports:
The Trans-Pacific is more important to EVA Air than competitors
EVA Air relies on the trans-Pacific market more than any of its major competitors. The trans-Pacific comprises approximately 45% of its ASKs. ANA, JAL and Korean Air allocate about 40% of their ASKs on the trans-Pacific, but this is for their international ASKs only (pink bars on the graph below). ANA and JAL's large domestic market means the trans-Pacific is around 20-25% of system ASKs (blue bars).
Korean Air has a very small domestic market, so the trans-Pacific is about 35% of its system ASKs.
North America-Asia share of system and international ASKs for the 10 largest carriers between Asia and North America: 18-Oct-2015 to 24-Oct-2015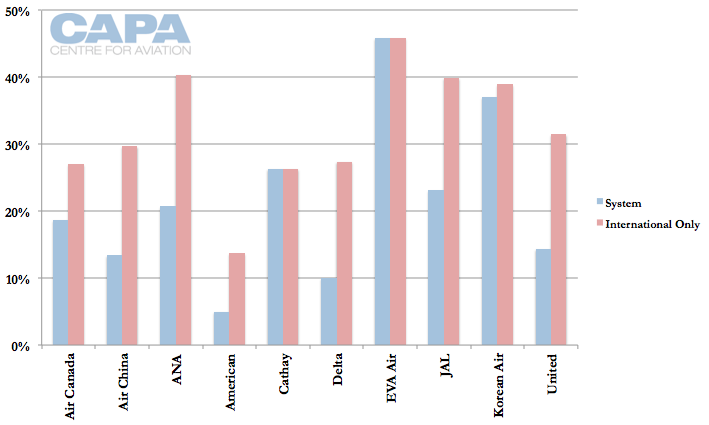 Trans-Pacific routes account for seven of EVA's 10 largest international routes ranked on ASKs.
EVA top 10 international routes ranked on ASKs: 18-Oct-2015 to 24-Oct-2015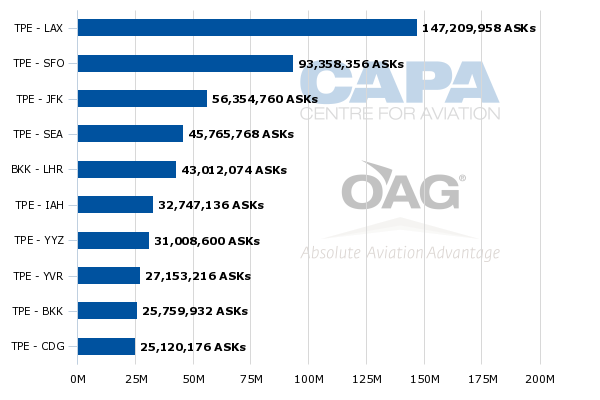 Trans-Pacific routes even account for two (Los Angeles and San Francisco) of EVA Air's 10 largest routes ranked on seats.
EVA top 10 international routes ranked on ASKs: 18-Oct-2015 to 24-Oct-2015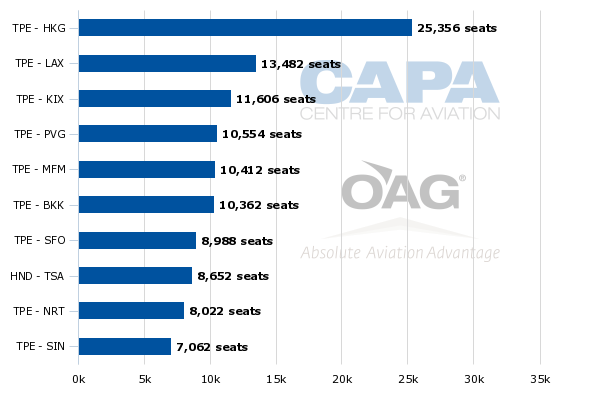 Outlook: EVA Air must continue long-haul growth without mainland China transfer traffic
EVA Air is growing to be about twice the size as Taiwan national carrier China Airlines in the Taiwan-North America market. In Oct-2015 EVA has a 61% seat capacity share compared to China Airlines' 33% and United's 6%.
EVA and China Airlines stand out in the trans-pacific market since they have been unable to tap mainland China as a source market. All other carriers either source from mainland China indirectly (over a Hong Kong, Seoul or Tokyo hub) or fly direct between mainland China and North America.
Taiwan to North America (seats per week, one way): 19-Sep-2011 to 3-Apr-2016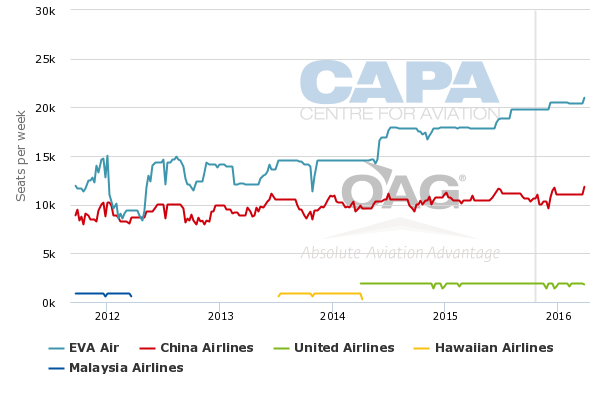 Although it was expected earlier in 2015 that Taiwanese carriers would be able to have transfer traffic from mainland China by the end of the year, the two sides have failed to reach an agreement. With Taiwan's pro-Beijing political party quickly losing favour ahead of Jan-2016 elections, relations may turn sour.
Transfer traffic would not immediately have provided a significant boost to Taiwanese carriers. The larger gains are to be had on routes to major cities like Beijing and Shanghai, but it was expected Beijing would initially allow transfer traffic only from smaller mainland Chinese cities.
EVA's aircraft will not trickle in for some years. Australian expansion, dependent on mainland Chinese transfer traffic, could be delayed. EVA's long-term planning for North America started to factor in mainland China transfer traffic from later in the decade; it expected a 3% increase in trans-Pacific passengers if it could tap transfer traffic from mainland China.
It could be too early to revise growth targets, but there will undoubtedly be some concerns. For now, EVA must continue with its unique task of growing on the trans-pacific without mainland China, the market everyone else is doubled down over. Later in the decade Taipei may have to work harder than previously envisioned to nudge its way into being a transfer point; the birthing of hubs is a laborious task.
Follow-up Report: The Mainland China-Taiwan Cross-Strait Market
A follow-up report will examine the Cross-Strait market between mainland China and Taiwan, and the implications of potentially frosty relations following expected political change in Taiwan.