Etihad works to close competitive gaps in US coverage with new service to Los Angeles
Analysis
Etihad Airways has delivered on its pledge to unveil a new US destination, revealing Los Angeles as its fourth market in the country. Once the new service begins in Jun-2014 a new competitive element will be introduced between the Middle East and the US as Etihad's new service creates new pressure for Emirates. At the same time, Etihad's codeshare with American will be expanded to cover the new service even as rival Qatar readies to officially joined American-anchored oneworld. For the moment American appears comfortable having two Gulf partners, and does not see the need to cut any of its existing ties as its relationship with Qatar deepens.

Emirates remains the largest carrier operating between the US and the Middle East by a wide margin, but Etihad's latest move shows that it is working to close the gap. Once Etihad's new service begins, it will compete with Emirates on three of the four US routes it operates – JFK, Washington Dulles and Los Angeles – with more competition likely to ensue in the not too distant future.
Etihad is likely watching significant growth in Emirates' Americas revenues
It is not surprising that Etihad is pressing ahead with US expansion after debuting new service to Washington Dulles in Apr-2013 given Emirates' favourable revenue performance in its network throughout the Americas, where the highest concentration of flights is in the US. In its 2012-2013 annual results released in May-2013, the carrier stated that revenue from its Americas markets increased 24% to AED8.3 billion (USD2.3 billion).

Emirates attributed the favourable Americas performance to the introduction of new markets and increased frequencies. During 2012 Emirates executed a rapid US expansion, introducing new service to Dallas/Fort Worth, Seattle and Washington Dulles.

See related report: Gulf airlines refine their respective US strategies after solid expansion during the last year

Etihad actually announced its intent to launch service from Abu Dhabi to Washington Dulles before Emirates revealed its plans to serve the airport from Dubai, but Emirates leap-frogged its rival and launched service during Sep-2012.
Etihad is touching the major US population centres with new LA service
Shortly after Emirates declared its intention to introduce service from Dubai to Boston during Mar-2014, Etihad revealed its plans to launch new service to Los Angeles three months later in Jun-2014.
Los Angeles is a fairly logical selection for Etihad as it is the second most populous US metropolitan area based on population after New York, Etihad's first US market that was launched in 2006. Its service to the third largest US metro area – Chicago – began in 2008.

Based on schedules in Innovata, Etihad presently operates 330-seat Boeing 777-300ERs between Abu Dhabi and New York JFK, and the carrier has recorded decent loads on the service. During the past two years its loads have dipped to roughly 65% during the October timeframe, but slowly climbed back to above 80%.
Etihad Airways Load Factor from Abu Dhabi International to John F Kennedy International Airport: 2011 to Mar-2013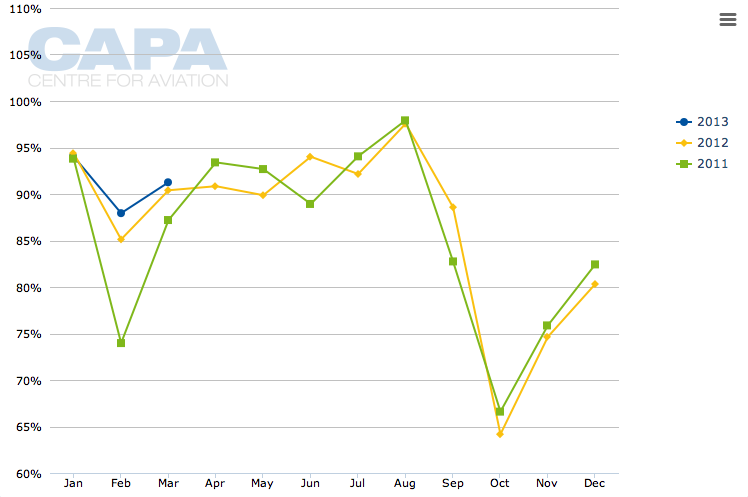 The carrier's loads from Abu Dhabi to Chicago O'Hare have much the same pattern dropping below 70% during the same time period, which is considered the slower "shoulder" travel season in the US.
Etihad Airways Load Factor from Abu Dhabi International to Chicago O'Hare International Airport: 2011 to Mar-2013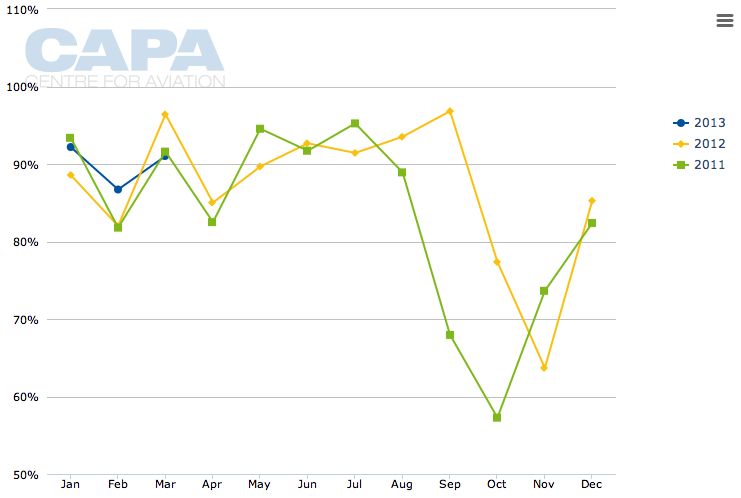 Both Chicago and New York are hubs and so-called cornerstone markets for Etihad's codeshare partner American. Even though October is a slow leisure travel month, it is interesting that American's potential business travel feed on Etihad's flights cannot help smooth out some of the trough in demand. But there are also public holidays in the UAE during October, which could also be a factor behind the lower loads during that time.

Los Angeles becomes the third American cornerstone market that will be folded into the Etihad codeshare as American will put its code on the new service between Los Angeles and Abu Dhabi while Etihad's passengers can connect to points beyond Los Angeles in American's network.
Theoretically, that should allow Etihad the potential to build up decent passenger flows within a relatively short period of time, and also enlarge American's ability to build-out customers in the ever-competitive Los Angeles market, where American's nearly 18% seat share approaches United's 18% share at the highly-contested airport.
Los Angeles International Airport capacity by carrier (% of seats): 7-Oct-2013 to 13-Oct-2013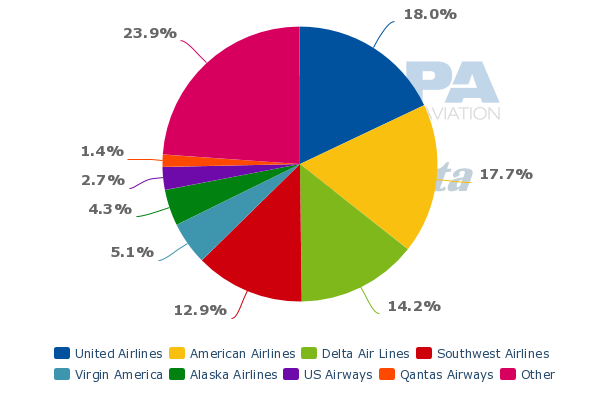 It will be interesting to see if the Etihad-American codeshare has any effect on Emirates' performance in the Dubai-Los Angeles market. During 2012 Emirates recorded a load factor of roughly 85% on its flights to Los Angeles, which debuted in 2008.

The carrier seems to have concluded the route is performing successfully given it plans to deploy 489-seat Airbus A380s on the route beginning in Dec-2014, which is a solid increase over the Boeing 777-300ERs presently operated on the route. Passenger capacity on the carrier's 777-300ERs is 354, 358, and 364. Based on the maximum 364 three class configuration, the 489 seats on the A380 is an increase of 125 seats.

Emirates touts connections from Los Angeles to other US destinations including Phoenix, Las Vegas, San Diego and Honolulu. Phoenix and Las Vegas may be served through its interline deal with US Airways, and other US interline partners listed on its website include American, Virgin America and US Airways.

Obviously the revenue generating opportunities from interline partnerships are not as robust and Etihad may have an advantage in operating smaller-gauge 237-seat Boeing 777-200LRs in conjunction with its codeshare arrangement with American. Etihad currently does not operate the longest-range member of the 777 family, but the carrier confirmed to Routesonline it plans to operate -200LRs to Los Angeles in a three-class configuration.
Etihad's new service puts it on par in the US with Qatar Airways
Etihad's addition of Los Angeles as its fourth US destination obviously is a step in the right direction in rivalling the number of markets Emirates serves in the country. But Emirates' commanding one-way seat share between the US and the Middle East of roughly 32% should remain fairly constant after Etihad's planned 2014 expansion.
United States to Middle East (seats per week, one way): 19-Sep-2011 to 30-Mar-2014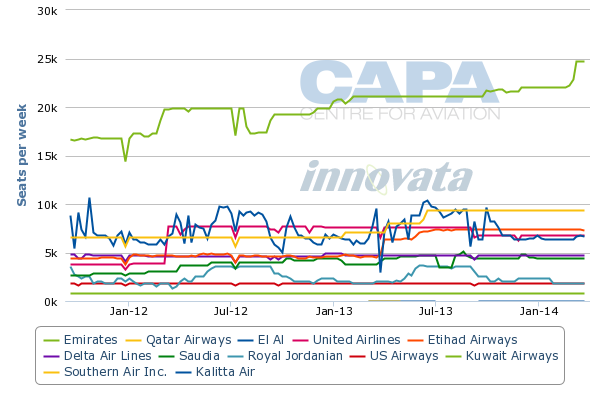 Qatar may feel the more immediate effects of Etihad's new service. Once Etihad launches flights to Los Angeles, each carrier will serve four US destinations. Presently Qatar operates service from Doha to JFK, Houston, Chicago and Washington Dulles. Current schedules in Innovata (6-Oct-2013 to 12-Oct-2013) show Qatar has a 14% share compared with Etihad's share of roughly 11%.
Qatar is not likely to further flesh out its US network until it formally joins oneworld, which is scheduled for 30-Oct-2013. Previously, the carrier has named Atlanta (where it operates cargo flights), Boston and Detroit as potential candidates – but the calculus has likely changed now that its ascension into oneworld is approaching. Detroit and Atlanta are hubs for SkyTeam anchor member Delta.
Boston may still be a possibility now that JetBlue and Qatar have a one-way codeshare covering JetBlue flights from JFK and Washington Dulles. But given Emirates' recent announcement that it would serve Boston and capitalise on its own codeshare with JetBlue, the largest carrier in Boston, Qatar is likely looking at other US destinations – presumably American's hub at Dallas/Forth Worth.
See related report: Boston Logan establishes new links to the Middle East by luring Emirates to start service
New world dynamics give Emirates a glimmer of hope in partnering with American
Whatever the outcome of Qatar's plans for US expansion given its new relationship with American, it seems American will remain partners with both Gulf carriers. In the run-up to Qatar joining oneworld it forged a codeshare with American that entails placing its code on more than 80 US domestic routes served by American from JFK and Chicago.
It seems American is operating under oneworld's more lenient philosophy of allowing its member carriers more leeway to create partnerships outside the grouping, reasoning it strengthens the overall businesses of its member carriers.

How American will ultimately respond to overtures from Emirates for a deeper relationship will be one to watch. At the time Qatar announced it was joining oneworld, American CEO Tom Horton stated that one of the alliance's attributes was that each member is allowed to pursue options that are of the greatest value to that particular airline. With two solid codeshare arrangements with two of the three big Gulf carriers, on paper it would seem somewhat redundant to partner with Emirates.
But the reality is with the rapid network expansion and global coverage each of those three carriers represents, adding Emirates into the fold could prove to be a shrewd move for American – with or without a merger with US Airways.
See related report: oneworld bows to flexibility in accepting Qatar Airways; Gulf carriers at epicentre for aviation
Meanwhile, perhaps sensing that American may be the big gainer from the Gulf carriers' expansion, the other major US airlines, led by Delta, are resorting to some good old fashioned protectionism to prevent the march of foreign interests. More about that in due course..