Boston Logan Airport establishes new links to the Middle East by luring Emirates to start service
Analysis
Boston Logan Airport's recent spree of attracting new international service continues as direct flights to Dubai are scheduled to come online in Mar-2014. Emirates Airline is to begin new service that will offer connections throughout its expanding network that covers the Middle East, Africa, Europe, Asia and Australasia.

The service caps off an interesting round of new and key international destinations from Boston. JAL during 2012 introduced direct flights to Tokyo Narita followed by Copa's launch of direct flights to Latin America's key connection point in Panama. Emirates' new service to Dubai will be followed by the introduction of flights to Istanbul by Turkish Airlines in May-2014.
Emirates' service to Boston further solidifies its leading-carrier status among the three big Gulf Airlines to the United States. But as has been the case for the last couple of years, its competitors Etihad and Qatar plan to catch up as Etihad has previously stated it plans to table new North American destinations and Qatar has listed Boston as a potential new market in the US.
Given the quickly changing competitive dynamics those three carriers are ushering into the global market place, there is sure to be an interesting response from Emirates' rivals to these latest moves in North America. Hopefully this will be in the marketplace rather than in the corridors of Congress.
New crop of international flights gives Boston key geographical diversification
While Boston is not included in the top 10 US airports in terms of seats on offer, it is still a strategic player in the busy US east coast market, evidenced by the shuttle service offered by US Airways and Delta. Logan has also had respectable increases in passenger growth during the last couple of years of 7% between 2010 and 2012, to 29 million travellers.
United States top 10 airports by weekly seats: 30-Sep-2013 to 6-Oct-2013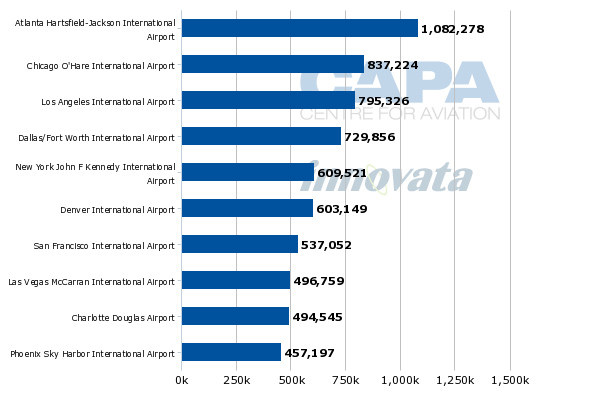 Boston Logan International Airport annual passenger numbers: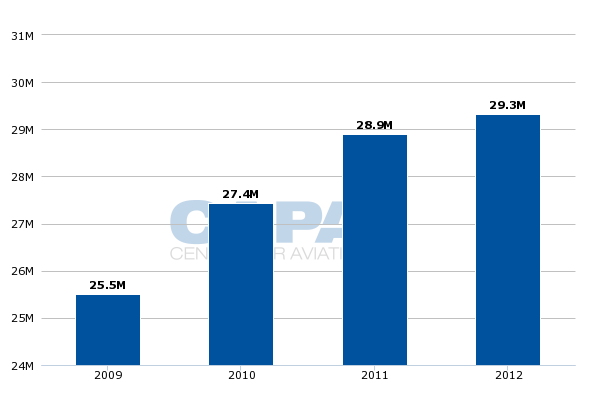 Similar to some other US airports vying for important international markets, Logan has an incentive programme to attract international carriers, which helped lure JAL and Copa to launch service from Logan, giving passengers direct service to Asia and the first direct flight to Latin America since Taca ended flights to San Salvador in the middle of the last decade.

According to the Boston Business Journal, Massport offered Emirates USD1.5 million in incentives to launch service to Dubai, agreed to waive landing charges for a year and pledged USD350,000 in marketing support.

The planned new service to Dubai and Istanbul, along with the recently introduced direct flights to Tokyo and Panama City give Boston some regional diversification as its top international destinations in terms of seat deployment remain heavily weighted towards Europe.
Boston Logan International Airport top 10 international routes by seats: 30-Sep-2013 to 6-Oct-2013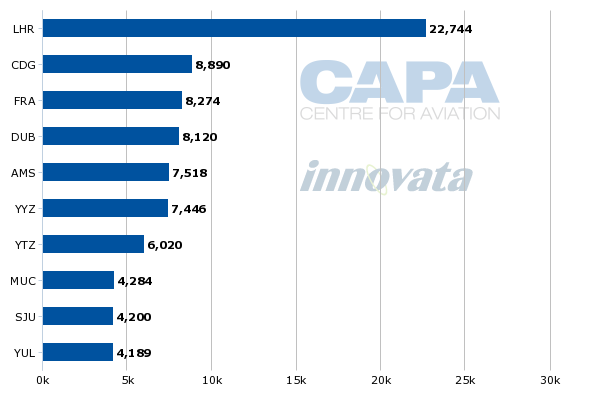 A major positive for JetBlue as codeshares give Emirates strategic feed in Boston
Boston is now likely to be even more strategic to Emirates given its bilateral codeshare with JetBlue, Logan's leading carrier in terms of seats on offer. Boston is a major focus city for JetBlue, who has a stated goal of reaching 150 daily departures from Logan.
Boston Logan International Airport capacity by carrier (% of seats): 30-Sep-2013 to 6-Oct-2013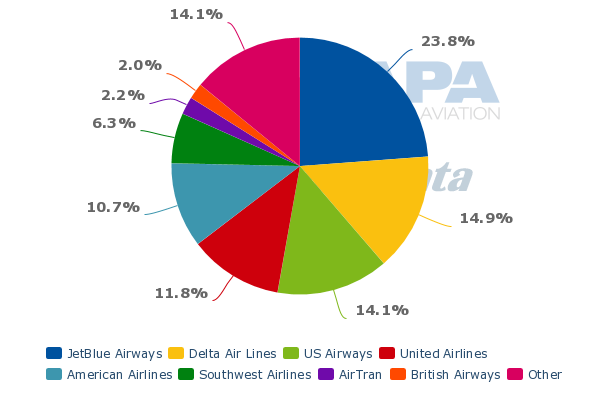 Through the recently deepened partnership with JetBlue, Emirates' passengers have access to JetBlue's fairly vast network from Boston, which includes extensive service to leisure destinations in Southern Florida and the Caribbean.
The two-way codeshare allows Emirates to tap JetBlue's established and growing customer base in Boston for the new service to Dubai, which should net both O&D passengers and connecting customers onwards to destinations throughout the Emirates network. Logic would dictate that both Emirates and JetBlue would gain some revenue benefit from the new service to Dubai, as some of the effort Emirates needs to dedicate to build-up a passenger base is eased by the JetBlue partnership.
Emirates is operating higher-capacity Boeing 216-seat 777-200LRs versus the 186-seat Boeing 787s flown by JAL on its long-haul flights between Boston and Tokyo. (Although the 777-200LR is smaller than Emirates' long-haul A380 and 777-300ER workhorses.) JAL has an interline partnership with JetBlue that includes the Boston-Narita route as well as flights at New York JFK and Los Angeles International Airport.

JetBlue also has an interline agreement with Turkish Airlines covering flights from JFK and Washington Dulles. It is highly likely that Boston will be folded into their partnership once Turkish starts new Logan flights in May-2014 to Istanbul, which is also a major connecting point for service to the Middle East and Europe. Istabul's 4,196nm distance from Logan is roughly 1,594nm less than the 5,790nm from Boston to Dubai, and the shorter distance may be attractive to JetBlue passengers making connections onwards to Africa, Asia and the Middle East.
New Boston flights follow a raft of new US market debuts by Emirates during 2012
Emirates is taking brief hiatus in introducing North American service in 2013 after rolling out new flights to Dallas/Fort Worth, Seattle and Washington Dulles during 2012, joining existing service to New York JFK, Los Angeles, San Francisco and Houston. That rapid expansion followed a four-year lull in Emirates introducing new service to the United states.
See related report: Gulf carriers turn their attention to the US to fuel their continued rapid growth

The new Boston service and the markets introduced during 2012 give Emirates direct service to four of the top 10 US airports in terms of seats on offer – New York, Dallas, Los Angeles and JFK. Chicago could be a possibility, but it is served by rivals Etihad and Qatar (who launched new service in Apr-2013). It is not clear if Denver warrants enough demand for direct service, as JetBlue operates service from Boston, and Phoenix and Las Vegas have more a leisure bent, which could mean that there may not be enough higher-end traffic to support the service levels Emirates offers.
Aside from JetBlue, Emirates' US partners include Virgin America (who also partners with Etihad) and Alaska Air Group, which allows Emirates' passengers to access Alaska's vast network from Seattle. Emirates does not appear as aggressive in pursuing partners as Etihad and Qatar, but it always seems poised to capitalise on highly strategic opportunities that create mutual benefit, reflected in the landmark deal it reached with Qantas in 2012 that entails Qantas shifting its European stopover hub from Singapore to Dubai in an effort to revitalise its weak European operations. The tie-up (launched in Apr-2013) is already bearing some fruit as Qantas reported a doubling of European bookings for the financial year to 30-Jun-2013.

See related report: Qantas reports AUD192 million profit as the Emirates deal helps long-haul losses halve

While it would not be as striking as the Qantas tie-up, Emirates has been pursuing American for at least a year even though the carrier already partners with Etihad and Qatar now that Qatar is preparing to join the oneworld alliance. While it may seem redundant for American to add Emirates to its partnership grouping, the more access American has to Asia and Africa and the Middle East, the better positioned it will be to compete with United or Delta, regardless of the outcome of a challenge by the US Department of Justice to block the American-US Airways merger. And the binding tie would be the access Emirates receives to American's frequent flyer programme. Emirates President Tim Clark has remarked how the Emirates-Qantas partnership was driven by the market's love affair with a frequent flyer point.
Fifth freedom flights are a second layer in Emirates' US strategy
But there is a second layer to Emirates US expansion – tapping fifth freedom rights to expand trans-Atlantic services. Service between Milan and New York JFK (as an extension of daily Dubai-Milan service) begins 1-Oct-2013.
As previously reported by CAPA, gaining approval from Italian authorities to operate the trans-Atlantic service was interesting given that Italian flag carrier Alitalia operates the route alongside Delta and American. The approval of Emirates' services shows that an important global shift is underway from governments throwing total support behind flag carriers, which could bode well for Emirate's fifth freedom strategy of adding more trans-Atlantic service to the United States. While it is just a single market, many European governments will be watching to see how the Emirates Milan-JFK flights unfold to determine if there is room for more liberal attitudes in granting air service rights.

Emirates' core fifth freedom routes are through Australia and a trans-Atlantic effort by Emirates in the past from Hamburg to JFK was not successful. It remains to be seen if Milan-JFK will meet the same fate, but Emirates has talked frequently about utilising fifth freedom rights from northern UK, indicating its appetite for trans-Atlantic expansion.
See related reports:
Many scenarios are possible in Gulf airline expansion to the US
Obviously Etihad and Qatar are not resting on their laurels with respect to expansion in the mature, yet highly strategic North American market. Etihad has stated more route announcements are likely on the horizon while Qatar readies for its official entry into oneworld on 30-Oct-2013, which should lead to more North American market announcements in collaboration with its new alliance partners.
Lingering in the background is the possibility of Etihad's hub in Abu Dhabi gaining pre-clearance for US customs, which would significantly change the competitive dynamics amongst the three major Gulf carriers if passengers have the option to clear customs prior to arrival in the US. US airlines and some legislators oppose the move, which reflects a still-strong protectionist stance in some areas of the globe.
Regardless of the outcome over the debate to establish pre-clearance in Abu Dhabi, expansion into the US remains strategic for the Gulf carriers, and the latest moves by Emirates show expansion takes on many forms. The increasing footprint of those carriers in the region should come under the watch of competitors as perhaps the slow blurring of boundaries on the global aviation landscape starts to take shape.